Is Ja'Marr Chase the 1.01 for fantasy football in 2023? While acknowledging Justin Jefferson, Christian McCaffrey, even Travis Kelce or Tyreek Hill as absolute NFL studs, here is the case for Chase.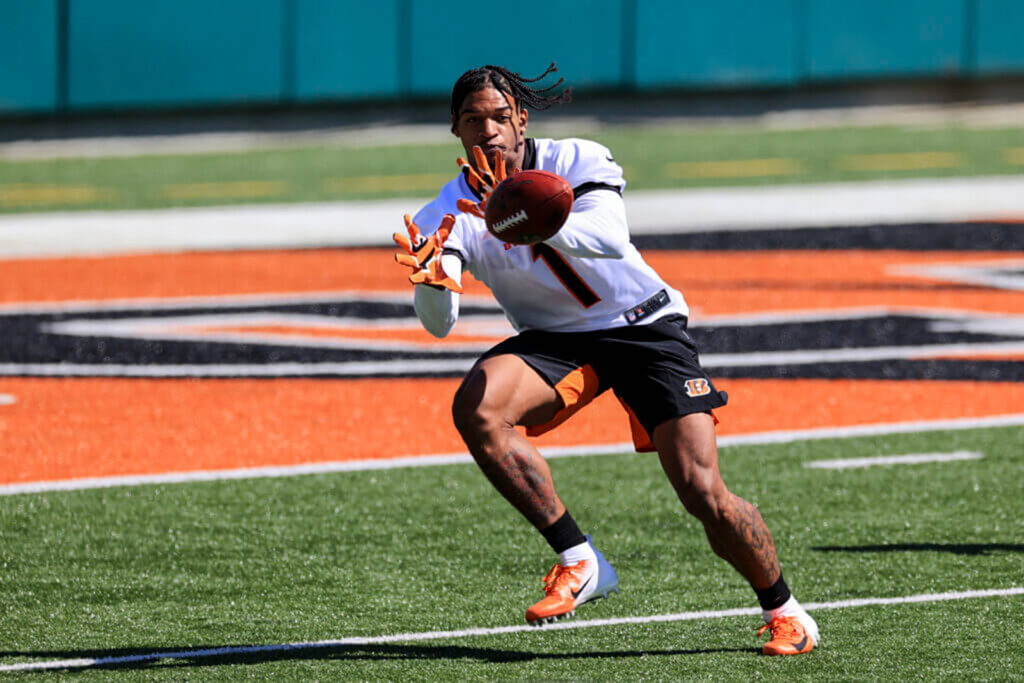 Going into his third year, Chase is ready to explode. After an inconsistent 2022 start that could partially be blamed on an offense that missed having stud QB Joe Burrow for a good chunk of August training camp after an appendectomy, Chase found a nuclear gear in Week 6 and put together a two-game set with 15 catches for 262 yards and two touchdowns. With 19 targets on 86 routes run, he looked on his way to a monster season, but a hip fracture sidelined him for five weeks.
He hardly eased back into the season's most important games, returning in Week 13 and averaging 13 targets over his final four games (not including the Bills-Bengals cancellation). What was important to see were areas of growth in his game over the course of his sophomore season. His targets per game jumped from 7.5 to an elite 11.2. His routes run per game increased from 34.1 to 43.2. His catch percentage inched up from 65.9% to 68.5%, which was aided by a decrease in drops (nine to six) and a step up in slot usage from 17.2% to 23.0% from his rookie year to 2022.
In the all-important Yards Per Route Run metric, Chase was an elite 2.51 as a rookie before dropping down to 2.02 last year. His rookie-year mark would have put him in the range of Jaylen Waddle, A.J. Brown and Stefon Diggs in 2022, all players we are drafting behind Chase in Underdog best ball drafts this year. If we use the 2021 Y/RR, but project it to his target share and route-run rate from 2022, here is what his overall numbers project out to: 190 targets, 130 receptions and 1,843 receiving yards. His TD rate was .75 per game, which would land him at 13 in a 17-game season.
Let's also look at his red zone usage. Since JJ is the presumptive 1.01 on most experts' rankings, we can compare him to Chase pretty easily. In 17 games, JJ drew 28 targets and caught a league-leading 14 balls in the red zone. Chase saw 25 targets and caught 14 balls for a league-leading 133 yards. Chase's 5 TDs were just behind JJ's 6. Keep in mind Chase did this in five fewer games! With Burrow's 89 red-zone pass attempts being 6th in the league and his 24 red-zone TDs being second – Patrick Mahomes led in both categories – Chase is a great candidate to still draw looks in the most important area on the field. 
Then look at how the schedule lines up for the Bengals and Chase. The Rams, Titans and Cardinals, and their secondaries that are quite beatable, face Chase and Co. Weeks 3-5. Then in money weeks 13-15, here are the teams the Bengals are facing: at Jaguars, Colts and Vikings. All expected to be bottom-tier pass defenses. And Week 17 is the glorious matchup against the Chiefs, which should have a sky-high over/under for a game that will rain points. Mother Nature, please cooperate with temperate winter weather, por favor.
We're talking an outlier season is well within reach for Chase in 2023, and I'm betting on it. He's my 1.01.
WHEN YOU GOT TO UNDERDOGFANTASY.COM USE THE PROMO CODE FAMILIA23 & YOU WILL BE MATCHED DOLLAR FOR DOLLAR UP TO THE FIRST $100.