I've always loved prospects. The way you can dream on a player becoming the next Willie Mays or Fernando Valenzuela, it's always so tantalizing to see these young players get their feet under them and either struggle or get hot in their first days in the Show. There's a certain purity about these players, and I've called them unspoiled fruit many times.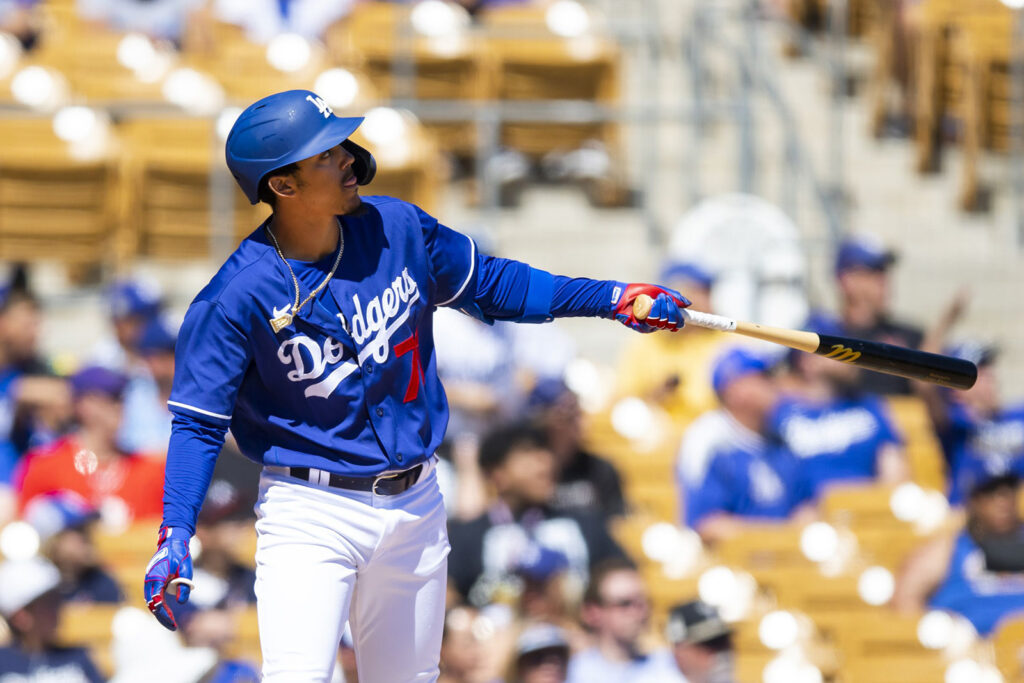 Eric Karros, the all-time LA Dodger home run leader, once relayed to me something he heard from the Dodgers' longtime third-base coach Joey Amalfitano: A big leaguer is just a prospect who got an opportunity. I always think of that as every February the prospect lists roll out with endless possibilities and numerous dreams for future greatness. Those lists often have A-ball players who won't see the big leagues for a couple seasons. I like to poke through those lists for players who could contribute in the big leagues in the coming season for fantasy.
So here's my list of NL prospects who could break out in the 2023 season. Remember them when you have your drafts in the next week and a half.
CORBIN CARROLL OF DIAMONDBACKS
He's the #2 prospect in baseball according to MLB.com, hitting 24 homers with 31 steals across three levels. The .425 OBP tells me that he could be very good very quickly. He's a lefty swinger, so don't be surprised if he struggles or even sits against tough lefties at the beginning. But as far as fantasy is concerned, those steals are enticing. The DBacks do like to run, and young teams that aren't ready to win often turn loose their young players. I like him to get a lot of ABs, hitting at the top of that lineup. The recent contract extension he signed is an indication that the DBacks see Carroll as a foundational piece of their future. His FantasyPros ADP is #75 overall, so drafters are paying attention.

MIGUEL VARGAS 2B/3B DODGERS\
This is one of my favorites for NL ROY in 2023. Seeing his first ABs with the Dodgers last year, he has a great swing and good plate coverage with decent opposite-field power. That was on full display as he lined a ground-rule double to right-center in San Francisco for his first big league hit. What I like even more about Vargas is his batting eye. He struck out just 76 times in over 500 AAA plate appearances last year, and walked almost as many times (71) as he whiffed. His .915 OPS shows that he's hitting the ball with some pop and showing patience. He'll have dual eligibility at 2B/3B, which is always a plus. He may get off to a slow start, as he wasn't allowed to swing the bat in early exhibition games because of a fractured finger he suffered in early spring training fielding drills. The Dodgers don't give starting jobs often to rookies coming out of the gate, and they're going to be counting on him. My money is on him responding well, all the while helping your fantasy teams. At the #244 in ADP, he's a great player for the end of your bench.

JORDAN WALKER 3B/OF CARDINALS
Everyone must fight hard the impulse to compare Walker, 20, with Albert Pujols' incredible jump from A-ball to winning NL ROY in 2001. Pujols was a unicorn savant hitter. Just once in a generation, maybe. Please don't compare people to him. Walker is pretty damn good, though. At 6-5, 220 lbs., I'm not sure if the 22 steals he had in the minors last year translates to the Show. That bat – 19 HR, .306 BA and .898 OPS – will play, and if he has 3B/OF eligibility in your league, he'll be a player you can move around. The Cards will have a pretty stacked OF, but with the universal DH, as long as Walker is hitting they'll find a spot in the lineup for him. I can see 15-20 homers and topping out about 10 SB.

EZEQUIEL TOVAR SS ROCKIES
From the shortstop factory in the Dominican Republic, Tovar has a special place in my personal fantasy lore. In my NL-only league he was my 2022 top pick when it came time to pick minor leaguers, and I declared that I would have taken him with the overall top pick if I had it. He delivered a .319 average with a .927 OPS in 71 games spread across the top two levels of the minors. Then he was called up in September and hit a home run on the last day of the season – off Clayton Kershaw, no less – to help me win said NL-only league in a near-miracle comeback. The shortstop position is his to lose, and getting a middle infielder in Mile High is always fun. With 17 SB in about half a season last year, that could mean cheap steals late in the draft. He's a darkhorse for NL ROY.

ENDY RODRIGUEZ C PIRATES
With 68 extra-base hits in 125 games and over 500 plate appearances spread across three levels, Rodriguez is the rare catcher with hitting prowess. And he's knocking on the door of the big leagues. He's a switch-hitter who mashed 25 homers last year, and has kept on mashing this year in spring training. He's hitting .412 with a .588 slugging percentage in 17 spring training ABs. What's interesting about Rodriguez is that he's also listed at 2B and OF, so if he hits the Pirates could look to get his bat in the lineup at these less-strenuous positions. And there's the DH. But if you're playing him in fantasy, he's going to be a catcher. The Pirates like to slow play rookies by starting them in the minors before calling them up early in the season. Rodriguez will be someone to look for in dynasty league waiver wires, or he could replace one of the many light-hitting backstops already on redraft fantasy rosters.

BOBBY MILLER SP DODGERS
Miller may have some of the best raw stuff in the minors. He has a fastball that reaches triple digits, which was a big factor in him striking out 145 batters in 112.1 innings in AA and AAA last year. He's shown a four-pitch mix in the minors, and has held the opposition to just 95 hits last year. He has yet to pitch in spring training games, which means the Dodgers are looking to limit his innings in hopes that he can be available later in the season (and maybe the postseason). This is a pitcher to keep an eye out for on the waiver wire in dynasty leagues.

GAVIN STONE SP DODGERS
Another Dodger rookie pitcher, though Stone looks like a high school senior if he stands next to Miller. Stone's pitching, though, will be very much Major League this year. He blew through three levels last year with a pristine 1.48 ERA, while striking out 168 in 121.2 innings. He's hit the ground running already in spring training, striking out 14 hitters in 6.2 scoreless innings. An opening may have come in the sprained ankle by All-Star Tony Gonsolin, which will have him start the season on the IL. Stone may start the year at AAA, but he should also get some starts before long. And he'll likely get some opportunities because the Dodgers like to employ sixth starters to get their rotation extra days of rest. Stone is the type of pitcher who gets called up and can get hot for several starts as the league tries to get a scouting report on him.

GARRETT MITCHELL OF BREWERS
Coming out of UCLA, Mitchell looks like he's getting the first shot at CF for the Brew Crew. He closed well at AAA, hitting .342 across 20 games before getting a callup to the bigs. Power may come later, as he hit just 13 homers in 472 minor league ABs. A .311 average in 28 games was pretty good, though the 8 SBs in that span is really encouraging. Especially for NL-only leagues, he could help fantasy teams while not hurting in the other categories. Keep an eye on his injury status, as he missed some time during spring training with a hamstring injury. He could get off to a slow start because of a lack of spring ABs.

MATT MERVIS 1B CUBS
Yes, Eric Hosmer is already on the roster and has three more years on his contract. He also missed about one-third of the season and is in his age-33 season. Hosmer's last time putting up numbers worthy of a first baseman was in 2019, when he hit 22 homers with 99 RBI. Mervis, the #4 1B according to MLB.com, is knocking on the door, and put up one of the truly elite years in the minors with 36 HR, 119 RBI, and a .309 average with a .984 OPS while finishing the season in AAA. He walked 25 times against 35 strikeouts in 234 AAA plate appearances. The Cubs are not pennant contenders, but they are trending upward. Getting Mervis' bat into the lineup at least as a DH is going to be a start, and he could see regular ABs at a position that is surprisingly shallow.