It's here. Chiefs-Eagles. The obscure information that has been coming through is bordering on mind-boggling. Tails has lost the coin flip three years in a row. The white jerseys have won the Super Bowl 15 of the past 18 games. Oh yeah, there are so many ways to bet the game that it's beyond comprehension.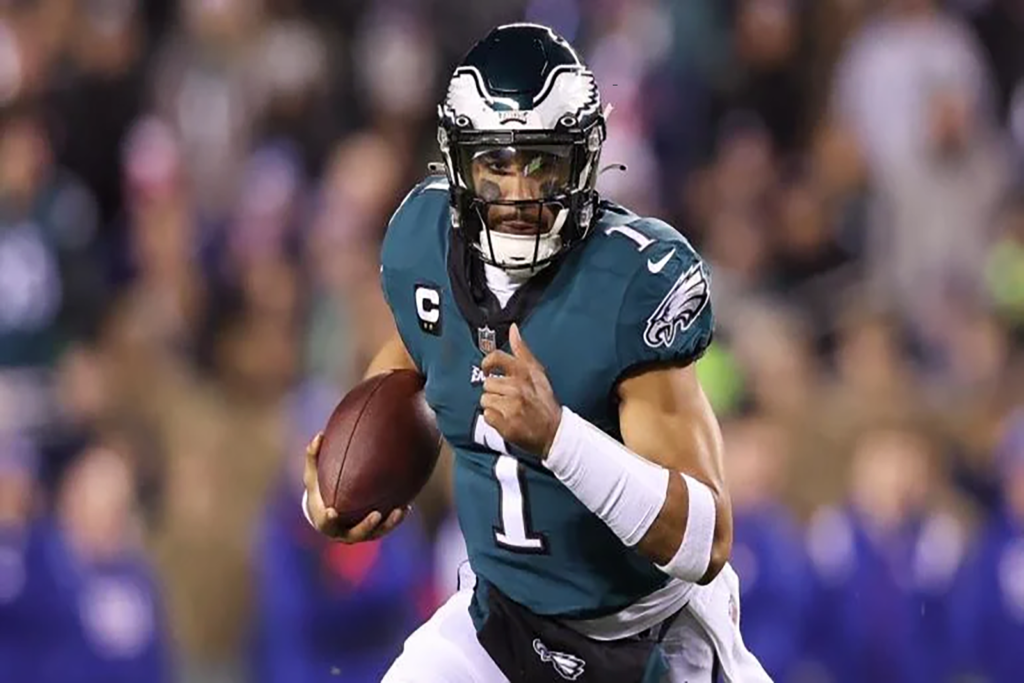 One stat that simply floored me is that 88 million lbs. of cheese are going to be consumed this upcoming Sunday. If 110 million people are expected to watch the game, that's almost ¾ of a pound consumed per person. That gives me a little bellyache, because I'm lactose intolerant. And I loved cheese growing up.
So as a public service to people who have no tolerance for lactose – as Jerry Seinfeld once said – yet still love their nachos, I'm going to share a very simple recipe for a tasty cheese sauce that's dairy and tummy-trouble free:
Mexican Cashew Cheese Sauce
1 cup raw unsalted cashews
1 cup salsa (heat level is up to you)
3/4 cup PLAIN dairy-free yogurt (can be soy, coconut or cashew-based)
1/4 cup + 1 tablespoon water
1 1/4 teaspoons smoked paprika
1 1/4 teaspoons ground cumin
1 teaspoon salt
Put it in a blender and run it until the sauce is warm. Maybe 2 minutes. I'm telling you, it's as close to real nacho cheese sauce as there is. And you'll feel just fine afterward. Salud!
Anyway, this whole game will have been talked out by Sunday. FUN FACT: For Spring Training, I used to stay at the Hampton INN that sits about two football fields away from where the Super Bowl is going to be played. Well, I wanted to share my insights and observations before it gets too close to game time. So many angles in what should be an excellent game. I've called 30-28 Eagles on the show I did with amigo Tom Brolley of Fantasy Points. I still think the Eagles are as complete a team as we've seen in some time. But there's that man on the other side of the ball. Numero 15. And both secondaries and pass rushes have been among the best, if not the best, all season. Same for both teams' offensive lines. I see both QBs being able to have breakout games, even against the good defenses. Keep reading to see why.
All betting odds, prop bets and DFS pricing are from DraftKings. Any per-game averages are for the regular season from Week 12 forward. Let's go out with a bang on the 2022 season. I hit pretty well on the DK Showdown Captain lineup with Cooper Kupp, Tee Higgins, Matthew Stafford and OBJ as my main dudes last year in the Super Bowl. I'll be doing some flash drafts, too. Winnin' Time, Familia. Vamonos!
SUPER BOWL LVII
CHIEFS vs EAGLES
PHI -1.5 / 51
GLENDALE, AZ / DOME
CHIEFS
PATRICK MAHOMES (11000/16500 captain) How's his ankle? He was injured on Jan. 21, so 3 weeks + 1 day later will be the Super Bowl. Usually it's a 4-to-6-week injury recovery, per Dr. Edwin Porras. Then we saw him hobble to a spectacular 326-2-0 against the Bengals. His 3-8-0 rushing was one example of his limitations. Mahomes took 3 sacks and 21 QB pressures against Cincy, but you always felt he was under control in that game. And here's what he's done against good pass defenses this season:
328-3-1 vs DEN (Wk 17)
336-2-0 @ HOU (Wk 15)
352-3-3 @ DEN (Wk 14)
423-3-1 @ SF (Wk 7)

Philly has not really faced elite QBs this season, but when going against Dak Prescott in the Jerry World dome in Week 16, this was the result: 347-3-1. Aaron Rodgers in Philly in Week 12 was held to 140-2-2, but I keep harking back to that game in Dallas. Mahomes is the best QB in the NFL, and has beaten good defenses like Derek Jeter hitting the best pitching in October. KC's O-line has done well protecting him, but that group will be tested against a Philly pass D that allowed 221.7 passing YPG, and had the #1 PFF Pass Rush rating at 88.6. Mahomes has passing props of 297.5 yards and 2.5 TDs. How the Chiefs go will only be how #15 goes. They'll pass early and often. Take the OVER on both. Also, he's one of three players that I predict can go nuclear and be optimal captains.
TRAVIS KELCE (10600/15900) This Jabroni has 17 and 8 targets in playoff games this year. He's put up a combined 21-176-3 in January. Before that he had between 7-10 targets in each of his last 5 games. Kelce's on an amazing run, compiling 75-835-9 in 8 playoff games since the start of the 2020 playoffs. He looked great last game, even though he was considered a game-time decision with back spasms. The all-world TE is one of my choices for the optimal captain, because of the banged-up state of the WRs for KC. Kelce should be targeted early and often, so his props of 77.5 receiving yards and 6.5 receptions are smash plays for me. The Eagles are just #19 vs the TE, with 53.7 receiving YPG allowed. Kelce does not look like he's slowing down, even at age 33. He's a must start in any lineup.
JUJU SMITH-SCHUSTER (8400) His KC BBQ rankings were pretty caliente. He's been having fun all week, but is that a good indication his knee is feeling good, or that he's masking the pain in his left knee? He's just 3-36-0 combined in the playoffs. Even with two weeks off to rest and rehab his knee, I just don't like JuJu as a play. Since he went for 10-88-0 against Houston in Week 15, he has a high of 35 receiving yards. Also keep in mind that James Bradberry is #9 at a 79.4 PFF coverage grade and Darius Slay is #10 at 78.1. That 37.5 receiving yards prop appears high, so go UNDER. I can't recommend JuJu except for as a unique play in case he does go off.
MARQUEZ VALDES-SCANTLING (6200) Is he the best healthy WR for KC? Those 8 targets vs CIN went for 6-116-1. He was the most clutch Chiefs pass catcher not named Kelce. However, that was MVS' first game with more than 3 receptions since 4-56-0 vs the Rams in Week 12. Also, 17 of his 39 routes were run from the slot (41.5%), so he could be targeted on quick shots when Mahomes is pressured. If you don't believe in the health of JuJu and the next player I'm about to talk about, MVS is a good call.
KADARIUS TONEY (4400) ran just 3 routes against the Bengals before he was hurt and left the game with an injured hamstring and ankle. I really want to trust the talent, but for me with all the hamstring issues that Toney's had in his two-year career, it's hard to trust him with the ultimate prize at stake.
SKYY MOORE (3800) is the wild card if Toney and JuJu are hurting. He quietly ran 29 routes against Cincy, which was #3 for KC. His 7 targets were a season high. After that big return to set up the game-winning FG for the Chiefs, could it be a confidence booster that leads to important targets in the most important game? I think it's a very real possibility, even though fiddling with him in the captain spot I saw the error of my ways and just played him in the flex.
ISIAH PACHECO (7200) The Rutgers product combined for 13 touches for 101 yards and 15-85 rushing the last 2 weeks (0 TDs). It doesn't look like he's a big threat in the red zone, though the interesting development is that he had 26 routes run, to 16 for Jerick McKinnon. The 6 targets were his season high (previous high was 3). Is he the RB to target in KC? He's at 47.5 combined rushing/receiving yards. CMC had 19 touches for 106 total yards and 1 TD vs PHI. Saquon Barkley had 82 total yards on 11 touches the previous week. So Pacheco has a good shot to go OVER in his prop.
JERICK MCKINNON (6800) With McKinnon, here are his touches the last 5 games: 8-7-4-11-6. Now here are his targets the last 5 games: 3-6-3-0-4. Does he get enough work to be viable? That 19.5 rushing prop is very enticing to go the UNDER. 

EAGLES
JALEN HURTS (11200/16800) is my third choice as the optimal captain, though it's not for his playoff production. With the game out of reach and not needing Hurts for much other than to hand off to protect the lead, the QB finished with 121-0-0 vs 49ers and 11-39-1 rushing. Since returning from his shoulder injury in Week 18, Hurts has 229 passing yards as his high. He has not looked sharp, and part of it may just be a little rust has thrown off his timing. Having two weeks off for the Super Bowl may cause him to start slowly again. Also, his rushing prop of 50.5 yards is above his rushing high of 39 yards since his return from injury. With several months to rest and rehab coming after Sunday, caution is going to the wind. Here are what the top QB threats have done this season against KC, with rushing totals included:

Burrow 270-1-2 & 30 rush yards (Conf. Ch.)
Lawrence 217-1-1 & 26 rush yards (Div. Rd.)
Burrow 286-2-0 & 11-46-1 (Week 13)
Allen 329-3-0 & 12-32-0 (Week 6)
In theory that passing prop of 241.5 yards and 1.5 TDs each appear obtainable. I just see more running for Philly, both with the RBs and Hurts. That'll keep Hurts' passing yards down. I say UNDER on that passing prop, though I'll have a lineup with the Philly QB in the captain spot just in case he explodes.

What also makes me salivate are the QB rushing highs against KC of late. Here are the rushing QBs vs KC (other than above):

Russell Wilson 57 & 27 yards
Jarrett Stidham 50 yards
Bryce Perkins 44 yards
Take the OVER on that rushing prop.
AJ BROWN (13800/9200) Would appear to be a great play, yet when you see his 7-60-0 line in two playoff games, you might have pause. He had 14 targets in the playoffs. This is, after all, the man who produced 23-476-1 in his previous 4 games (all 95+ receiving yards). The young Chief secondary has produced beyond its years, and will need to be up to the challenge against a physical specimen like Brown, who has been battling injury. Two weeks to rest should help him. Here are what some top WRs have done against KC:
Ja'Marr Chase: 6-75-0
Tee Higgins: 6-83-1
Zay Jones/Christian Kirk combined for 12-135-1 in the Divisional Round
KC allowed 108.7 receiving YPG to WR, so are Brown's props of 71.5 receiving yards and 5.5 receptions possibilities of going OVER? I think yes, but only in a lineup with Hurts. The best friends could have something to smile about by Sunday evening.
DEVONTA SMITH (8600/12900) Smith has 13 targets in the playoffs for the Eagles, yet he underwhelmed to the tune of 2-36-0 against the 49ers. The game flow was weird with the 49ers being completely overmatched after their QBs went down. Smith went for 29-421-2 in his previous 4 games. Aside from the weird SF game, Smith hasn't been under 8 targets since Week 9. This game is going to see some points, so the 61.5 receiving yard prop and 4.5 receptions prop all appear low. Take the OVER on both, and he'd be my 4th option as a captain.
DALLAS GOEDERT (9600) The TE has combined for 10-81-1 in the playoffs, and ran 24 routes last game (Brown/Smith had 26 each). The best TE the Chiefs have faced is George Kittle, who rang up 6-98-1 against them in Week 7. Goedert is good, but on this day I think he'll fall just short of the 48.5 receiving yards prop with most of the attention going to Brown and Smith. And I just don't see Goedert hitting the 4.5 receptions prop.
MILES SANDERS (7800/11700) So much is telling me that this is a game where Sanders is going to be leaned on heavily. While he had a good game at 17-90-0 against NYG, he wasn't needed much in going 11-42-2 against the 49ers. The two TDs were a good indicator of his gaining trust in the red zone, especially against the stellar SF run D. The Eagles attack based on their opponent's weakness on a given week. The Chiefs are giving up 129.9 scrimmage YPG to the RBs with 46.2 of that in the receiving game. Sanders has a 59.5 rushing yards prop, which he passed in 3 of his last 6 games. My major concern that keeps me from rostering him in DFS is that he has 4 total targets in his last 6 games. That 4.5 receiving yards prop is enticing, but just say NO. He needs to get at least 1 TD to pay off being a play in DFS.
KENNETH GAINWELL (5000) One of the popular calls since this matchup was set has been Gainwell to score an anytime TD, which is +310. With 26 touches in the playoffs, albeit in both games getting out of hand fairly quickly, Gainwell is getting the workload needed. His 12-112-1 line against NYG was a great utilization of garbage time. Compiling 74 scrimmage yards against the 49ers was more of the same. That 19.5 rushing yards prop is quite inviting. Coincidentally, that's the same marker as Mahomes. If you want to save money on Sanders to get bigger names in your DFS lineup, Gainwell is a good play. Especially because he's the lone back who's going to get any kind of work in the passing game for the Eagles. However, I'm not recommending putting him in the captain spot.
BOSTON SCOTT (3000) Another popular prop is Scott at +450 for an anytime TD. He's scored in 3 straight games, even in what could be seen as limited duty. Here are his rushing attempts in his last 3 games: 9-6-6. Another longshot play who could pay off with hitting pay dirt.
QUEZ WATKINS (1400) I'm hearing more than a few people calling for Watkins as a punt play in DFS to get others into their lineup. I just don't see it. He ran just 14 routes last week, and here are his targets the last 4 games: 1-4-0-1. I'm going to pass on him all around.
MY FAVORITE DRAFTKINGS LINEUP:
CP: TRAVIS KELCE (15900)
PATRICK MAHOMES (11000)
JALEN HURTS (11200)
DEVONTA SMITH (8600)
BOSTON SCOTT (3000)
JODY FORTSON (200)