Last year up cropped the Twitter handle Fantasy Receipts, to remind us fantasy football analysts about our takes that went awry. As if we don't already beat ourselves up enough when we're wrong. I looked at a My Guys article that I wrote in August, where in January I wanted to point at myself and laugh on a couple of predictions.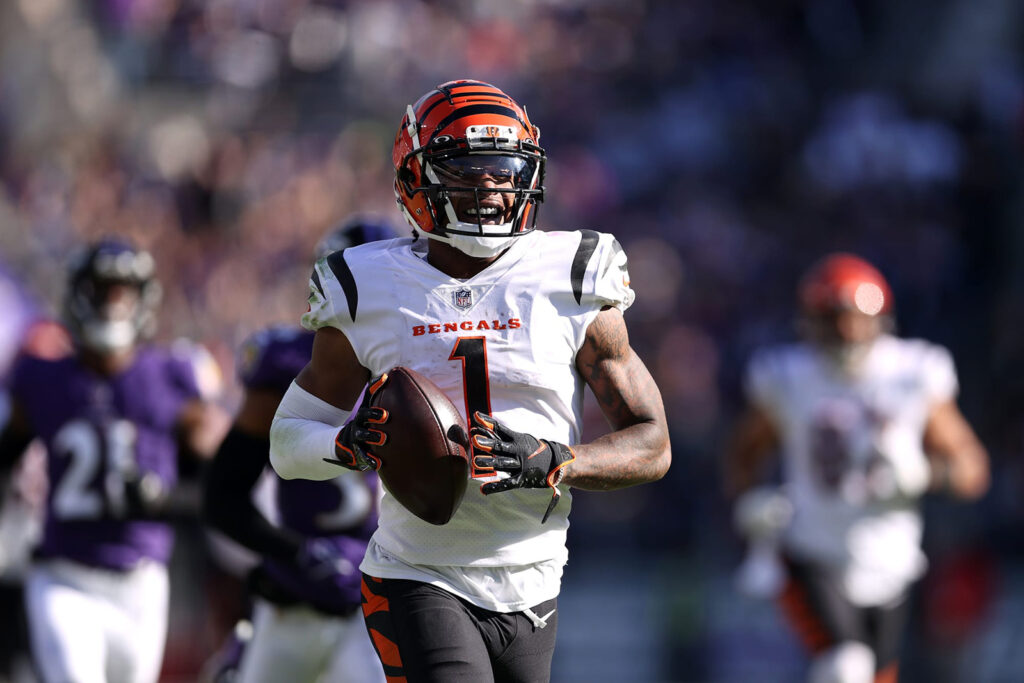 Bueno, no one bats 1.000 in this fantasy game. Even the perfect teams draft a clunker here and there. I'm told that 60% is a good average. That doesn't keep me from wanting blast myself for predictions gone wrong, whether before the season or during a week. 
I have to remember to not drive myself loco when predictions go wrong. Time to learn from them, and see what I should have looked for going into making that decision. That way I can make a more educated decision next time a similar scenario comes up. 
So here we are. Time for the lessons learned from the 2022 season as we're working through the 2023 NFL Draft season, with a definite eye toward how to approach our drafts whether they're dynasty, best-ball or August/September redraft. Any early strategies will be dropped in all over. Time to forVamos!
ELITE QB IS REAL & IT'S SPECTACULAR
I'm going to plant this flag early: Go after the elite QB. I know it's going to cost you, but it's going to be worth it. My guy coming into last season was Kyler Murray. That just didn't work out. On teams where I selected Josh Allen, Patrick Mahomes or Jalen Hurts, I made the playoffs. Yes, other players helped, but having that stud weapon behind center was so clutch. Especially in 6-point passing TD leagues. This Big 3 is a cheat code for fantasy.

The lowest FPG among these three was 24.3 by Allen. That was still almost 3 points more than Joe Burrow at 21.7. From Burrow to Justin Herbert and Jared Goff at 17.1, that's an additional 11 spots of difference in how they finished on the season. From the Big 3 to the QBs in the low teens, that's a huge disparity. Also, here are some players you passed on in 2022 if you picked the Big 3.
Allen (ADP 21): Deebo Samuel (22), Leonard Fournette (24), Mike Evans (26), Ezekiel Elliot (28)

Mahomes (ADP 30): Kyle Pitts (31), Keenan Allen (32), Michael Pittman (33)

Hurts (ADP 55): Allen Robinson (57), Antonio Gibson (58), Brandin Cooks (62)
Yes, you can get these guys and it might not hurt as much as you'd think. Yes, there are great players who were very successful and went in this range. I just see that if you set yourself up with a QB who's an every-week starter and is going to give you elite production consistently, that's a huge advantage over your opponents. Mahomes threw for 300 yards 10 times and had 2+ TDs 12 times. Hurts went under 20 FP just twice in his first 14 games before he got hurt. In eight of those games he was over 27 FP. These guys are difference makers.
Now will it be a Big 3 again? I very much like them, even at the raised ADPs that it will cost, and there could be others to join that elite tier. Burrow, Herbert, Lamar Jackson (destination permitting), Justin Fields and Trevor Lawrence can either join the Big 3 or settle into the next tier of top QBs. Get one of them and you can even forget about a backup in single-QB leagues. And in super flex, these are game changers.
DON'T DRAFT HURT GUYS
Last year I interviewed Dr. Edwin Porras about the glut of WRs and RBs who were coming off 2021 ACL surgeries. Just to name a few were Chris Godwin, Robert Woods, Michael Gallup, Odell Beckham Jr. and Jameson Williams. On the RB side, J.K. Dobbins and Gus Edwards were a couple who were recovering from the same surgery. All were at or under the 12 months from their surgery dates to the start of the 2022 season, which is what Porras and other sports medicine professionals say is the ideal timeframe for full recovery and the surgical graft to have formed.
Of the players listed above, only Godwin helped teams in 2022. He was WR19 with 104-1023-3 on the season, though he wasn't receiving a full target share until Week 4. If you had to start a player you most likely would have sat for Godwin, you were likely at a disadvantage in all three of those games. That could be the difference between making and missing the playoffs.
Now, all these players I like for 2023, as they're all expected to have fairly normal offseasons that don't include rehabilitation. That's a big difference to me. If a player can go through his regular program, that to me is a big advantage over players who are rehabbing just to get on the field.

Two players I'm already looking at fading are Breece Hall and Javonte Williams. Both will be less than 12 months from their surgery date when the season starts in September. Porras compared Williams' injury with that of Dobbins'. Hall's wasn't as complicated, so I think there will be more helium around his recovery. Hall is going ahead of Josh Jacobs, Nick Chubb and Travis Etienne in early Underdog ADP for best-ball leagues. I'd rather have any of them instead of Hall, because they can impact my team from Week 1. Hall may be a good player for the back half of the season, so I'd rather trade for him in-season, when teams are struggling early. Again, give me healthy guys.

INJURY PRONE IS A LIE
I'm borrowing a line from Porras' great podcast. Who was fading Christian McCaffrey before 2022? Saquon Barkley? What did they have in common? Both had injury-plagued seasons the previous two years, but were not coming off surgeries. That to me is a great indicator that ties into what I pointed out just above.
CMC and Barkley were being faded because they'd hurt people's teams previously. I had one team, where I really thought about taking CMC at the 1.01, but my partner wanted the certainty of Jonathan Taylor instead. I liked Taylor a lot, too, so we went for JT. Well, you know how that turned out.
Speaking of JT, he's going to be a player who fantasy gamers are going to fade this year because of his injury battles last year. He's 1.11 in early Underdog ADP, the third RB off the board. He's coming off a sprained ankle that should still allow him to have a normal offseason. New Indy HC Shane Steichen comes from a very run-heavy scheme in Philly, and add to it that JT is going into a contract year. That latter is just like Barkley before his RB5 season. Yes, I'm bullish on JT. And I'll be following Cooper Kupp, who reports said could have played late in the season if the Rams hadn't been eliminated from the playoffs. Yes, he had surgery, but it looks like he's not limited from having a normal offseason of training.
TE OR NOT TE?
This really is the question. More specifically, it's Travis Kelce or punt? For all those people who were saying he was nearing the age cliff, remember that Hall of Famer Tony Gonzalez caught 80+ receptions in four of his last five seasons. He was 37 his last season. I know age is undefeated, but there are outliers that put off that cliff longer.
Kelce is 1 of 1. If he plays as long as Gonzalez, about four or five more seasons, the KC TE will own all the NFL records for this position. Everything is there. He's durable, having missed two games in the past nine seasons. He has the best QB in the game in Mahomes, who is very much in his prime. There has been no elite replacement for Tyreek Hill. And they have a future Hall of Famer in Andy Reid calling plays.
Kelce's 18.6 FPG would have been WR5. He finished 5.2 FPG ahead of George Kittle's 13.4. He scored 100.9 points more than TE2 T.J. Hockenson. Get the idea of the positional advantage? There are some who are calling for drafting him at 1.01. Underdog has him at 1.04. Be ready to pay that price, and he'll deliver on that expenditure. But after him, what do we do?
I'm tempted to punt to the back half of the top 10 TEs. Look at who's going around the next three TEs.
Mark Andrews' ADP is 32.7, just in front of Rhamondre Stevenson, Justin Fields and Lamar Jackson. Hockenson's ADP is 41.5, which is followed by Najee Harris and Herbert. Kittle is 44.7, ahead of Christian Watson, D'Andre Swift and Godwin – Joe Mixon is in that group as well, but not recommended.
If I don't get Kelce, I'm waiting for the likes of Evan Engram, David Njoku and Pat Freiermuth, TEs 9-11. I want players who will have a greater impact on my team in the earlier rounds than TEs who are very good, and could be elite, but have some warts that make me wary.
RB DEAD ZONE, MAY BE SOMEWHAT LIVELY
Admit it, you were out on Josh Jacobs as soon as he drew carries in the Hall of Fame Game. You weren't alone. Jacobs' ADP was #48 overall, about a round behind Cam Akers and David Montgomery. All Jacobs did was deliver a season with 2000 total yards. In that ADP range were players like Breece Hall, Elijah Mitchell and J.K. Dobbins. If you got Jacobs instead of the others, you had a great chance at going far in the fantasy playoffs.
Who are some of these RBs who could fall into rounds 4-6 in fantasy drafts? Jacobs isn't one of them. D'Andre Swift and Mixon are currently in the same range as Jacobs went last year. Mixon may be on a new team, if recent speculative reports come true. Swift may fall into a primary role, but injuries have limited him when his usage is high. Plus, the Lions employed a committee with Swift and Jamaal Williams very effectively last year.
As it stands now, the RBs in this range who I'm looking to jump up are #66 Dameon Pierce and #69 J.K. Dobbins. Pierce showed us that he can carry a full load by rolling up 1104 total yards in 13 games before a sprained ankle ended his season. The Texans have so many holes on their roster, it's hard to imagine them spending big money in free agency or draft capital on the RB position. Dobbins definitely had a hitch in his giddy up in his return to the field late in the season, though he still delivered two games of 100+ yards and a third of 93 yards in his final four games of the season. This will be his second year coming off ACL surgery, so the expectation is that he'll be about full strength like Barkley last season. Also, rookie RBs could fall in this range, so you may hit on this year's Tyler Allgeier or Isaiah Pacheco.
ELITE WR, THE NEW RB1
Justin Jefferson: league-leading 184 targets, 128-1809-8 and 21.7 FPG. ADP: 1.06. Finish: WR1.
Cooper Kupp: 75-812-6 in 9 games. 22.4 FPG, tops among the WR position. ADP: 1.04. Finish: WR23
Ja'Marr Chase: 87-1046-9 in 13 games. 18.6 FPG. ADP: 1.09. Finish: WR11.
Davante Adams: 180 targets was #2 in the NFL, finished with 100-1516-14 and tops in TDs among WRs. 19.7 FPG. ADP: 1.11. Finish: WR3.
Stefon Diggs: 110-1455-11 on 156 targets. ADP: 1.12. Finish: WR4
CeeDee Lamb: 107-1359-9 on 156 targets and 17.7 FPG. ADP: 2.06. Finish: WR5.
Tyreek Hill: 119-1710-9 on 170 targets for 20.1 FPG. Was threatening 2000 receiving yards before a late-season ankle injury. ADP: 2.07. Finish: WR2.
What do all these players have in common? If you drafted a WR in the first couple rounds, that player likely delivered. Of the seven WRs going in that range, only Deebo Samuel taken at the 2.04 and finishing as the WR38 didn't give a return on the draft investment.
The elite WRs are becoming consistent and reliable sources of fantasy points. They've become the equivalent of the RB1 if you want to avoid the injury risk in the first couple rounds. Six players averaged more FPG than Barkley's 17.8, which was good for RB5. Taken out further, 11 WRs scored more than the 16.0 FPG that Joe Mixon averaged to finish as the RB8.
I know there are the Robust RB strategy drafters out there, but I still like my Hero RB strategy, locking down at least one of the top pass catchers early on. This also has me thinking really hard about the Zero RB strategy for this year. Lock down a couple stud WRs, or one plus Travis Kelce, then just hit RBs like Pierce and Dobbins later. Or even the rookies. Getting those fantasy studs early – no matter the position – who are predictable sources of fantasy points, sounds simple. But it works.
REMEMBER GOOD ROOKIE FINISHES
People last year were saying that Amon-Ra St. Brown's electric finish was just a mirage, as injuries left him as the focal point of the offense. He only finished as the WR7 with 106-1161-6, even while missing a game and most of another.
Rookies, particularly RBs and WRs, seem to find themselves in the second part of their first seasons. That's the money time for fantasy players. Ken Walker rumbled for 107 and 133 rushing yards in Weeks 16 and 17. Allgeier put up 95+ total yards in the three weeks of the fantasy playoffs. Teammate Drake London saw between 8-12 targets from Week 13 on. Pacheco registered at least 82 total yards in Weeks 10-16. From Week 13 forward, Garrett Wilson drew at least 8 targets, with a high of 17 to close out the season.
These are a handful of rookies who closed the season like Mariano Rivera in the 9th. The RBs need to be watched as free agency and the NFL Draft beckon, as Allgeier and Pacheco could get some company that might impact their touches. Walker, I believe, is safe from getting company that could impact his playing time. The WRs should remain primary targets, and Wilson could see his ADP rise if the Jets upgrade at QB. Chris Olave, who did not close well, but was a force most of the season, did see a QB upgrade to Derek Carr. I'm predicting a jump in ADP.
So much growth happens after a regular offseason that involves football training and familiarity with their respective teams and schemes. This is also a reminder to hold on to those rookies early, so you don't dump them and then see the players help leaguemates win titles. I'm still haunted by the team where I dumped ARSB for a kicker in Week 1 in 2021, and then got spanked by a team that picked him up exactly the week he started his loco finish to the season.