I've seen it so many times. A player comes off a disappointing year after being incredibly hyped. Then the next year that same player completely goes off and outperforms where he was drafted.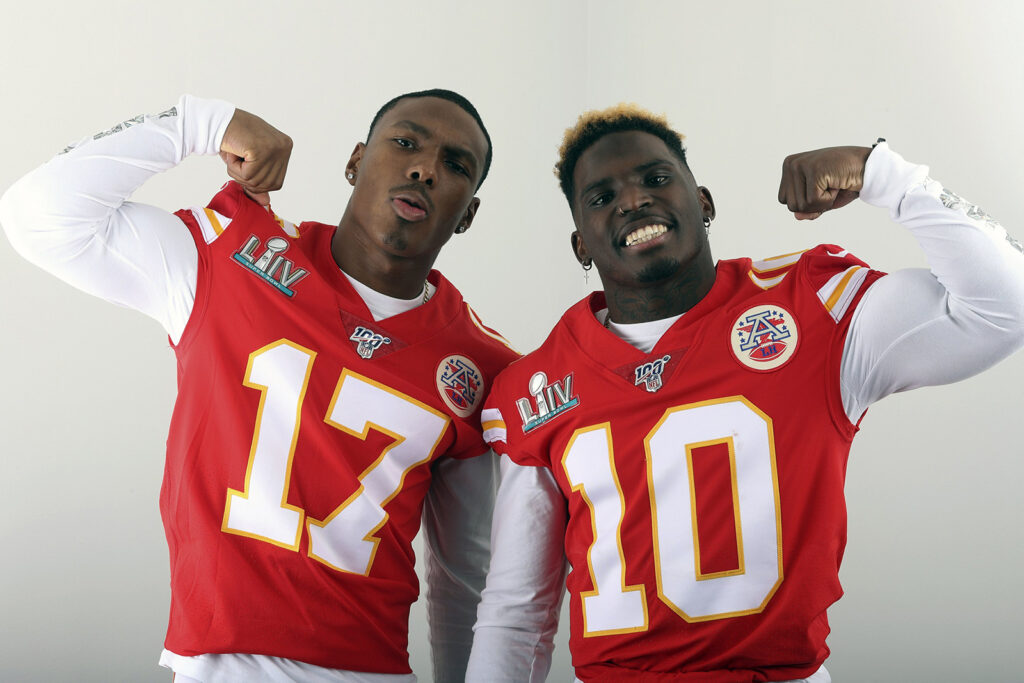 Clyde Edwards-Helaire is my nominee for a player who is going to do that this year. He seems to be flying under the radar in a lot of fantasy football circles, with an ADP of 2.08 and the RB14, according to Fantasy Football Calculator. Last year, he went in the middle of the first round, and there were plenty of people posting on Twitter that they drafted him first overall.
That was rookie hype gone overboard. Everyone wants to hit it big with the next hot thing, but CEH had to approach Kareem Hunt in 2017 to pay off where he was being drafted. Then he had an underwhelming season by most people's standards, with 803 rushing yards, 36 receptions, 297 yards and 5 total TDs. Decent rookie-year numbers, but not middle-of-the-first-round worthy numbers. Add to it that he had 28 rushing attempts in the red zone and cashed in just 3 of them.
Yet there is hope. As part of my Insider Series, I spoke with Joshua Brisco of Sports Illustrated about CEH, and whether people might be buying low on him in 2021.
"One of the big disappointments, at least holistically, is that he wasn't as involved in the passing game as we thought he would be," Brisco said. 
The other part pushing CEH down draft boards is that his overall numbers were underwhelming compared to other RBs from the rookie class, especially Jonathan Taylor. Keep in mind that CEH missed the final three games of the season with hip and groin injuries. He barely made it back for the playoffs. Fantasy players often overemphasize players who miss time late in the season and degrade them for that.
I have a mantra I say time and again: Play for the season ahead, not the season that already happened. As Brisco mentioned, there is no Le'Veon Bell who walked into the RB room in K.C. This still appears to be CEH's backfield. CEH did not have surgery, which is a good sign. He had a normal offseason and got to learn the playbook better. Many RBs get better in pass protection in their second seasons, so expect CEH to be on the field some more often.
I look at where he was ranked when he got hurt. He was the RB13 and averaging 13.5 Fantasy PPG. His 46 targets were top 10 in the league at that time. He was involved, but not as creatively as he was at LSU. I chalk that up to the lack of training in the offseason.
He's going to be the primary ballcarrier for the Chiefs, and over 17 games his average of 13.9 carries per game would come out to 236 carries this year. Put his receptions in the 55-60 range, we could be talking a season with about 1,500 total yards. Figuring an increase in TDs to 8-10, he's easily in the top 10 among RBs. And that's only with him maintaining the same averages. With improvement that often comes in Year 2, we could be talking top 5 RB.
Remember, you want a piece of this offense. And CEH will rarely face a stacked box because defenses are primarily focused on stopping the Mahomes/Hill/Kelce air show. The O-line was also upgraded, so all signs are pointing to CEH taking the Year 2 jump.
"If that all ends up happening, if Clyde can be a #2 back on your roster that would be a super strong pick for me," said Brisco, who is also an avid fantasy player. "His floor last year was still decent until he got hurt. I would have a tough time seeing him be a second-round underperformer. The only thing is, how much are the Chiefs going to run the ball? If they're going to run it some, it's going to be Clyde. If you go WR or TE first, you could do worse that Clyde as your #1."
MECOLE WATCH, AGAIN, OTRA VEZ
I know, yo se, we heard about Mecole Hardman last year. People were enthralled with his 2019 TD efficiency and explosiveness. He was boom-bust something crazy. Mostly bust.
Well, we're here again, and this time the odds of him paying off that 9th-round ADP appear to be better. First off, it was a more normal offseason for Hardman, where he could get more work in the system, alongside Tyreek Hill and Travis Kelce. And with that guy Patrick Mahomes.
Also, with the departure of Sammy Watkins, the Chiefs had 87 vacated targets, according to NBC Sports Edge. The Chiefs didn't sign anyone of significance in free agency nor drafted anyone. The opportunity is there for Hardman to get the #3 role in this offense.
But first, lose the Hill comparisons. Yes, these two have blazing speed in common. That's essentially where the similarities end. Hill has a start-stop and change of direction that no one else has with sub-4.3 speed in the 40. We're talking potential Hall of Famer with Hill. Hardman is the classic straight-line burner. He would do well fitting into a DeSean Jackson-type of role, getting his share of deep shots from arguably the best deep thrower in the NFL. His ADOT last year was a pedestrian 10.6, well behind Hill's 12.9. Hardman's targets also increased from 41 to 62. With the #3 target in the offense there for the taking, picture Hardman adding another 20 targets this season.
"Hardman is the next receiver you take a shot on," Brisco said. "His ceiling is higher (than others). I would hate to be relying on him. We're two years in and I really don't know how the Chiefs view Mecole Hardman. That's why he's an interesting draft pick. And it's also scary one that I could see it going either of two ways. I could see him basically having a rerun of 2020. I could also see a world where, 'We're going to put our fastest receiver on the field in his role and see what he could do with it.' It's a legit coin flip for me."
Going in the 9th round, I'll take my chances on a player with blazing speed in one of the best, if not the best, offenses in the NFL. I project him to 55 receptions in 80 targets, for 825 yards and 7 TDs. Maybe he's a starter in leagues with multiple flex options, or at least he's more of a player you try out in single-flex leagues early in the season to see if his role fits. Considering where he's going, you might be joining Brisco in flipping a coin on whether to start Hardman.
SOURCES: PFF / Pro Football Reference / NFL Savant