I know you've already heard from me how I'm recommending the Elite QB draft strategy for the 2023 fantasy football season . It looks like people are listening, because the top eight QBs are off the board by the 2nd pick of the 6th round in Underdog Fantasy drafts. OK, maybe a few people have been squawking about it beyond me.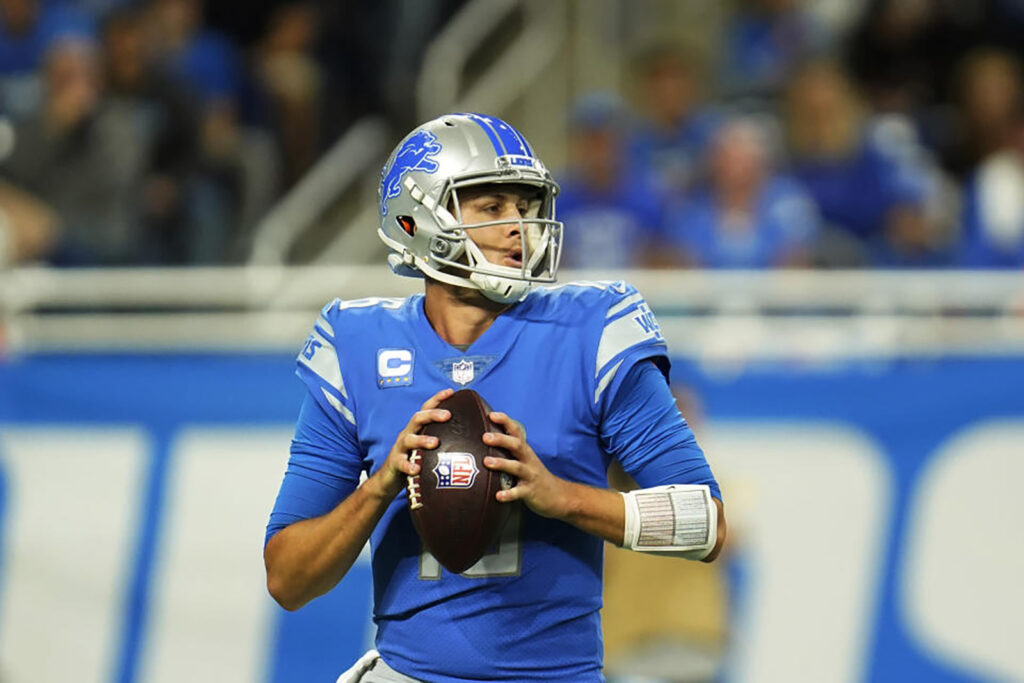 Yes, you still have the urge to load up on running backs and wide receivers in the early rounds. Maybe even take Travis Kelce in the first round. Well, there is an option to consider. I debuted it on an episode of Familia FFB with amigo Andrew Cooper. He gave it the nickname the Hermanos QB Strategy. So that's going to be the name, unless something comes to me in a dream after having one too many birria burritos at my Mom's home.
PLAY UNDERDOG FANTASY BESTBALL. GO TO UNDERDOGFANTASY.COM AND USE THE PROMO CODE FAMILIA23 AND GET MATCHED UP TO THE FIRST $100.
The idea came a few days before the NFL Schedule was released. I remembered how incredible Jared Goff and Kirk Cousins were at home last season – and often less-than-stellar on the road. Here's what we got in 2022 when Goff and Cousins were at home last year:
JARED GOFF
210-319-2472-23-3 (9 G) / 17-game projection: 4669 yards and 43 TDs
KIRK COUSINS
234-347-2401-18-4 (9 G) / 17-game projection: 4535 yards and 34 TDs
If those full-season projections had held up for 17 games, Goff would have averaged 21.6 FPG, which over a full season would have made him the No. 5 QB behind Joe Burrow. The 43 TDs would have been a couple more than Patrick Mahomes' league-leading total. Cousins' FPG average in home games was 20.0. That would have made him QB7 over a full season. That number shoots up to 22.2 FPG by taking out the 2.2-point clunker in a 40-3 debacle when the Cowboys stormed into Minneapolis.
I had the idea: What if we could stream Goff and Cousins exclusively when at least one of the QBs was at home?
Well, after the schedule came out, the idea had some legs. In the first 17 weeks of the season (going through the championship week of the fantasy playoffs), at least one of Goff and Cousins are home 13 of the 17 weeks. Only two of those games are outdoors, yet they are in Weeks 4 and 6. Of those two contests, the latter game is set for Oct. 15, hardly a time when players are dealing with bitter cold or heavy weather.
Then I looked at the Underdog Fantasy ADP that Goff and Cousins have. Cousins is going in the 9th round at No. 101 and Goff is getting picked early in the 11th round at No. 124. You can spend early draft picks all on RBs and WRs, then take these two later because you can flip flop them week by week based on where they're playing. Here's a quick look at their weekly schedules all through championship week, with starting recommendations for each.
WEEK 1: LIONS @ CHIEFS / VIKINGS VS BUCCANEERS
You might want to flip a coin on whom to start in this one, because even going into Arrowhead Stadium to be the opponent as the Chiefs get their Super Bowl rings, the Lions are going to put up some points. And remember the last time that Goff locked horns with Mahomes? That ended in a 54-51 thriller on MNF in November 2018, still the highest-scoring game in NFL history. I'll still lean heavily toward starting Cousins against the Buccaneer defense that may be in some transition.
WEEK 2: LIONS VS SEAHAWKS / VIKINGS @ EAGLES
Stay away from Cousins in Philly, where he laid an egg last year. Goff lit up the Seahawks for 378 yards and 4 TDs in a 48-45 home loss to Pete Carroll's crew. Look for more of the same here, because while the Seahawks added to their secondary, their D-line could still use reinforcements.
WEEK 3: LIONS VS FALCONS / VIKINGS VS CHARGERS
I'd lean toward Cousins in this game, as the Chargers are going to be more pass-heavy than the rumbling Falcons and Bijan Robinson. I could see Vikings-Chargers to have an over/under in the low 50s, in which case wheels up for Cousins.
WEEK 4: LIONS @ PACKERS / VIKINGS @ PANTHERS
The first of the dual outdoor games. I'd be tempted to take Cousins against the Panthers, who won't have the familiarity that the Packer defense will have against Goff and the Lions. Though if the Green Bay secondary is not improved off last year, Goff could be the sneaky play here. Keep an eye on how the first three weeks have gone.
WEEK 5: LIONS VS PANTHERS / VIKINGS VS CHIEFS
Did someone call for a Vikings-Chiefs shootout? Remember, Minnesota is still rebuilding its secondary, and Mahomes is going to come into Minneapolis guns blazing. Cousins will be pitching it to Justin Jefferson and Jordan Addison plenty to keep up with KC. The Panthers have a good secondary, but it's hard to go anywhere but chasing the points in the MIN-KC game.
WEEK 6: LIONS @ BUCCANEERS / VIKINGS @ BEARS
Middle of October, I can see going either way in these road games. The Bears had an awful defense last year, and even with reinforcements in free agency, it's still got a ways to go to even be decent. Take Cousins in another high-scoring game keeping up with Justin Fields.
WEEK 7: LIONS @ RAVENS / VIKINGS VS 49ERS
The 49ers were vulnerable to the pass at times last year, especially in Las Vegas when Jarrett Stidham lit them up for 365 yards and three TDs (against two INTs). This is an easy call, because I don't expect Goff to do much in crabcake country.
WEEK 8: LIONS VS RAIDERS / VIKINGS @ PACKERS
Speaking of the Raiders, the Lions get to host the Raiders and their rebuilding defense. That secondary is still going to be vulnerable, especially if the Detroit O-line can neutralize the Raider pass rush. Davante Adams and Josh Jacobs will make sure the Lions have to keep the pedal down.
WEEK 9: LIONS (BYE) / VIKINGS @ FALCONS
Only choice this week is a game when the Vikings stay indoors down in Atlanta. The Falcons still have A.J. Terrell in the secondary, and he occasionally got beat by top WRs. Still, this game will see some points scored, and Cousins will be pitching it to his receivers plenty so I like the matchup overall.
WEEK 10: LIONS @ CHARGERS / VIKINGS VS SAINTS
A Goff-Herbert shootout is a definite possibility indoors in the former Ram's return to SoFi Stadium, if you're so inclined. Still, the smart money says go with Cousins at home against the Saints.
WEEK 11: LIONS VS BEARS / VIKINGS @ BRONCOS
I very much see myself targeting the Bears' defense plenty this year. They made some improvements, but this unit is not going to make anyone forget Mike Singletary's 1985 legendary squad. Take Goff for the win in another game that could see some points scored..
WEEK 12: LIONS VS PACKERS / VIKINGS VS BEARS
With both at home, who's facing the worst defense? Cousins gets the Bears and you get the benefit of facing that defense in consecutive weeks. By this point, Fields should be rounding into shape as a top offensive threat, so this game has shootout potential.
WEEK 13: LIONS @ SAINTS / VIKINGS (BYE)
Another bye week, this time for Cousins. The Lions go to the Superdome, and remember the 2019 NFC Championship Game when Goff put up 297 yards and a TD in a game that sounded like it was being played in an airport. 
WEEK 14: LIONS @ BEARS / VIKINGS @ RAIDERS
Tempted to take a third shot at the Bears, but it being late November in the Windy City for Goff, Cousins visiting the great indoors in Sin City is the call. Another shootout is possible, with Adams getting loose plenty in this one in a game that will have a healthy over/under.

WEEK 15: LIONS VS BRONCOS / VIKINGS @ BENGALS
Cousins could have to put up some points against Joe Burrow and Co., but Goff indoors against the Broncos is the logical call. By this point Jameson Williams will be fully incorporated in the offense, giving Goff another option other than the Sun God.
WEEK 16: LIONS @ VIKINGS / VIKINGS VS LIONS
This is fun. It's actually a coin-flip game, as this game could be a shootout. Cousins is home, so I'll go with him.
WEEK 17: LIONS @ COWBOYS / VIKINGS VS PACKERS
The Lions could be a play inside in Big D, but I'm taking my chances with Cousins in this one against the Pack. Last year when Minnesota opened up in Green Bay, Jefferson blew through the Green Bay defense to the tune of nine catches for 184 yards and 2 TDs. So if you got Jefferson with one of the first picks in the draft, this is a good stack to build.
There it is, 13 home starts in 17 games, including several with shootout potential that will give us some points. The TDs will be plenty. A few more notes to keep in mind. Goff threw multiple TDs in 8 of 9 homes games, while Cousins did that in 6 of 9 games in Minnesota. Of Goff's top 10 finishes last year, 5 of 6 were home. Cousins was 6 for 7 in Top 10 finishes in the Twin Cities.
I've been looking to do this on a couple Underdog Best Ball drafts, and I will use this strategy on at least one single-QB redraft team. And I'll be keeping an eye on it during the season to see how it shakes out. 
There you have it, the Hermanos QB strategy to let you load up on non-signal callers early in the draft. Gracias again to Andrew for the name. It may not be as spicy as some great salsa, but it still will give you some good sabor. Salud!