Familia, I know it's cold in most of the country. We've even gotten way over the regular allotment of rain that we're used to here in California. But now that we're in the playoffs, it's a great time to break out the indoor grill and get some carne asada sizzling and into some tacos so you can enjoy the games.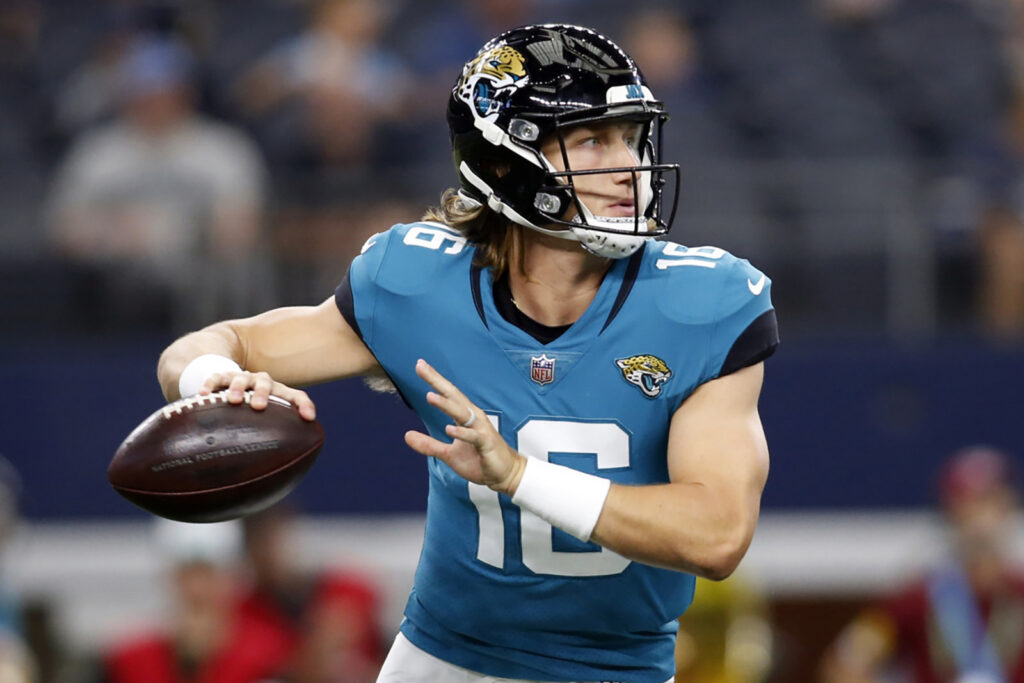 And you also see it from the other side. I had two top seeds lose in the semi-finals last week. Some real flop performances. It's going to annoy me for a while, but I still have a couple titles to play for, including the Fantasy Points staff league. So I'm wishing you buena suerte as I join you in this journey. Let's do this. As I've mentioned, any per-game averages are since Week 12. Some big decisions to make, and hopefully this helps you make them. Let's do this. Salud!
Or order in some Door Dash so you don't have to miss a second. That's the beauty of this time of year. While we love the Red Zone channel, there's something to watching island games in their entirety. We pick up some subtle nuances that hopefully will give you a clue for the next week's game. Or even the next season. Just don't go loco if someone scores 4 TDs like Gabe Davis did last year. That's a career game that won't likely be replicated anytime soon.
So I'm going to break up this week's DFS Fiesta into the pair of Saturday games and the remaining Sunday-Monday tilts in a separate article. All the games are intriguing, as they're rematches. I'll offer advice if you're playing DraftKings, as well as on the Over/Under. I'll look at player props in future editions, when there are fewer games. Well, no more time to wait. Any DK dollars are going to be for the entire weekend. And any per-game averages are Weeks 13-17, unless otherwise noted. Point spreads are from the DK Sportsbook, and you'll see the weather conditions for each outdoor game.  Vamonos on the Saturday slate of games! 
SEA @ SF
SF -9.5 / 42.5
55 & RAIN & 12 MPH WINDS
PREVIOUS SCORES: SF 27-7 (Wk 2) and 21-13 (Wk 15)
SEAHAWKS
The Seahawks lost 27-7 (Wk 2) and 21-13 (Wk 15). Can they lose to the same team three times in a row? Geno Smith went 197-0-1 and 238-1-0 in those games, and didn't look like the surprise player who threw for 30 TDs and finished as the QB5 on the season. Only once in the last four games did he throw for more than 1 TD. The 49ers have been giving up some air yards, 288 passing YPG (#30) of late, and were undressed by Jarrett Stidham (365-3) and Davante Adams (7-153-2) in Week 17. That will have to be how the Seahawks attack the 49ers. DK Metcalf caught 11 balls for 90 yards combined in the two games. Slot receivers have had more success against SF, with Tyler Lockett – 9-107-0 and 7-68-0 – putting up decent to good production in those two contests. The passing game may be Seattle's only saving grace, as the 49ers are allowing a miserly 67.2 rushing YPG. Kenneth Walker was RB18 on the season, going for 228-1050-9 with 27-165-0 receiving. However, in his one game as the lead caballo for the Seahawks against the 49ers, he turned 16 touches into 79 yards. Josh Jacobs (17-69-0) and Brian Robinson (22-58-0) were both held in check recently by the 49ers.
49ERS
The incredible story continues for Brock Purdy, who put up 217-2-0 in this matchup in Week 15 He was also QB5 last week. The 284-2-1 line he put up in Week 17 at LV stands as his best game. The 49ers are riding high on a 10-game win streak, six of those with Purdy. His new bestie has become George Kittle, who has 7 TDs from Purdy since Week 15. Kittle finished as the TE3 overall and was #2 with 11 TDs. At $6100 in DK, the only thing holding me back from clicking on him is the weather. And the possibility of gamescript making this the CMC/Elijah show. Brandon Aiyuk was held to 2-19-0 in Week 15 vs. Seattle, but now Deebo Samuel is back to take some of the coverage away from the breakout star. Will the wide back be completely unleashed, though? Samuel played 42 of 62 total snaps last week. I don't know if I'm trusting them in a one-and-done playoff league. Probably not on DFS, either. The Seahawks are allowing just 195.8 passing YPG and are #7 in FPG to the QB. Really, the engine this week should be Christian McCaffrey, who turned 13 touches into 79 yards and 1 TD last week. He had 32 touches w/ 138 yards and 1 TD vs. Seattle. Elijah Mitchell is back, though, and he had 5-55-2 last week. Will he eat into CMC's touches? I think so. The 49ers should get up early and turn to the run game. But that run game will be a split with Mitchell to keep both fresher for what the 49ers hope is a long playoff run. I'm not spending up to the $8900 that it would cost to roster CMC, but I could be convinced to throw $4700 at Mitchell. This game, though, with the rain and the greatness of the 49er D, I see it going UNDER. 
LAC @ JAX
LAC -2 / 47.5
46 CLEAR
PREVIOUS SCORE: JAX 38-10 (Wk 3)
CHARGERS
Por que, Brandon Staley? Why did you play your starters so long in a meaningless Week 18? That game ended up costing them Mike Williams, who's out for this week and may miss the entire playoffs even if the Chargers make a long run. If it hobbles Joey Bosa (groin), even worse. Justin Herbert played deep into the second half, and all that did was finish off a QB11 season with 4739 passing yards and 25-10 TD-INT. He had only a pair of Top 5 finishes on the season. Not what people expected when many drafted him ahead of Patrick Mahomes. Herbert went for 297-1-1 in the 38-10 loss to the Jags in Week 3 in LA, a game in which Williams was held to just 15-yard TD catch in Week 3. What Williams' absence assures is that Keenan Allen – he of 68 targets in the last six games, with three times hitting 14 – is going to get fed. Allen hit 100+ yards two of the last three games. Is Joshua Palmer ready to step up? Since his run in Weeks 9-13 when he had at least 7 targets in every game, he hasn't surpassed 6 targets in any game. I really think that after Allen, Austin Ekeler is going to be the co-leader of the receiving game for the Chargers. Through Week 12, operating mostly without Allen and Williams, Ekeler drew 10+ targets five times. If I'm spending up at RB in DK, I'm throwing the $8300 at Ekeler. Gerald Everett had just 23 receiving yards in the last 3 games, so not sure how much of a factor he's going to be. The Jags are allowing 248.6 passing YPG and #16 in QB FPG, but they were facing subpar QB play during that span. More representative was Weeks 9-15, when the Jags faced a gauntlet that included Patrick Mahomes, Dak Prescott and Jared Goff. They were #29 and allowing 282.3 passing YPG in that span. CeeDee Lamb put up 7-126-0 against the Jags, so is this a sign of a good game coming for Allen? I say yes. RB1 overall Ekeler finished with 1637 total yards, 107 receptions and 18 TDs. Quite the year, and expect the Chargers to ride him hard in this one after he had just 12 touches for 53 total yards against JAX last time. The Jags are allowing 132.8 scrimmage YPG to RBs, and Tony Pollard went for 23 touches and 106 total yards in Week 15. 
JAGUARS
The headline should read: Fabio Football goes to prime time in Super Wild Card Weekend! Trevor Lawrence had 4 Top 10 finishes in the last 7 games, though he put up a very pedestrian 212-1 in the win-or-go-home game last week against the Titans. He has to be more like the guy who had 300+ yards and 3+ TDs in three games since the Jags' Week 11 bye. He put up 235-2-0 vs the Chargers in Week 3. Since Mahomes went 329-3 in Week 11, the best game any QB has had against the Charger D was Russell Wilson's 283-3 last week. Christian Kirk has 92+ receiving yards in 3 of his last 6 games. Curiously, Zay Jones has only 8 receptions since that 6-103-3 blowup game in Week 15. Evan Engram since his big 7-113-0 game in Week 16 has just 5 catches for 43 combined yards. While the Chargers have been better on defense, teams can still run on them. Latavius Murray (104 yards), Cam Akers (123) and Derrick Henry (163 scrimmage yards) have all had good games of late against the Chargers. That bodes well for Travis Etienne, who needs to get more in the neighborhood of the 16-25 touches he got from Weeks 13-16, instead of the 19 combined touches the past couple weeks. My call is HC Doug Pederson puts the ball in Etienne's hands to justify us paying up the ($6300) DK price tag. This game is going OVER. It will be close, and I can see the Jaguars winning outright.