What would you say if I gave you a weekend where every game was a thriller? Where there was a combination of shootouts and hard-knuckle backyard brawls that left both teams spent and slumped on their stools. That was the Divisional Round in 2021.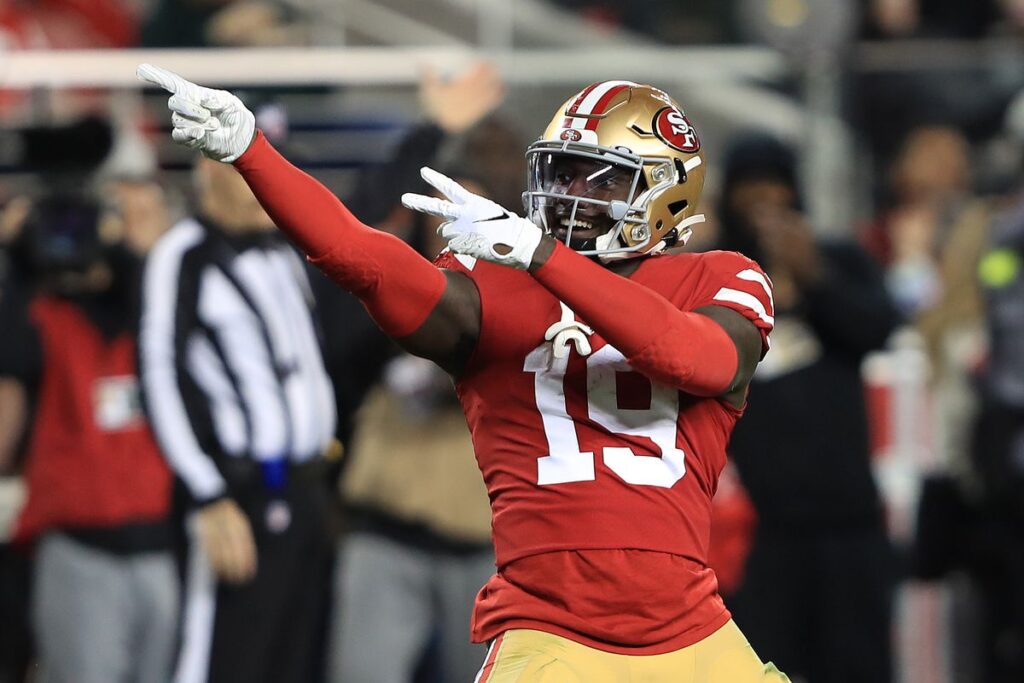 Four games, with every game being decided on the last play. Three of them were game-winning field goals, and the fourth was the 42-36 overtime thriller that was more Thrilla in Manila than a football game. Zoomers, please Google Ali-Frazier III to get that reference. Still one of the greatest heavyweight boxing matches ever.
Anyway, we could have that this week. The best QBs (Mahomes, Allen, Hurts, Burrow and Dak) and the hottest team (49ers on an 11-game winning streak) are on display. Familia, when I tell you to just sit back and enjoy the action, just do it. This is the weekend we've been waiting for, and many offseason fantasy narratives could get drawn here – this was the weekend when Gabe Davis scored the 4 TDs.
So, vamonos, let's get into DFS Fiesta. Any per-game averages are Weeks 12-17, taking out the wonky season finale week to skew averages. I'll include the DraftKings dollar values for relevant players, as well as some player props. Weather will be noted for each game, as well as any rematches. Enjoy the football. Salud!
JAX @ KC
KC -8.5 / 53
37 & POSSIBLE LIGHT SNOW

PREVIOUS GAME: KC 27-17
JAGUARS
Trevor Lawrence (6000) somehow put together one of the biggest turnarounds in NFL history in the Wild Card round. He survived 4 first-half INTs to throw 4 second-half TDs against the Chargers to finish with one of the more unique passing lines around: 288-4-4. His last 8 games, Fabio Football has 3+ TD passes in half the games. In the other half of games he has 0 or 1 TD in each. What's it going to be this week? I tend to lean that he'll throw for more than 1 TD, which would hit the over on the 1.5-TD passing prop. My reasoning stems from game flow. The Jags are going to have to pass the ball to keep up with the Chiefs. He attempted 40 passes in the Week 10 game when he finished with lines of 259-2-0 passing and 4-26-0 rushing. And I can see more of the same here.

KC is #28 against the QB in FPG, and has allowed 14 TD passes since Week 11. Joe Burrow got them for 286-2 and 1 rush TD in Week 13, while Russell Wilson had his best game at 247-3. Wilson is also the best QB the Chiefs have faced since Burrow, too. So I like the over on Lawrence's 249.5 passing-yard prop, as he's passed that number 4 times in the last 8 games.
Christian Kirk (14), Zay Jones (13) and Evan Engram (11) were target leaders last week, and all should be in play in DFS this week. Kirk (6000) went off for 9-105-2 against KC, while Jones (4700) laid down this line: 8-68-0. The Chiefs are #23 vs. the TE, so Engram's (4300) becoming a bigger part of this offense makes him a viable option in a week with good TE choices. Ja'Marr Chase 7-97 (Week 13) and Josh Palmer 8-106-2 (Week 12) are the high performers against KC since Kirk's big game.

Travis Etienne (6400) went for 20-109-0 and 1-12-0 last week, and he has 100+ scrimmage yards in 4 of his last 5 games. There are 5 RBs who have hit 100+ scrimmage yards against KC this season, and a couple notable lead caballos are Josh Jacobs with 17-45-0 in Week 18 and Ken Walker putting up 26-107-0 in Week 16. The Chiefs are allowing 129.9 scrimmage YPG to RB. That said, I'm looking at KC to put up an early lead, which should slow down Etienne's involvement in the offense. The 67.5 rushing prop feels a little high this week, so I'm going under.
CHIEFS
Patrick Mahomes (8000) is the top QB on the slate, barely, and it's with good reason. He passed for 331-4-1 in Week 10 against the Jags. On the surface it seems like his 315.5 passing yards prop appears high, then you see that he surpassed that mark 9 of the last 12 games. And while the Jags are #21 against the QB and allowing 249.5 YPG, the best QBs they faced after Week 12 are Jared Goff (340-2-0) and Dak Prescott (256-3-2). Justin Herbert had success on his way to an overall line of 273-1-0, but we all saw what happened in the second half of that debacle. They shot themselves in the foot more than the Jags shut them down. The Jags' secondary is there for the taking, and the only thing that could make that passing prop go under is if the Chiefs run up the score early and then just sit on the lead. My amigos at Fantasy Points pointed out that the Chiefs are 5-11-1 ATS, so if this game is close, Mahomes will keep pedal to the metal. So I'm recommending over for Mahomes' passing prop. When building a lineup with Mahomes, I know it's chalky, but the play has to be Travis Kelce (7700), who went for 6-81-1 last time vs. Jacksonville. OK, so he hasn't scored since Week 12 – 6 games. Well, do you want to bet against him hitting the end zone at least once and going over 100 yards? He's up against the #29 defense vs. the TE that just gave up a 6-109-1 game to Gerald Everett. I'm building a lineup with Kelce, and I'm smashing the over on his 79.5 receiving yards and 6.5 receptions props. Marquez Valdes-Scantling (3800) was high among KC WRs with 3-60-1 when these teams last met. MVS is also the high WR with 13 targets in their last two games. What's the best way to predict pass catchers for DFS? JuJu Smith-Schuster (5100), Kadarius Toney (4100) and MVS are varying levels of attractive against a defense that's especially vulnerable to the slot, which may be best for JuJu. I'm intrigued by the low price for MVS and the 39.1% slot percentage he had in their season finale. CeeDee Lamb put up 7-126-0 (Week 15) against these Jags.

Jerick McKinnon (6000) and Isiah Pacheco (5500) are both in play, but I lean toward McKinnon and the Ekeler-esque usage he's been getting. He has 9 targets in the last 2 games, with 9 TDs over Weeks 13-18. Pacheco had 14+ rushing attempts Weeks 10-16, but 9 and 8 since. He had only 2 TDs during that heavy-usage span. The Jags are allowing 122.5 scrimmage YPG, and have allowed Derrick Henry (twice), Tony Pollard and D'Andre Swift to all go over 100 scrimmage yards against the Jags.

GAME PREDICTION: I'm calling 31-17 Chiefs, so this game is going UNDER. Snow could be a factor, though the wind does not appear to be an issue.
NYG @ PHI
PHI -7.5 / 48
40 & OVERCAST

PREVIOUS GAMES: Philly sweep 48-22 and 22-16
GIANTS
Daniel Jones (5800) is the golden boy of fantasy right now, having gone 301-2-0 and 17-78-0 rushing in the Wild Card win over the Vikings. Those rush attempts were easily a season high. The only time he faced the Eagles he had a decent game, 18-27-169-1-0 and 4-26-1 rushing. He sat out the season finale. Jones has 10+ rush attempts in 4 of the last 6 games, so the over on that 45.5 rushing prop looks very tempting. The Giants are really putting the offense in Jones' hands. He may have to run a bit, because Philly is #1 in PFF Pass Rush rating at 88.6. Dak Prescott at 347 was the only QB to surpass 300 passing yards, while Justin Fields (95 rushing yards) and Dak (41) had good games on the ground against Philly. The target leaders for the Giants are Isaiah Hodgins (25), Richie James (25) and Darius Slayton (19) the last 3 games. Hodgins (4900), Slayton (4200) and James (3900) are all relatively cheap in DK. James had the best game last time – 7-61-1 on 9 targets – and was the unquestioned leader in the slot last week with 25 of 29 routes run from that position. CeeDee Lamb turned in a hefty 10-120-2 line in Week 16, and Philly is giving up 126.3 YPG to the WR.

Saquon Barkley (7900) is the #2 RB on DK, and last week he had 14 touches for 109 total yards and 2 TDs. He had 11 touches for 48 yards and 0 TD in Week 14 vs. Philly. Pollard had a 6-61-0 receiving line in Week 16, so there may be an avenue to get there via the air. Philly is #1 against the RB, and is allowing 117.4 scrimmage YPG to RB. I don't love the 69.5 rushing prop for Barkley. Take the under there.
EAGLES
Jalen Hurts (7600) is a bit of an enigma with the status of his shoulder injury. After missing two weeks, then playing in the season finale – somewhat unevenly – and then getting the bye week, is he completely healthy? He didn't look 100% in Week 18, sometimes looking like he was pushing the ball and not completely letting loose. He wasn't on the injury report this week, so that's a good sign. Hurts dominated the Giants in Week 14 with 217-2-0 and 7-77-1 rushing in the blowout win. The finale he threw for 229-0-1 and was hardly a factor rushing at 9-13-0. The Giants have been revitalized on defense behind Dexter Lawrence and Co, though this unit has allowed 15 total QB TDs since Week 12. Hurts and Kirk Cousins are the only good QBs the Giants have faced of late, and Cousins shredded them for 572 yards and 6 total TDs. Hurts' passing yards prop is 249.5, which might be a bit high in the third meeting in 7 weeks. We've seen already, divisiuonal rematches that appeared like they should have been blowouts in Buffalo and Cincinnati were more dogfights because of the familiarity. I can see Hurts going over the 51.5 rushing pop, as with Jones, the pass rush could flush him into positive runs. In the receiving game, it's A.J. Brown (7600) and DeVonta Smith (7200) clearly as co-alpha dogs. Smith is the target leader over their last 4 games with 43, with Brown right behind at 41. What has me leaning more toward Smith this week is that Brown may draw more attention from CB Adoree Jackson, who is fresh off holding Justin Jefferson to 47 yards on 7 receptions last week in what had looked like a smash spot before. Brown did get 95 receiving yards on 4 catches the last game, but Jackson was not in the lineup in the finale. By no means will Brown be shut out, but I can see Smith seeing more targets if he's consistently in lesser coverage. Smith has gone over 100 receiving yards in 4 of his last 6 games. I like the over on his receiving prop of 64.5. Dallas Goedert (4500) appears to have a HUGE matchup, as the Giants are #28 against the TE. T.J. Hockenson in the two games against the Giants lit them up for 23 catches for 238 yards and a pair of TDs combined. Goedert's DK price is #3 at the position, but he is a good way to pay down off Kelce and Kittle.

Miles Sanders (5700) destroyed New York for 144 rushing yards and 2 TDs on 17 carries, and he has what seems to be an inviting rushing prop at 68.5. But he hasn't surpassed that mark in his last 4 games since the blowup in New Jersey. I'm taking the under there.

GAME PREDICTION: This being that dreaded "beating a team the third time" in the same season, I'm still calling the Eagles winning, 21-17. So take the 'dogs and the UNDER.
CIN @ BUF
BUF -5 / 48.5
34 & OVERCAST / 12 MPH WINDS
BENGALS
This game may be the most anticipated of the weekend, to see if it can live up to the hype of the MNF game that was canceled after Damar Hamlin collapsed in the first quarter in Week 17. Keep feeling better Damar! Joe Burrow (6500) appears to be a good way to save dollars compared to the top QBs on this slate, and he has 9 games on the season with 270+ passing yards. On the surface that should bode well for taking the over on the 282.5 passing yards prop. He'll be glad to get out of the AFC North battles with Baltimore, as he has 215 and 209 passing yards over the last 2 games. Is he ready to blow? What may compromise things is the likelihood that he'll be missing 3 of 5 starting O-linemen. Against the Ravens, Burrow saw 11 pressures and 4 sacks. The Bills are #6 in pass rush rate, so there is some concern for Burrow being under constant pressure like last year's playoff run. The Bills are also #7 with 216.4 passing YPG given up. Mac Jones went for 243-3 against the Bills in Week 18. Burrow will have to be great to win this game, but he has the odds stacked against him with the state of his O-line, the Bills' pass rush and the chance of snow. If I want to spend down at QB, I go lower to Jones, Dak or even Purdy. One player I very much want in my lineup is Ja'Marr Chase (7800), who has at least 7 receptions in all 6 games since returning from injury, and has amassed 72 targets over that stretch. He has at least 11 in each of the past 5 games, and went off for 9-84-1 last week. Chase is the #2 WR on the slate, but will be well worth it. I like the over on his 84.5 receiving yards prop, too. Tee Higgins (5800) is another story, as since his big 8-128-1 game against New England in Week 16 he has a high of 37 receiving yards. I'm looking elsewhere, and the same for Tyler Boyd (4000). The slot WR has a high of 5-51-0 since his massive 8-155-1 game against the Falcons in Week 7. Tyreek Hill (7-69-0) and Jaylen Waddle (3-44-0) had pedestrian games last week, though in watching the game there were some overthrows from Skylar Thompson. And Waddle had 3 drops that could have turned his day into a big one. What I saw that was alarming for Joe Mixon (6500) is that he has just 1 TD since his Week 9, 5-TD blowup. Buffalo is #9 with 119.4 scrimmage YPG allowed to the RB, but will Mixon take advantage? He has 16 and 14 touches his last 2 games, but has just 68 and 56 total yards, respectively, in those games. The Damien Harris-Rhamondre Stevenson combo put up 134 yards in Week 18 against the Bills and Raheem Mostert diced them for 156 scrimmage yards in Week 15. With the O-line playing second-stringers, I'm staying away from Higgins in DFS and am leaning under his 47.5 rushing prop.

BILLS
Josh Allen (7800) is drawing some raised eyebrows from the media for his 3 INTs his last couple games, but he does have 6 TDs in that span. I know there were some head-slapping plays after the Bills got up 17-0, but his final line of 352-3-2 and 4-20-0 rushing were plenty good for fantasy. The Bengals are #17 against the WR and allowing 268.4 passing YPG to the QB, so I'm liking the over on his 280.5 passing prop. Tom Brady went for 312-3-2 in Week 15, and Tyler Huntley put up 226-2-1 and 9-54-0, and had that fateful QB sneak-turned-Pick-6 that could have made his day better. Allen may play hero ball, but I see him doing enough with his legs to hit the over on that 46.5 rushing prop. Stefon Diggs (7700) and Gabe Davis (4800) had 19 targets their last 2 games, but had different results. Diggs was the picture of consistency with 7-104-1 and 7-114-0 in those games, while Davis had the big game last week against Miami at 6-113-1 after slumping to 3-39-0 the previous week. I like Diggs and over his 79.5 receiving prop, and am staying away from Davis at 58.5. Mike Evans and Chris Godwin got 83 yards each in Week 15, so good receivers are beating the Bengals. Where I'm intrigued are the bargains: Khalil Shakir (3000) and Cole Beasley (3000), who had 5 targets each last week. Could either of these be punt plays at the position to spend up and get Diggs and Chase in the same lineup? I vividly remember the long pass that Shakir almost pulled down against the Dolphins, so if I'm going with anyone to save dollars, it's him. I like Dawson Knox (3800) as a way to save at TE and possibly in a double stack with Allen and Diggs. Knox put up an excellent 6-98-1 line last week, and he now has scored in 5 straight games. Mark Andrews had 5-73-0 last week against Cincinnati, which makes me like Knox even more. The Bills' RBs make you think before starting either one.

James Cook (4800) and Devin Singletary (5200) have not distinguished themselves from each other. Cook has 11 and 12 touches the past 2 games, with Singletary at 8 and 10 touches. Neither RB got a target over that span, nor did either run a route last game. If I'm looking at saving at the position, I'm going down to Cook. He's the more dynamic play and conceptually should get more targets. The Bengals have been good against RBs, #5 in FPG and allowing just 101.4 scrimmage YPG. J.K. Dobbins had 105 scrimmage yards last week, though this group held Rhamondre Stevenson to 13-30-0 rushing in Week 16.
GAME PREDICTION: Give me the Bills in a shootout 28-24, so take the OVER.
DAL @ SF
SF -3.5 / 46
54 & PARTLY CLOUDY
This game has me reliving "The Catch" from Joe Montana to Dwight Clark and all those epic 1990s NFC Championship Game showdowns that were some of the best football of the decade.
COWBOYS
The mighty 49ers may appear to be this daunting offense, but I like Dak Prescott (6100) this week. He was brilliant last week with 305-4-0 and 7-24-1 against a very good Tampa D. Dak also has 14 total TDs since Week 15, so his guys are getting home. He does have 6 INTs over that span, but the 49ers have not been world beaters against the pass. They are #15 against the QB and giving up 274 passing YPG. Geno Smith got to them for 253-2 last week and let's not forget Jarrett Stidham surprising them with 365-3-2 in Week 17. For the Cowboys to win, the game will have to be put on Dak's right shoulder. His passing prop is 252.5, a number he's surpassed in 5 of his last 6 games. I really like CeeDee Lamb (7300) this week, as he has at least 6 targets every game since Week 11. He also has 3 games with 100+ receiving yards and 4 TDs in his last 5 contests. The 49ers have allowed 7 TDs to WRs over their past 4 games, and last week D.K. Metcalf had 10-136-2, and in Week 17 Davante Adams torched them for 7-153-2. Lamb scored last week, and I'm calling it again. I also like the over on his receiving prop at 74.5. I see Michael Gallup (3800) as a punt play after his 5-46-1 game last week. He has at least 6 targets in 4 of the past 6 games, but if I'm looking to save, I look at the Bills' cheap WRs. Dalton Schultz (4200) is very much a player I like, after he was the Cowboys' clear #2 receiving option and put up 7-95-2 last week. He has 27 targets the past 3 games, and has 4 TDs in that span. Darren Waller got to the 49ers for 7-72-1 in Week 17, and he's the only top TE that SF has faced in the back half of the season.

I always like the all-around talent of Tony Pollard (6100), and he did have a good game with 18 touches and 89 total yards last week. He'll need to get loose in the passing game to do much damage, because THOUGH SHALT NOT RUN against the 49ers, who are very stingy at 59.8 rushing YPG allowed to RBs. Where I'm staying away is Ezekiel Elliott (5400), who even at this price does not give me any warm and fuzzies. With 14 touches and 36 yards last week, it's been a downward trend for Zeke in Big D. His last good game was 81 total yards against Houston in Week 14, and he's not doing much in the passing game. Ken Walker had a decent 15-63-1 last week, and Josh Jacobs was one of the few RBs to do much, with 95 total yards and 1 TD in Week 17.
49ERS
It starts with Mr. Irrelevant, Brock Purdy (5400), who's surprised everyone with 16 TD passes in his 7 games. Even with the rough first half, Purdy finished with his best game of the season at 332-3-0 last week. As usual, his WRs helped him out with the YAC and that stellar O-line limited the Seahawks to only 8 pressures in the Wild Card game. Is this week against Micah Parsons going to be different? While he may be running around to evade more pressure, QBs have gotten to the Cowboys, who are #19 against the QB and allowing 263.2 passing YPG. Tom Brady had 351-2-1 last week, while Gardner Minshew looked solid with 355-2-2 in Week 16 and Trevor Lawrence led a great comeback win on the way to 318-4-1 in Week 15. His passing prop at 240.5 is very tempting the way the Cowboys have been defending. Deebo Samuel (5900) is one of my favorite plays this week. He seems too cheap on DK after he destroyed the Seahawks for 6-133-1 and 32 rushing yards last week. Purdy and Deebo are so cheap, I'm tempted to double stack them with Brandon Aiyuk (5000). Here are Aiyuk's targets the past 4 games: 7-12-5-5. And he's been efficient with lines of 5-81-0, 9-101-1, 4-59-0 and 3-73-0 over that span. Their receiving props are set at 54.5, and I really like that for Deebo and lean toward the over for Aiyuk. Dallas is #31 against the WR position, allowing 185.3 receiving YPG. George Kittle (5700) is a 2K savings off Kelce, and he rode his hot closing stretch to 7 TDs over Weeks 15-18. Though he did let down with just 2-37-0 last week in what was a very good matchup against the Seahawks. The Cowboys are #5 against the TE, and have allowed just 2 TDs all season to the position. Goedert had 3-67-0 and Evan Engram with 8-62-0 had solid games against the Cowboys, which has me leaning toward the over on Kittle's 45.5 receiving prop.

The way the 49ers are utilizing Christian McCaffrey (8000) is stellar. Starting with Week 14, he's gone over 20 touches just twice, though he's been at least in the teens every game. He's also scored 7 TDs in that span, and last week he had 17 touches and 146 total yards plus 1 long TD. I'll have at least one lineup with CMC, and he was my top pick in a friendly playoff draft where we pick new teams every week. The Cowboys are #6 against the RB, with 132.8 scrimmage YPG allowed. CMC's gone over 100 rushing yards in 4 of his last 6 games, so going over that 67.5 rushing prop is very tempting. Elijah Mitchell (4700) is a way to save some DK dollars. He had 11 touches last week for 27 yards and a score, and has found the end zone 3 times the past 2 games.
GAME PREDICTION: The 49ers showed some chinks in the armor defending the pass, but CMC, Deebo and Co. will prove too much. 49ers in a 31-28 thriller. Take the OVER.