You hear about it all the time. Teams sneak into the playoffs as the sixth seed, get hot at the right time and win three games to get a title. I did that last year and because of injuries I fielded a team with Taysom Hill at QB and Jaret Patterson as my RB2, and they both balled out to win me a 'ship.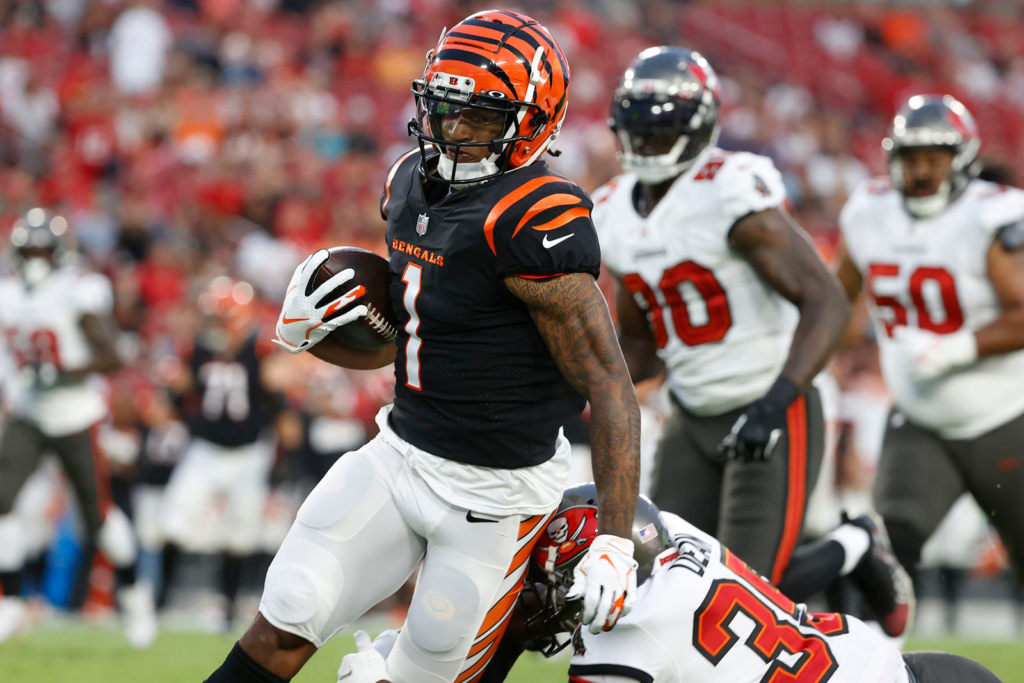 And you also see it from the other side. I had two top seeds lose in the semi-finals last week. Some real flop performances. It's going to annoy me for a while, but I still have a couple titles to play for, including the Fantasy Points staff league. So I'm wishing you buena suerte as I join you in this journey. Let's do this. As I've mentioned, any per-game averages are since Week 12. Some big decisions to make, and hopefully this helps you make them. Let's do this. Salud!
CAR (6-9) @ TB (7-8)
TB -7 / 41.5
66 OVERCAST

PANTHERS
DJ MOORE
Here are the Moore's lines in 3 of his last 4 games:
4-103-1
5-83-1
5-73-1
There was a game at Seattle where he was held without a reception, though that is one of the better secondaries in the NFL. In Week 7 against the Bucs he turned 10 targets into 7-69-1. Moore is the WR27 and needs 239 yards to his 1000 for the season, but looking at how Sam Darnold's pass attempts are between 19-24 in his four games since returning from injury we probably shouldn't expect a huge target total. But in those good games, he only let 3 passes hit the ground. The Bucs just got burned by Greg Dortch for 10-98 last week. Moore's slot route percentage was at 53.8%. ADENTRO.
BUCCANEERS
LEONARD FOURNETTE
We're just now hearing about how Lenny has been dealing with a Lisfranc injury, and 
20-72-0
9-90-0 on 9 targets
Rachaad White's touches the past four games with Lenny back in the lineup: 15-18-12-11. Panthers #4 in 68.8 rushing YPG allowed to RBs. Shut down Lions last week to 22 rushing yards, though Najee Harris hit them for 24-86-0 the week prior. When these two teams met in Week 7, Lenny and White rushed for 19 and 24 yards, respectively, in a 21-3 drubbing by the Panthers. Playoffs on the line, it's hard to trust Lenny or anyone in this backfield. Special note: Jaycee Horn is out, so that should mean Tom Brady is extra pass-heavy. AFUERA.
CLE (6-9) @ WAS (7-7-1)
WAS -2 / 42
55 CLEAR
BROWNS
NICK CHUBB
Since Deshaun Watson has passed for under 200 yards in 3 of 4 games, it's hard to trust any pass catchers. Especially with it being a road game, as Amari Cooper has only one game with more than four catches away from Cleveland. Chubb has had an interesting run since Watson was activated. He has just 7 targets in the four games, and in the past couple weeks ran the ball 21 and 24 times. He's scored just 1 TD since Week 10. With the pass game still a work in progress, it's likely going to be Chubb against a Commanders' front that just got Chase Young back. They're #12 and allowing 87.5 rushing YPG against the RBs. No one has 100 rushing yards against the Commanders since Derrick Henry in Week 5. Christian McCaffrey had 46 yards last week, and Saquon Barkley combined for 150 yards in the two games on either side of the team's bye. You're starting Chubb, but it's hard to feel good about his prospects for a big game on the road. AFUERA. 
COMMANDERS
BRIAN ROBINSON
After Antonio Gibson was ruled out, I couldn't wait to set a DFS lineup with Robinson in it. Here are his touches in the past four games: 20-23-13-22. Only slightly concerning is that just 5 of those touches were receptions. But in a spot against the defense that on the season is #30 against the RB on the season and allowing 112 rushing YPG over the past five weeks, it's as good a spot for Robinson as there will be all season. ADENTRO. 
JAX (7-8) @ HOU (2-12-1)
JAX -6 / 44
DOME

JAGUARS
TRAVIS ETIENNE
This is one of my favorite plays. The Jaguars say they're playing their starters, even though they have the AFC South on the line next week against the Titans. Etienne has 17, 21 and 25 touches the past three weeks, solidifying lead caballo status. The high for any RB in those games is 4 touches. Last week he had 112 scrimmage yards. He's due to hit pay dirt, as Etienne hasn't scored since Week 9. The Texans, you just play your RB against them. They're #28 and allowing 113.8 rushing YPG. Derrick Henry just had 23-126-1 against them. League winner, Etienne and great DFS play at $6400. ADENTRO. 
TEXANS
NADA
I just can't recommend anyone on this team. With a three-headed committee at RB subbing for the injured Dameon Pierce and Brandin Cooks in and out of the lineup, there's just no one to recommend
SF (11-4) @ LV (6-9)
SF -4.5 / 43
DOME
49ERS
GEORGE KITTLE
With 13 targets in his past two games with Deebo sidelined, Kittle has finished the season as the classic young QB's best friend. With TE1 and TE3 finishes during that span and putting up a combined 10-213-4, he's been a big reason why fantasy gamers are in the finals. Pat Freiermuth heated up frigid Pittsburgh to the tune of 7-66-0 last week, and earlier this season Travis Kelce had the most unique line of the season against Vegas: 7-25-4. ADENTRO. 
RAIDERS
DAVANTE ADAMS
I got a question during the Familia FFB livestream with Sam Wagman asking if there was a scenario where Adams might sit. The viewer put in the livestream that he had a decision coming down to Adams and DeVonta Smith. Sam and I concurred, Smith is the starter in that pairing. And it's not because Wagman is an Eagle fan. It's too plainly clear from watching subpar QB play on Christmas night when DeAndre Hopkins couldn't be found with a compass by Trace McSorley. Add to it that Adams has made it clear from his Instagram post about the Derek Carr benching that he came to the Raiders because of the QB. So Adams is none too happy right now, and these guys are humans. Though I get it. You likely spent a first-round pick on Adams, and he had some incredible games. He's also caught a combined 9 balls for 114 yards over his past three games. That was with Carr. It's not getting better. This is the most difficult AFUERA of this season. 
NYJ (7-8) @ SEA (7-8)
SEA -1 / 44.5
41 OVERCAST

JETS
ZONOVAN KNIGHT
Weeks 12-15, these are Knight's touches: 17-20-19-13. We're throwing out the Jacksonville game, because the offense was just broken, it was raining and he had just 7 touches. Knight has faced some good defensive fronts, but this week is different. Seattle is allowing a league-worst 152.6 rushing YPG, and in Week 14 the Panthers' RBs combined for 190 rushing yards. Christian McCaffrey had 138 scrimmage yards against them a week later. Both secondaries are very good, so this will be old school "establishing the run." Knight is ADENTRO as an RB2 or flex play on deep teams. 
SEAHAWKS
KEN WALKER
With 26 carries last week in brutally cold conditions in Kansas City, Walker showed that he's firmly back as the lead caballo after missing Week 14 with an injury. And the Seahawks are going to need to run the ball, because the Jets are #6 in passing YPG allowed. Good for Walker and you if you have him, the Jets are giving up 124.6 scrimmage YPG to the RB. Before Etienne ran over them, the last featured back to go against the Jets was Dalvin Cook and he put up 20-86-1. This will be power football, and Walker will leave fantasy managers with good memories for next draft season. ADENTRO. 
LAR (5-10) @ LAC (9-6)
LAC -8.5 / 40.5
DOME
RAMS
CAM AKERS
Remember back in Week 6 when Akers went on his sabbatical and it looked like he was done with the Rams? Doesn't that feel like forever ago? He has double-digit touches each of the past four games and that was highlighted by the 147 scrimmage yards and 3 TDs in the dismantling of the Broncos. That just reminds me that game knocked me out of a semi-final where I was the top seed, and that's the type of play that Akers is. He's helping teams that either picked him up off waivers when he was dropped, or doing it for you if you stashed him on the bench. The Chargers are still rough against the RBs, as they're giving up 129 scrimmage YPG. Featured backs Derrick Henry (163 scrimmage yards) in Week 15 and Josh Jacobs (150) in Week 13 have pummeled the Chargers. ADENTRO. 
CHARGERS
MIKE WILLIAMS
I got the Mike Williams-or-Romeo Doubs question in Discord this week, and it was really hard to go with Williams in that scenario. Last week against a very good Colt secondary, he saw just 4 targets while Keenan Allen drew 14. He combined for 14 and has run near-equal number of routes as Allen in the previous two games after returning from injury, so he's plenty involved in the offense. This will not be an easy matchup, as he'll draw plenty of coverage from Jalen Ramsey this week, and the all-world corner is #5 with an 82.5 PFF grade this season. There won't be a shadow situation, and the Chargers are still throwing the ball 42.4 passes per game. That's #2 behind Tampa Bay. It's hard to believe you'd have a better play than Williams this week even in your final flex spot. ADENTRO. 
MIN (12-3) @ GB (7-8)
GB -2.5 / 45
35 OVERCAST
VIKINGS
JUSTIN JEFFERSON
Preseason, I put Ja'Marr Chase over Jefferson because I was worried about a flop this game in frigid conditions in Green BAy. That prediction is not looking so good right now. Jefferson is the WR1 with a bullet on the season, with a stellar line of 123-174-1756-8. He's 4 TDs behind Davante for Triple Crown, so that's a longshot at happening. Becoming the first 2000-yard receiver is not such a longshot, as he needs just 244 to reach that mark. But how will he do in the cold? In 38-degree weather at Buffalo in Week 10, he heated up the turf for 10-193-1. In the season opener against these same Packers, he announced his presence with authority with a 9-184-2 line. Jaylen Waddle (143 yards) and Tyreek Hill (103) had huge games last week against the Packers. There is some concern about Prime Time Kirk Cousins flopping on a national stage in temps near freezing, but all he needs to do is focus on Jefferson. ADENTRO.
GREEN BAY
ROMEO DOUBS
Doubs appears fully healed from his ankle injury and now may have to step up if fellow rookie Christian Watson is forced to miss the game because of an injury of his own. Doubs was third with 25 routes run last week, and saw 6 targets against Miami. Now he has a fantastic matchup against the Vikings' defense that's allowing a whopping 303.8 passing YPG (#31). The Giants just had three WRs put up 79+ receiving yards last week, and we know none of their pass catchers is a threat to be WR1 any week. I will forever point out dome teams going into frigid temperatures, and this game for the Vikings has been one I've been touting since last summer as a potential landmine for the team.
SNF
PIT (7-8) @ BAL (10-5)
BAL -6 / 41.5
50 CLEAR
STEELERS
GEORGE PICKENS
The past four games, Diontae Johnson has seen 36 targets. Pickens has drawn just 15. When these teams met three weeks ago, Pickens made the most of his targets to finish with 3-78-0. Can you trust him in a championship matchup? I think you can. The Ravens are giving up 154 receiving YPG to the WR position, and Drake London just put up 7-96-0 last week. Pickens is that same long receiver who can beat the Ravens' coverage. This is definitely a tough call, and he won't get high volume like Johnson, but Pickens is doing a lot with limited targets. ADENTRO. 
RAVENS
J.K. DOBBINS
The Steelers have buckled down against the run the past couple weeks against the Raiders and Panthers, but the memory of Dobbins and Gus Edwards combining for 186 yards is still fresh. Dobbins has seen double-digit carries in his three games since returning from injury, though just one reception in that span. And he has a pair of 100-yard games in there. This game is going to be a classic AFC North street fight, with plenty of running on both sides. Dobbins is an RB2 or flex play if you have him on your championship roster. It won't be pretty, but he should see enough volume to put up some points. ADENTRO. 

MNF
BUF (12-3) @ CIN (11-4)
BUF -1.5 / 49.5 
61 OVERCAST

BILLS
STEFON DIGGS
I've been pointing to this game as being the one that will flip many fantasy title games because of the high volume and the number of stars who are going to be on the field. Now add a temperate climate on MNF, wow, now I just hope this game lives up to the top billing. Amigo Graham Barfield pointed this out in Fantasy Points' Stat-Pack: Diggs has just 10/123 on 16 targets as Josh Allen has spread the wealth. Week 12 getting 15 targets was Diggs' last time with 10+ looks (a couple with 9). You're starting him, but are you worried? They've played in brutal weather the past couple weeks, and the Jets' great secondary before that. I know that stars come to play in big games. Two years ago on fantasy Championship Week at New England, this is what Diggs did: 9-145-3 (also on MNF). The Bengals are #12 and allowing passing YPG, but they have gotten hurt by the WRs of late. Kendrick Bourne (100-1) and Jakobi Meyers (83-1) had good games last week, and Mike Evans (83-0) and Chris Godwin (83-1) were very good Week 15. Big time players come up in big time games. ADENTRO. 
BENGALS
JA'MARR CHASE
This was the smash spot I had pegged for him preseason, and pre-injury he was looking like he might make me look smart. We'll just have to wonder what might have been and see if he does it in 2023. This passing game is really humming. Barfield pointed out: "Joe Burrow's last 10 starts – 71% completion rate, 7.9 YPA, 294.4 yards per game, 25 TDs, 7 INTs, and just 21 sacks. He's also added 49/162/4 as a rusher. The Bengals are 9-1." Now here's Chase in his last four games since returning from injury:

7-97-0
10-119-1
7-60-1
8-79-0

The Bills are #21 and allowing 160.3 receiving YPG and 5 TDs. Waddle (3-114-1) and Hill (9-69-1) were very good in Week 15. Both teams are going to throw like crazy in near-perfect conditions for New Year's Day. ADENTRO.