This is it, Familia. No mas. Just one more week. If you made it to this article, it means that you're alive for one last battle. Final fight. La ultima batalla! Time to get ready.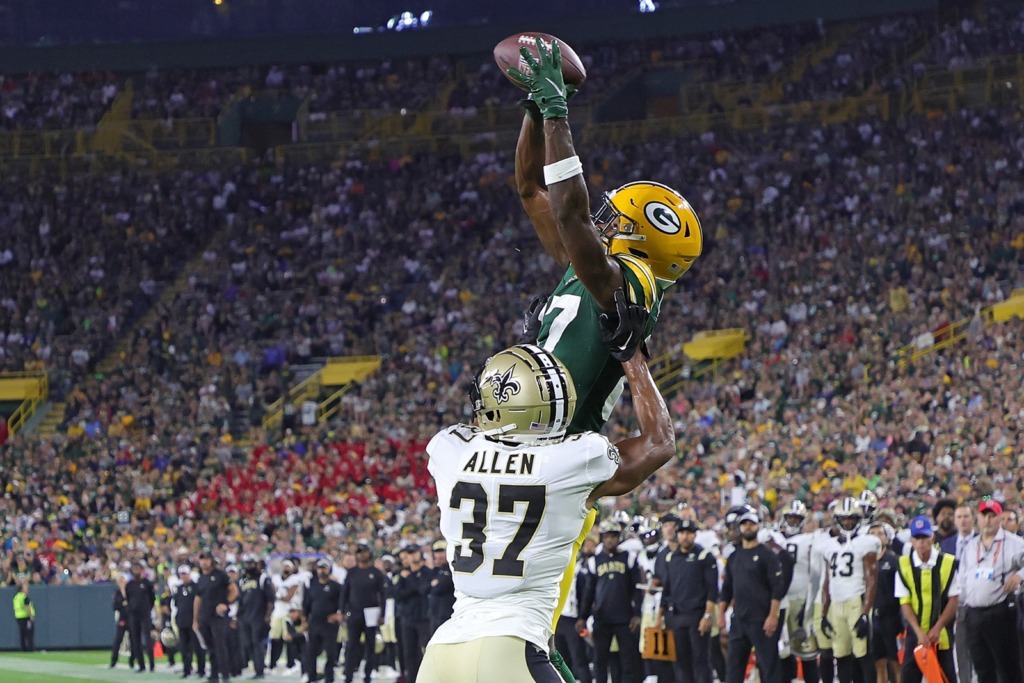 I'm doing this while smarting from a couple semi-final eliminations that are pure heartbreak. One, I had a dominant dynasty team, 12-2 and points leader. I lost by 5 points with three players on my bench who outscored Aaron Jones in my flex. In another, I lost on a 6-yard catch by Michael Pittman inside the two-minute warning on MNF – by 1.5 points! And I sat Tyler Higbee's 34-point effort for Pat Freiermuth in the Scott Fish Bowl. If I flip those two players, I'm top 30 and in the finals. Ay Dios mio, those hurt.
But I'm just sharing this to show that I get playoff heartbreak like everyone else. Now it's time to help you win your titles. This week, the pickings are pretty slim. More than likely, you don't need this help because you got here with a deep roster. Though last year I did win a title streaming QB and started Taysom Hill in the final. So there could be some gems in here. And I'm not spending any time on players who are stashes. These are either players to pick up to start, or at worst to keep your opponent from starting them against you.
So, vamonos, time to win you a title. These players are rostered in no more than 50% of Yahoo leagues, and any per-game averages are since Week 13. I'll leave it up to you to make the right roster decisions, though if you hit me up on Twitter @jorgemartin17 I'll give you better advice than I would myself. Salud!
QUARTERBACK
BROCK PURDY (37%) @ LV
Purdy has exactly 2 TDs in each of his past four games, and the 49ers have scored 30+ points in three of them. And they've won all of those games. The Raiders just gave up 244 yards to Kenny Pickett and a game-winning TD in the final minute. In the cozy dome in Las Vegas, the conditions should be good for the passing game.
GARDNER MINSHEW (27%) vs NO
This is a preemptive pickup in case Jalen Hurts remains out this week because of his shoulder injury. Minshew was great in that 40-34 shootout with the Cowboys, completing 24 of 40 passes for 355 yards and a pair of TDs (2 INTs). He did a QB sneak for a TD. I started him in one league over Trevor Lawrence and Minshew did not disappoint. The Saints have had the good fortune of facing Desmond Ridder in his pro debut and Deshaun Watson in arctic conditions the past two weeks, but they haven't had ace corner Marshon Lattimore healthy for much of the season.
RUNNING BACK
TYLER ALLGEIER (49%) vs AZ
Allgeier popped for 117 scrimmage yards last week after pummeling the Saints for 138 rushing yards the week prior. The Falcons certainly are feeding him, as he has 18 and 22 touches in the games since their Week 14 bye. Arizona has been gashed by RBs to the tune of 184.7 scrimmage YPG.
ZACK MOSS (44%) vs @NYG
I know this offense appears to be broken. It just wasn't pretty watching Nick Foles shake the rust off while getting pounded by the Chargers. But Moss did get 13 touches on MNF, and the rest of the backfield got 4. Moss also draws the Giants, who are #19 against the RB and allowing 149 scrimmage YPG to the RBs.
HASSAN HASKINS (1%) vs HOU
You're not looking at the 2 carries since Week 9. What you're looking at is that the Titans don't have to win this game against the Texans this week, which could mean they sit Derrick Henry ahead of the Week 18 game against the Jaguars that will decide the NFC South. The Texans have allowed 167 scrimmage YPG to the RB, putting them #30. Maybe Haskins doesn't take all of Henry's workload if the King sits, but even at 75-80% in this matchup he could be a good flex play.
WIDE RECEIVER
JAHAN DOTSON (23%) vs CLE
With 24 targets in the past three games, Dotson is very much integrated into the Commanders' offense since his return from injury. He also has scored a TD in each of those games. The Browns haven't been tested through the air since Ja'Marr Chase lit them up for 10 catches and 119 yards in Week 14.

ROMEO DOUBS (17%) vs MIN
Doubs appears fully healed from his ankle injury and now may have to step up if fellow rookie Christian Watson is forced to miss the game because of an injury of his own. Doubs was third with 25 routes run last week, and saw 6 targets against Miami. Now he has a fantastic matchup against the Vikings' defense that's allowing a whopping 303.8 passing YPG (#31). The Giants just had three WRs put up 79+ receiving yards last week, and we know none of their pass catchers is a threat to be WR1 any week. I will forever point out dome teams going into frigid temperatures, and this game for the Vikings has been one I've been touting since last summer as a potential landmine for the team. Early forecasts are 37 degrees and foggy.
TIGHT END
GREG DULCICH (50%) @ KC
The rookie has 8 targets in three of the past four games, and has topped 80 yards twice this season. He saw that same target total against the Chiefs in Week 14, catching 3 balls for 42 yards. The Chiefs are 13.5-point favorites, so the Broncos figure to be passing to try to catch up. With the TE position such a dumpster fire this year, you could do worse than to take the chance on Dulcich. 

STREAMING DEFENSE OF THE WEEK
PITTSBURGH (42%) @ BAL
The Steelers have gotten back to their dominant defensive ways, limiting opponents to 17 or fewer points in the past five games. They also have 13 sacks and 3 INTs in that span. The Ravens appear relegated to starting Tyler Huntley again, and they haven't scored more than 17 points in the four games that he has started.