You're in the final four of your fantasy playoffs. You could be the top seed coming off a bye week, where you largely left your roster alone until you saw that Jalen Hurts could be missing this week's game with a shoulder injury. Or maybe you're a #6 seed that snuck into the playoffs and rode Zay Jones and Jerick McKinnon to a resounding victory over the #3 seed. You're here, and there is more work to be done.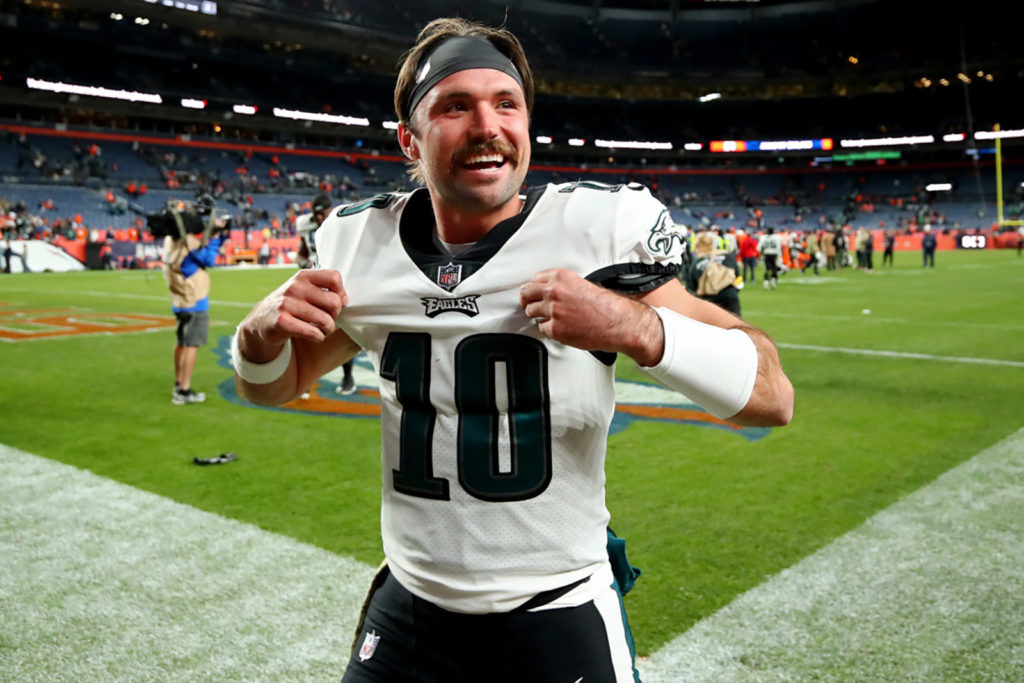 Two major injuries happened in Week 15 that demand your attention. As mentioned above, Hurts could sit out this week or he might play. Maybe it's serious enough that he would've missed the game even if the playoffs weren't all but sealed up. It's Tuesday, you have to plan ahead in case Hurts is out. The other big hurt was Jonathan Taylor, who's going to miss the rest of the season. There are two options, as you'll see below. But in a nutshell, you have to keep grinding even at this point.
Let's get into Los Peekups. Keep in mind, all per-game averages are since Week 11, and players mentioned are available in at least 50% of Yahoo leagues. Just making sure you have the most recent performances in your mind when making these important decisions. Time for some waivers. Salud!
QUARTERBACK
GARDNER MINSHEW (1%) @ DAL
He's attempted just 4 passes on the season, yet he might be the best option to pick up if Hurts misses time. Last year, Minshew started a couple games and threw 4 TDs in those contests. He still has arguably the best O-line in front of him, one of the best WR duos in the league and a great defense that will give him good field position. The Dallas D brings one of the best pass rushes in the NFL and Trevon Diggs lurking in the secondary, though Trevor Lawrence did just put up 318-4 against them last week. So they could be vulnerable on Christmas Eve. 
BROCK PURDY (21%) vs WAS
After completing 17 of 26 for 217 yards and 2 TDs, it marked the third game in a row that Purdy threw for multiple TDs. If you need a backup plan in case Jalen Hurts can't go this week, Purdy is an option in a home matchup against a Washington D that's limiting QBs to just 175.8 YPG. This isn't a smash spot, but the hope is that the O-line will put a wall around Purdy, who then finds his playmakers to stack up the yards and points. 
KENNY PICKETT (11%) vs LV
You're going to hear a lot about the Immaculate Reception this week, as it's the 50th anniversary. Will Pickett find Najee Harris to replicate that insane finish? Probably not. Pickett comes out of the concussion protocol to face a Raider D that gave up 335-1 to Justin Herbert and 328-2 to Geno Smith recently. 
RUNNING BACK
KHALIL HERBERT (39%) vs BUF
He's baaaack! Someone in your league likely dropped him, so hopefully you're ready to pick him up. In his last 4 games before going on the shelf, Herbert hit double-digit carries in 3 of those games. His YPC is 6.0, so he's plenty efficient. If you had an injury, playing him against the Bills allowing 126.2 scrimmage YPG is a nice punt option. 
TYLER ALLGEIER (38%) @ BAL
I have a feeling that 139-yard game last week is going to push him over the 50% threshold so we don't have to write about him again in these waiver wire pieces. He has 10+ carries the past 3 games, so he's getting enough of a workload to help you in the playoffs. However, the matchup against the Ravens is not good, as they're holding opponents to 61 rushing YPG. 
ZACK MOSS (4%) vs LAC
Part 1 of the "Replace JT" options. Moss was on the scrapheap after the trade from Buffalo, then came off the bench for 24-81-0 last week when JT got hurt. Now he has the dream matchup at home against the Chargers, who are getting gashed for 119 rushing YPG. 
DEON JACKSON (7%) vs LAC
Here's Part 2. The idea is that Jackson is the passing-game back for the Colts, but Moss ran more routes last week, 14-9. And Jackson saw just a single target, so not a great start in the post-JT world. Jackson is just a "break glass in case of emergency" option. 
WIDE RECEIVER
JAHAN DOTSON (17%) @ SF
Remember this guy? Dotson was so good early, then was pretty much forgotten when he got hurt and missed 5 games. He's so talented, and can go get a jump ball like the 61-yarder against the Giants. He has 2 TDs in his past couple games, but has a tough matchup against the 49ers, who are allowing 186 receiving YPG to WRs. The Metcalf-Lockett duo caught 14 balls for 123 combined yards against this defense last week. 
TREYLON BURKS (48%) vs HOU
Burks missed the last game against the Texans. He's still going to be the top WR option for the Titans. And while the Texans have been #8 against the WR, Burks could get you there because Houston has been dealing with injuries in the secondary. 
CHRIS MOORE (18%) @ TEN
With 20 targets in the past 2 games, Moore is the primary target with the Texans' top two options sidelined. The Titans are still a sieve on pass D, as they're giving up 313.8 passing YPG. That's just in front of the Vikings. 
TIGHT END
CHIGOZIEM OKONKWO (29%) vs HOU
Chig ran 18 routes last week, and caught 4 of 5 targets for 54 yards. You can see the athleticism when he gets the ball in space. The Texans are #23 against the TE, and just gave up 10-105-0 to Travis Kelce. Chig isn't anywhere near that level, but you'd take 60% of that production out of the TE position.