Here's Part 2. I planned on breaking this up into a couple articles, but life took over, so you're getting the whole enchilada at once. I really tried hard to be even more discerning on who's ADENTRO and who's AFUERA because I know these roster decisions are really crucial this week.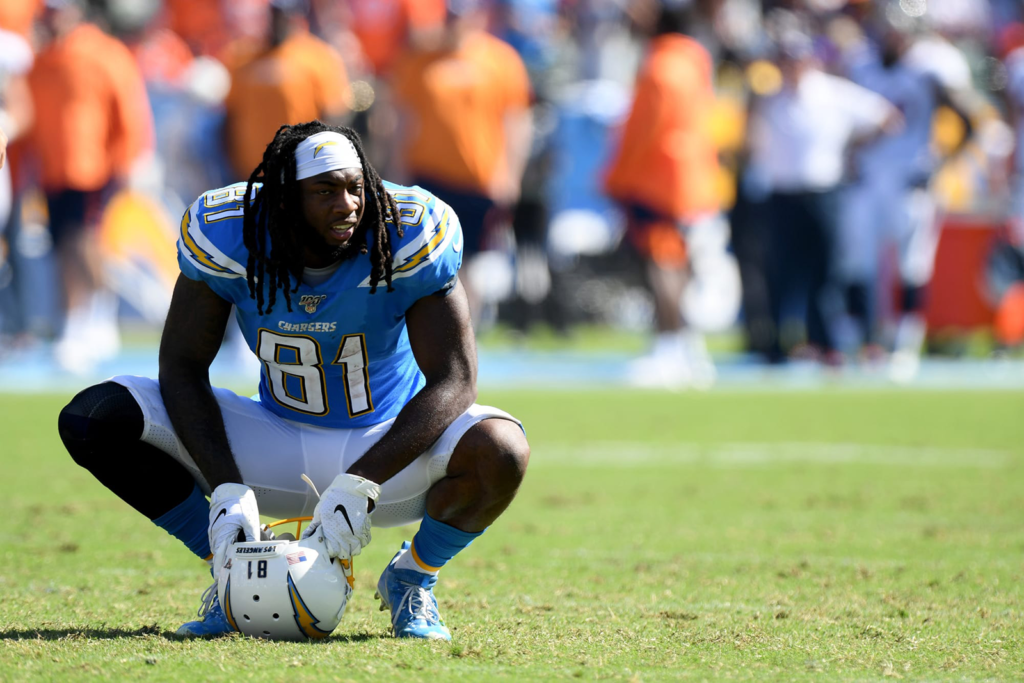 I added in some analysis on the overall gamescript to help you get a feel for why I'm making these calls. Weather is going to be a factor, especially for teams going from warm climates or domes into freezing temps. I even added three bets that hit at a great rate. Let's do this. FYI, any per-game averages will be just since Week 10, to get a more recent look at how the players and teams are performing. Vamonos, let's help you win a playoff game!
SUNDAY EARLY GAMES
PHI (12-1) @ CHI (3-10)
PHI -9 / 48.5
18 OVERCAST
EAGLES
DEVONTA SMITH
You just play Jalen Hurts all the time and really look at loading up on him in DFS. Possible big game alert from Miles Sanders, if they feed him. The Bears are #24 and allowing 155 scrimmage YPG. HIs touches in the last three games: 24-12-18. So it's not a gimme that he's going to go off. The last five games Smith has 8+ targets in each game. Brown has 8+ targets in just one of those games. Smith's line of 26-333-3 on 42 targets makes him the WR9 since Week 10. The Bears are allowing 142 passing YPG to WR, with these top WRs having beaten them: Christian Watson 94-2 total and Garrett Wilson 5-95-2. ADENTRO.
BEARS
JUSTIN FIELDS
Home underdog: Take the Bears to cover. Remember when practically all the experts said that Fields should sit in Week 13 in front of his bye week? Well, he looked pretty good with 254-0-2 and 6-71-1 when it was made clear that he wasn't 100% from his shoulder injury. Fields was QB1 Weeks 7-13, with 16 total TDs even with missing a week. The Eagles have no big QB rushing weeks against them, with the biggest being 4-42 week from Kyler Murray. Gamescript will call for Fields to be unleashed to try and keep up with the Eagles, so we could be seeing another week of 100+ rushing yards. Stack alert: With Chase Claypool and Darnell Mooney out, Cole Kmet is the only pass catcher who has much of a connection with Fields. ADENTRO. 
ATL (5-8) @ NO (4-9)
NO -4 / 43
FALCONS
DRAKE LONDON
Rookie QB Desmond Ridder making NFL debut, so we don't have a lot to go on with how this game is going to go for the Falcons. My prediction, they're going to run the ball with Cordarrelle Patterson and Tyler Allgeier. Ridder is one of the fastest QBs with a 4.49 40 at the NFL Combine, so expect some designed rush plays for him. Will there be much passing going on? Drake London saw 12 targets last time, but before that hadn't reached 8 targets since Week 2. Just don't see the volume being there with a rookie QB making his debut. AFUERA.
SAINTS
ALVIN KAMARA
Here are his touches the past 4 games: 11-16-13-14. His high in points was 12.9. Why am I still ADENTRO on him? It's a combination of the great matchup against the Falcons and that he's pretty much the last man standing for the Saints. Mark Ingram II is out for the season, and no one has had serious work out of the backfield for the Saints. The Falcons are #22 against the RB and allowing 164.7 scrimmage YPG to the position. Najee Harris (92 total yards), Brian Robinson (125) and David Montgomery (121) have done damage against the Falcons in the last three games. If it doesn't happen for Kamara this week – he's $6800 in DK – I'm out on him all rest of the season.
DET (6-7) @ NYJ (7-6)
EVEN / 44.5 
33 CLEAR
LIONS
JARED GOFF
Have there ever been more drastic home/road splits than we've seen for Goff this year? His 20-3 TD-INT rate at home dwarfs the 2-4 split he has on the road. Granted, he's played three more games at home, but it's still alarming that he hasn't even hit 17 points in any road game. Now he's going to the Meadowlands in freezing temperatures, and I remember too well the games in tough weather how they rarely went well for Goff in his Ram days. The Jets are also really good against passers (#4 against the position). They're giving up just 186.2 passing YPG and just held Josh Allen to 147 yards last week. No passer has hit 300 yards against the Jets. AFUERA.
JETS
ZONOVAN KNIGHT
Bam is certainly looking like a lead caballo right now. Here are his touches that past three games: 17-20-19. He went over 100 scrimmage yards twice in that span, and here's what amigo Graham Barfield uncovered about Knight: "Knight leads all RBs in missed tackles forced per carry (0.46) and he's #2 in yards after contact (3.59 per carry)." However, here's what he's facing. The Lions are good against the run. They are allowing just 58 rushing YPG and 11.6 FPG, the latter of which is tops in the league. Dalvin Cook had just 23 rushing yards last week, and Travis Etienne ran for 54 the week before. Knight is a good story, but this game is going to be nasty in the trenches on both sides. AFUERA. 
PIT (5-8) @ CAR (5-8)
CAR -2.5 / 37.5
36 CLEAR
STEELERS
NAJEE HARRIS
Harris has only surpassed 100 scrimmage yards once this season, with 116 in Week 11 against the Bengals. Definitely been a tough season for him, battling injury and a subpar O-line. He still got two-thirds of the team's rushing attempts and ran routes on exactly half of the pass attempts (15 of 30). Now he faces the Panthers, who have firmed up against the run, as they're #2 with just 12 FPG. They're giving up just 75.5 rushing YPG and the 92 yards that Latavius Murray had last week is double the highest output by any RB since Week 9. In the cold weather, this game is going to be a defensive slog. AFUERA. 
PANTHERS
D.J. MOORE
Late-week injury warning: Moore was a full participant the first two days of practice then was limited on Friday because of an ankle injury. Late-week injury downgrades are often a bad omen. Another sign that things are looking down is that Moore saw just 3 targets last week, and didn't register a catch. Sam Darnold passed just 24 times last week, and the team rushed a combined 39 times. That lack of balance between the rush and pass is not a good sign for WRs. The Steelers are #4 in allowing just 120.6 receiving YPG to the WR. Bad combo for Moore. AFUERA. 
DAL (10-3) @ JAX (5-8)
DAL -4 / 47.5
43 CLOUDY
COWBOYS
CEEDEE LAMB
Lamb said earlier in the season how much he liked running routes out of the slot. Last week he was inside on 32 of 42 routes that he ran. Looking at Week 13, Amon-Ra St. Brown lit up the Jaguars, catching 11 of 12 targets for 114 yards and 2 TDs. The Cowboys will still run their offense primarily through RBs Tony Pollard and Ezekiel Elliott, but Lamb is very much going to get 10+ targets and be a factor in the passing attack. ADENTRO.
JAGUARS
CHRISTIAN KIRK
We have another home with at least 4 fewer wins than then visitor, and the Jaguars are underdogs. I see some parlay action coming this week. Kirk had a slow game by his standards, with 7 targets for 5-45-0. The previous four games, he had no less than 8 targets and went over 100 yards twice with three TDs in that span. The Cowboys are fresh off getting worked by Chris Moore for 10-124-0 and are allowing 159.2 receiving YPG to the WR. With a high projected total, this could be a good week for Kirk. ADENTRO. 
KC (10-3) @ HOU (1-11-1)
KC -14 / 49.5
DOME

CHIEFS
ISIAH PACHECO
The matchup is golden for Pacheco. In the past 4 weeks, here are his touch counts: 15-23-16-16. He went for no fewer than 66 yards and hit 107 yards in Week 11. Up next are the Houston Texans, who are giving up 120 rushing YPG to the RB. This is a game where Patrick Mahomes could make the Chiefs run away and hide, which would put the game in Pacheco's hands (and legs). Big game coming for the rookie. ADENTRO. 
TEXANS
CHRIS MOORE
While the Chiefs are running away with this game, Moore will play catchup as really the only game in town for the Texans. Nico Collins and Brandin Cooks are out, and as I mentioned earlier, Moore put up 10-124-0 last week when he was featured. The Chiefs are fresh off giving up 8-73-3 to Jerry Jeudy and are #29 against the position. At 4200 in DK, that's a nice flyer to take. ADENTRO. 
SUNDAY LATE AFTERNOON
AZ (4-9) @ DEN (3-10)
DEN -2.5 / 36
44 PARTLY CLOUDY
CARDINALS
DEANDRE HOPKINS
Since he returned from suspension, Hopkins has surpassed 10 targets in 5 of 7 games. In Weeks 10 and 11 with Colt McCoy at QB, Hopkins was stellar with a combined 19 catches for 189 yards. McCoy is back behind center with Kyler Murray out for the season. Denver is respectable at #12 against the WR, but still vivid in the memory bank is the 7-141-2 line that Davante Adams hung up on the Bronco secondary in Week 11. Hopkins is in the same league as Adams. The volume will be there for him. ADENTRO. 
BRONCOS
JERRY JEUDY
Full disclosure, I started Jeudy last week out of desperation because my entire bench was on a bye. That 33.3-point effort was spectacular, and it punched my ticket in a winner-gets-in game. Now Jeudy has the targets largely to himself again, as Courtland Sutton and Kendall Hinton are both out for this game. TE Greg Dulcich will run behind him in routes. Injuries have hit the Arizona secondary, so Jeudy should be featured again. Even if he'll be catching passes from Brett Rypien. ADENTRO. 
NE (7-6) @ LV (5-8)
NE -1 / 44.5
DOME
PATRIOTS
NO ONE UNLESS RHAMONDRE STEVENSON IS HEALTHY
I'm tempted to put Mac Jones in as an ADENTRO for super flex, as the Raiders are still smarting over that Baker Mayfield comeback 10 days ago. Previous to that they gave up 300+ passing yards in consecutive games. I just don't know who is going to catch passes from him, as Devante Parker is out and Jakobi Meyers may be joining him. Tyquan Thornton is getting some love in the DFS community for being $3000, but he has just 16 receptions and hasn't surpassed 37 receiving yards in any game. If the Patriots are to win, it will truly have to be a team effort, but no one will dominate touches.
RAIDERS
DAVANTE ADAMS
To repurpose a line from Dirty Dancing, "No one puts Davante in a corner." Before getting only 7 targets last week, the previous 5 games saw Adams earn at least 12 targets and had 27+ points in 4 of those games. The Patriots were one of the hotter defenses early this season, but the past three weeks they've been victimized by top wideouts: DeAndre Hopkins (79 receiving yards), Stefon Diggs (92) and Justin Jefferson (139). Adams will put up a number to fit in nicely with those elite WRs. ADENTRO.
TEN (7-6) @ LAC (7-6)
LAC -3 / 47.5
DOME
TITANS
DERRICK HENRY
King Henry is really the only player of significance to talk about with Treylon Burks ruled out. Chig Okonkwo is interesting for DFS, and maybe if you've been streaming TE this season, but when it comes to the Titans, it's Henry. In a good matchup last week against the Jaguars, he totaled 155 scrimmage yards and a TD on 20 touches. That was good to see, because he hadn't surpassed 100 yards since Week 9. The Chargers are fantastic matchup for RBs, as they're allowing 122 rushing YPG, the sixth most in the league. Last week was quiet for the Dolphins, but before that Josh Jacobs (144 yards) and James Conner (120) did major damage against the Chargers. Henry is all the Titans have this week, and they're going to ride him. At 8000 in DK, he's still worth building a lineup around him. ADENTRO.
CHARGERS
MIKE WILLIAMS
Welcome back, Big Mike. After missing four complete games and most of another, he looked great in catching 6 balls for 116 yards and a score. He wasn't fully unleashed, as his 41 routes were just third on the team. As great as the matchup was for Henry, it's equally good for all Chargers WRs this week. The Titans are #32 against the WRs, and are allowing 308.4 passing YPG and teams have found the end zone 10 times. Three players in the past three games have hit 100 yards against them: Tee Higgins (114), A.J. Brown (119) and DeVonta Smith (102). Williams is going to come up BIG. ADENTRO. 
CIN (9-4) @ TB (6-7) 
CIN -3.5 / 44
53 PARTLY CLOUDY
BENGALS
JOE BURROW
If the Bucs can push the pace in scoring, this could be a nuclear game for Burrow, who has 4 top 2 finishes in the past 8 games. The past 4 weeks he's been between 33 and 39 pass attempts and has 9 TD passes over that span. His high was 355-4-2 against the Steelers in Week 11. His main target Ja'Marr Chase is back at full force, and it's looking good that Tee Higgins and Tyler Boyd will be active. The Bucs just lost Jamel Dean, their top corner, and have other injuries on the defensive side of the ball. The most recent top 10 passer that the Bucs faced was Geno Smith in Week 10, and he went for 275-2 against them. That's the starting point for Burrow, who I'm going to stack with Chase in at least one lineup this week. ADENTRO.
BUCCANEERS
RACHAAD WHITE
The last two weeks with Leonard Fournette active, White has 15 and 18 touches. Fournette has 16 and 10. White has been able to put up 69 and 77 scrimmage yards in those games, which are both respectable numbers. He's even seen 13 targets in those games. Unless it's a deeper league where the RB position is even more thin, I'm AFUERA. The Bengals are #9 in the league in allowing 75.2 rushing YPG. They held Nick Chubb to 34 yards last week, and Derrick Henry finished with just 38 yards in Week 12. This Bengal defense is rounding into shape at the right time, and with White splitting carries it makes it that much tougher to recommend him. 
NYG (7-5-1) @ WAS (7-5-1)
WAS -4.5 / 40.5
33 CLEAR
GIANTS
DANIEL JONES
It's been tough to see Saquon Barkley slowed down to the point that since his 35-152-1 command performance in Week 10, he has a high of 81 scrimmage yards since. But if you have Barkley, you're not sitting him considering the state of the position. Barkley's rough patch only makes it harder on Jones, who since he his his high-water mark with 341 passing yards in Week 11, has a high of 228 since. I don't have to get into the state of his WRs. No bueno. Since Jalen Hurts put up a dominant 340-yard performance in Week 3, no passer has come close to throwing for 300 yards against Washington. They are giving up just 179.5 passing YPG, which is #2 in the league. Jones may have to do it with his legs if he gets it done, as he had 71 yards against the Commanders two weeks ago. In super flex leagues, you may have to go a different direction. AFUERA.
COMMANDERS
BRIAN ROBINSON
The involvement for Robinson has been inspiring to those who have him on their rosters. In the two games before they went on a bye, Robinson had 20 and 23 touches, and turned them into 125 and 111 yards, respectively. He's still at about a 50-50 snap share, but Robinson is the clear leader of the pack. Miles Sanders just ran over the Giants for 144 yards last week, and the New Yorkers bleeding yardage to the RB to the tune of 171.4 YPG. They're #30 in FPG with 30.1. Fire up Robinson with confidence. ADENTRO. 
LAR (4-9) @ GB (5-8)
GB -7 / 39.5
21 & CLOUDY
RAMS
BAKER MAYFIELD
That comeback against the Raiders sure was fun. The game-winning TD pass to Van Jefferson was a thing of beauty, and the storyline of getting ready to play QB in an NFL game for a new team in just 48 hours will be the stuff of legend. The encore is going to be tough. The weather will be subfreezing, and Mayfield is still throwing to a group of role players led by Jefferson. Jaire Alexander is #9 in PFF coverage grade with 79.1, so he'll be leading that secondary. I have a super flex team where I have to start him because of injuries. I can't recommend you starting him in any circumstances other than super flex. AFUERA. 
PACKERS
AJ DILLON
It's the most wonderful time of the year if you drafted Dillon as your RB2 in a hero RB strategy. The frigid temps have brought him center stage, as he has 88 and 119 scrimmage yards the past two games. He scored in each game. Aaron Jones will still be plenty involved, and the Rams have been surprisingly good against the RB considering the injuries they've suffered on that side of the ball. They're #10 in FPG and allowing just 77.6 rushing YPG. Last week Josh Jacobs needed 27 carries to get 99 yards, but I can see with the weather being a factor in the defense wearing down. ADENTRO on Dillon.