OK, you're either fighting for a playoff spot or looking at cruising to the playoffs and picking up some players to either fill in for injuries or deepen your bench. I'm grateful that I'm in more playoff hunts than teams that are out of it. So to help you out for the waiver wire, I've got you covered with LOS PEEKUPS.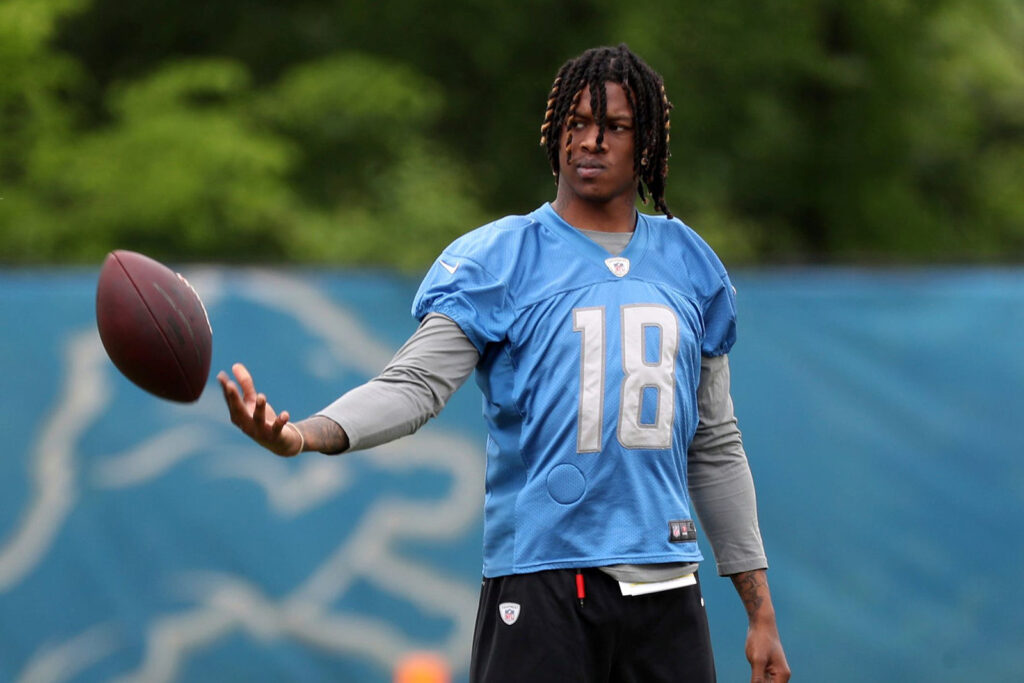 As always, these are players rostered in less than 50% of Yahoo leagues. All per-game averages are since Week 7 to give you a better look at how players are performing most recently in what is at least a four-game sample size. No byes this week, so some of these players may be peekups for depth or later in the fantasy season (playoffs?). Let's get to it.
QUARTERBACK STREAMER OF THE WEEK
RYAN TANNEHILL (16%) vs CIN
With 4 TDs in the past couple games, Tannehill has shown new life and is back on the waiver wire radar. Teams are selling out to try to stop Derrick Henry, and that's opening up the play-action game for Tannehill. The Bengals aren't the greatest matchup, as they're #10 against the QB and giving up 207.8 passing yards. The game being in Tennessee, with the Titans running hot, this could be a matchup where he hooks up with a certain young WR you'll be reading about below.
RUNNING BACK
SAMAJE PERINE (10%) @ TEN
With Joe Mixon likely going into the concussion protocol and missing this week, it's not a fun matchup for next-RB-up Perine. Last week he came on in relief and turned 82 total yards into 3 TDs and 30.2 fantasy points. The Titans, however, are a different animal against the RB position, as they're allowing a paltry 44.4 rushing YPG. They are giving up 51.8 receiving yards to the position, so there is hope for Perine to have himself a game via the air.
LATAVIUS MURRAY (26%) @ CAR
The Broncos just released Melvin Gordon and Chase Edmonds suffered a high-ankle sprain to send him to IR. Who's left to run the ball in Denver? Murray stepped in with 17-49-1 against the Raiders, which is not to be diminished. If you need a RB2 or deep flex play this week, Murray could be an option against a Carolina run D that is #21 against the position while teams are going through them for 135.6 scrimmage YPG. Mixon and Perine combined for 204 rushing yards in Week 9 against the Panthers.
JERICK MCKINNON (26%) vs LAR
McKinnon may get more work with Clyde Edwards-Helaire likely to miss time with a sprained ankle. Isiah Pacheco will still be the lead dog rushing the ball, but McKinnon will be an option as a changeup back and catching passes. Before he had just a single target last week, McKinnon recorded 16 targets in the previous two games. The Rams remain solid overall defensively, but are giving up 49.8 receiving YPG to the RBs.
JAMES COOK (17%) @ DET
I got the question on the Fantasy Points Discord as to whom to target between Cook and Isaiah Spiller. After watching both of their games this past Sunday, it was clear that Cook was operating at a higher gear than Spiller. He blistered the Browns for 11-86-0, getting some vital carries early in the contest. The Lions have gotten better on the defensive side, rising up to #4 with 17.5 FPG against the RB. They bottled up Saquon Barkley last week (35 scrimmage yards) in the Meadowlands, so they're not doing this against nobodies. Cook could be a good flex play later in the season.
KYREN WILLIAMS (27%) @KC
Williams could be the big beneficiary after the Darrell Henderson waiver. I know that Cam Akers went 14-61-0 last week, but he ran zero routes. Williams ran 23 and was on the field for 27 total pass plays. He came into the league with a great reputation as a blocker. So if he's going to be on the field more on pass plays, and a handful of rush attempts, I'm going after Williams. Especially considering that KC has a good pass rush and has been one of the hottest offenses in the league.
WIDE RECEIVER
TREYLON BURKS (21%) vs CIN
Burks ran 21 routes and saw 8 targets, turning them into 7-111-0. The throws were putting him in a position for some YAC, which really worked for him in college. This is never going to be a high-volume passing attack, but this may be a quality-over-quantity situation. The Bengals have seen some injuries in the secondary, and did get beaten last week by George Pickens (4-83-1). This could be a flex play for ROS, starting with this week.
JAMESON WILLIAMS (23%) vs BUF
He's now 10 months past his surgery to repair a torn ACL, which Dr. Edwin Porras cited is optimal considering that nine months is the minimum for return to play. He's likely not going to play this week, and it may take him some time to get fully acclimated to be ready to play a full NFL game. If you're looking at the fantasy playoffs, the only week where he could be playable could be Week 17 at home against the Bears – the Jets' and Carolina's secondaries precede them. I recommend only grabbing him if you have a deep bench.
JUSTIN WATSON (7%) & SKYY MOORE (6%) vs LAR
This pair or WRs could see more playing time if Kadarius Toney remains out. Though keep in mind that JuJu Smith-Schuster could be back this week from the concussion protocol. Watson ran 37 routes to just 16 for Moore, which tells you that the Chiefs aren't looking at draft capital when setting up playing time. Moore got more targets, 6-4. I would prioritize Moore, slightly, because he made a couple clutch grabs that could lead to more time on the field even after the Chiefs return to health. The Rams still have a good secondary, but they have been taxed with the lackluster offense. Not a good combo with Mahomes on the docket.
TIGHT END
TAYSOM HILL (47%) @ SF
This is a desperation play based on the fact that he's not going to get much work in the passing game. I've had Hill on benches a lot this season, and even played him in one league when he had that blowup game. You're hoping for a home run, but keep in mind you could strike out. Hill saw 52 rushing yards and 14 passing yards last week, and HC Dennis Allen said that they may have under-utilized Hill before then. That could be coach speak to try to throw off a superior defense in the 49ers. But with the Saints down to just Alvin Kamara and Chris Olave as playmakers, Hill could be the right changeup this week. OK, enough with the baseball metaphors.
LOGAN THOMAS (6%) vs ATL
Thomas ran 21 routes and saw 6 targets, which matches his high for the season. It's been quite a long slog to get back after he tore his ACL last year, so he finally may be back and healthy. The Falcons have been good against the TE, allowing 37.4 YPG to the position. Thomas could be a bench stash for the ROS, and potentially a starter in certain matchups.
STREAMING D OF THE WEEK
NY JETS (47%) vs CHI
The Jets have become one of the top defenses in the NFL. They're #6 with 2,008 passing yards and #8 with 1,097 rushing yards allowed. Now they could be facing either an injured Justin Fields or a backup QB. If it's the latter, give me the Jets all day. This could be a defense you keep for the remainder of the season.
GET 10% OFF YOUR FANTASYPOINTS.COM SUBSCRIPTION WHEN YOU ENTER THE PROMO CODE 22FAMILIA10.