OK, let's look at LOS PEEKUPS for Lucky Week 13. Not a lot. There's no Ken Walker who you're going to dump all your FAAB to get him. But there are a few players to target if you need some reinforcements. And we all do in our playoff runs. Going quality over quantity here. No streaming D as of now, as none had good matchups that were under 50% rostered in Yahoo leagues. Maybe I'll pump one out later in the week on Twitter.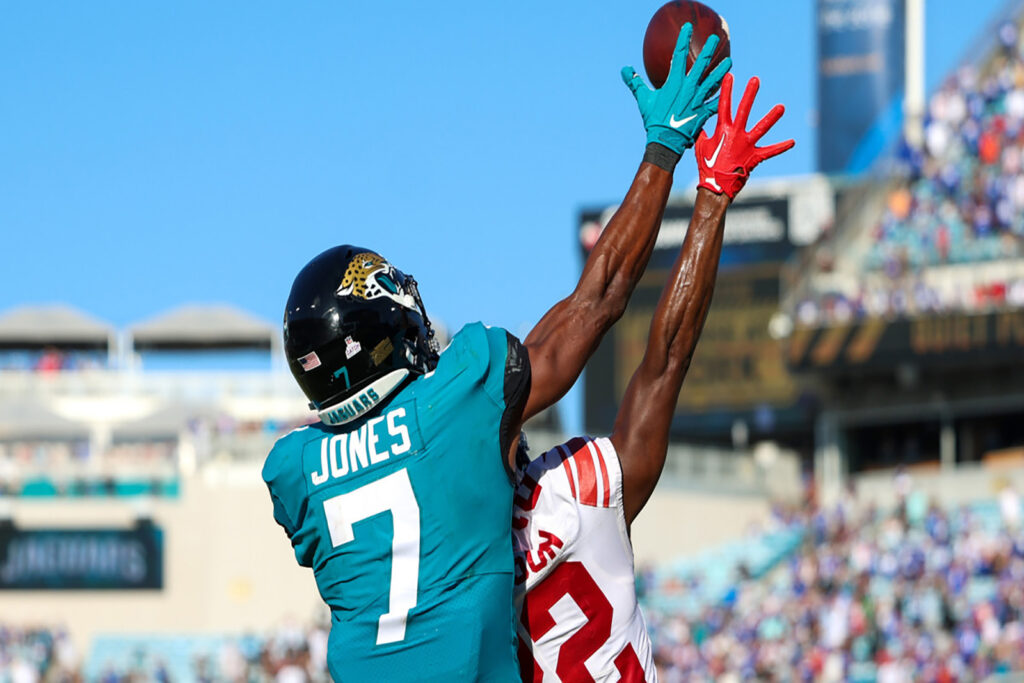 There are two players who are barely more than 50% rostered in Yahoo leagues who are primary targets: Chase Claypool (53%) and Treylon Burks (51%). These players need to be rostered. Claypool should be one of the prime targets in the Bears' attack after Darnell Mooney was played on season-ending IR. Burks has clearly become the main target of the Titans' passing attack, and with his size and speed could be a great YAC player.
QUARTERBACK
MIKE WHITE (4%) @ MIN
QB5 in Week 12 is just how we predicted it after he threw for 315 yards and 3 TDs. Now I've got people asking me in Discord if they should drop Gabe Davis to pick up Garrett Wilson. Still keep Davis. White is a good call, though, especially after the Vikings gave up 382 yards and 2 TDs to Mac Jones on Thanksgiving. In Minnesota! The Vikings are allowing 298.8 YPG and #29 against the QB.
JARED GOFF (46%) vs JAX
At home, Goff has gone past 300 yards twice and in one other game threw 4 TDs. He's thrown 15 of his 17 TD passes at home. Now he gets a Jacksonville D that has given up no fewer than 252 passing yards and 8 total TDs in the last 4 games. 
RUNNING BACK
ZONOVAN KNIGHT (1%) @ MIN
Knight went for 14-69-0 last week spelling Michael Carter, who came out of the game with an injury. This pickup is purely based on if Michael Carter misses time with an ankle sprain. James Robinson and Ty Johnson are also contenders, though Knight showed good burst and some speed. Minnesota is allowing 125 scrimmage YPG, and Tony Pollard ran all over them for 189 total yards and 2 TDs. 
BENNY SNELL (1%) @ ATL 
Najee Harris hurt his abdomen, which can mean weeks on the sidelines. Jaylen Warren is already dealing with an injured hamstring. Snell went for 12-62-1 in his first carries of the year on Monday Night Football. If he gets most of the carries, which is the way for Mike Tomlin-led offenses, Atlanta is #27 vs the RB, giving up 143.8 scrimmage YPG.
TYLER ALLGEIER (47%) vs PIT
This is not a sexy pick. It's one of those picks where you hope the player gets at least 50 yards and you pray for a TD. Since Cordarrelle Patterson returned from injury, Allgeier has this many touches in the four games: 11-11-9-11. Only one of those games did he go over 100 scrimmage yards. It won't be an easy setup, as the Steelers are allowing 74 rushing YPG. But Allgeier could be a flex play with byes or injuries in the coming weeks.
JORDAN MASON (0%) vs MIA
This is the state of the 49ers' backfield. Elijah Mitchell is out 6-8 weeks, according to reports. Christian McCaffrey is dealing with knee irritation, which is plenty irritating for people who drafted him #2 overall. This is a next man up league, and Mason put up a line of 5-25-0 in relief last week. He may have to take over some carries because of attrition. The Dolphins just shut down Dameon Pierce, largely because of gamescript. With the 49ers it'll be different, as this game could be one of the most tightly contested of the week.
JAMYCAL HASTY (3%) @ DET
Hasty looked good in relief of Travis Etienne, turning 17 touches into 95 total yards. Etienne said he should be fine, but can we trust what the players and coaches are saying? I don't. You have to be ready, because Etienne could just sit out this game as a precaution. Detroit is allowing 102.8 scrimmage YPG, so Hasty would be a candidate to at least share carries with James Robinson and Darrell Henderson, if Etienne misses time.
WIDE RECEIVER
ZAY JONES (25%) @ DET
Turning 14 targets into 11-145-0 was a lot of fun, but how is his rostership so low? This is his fourth game with 10+ targets on the season, and he has a great matchup. The Lions are #29 vs WRs and allowing 273.5 passing YPG.
MICHAEL GALLUP (48%) vs IND
Gallup saw 29 routes last week, the same as CeeDee Lamb. His season-high 8 targets were also turned into 5 catches for 63 yards. Both are also season highs. Is he fully healthy from his 2021 ACL surgery, and could he be trending up? It's not the best opponent to put Gallup righr into your lineup, as Indianapolis is #2 against the WR. But in this offense, you'll have Gallup in starting consideration more often than not .
VAN JEFFERSON (23%) vs SEA
With Cooper Kupp and Allen Robinson on IR, Jefferson could be set up as the top dog for targets in the Ram attack for the rest of 2022. He saw 7 targets last week from Bryce Perkins, catching 3 balls for 29 yards and a score. If you need someone getting targets, you could do worse. Seattle is #12 vs WR, but Las Vegas is next. That could be the week to start Jefferson. 
TIGHT END
JUWAN JOHNSON (48%) @ TB
Have we talked about how rough the TE position is? Every year, the summer brings so much optimism about "breakout TEs," and before the leaves turn brown a great majority of us are lamenting not having drafted Travis Kelce at his ADP. Johnson is what you do when you don't have Kelce. Before this last week's shutout, Johnson caught 5 TDs in the Saints' last 5 games, and had 22 targets over that stretch. Tampa Bay is #27 against the TE, so he could be a starter most weeks. 
GET 10% OFF YOUR FANTASYPOINTS.COM SUBSCRIPTION WHEN YOU ENTER THE PROMO CODE 22FAMILIA10.