Yes, we keep hearing about the Bye-Mageddon with 6 teams on bye this week. Your reserve rosters are looking like that NSYNC song. Sometimes those rosters hit, just like when you get a straight on the river in poker.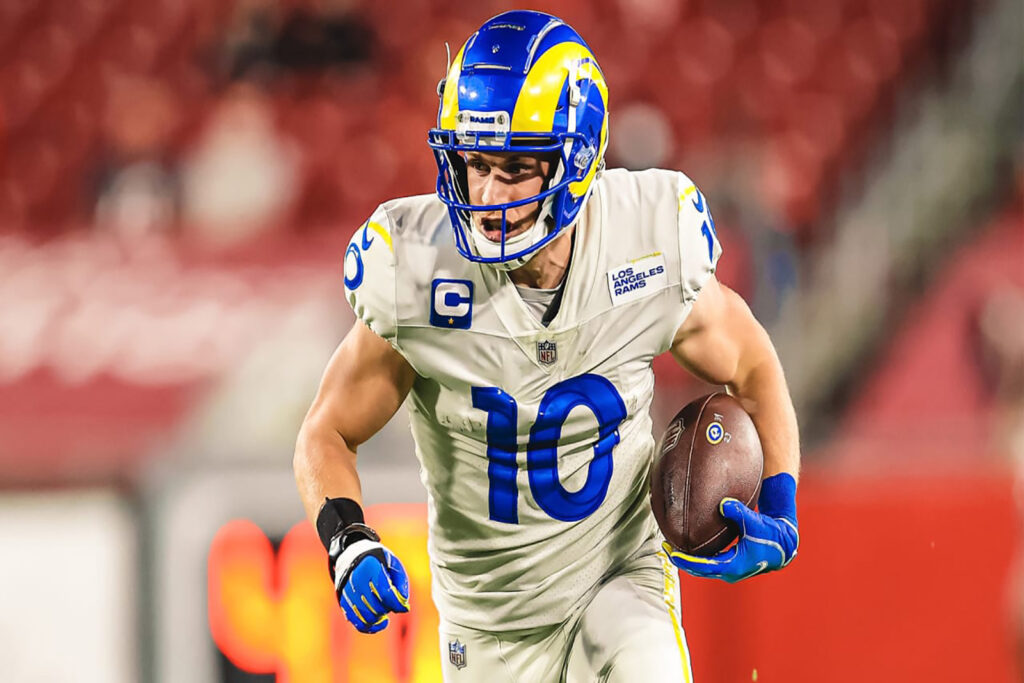 Let's get into the main slate on Sunday. Most of these are for redraft, but some DFS information is sprinkled in. Weather does not appear to be an issue this week, so let's get to it. SALUD!
EARLY GAMES
LAC (4-3) @ ATL (4-4)
LAC -3 / 49
CHARGERS
This is a caliente spot for JOSH PALMER. Both Keenan Allen and Mike Williams are ruled out, and Palmer has cleared the concussion protocol. With Justin Herbert averaging 44 passes per game, and the Falcons getting nuked on defense to the tune of allowing 318.1 passing YPG, I'm all ADENTRO on Palmer as a pick. 
FALCONS
If it weren't for the Texans being so historically bad against the run, the Chargers would be the worst team in the NFL defending RBs. CORDARRELLE PATTERSON was just activated, and I see him getting 10-15 touches alongside Tyler Allgeier and making the most of them. The Falcons are going to run to try and limit Herbert's possessions. Ken Walker, Nick Chubb and Dameon Pierce all surpassed 100 rushing yards against the Chargers of late. ADENTRO. 
MIA (5-3) @ CHI (3-5)
MIA -5 / 44
DOLPHINS
Miami gets a mild day with 58 degrees and 16 MPH winds with no rain, so weather should not limit its ferocious passing game. Add to it that the Bears traded Robert Quinn and Roquan Smith, so Tua Tagovailoa is going to have time to throw the ball deep. That's great news for TYREEK HILL, who is my WR1 in my rankings for This week. The Bears are #4 in FPG allowed to WRs, but have been beaten by elite WRs this season. Justin Jefferson went for 12-154-0 in Week 5 and CeeDee Lamb went for 5-77-1 last week. I also have Jaylen Waddle WR8, so a big week is expected from this duo. ADENTRO for a 10-150-2 line from Hill. 
BEARS
You're starting JUSTIN FIELDS every week now in redraft. He's averaging 10.5 rush attempts and 69.3 rushing YPG the past 4 games. He's also going to need to take some shots if he has time, as the Dolphins added Bradley Chubb to a blitz-heavy pass rush. Chase Claypool is expected to have at least a part-time role, so he could get some work. He's one of the league leaders in routes run from the slot with 258. Of his routes, 79.1% have been from the slot. ADENTRO. 
CAR (2-6) @ CIN (4-4)
CIN -7 / 42.5
PANTHERS
The Bengals got beaten up by Nick Chubb on the ground last week for 101 yards, and two weeks prior Alvin Kamara got them for a 16-99-0 rushing line. Over the past three weeks the Bengals are allowing 113.5 rushing yards to the RB position. With Chuba Hubbard already ruled out, that means another heavy workload for D'ONTA FOREMAN this week. I'm not expecting 26-118-3 like last week, 20+ carries, 100+ yards and 1 TD is very doable this week for an offense that's really down to just Foreman and DJ Moore from a fantasy perspective. ADENTRO on Foreman. FYI, the Bengals' ace CB Chidobe Owuzie is out for the season, so the Panthers could put up some points this week.
BENGALS
That was ugly for JOE BURROW on MNF. Myles Garrett and Co. were in his grill all game, and it showed in his 232-2-1 performance. It's become clear that when the O-line sees great pass rushes, Burrow is far from elite. However, in his home games, he's put up the yardage, with his lowest output in three games in Cincy at 287 passing yards. Edge rusher Brian Burns is very good, but he's not on the level of Garrett. My call is the Bengals right the ship at home and protect the prince for another big game. ADENTRO.
GB (3-5) @ DET (1-6)
GB -3.5 / 49.5
PACKERS
AARON JONES is my guy this week. I wanted to make Aaron Rodgers the top dog, but I noticed that even as bad as they've been on defense this year, the Lions have yet to give up 300 passing yards in a home game. The running game is another story. Detroit was run over by Rhamondre Stevenson (175 total yards) and Tony Pollard (109 total yards) recently, and Jones is getting that lead caballo workload that we crave. Last week he gashed a solid Buffalo run D for 143 yards on 20 carries. I do still like Rodgers this week, but just not as much as I'm ADENTRO on Jones. 
LIONS
Remember that glorious closing run by AMON-RA ST. BROWN that helped people win 2021 fantasy championships? The same environment is set up for him. T.J. Hockenson has been traded. With D.J. Chark on IR, there's no other WR running mate of significance. D'Andre Swift is playing hurt and getting his reps limited. I'm looking at another 10+ targets against a Green Bay secondary that's given up good games to Stefon Diggs (6-108-1) and Terry McLaurin (5-73-1) in the past couple weeks. ADENTRO on the Sun God. 
IND (3-4-1) @ NE (4-4)
NE -5.5 / 39
COLTS
The path to the Colts competing in this game may lie in the legs of DEON JACKSON. In the two games that Jackson subbed in for Jonathan Taylor, the young RB put up 91 and 121 total scrimmage yards. The Patriots have given up some yards to RBs in their past two home games, allowing 162 and 157 total scrimmage yards in those contests. You're starting Jackson this week, and the Colts need to give him the ball. ADENTRO. 
PATRIOTS
I know Jakobi Meyers is the WR13 in FPG with 15.9, but I just don't like how Mac Jones has looked since his return from the ankle injury. So I can't recommend him in good conscience. Where I'm putting my ADENTRO money is on RHAMONDRE STEVENSON. He's clearly the lead caballo here, and in the past four games has total touches of 27, 23, 19 and 23. He's coming off a game where he put up 143 combined yards, and in the past 4 games the Colts are allowing 168.5 scrimmage yards to the RB. Damien Harris may miss this game with an illness, so ADENTRO!
BUF (6-1) @ NYJ (5-3) 
BUF -13 / 47
BILLS
The Jet pass D has looked spectacular statistically, giving up just 208.6 passing YPG since Week 4. Looking beyond the numbers, here is the lineup of QBs they faced in that span: Kenny Pickett/Mitchell Trubisky, Skylar Thompson, struggling Aaron Rodgers, Brett Rypien and hobbled Mac Jones. Not exactly in the league of Josh Allen. That's why I'm looking for a big game from GABRIEL DAVIS. He has 19 targets the past three games, so as long as he's getting his 6-7 targets I see him getting 75+ receiving yards and a TD. ADENTRO. 
JETS
Before Aaron Jones ran for 143 yards against the Bills, they had not allowed more than 54 yards to any RB this season. Since Week 3, the high for JAMES ROBINSON is 54 yards. MICHAEL CARTER managed just 61 scrimmage yards in his first full game since Breece Hall was hurt. I see the Jets having to give up the running game when the Bills get off to an early lead. I'm AFUERA on both of these players 
MIN (6-1) @ WAS (4-4)
MIN -3.5 / 43.5
VIKINGS
Since Jalen Hurts put up 340-3 against the Commanders in Week 3, the best passer they have faced is Aaron Rodgers, and we've already talked about his struggles of late. Yes, they're giving up 197.8 pass yards in the past four games, but the likes of Tannehill, Fields and Ehlinger have been pitching it against them. This could be a good "revenge game" for Kirk Cousins, but the recipient won't be T.J. HOCKENSON. The Commanders are #1 vs. the TE, allowing just 28.2 YPG to the position. Hockenson was held to 3-26 in Week 2 for Detroit. Here are other TEs shut down by Washington: Dallas Goedert (26 yds), Dalton Schultz (0) and Robert Tonyan (32). AFUERA. 
COMMANDERS
The Vikings have yet to allow a 100-yard rusher on the season, and have been beaten for 300-yard passers the past two games. Brian Robinson and Antonio Gibson will have a tough time getting going on the ground, so the ball will go into Taylor Heinicke's hands. John Hansen likes to call him Hospital Ball Heinicke, and there will be a few to connect with TERRY MCLAURIN in this home date. Scary Terry has been targeted 16 times the past two games, connecting on 11 for 186 yards and a score. Top wideouts DeAndre Hopkins (159 yards), Tyreek Hill (177) and Jaylen Waddle (129) have torched the Vikings the past couple weeks. ADENTRO on McLaurin. 
LV (2-5) @ JAX (2-6)
LV -1.5 / 48
RAIDERS
It's been rough going for DEREK CARR of late. He hasn't surpassed 241 passing yards since Week 3. Last week he was benched midgame because he was under siege. The Jaguar front seven has been putting on pressure all season, sacking Russell Wilson 4 times last week. Carr won't have much time to throw this week. AFUERA.
JAGUARS
It's too easy to tout Travis Etienne in a matchup against the #31 defense against the RB since Week 5. I'm calling for a big game from Fabio Football, aka TREVOR LAWRENCE. The Raiders have been a disaster against the pass of late. They were hit for 292-4 from Patrick Mahomes, which is happening to everyone. But a week later they gave up 302-2 to Davis Mills in Houston. This is another road game for the Raiders, and Lawrence is going to shine in front of the Duuuval faithful. I'm calling 300+ yards and 2 TDs. ADENTRO. 
4 PM ET
SEA (5-3) @ AZ (3-5) 
AZ -2 / 50.5
SEAHAWKS 
Three weeks ago KEN WALKER stuck the Cardinals for 110 scrimmage yards and a TD. Since then, Alvin Kamara and Dalvin Cook have done more of the same against Arizona. At $6.2K in DraftKings, I'm all over Walker. ADENTRO. 
CARDINALS
Is KYLER MURRAY going to run for 100 yards again like he did in Week 6 against these same Seahawks? He didn't have DeAndre Hopkins that game, so Murray may not have to run as much as he did last time. This game has the highest total of the week, so expect some fireworks in the desert. Murray will have to put up some numbers, because the defense will have a tough time holding down the Seahawks. As usual, it won't be pretty, but the numbers will be there for Murray. ADENTRO. 
LAR (3-4) @ TB (3-5)
TB -2.5 / 42.5
RAMS
This game is a rematch of that incredible playoff game in January, when the Bucs came back from 27-3 to tie it, only to have COOPER KUPP make a couple big plays to set up the game-winning FG. With the QBs under siege on both teams, this game may be different. This will still be a big game for Kupp, as the Bucs have gotten lit up out of the slot of late. D.J. Moore put up 7-69-1 running 45.8% of his routes from the slot in Week 7. Chase Claypool went for 7-96-1 while running 65.6% of slot routes. ADENTRO. 
BUCCANEERS
The matchup is there for LEONARD FOURNETTE, as the Rams have given up 158 and 149 scrimmage yards, respectively, to Christian McCaffrey in the past two games – one for Carolina and the other for San Francisco. Yet the Bucs could get down in this game if Kupp is allowed to get loose, and they have been ignoring the run game. Fournette has just 10 and 12 total touches the past two games. It looks like a good matchup, but I'm not sure the volume is going to be there. AFUERA. 
GET 10% OFF YOUR FANTASYPOINTS.COM SUBSCRIPTION WHEN YOU ENTER THE PROMO CODE 22FAMILIA10.