Is Thanksgiving the best holiday? Well, you automatically get four days off (unless you work in football). The entire holiday is centered around a great meal of indulgence, and hopefully if someone is preparing it, they have access to wine, beer or whatever libation they prefer to have poured for them throughout the day. Then, if you're lucky, you're at a table with the people you love counting your blessings. Sounds pretty good.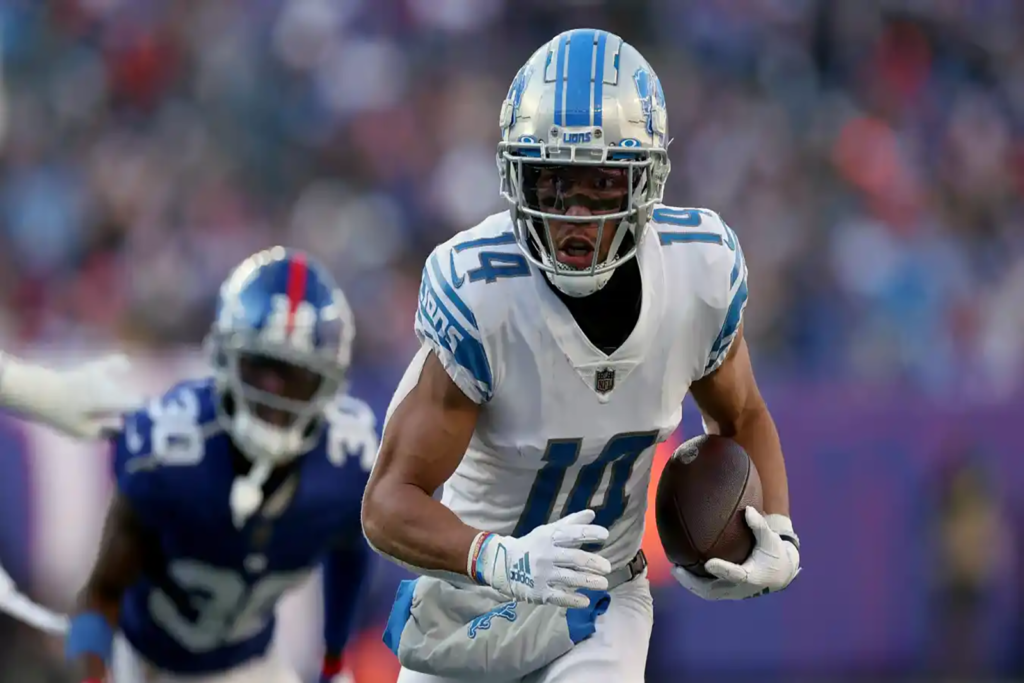 And there's football. Oh, is there football. The Lions had a monopoly on the day, usually against the Packers, Bears or some other rival as TV became vital for the sport. Then the Cowboys took over the prime afternoon/evening slot on their way to becoming America's Team (insert gag reel for all fans who were bounced by them in the playoffs from the mid-1970s to the late 1990s). Now it's a tripleheader, with the final game being a combo plate of apple and pumpkin pie (I can't choose).
So here we are, with a quick rundown on one player for each team playing in all three games. Who's Adentro? Who's Afuera? This has a DFS Fiesta feel to it, with each player showing their DraftKings pricing. Let's do this. Player pricing is in parenthesis, and per-game stats are since Week 7 to show more recent performance. Happy Thanksgiving y Feliz Dia de Gracia! Salud!
THANKSGIVING
BUF (7-3) @ DET (4-6)
BUF -9.5 / 54.5
BILLS
GABE DAVIS (5,300) is in a smash spot here. On the season he has 311 receiving yards on throws of 20+ yards. That's #4 in the league, just behind his teammate Stefon Diggs. His 23.92 Yards per Route Run (YRR) is beyond ridiculous. While he won't come close to Diggs in targets, Davis does have 7-5-9-7 in his last 4 games, with 6-93-1 and 5-68-0 lines in the last 2 games. Detroit is #27 vs the WR, allowing 273.6 passing YPG. Darius Slayton went 5-86-0 last week and Allen Lazard posted 4-87-0 Week 9. Davis is primed to be part of a double stack with Josh Allen in my main lineup. I had a few questions about whether to start Davis over Ja'Marr Chase, if the latter is playing this week. Definitely something to consider there. Overall, ADENTRO.
LIONS
JAMAAL WILLIAMS (5,900) has 6 TDs in the last 4 games, and has 24-16-17 rush attempts most recently. The TD luck has been amazing, and largely due to Amon-Ra St. Brown regularly being stopped inside the 5-yard-line. There are warning signs for this game, which by the point spread is a negative gamescript for the Lions. That would appear to be bad for Williams, though he has 15 rush attempts in each of blowout losses to the Cowboys and Patriots. So can Williams be trusted? After getting beat up by the Jets' RBs for 141 yards in Week 9 and Dalvin Cook for 119 yards in Week 10, the Bills held Nick Chubb-Kareem Hunt to just 51 combined rush yards last week. The TD luck runs dry this week, as the Bills will keep Williams out of the end zone. AFUERA.
NYG (7-3) @ DAL (7-3)
DAL -9.5 / 45.5
GIANTS
The New Yorkers have three O-line starters out for this game. Ay Dios Mio! Not good. DANIEL JONES (5,500) could see an onslaught of Micah Parsons and Co. all afternoon. This is the top-ranked pass rush, according to PFF, and they just finished shutting down Kirk Cousins in Minnesota last week in dominant fashion. Jones went 341-1-2 with 7-50-1 rushing against the Lions last week, and that was with the Giants playing catchup all afternoon. Jones will be running away from the pass rush most of this game, and will have to replicate the 9-79-0 rushing line vs Dallas in Week 3. Justin Fields rushed for 8-60-1 Week 8. Jones will run, but not sure that will be enough to salvage his day. Maybe he connects with Darius Slayton on a long ball, but not much else. AFUERA.
COWBOYS
TONY POLLARD (6,600) has this many touches in his last three games: 15-25-21. He was the RB2 and RB1 the last two weeks. What's very interesting is that Zeke Elliott still had 16 touches last week, even as Pollard was going loco. In the Week 3 meeting, Pollard had only 1 target in the 23-16 win. The Cowboys have expanded things to get him 12 targets in the last 2 games. New York is #28 with 113.4 rushing YPG to RBs. The Lions finished with 150 total RB rush yards last week, while Dameon Pierce broke out for 122 total yards in Week 10. The Texans had 69 receiving yards by RBs. Another caliente game could be up for Pollard. ADENTRO.
NE (6-4) @ MIN (8-2)
MIN -2.5 / 42.5
PATRIOTS
MAC JONES (5,600) is an interesting play coming off what on the surface appears to be a meh game with 246 passing yards last week, his highest total since 321 yards in Week 3. He took mostly short shots, with the wind howling. He won't have that weather problem in Minnesota's dome. The matchup for Jones is inviting, as the Vikings are the #24 defense against QBs, giving up 284.4 passing YPG. Dak Prescott just went into this same stadium and dropped 22-25-276-2 this past Sunday. Teddy Bridgewater, Kyler Murray and Josh Allen went 300+ each against the Vikings. If you want to save some money, or do a contrarian lineup to your Allen builds, Jones is a good option. ADENTRO.
VIKINGS
KIRK COUSINS (5,600) has been so good at home, some may be asking if last week was a fluke, or was it another Cousins meltdown in a big game? This game is in prime time, but at home. He has 7-1 TD-INT in Minnesota. Justin Jefferson is playing with what's called "minor" turf toe. Not sure how minor that is, and even though JJ wasn't on the final injury report, I have to question if the injury will be limiting. New England is an elite defense, having allowed just one 300-yard passer. Ironically that was the just-benched Zach Wilson, who was intercepted three times on the way to 355 passing yards. No other passer has thrown for more than 266 yards against New England. That defense is a big reason this game has the lowest over/under of the Turkey Day slate. I'm not chancing a DFS lineup on Cousins. AFUERA.
MY DRAFTKINGS LINEUP
Josh Allen (8000)
Tony Pollard (6600)
James Cook (4400)
Stefon Diggs (8000)
Gabe Davis (5300)
Darius Slayton (5000)
Dawson Knox (3500)
Amon-Ra St. Brown (6600)
Giants DST (2400)
GET 10% OFF YOUR FANTASYPOINTS.COM SUBSCRIPTION WHEN YOU ENTER THE PROMO CODE 22FAMILIA10.