How was the food coma? I hope there wasn't too much tequila consumed to wash it all down. Did you go Black Friday shopping? Have you been a couch potato watching all the soccer and college football action since Thanksgiving?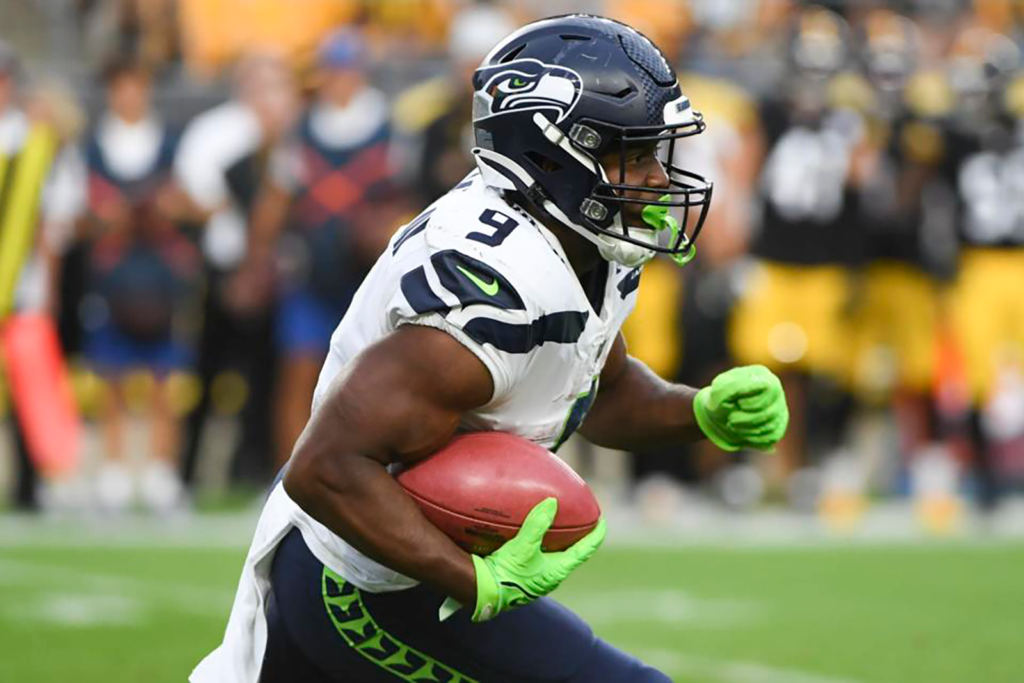 You've probably experienced some combination of all of these. Well, for the last day of the Thanksgiving weekend, we're serving no leftovers. It's all prime cuts in the Sunday and Monday Night Football action. Let's get to AYA Pt. 2 for Week 12. To get a more recent look on how teams are faring, per-game averages are since Week 7. Vamonos! Salud!
CIN (6-4) @ TEN (7-3)
CIN -3 / 42.5
54 & Cloudy (possible wind condition)

BENGALS
JOE BURROW
Will Ja'Marr Chase play? It's looking doubtful. Samaje Perine is replacing Joe Mixon, but the Titans have allowed just 44.4 rushing yards to the RB. Burrow went 355-4-2 last week at Pittsburgh, and he has 3 of the last 5 games with 300+ yards and 10 TDs in those games. Here are the last three Titans' opponents at QB (yardage in parenthesis): Patrick Mahomes (446), Russell Wilson (276) and Aaron Rodgers (227 and 2 TDs) last. The Titans did get 13 pressures, 1 sack and 2 hits on Rodgers last week. They're #23 against the QB, allowing 270.8 passing YPG. ADENTRO
TITANS
Revenge game for playoff ouster last year when they were #1 seed? Do you pay $8300 for DERRICK HENRY in DK? He may be teh #3 RB on the slate, but it's worth it because you know he's getting the carries. The fewest rushing attempts since Week 2 is 17. Only Denver (53 yards) held him below 85 yards in that span. Najee Harris (90 yards) and Nick Chubb (101) have gone off in 2 of last 3 games against the Bengals, who are #27 vs RB. With Treylon Burks now a threat, teams don't have to sell out to stop King Henry. ADENTRO.
TB (5-5) @ CLE (3-7)
TB -3.5 / 42.5
50 & Rain

BUCCANEERS
RACHAAD WHITE 
Leonard Fournette has been ruled OUT. The snaps compared to Fournette were 48-22 in White's favor last game, and he finished with 22-105-0. But no targets. The Browns are #31 with 155.7 scrimmage YPG allowed. James Cook/Devin Singletary (172 yards combined) in Week 11 and Jeff Wilson (119) in Week 10 have trampled through the Browns. At $5100 in DK, running unopposed, he's a huge bargain. ADENTRO.
BROWNS
With the rain, this is going to be a running game circa 1977. NICK CHUBB is playing in a matchup of Strength vs Strength. Chubb is RB5 with 1059-11 total. Tampa Bay is #7 vs the RB, allowing 104 rush yards with just 1 rushing TD since Week 7. Chubb has five  of 10 games over 100 rush yards, though he was bottled up for 14-19 last week. Ken Walker was 10-17 in the Week 10 Germany game. In the rain, Chubb won't have consecutive bad games. ADENTRO.
HOU (1-8-1) @ MIA (7-3)
MIA -13.5 / 47
83 & humid
TEXANS
DAMEON PIERCE returns to Florida, though a little south from his college stomping grounds in Gainesville. Fantasy managers are a little nervous after he put up his first clunker – 17 total yards – since he became the main man in Week 2. Kyle Allen is now QB, so will that keep teams from stacking the box vs Pierce? Miami is #8 vs RB, allowing 67.2 rushing YPG vs RB. Are they good vs run, or are teams having to abandon the run to keep up with their high-powered offense? Chubb went 11-63 in Week 10 and Jamaal Williams 10-53 in Week 8. Will the Texans give up on the run, and really their best offensive weapon? I don't see 100 yards, but can see 80 and a TD. ADENTRO, but purely on volume. It won't be a ceiling game.  
DOLPHINS
JEFF WILSON is the RB14 at $5900 on DK. Raheem Mostert is doubtful. Could Wilson get all the RB touches? He had 19 of 27 rush attempts vs the Browns, with Mostert getting 8. Houston is allowing 173.6 rushing yards to the RB, #32 in the league. Gibson/Robinson went for 129 combined rush yards, while Saquon Barkley went for 152 yards in Week 10. Could he be getting a ton of late work if the Dolphins are salting away the victory? I say yes, and he's one of the top plays in DFS. ADENTRO.
$5900 in DK
CHI (3-8) @ NYJ (6-4)
NYJ -6 / 38.5
49 & overcast
BEARS
Will Justin Fields play? I think he doesn't. DAVID MONTGOMERY had a 20-6 touch advantage over Trestan Ebner, and was on the field for 28 of 35 rush snaps. The matchup is a killer. The Jets are #13 vs RB, with 79.6 rushing YPG allowed. Raheem Mostert (113 in Week 5) is the only RB to go past 100 yards vs Jets. Rhamondre Stevenson 56 receiving yards last week, but he's a different type of player than Monty. AFUERA
JETS
MICHAEL CARTER has a new QB in Mike White, is that good for Carter? I look at Week 8 last year, when White threw for 405-3-2 Wk 8. Carter saw 14 targets that day, in a game with a ADOT. Last week Carter ran 11 routes, 0 for James Robinson. Their rush attempts were even, 8-8. The Bears are #24, allowing 124.4 scrimmage YPG to the RB. The Falcons put up 111 rush yards combined by three RBs. Carter is a great flex play this week. ADENTRO.
ATL (5-6) @ WAS (6-5)
WAS -4.5 / 40.5
47 & Rain
FALCONS
DRAKE LONDON ran 22 routes last week, but saw just 3 targets and caught 1 for a 2-yard TD. Then nothing else. Rain will play a part, as will the great Washington D-line, possibly getting Chase Young back. Washington had 15 pressures on 29 dropbacks, 0 sacks and 5 hits. They'll be bringing the heat. Justin Jefferson with 115 yards is the only WR to go over the century mark since DeVonta Smith in Week 3. Rain plus the big-time pass rush by a team that is  #8 vs the WR, giving up 200.2 pass YPG. Bad combo all around. AFUERA.
COMMANDERS
ANTONIO GIBSON had 18-72 & 3-31 receiving last week. He outsnapped Brian Robinson, 24-16. Running the ball in the rain will be important, but can he hold onto a wet ball? Falcons are #25 vs RB, getting bludgeoned for 142.4 scrimmage YPG. D'Onta Foreman totaled 248 rushing yards in 2 games vs Atlanta. ADENTRO. 
DEN (3-7) @ CAR (3-8) 
DEN -2 / 36
58 & Rain
BRONCOS
LATAVIUS MURRAY has no Melvin Gordon nor Chase Edmonds to compete with for RB snaps, and last week had 17-49-1 and 72 scrimmage yards on 21 touches. He played 17 of 27 rush snaps, and now just has Marlon Mack in the RB room with him. The Panthers are #23 against the RB, with 135.6 scrimmage yards & 6 total TDs against them. The Ravens ran through them for 80 combined RB rush yards last week, and let's not forget the big Joe Mixon 153-4 game in Week 9. Week 8 they allowed 130 combined rush yards to the duo of Caleb Huntley and Tyler Allgeier. He's only $5K in DK. ADENTRO. 
PANTHERS
How will Sam Darnold starting affect D'ONTA FOREMAN? Well, let's look at the gamescript, as he went over 100 yards in two victories and in one close loss by 3 points. Close game coming, and Denver is allowing 142.7 scrimmage YPG to RBs. Josh Jacobs went for 24-109 last week, and Travis Etienne 24-156-1 in Week 8. The Broncos are very good against the pass (#9) with 204.5 pass YPG, so the running game will be where they have to excel. That means plenty of Foreman. ADENTRO. 
LV (3-7) @ SEA (6-4)
SEA -3.5 / 47.5
42 & Possible Drizzle
RAIDERS
DAVANTE ADAMS put on a clinic last week, going for 4-5-85-2 when matched up with stud CB Patrick Surtain. He's 64-112-925-10, good for WR3 on the season. His targets and TDs lead the league, and he's on a heater. He has 100+ receiving yards in 5 of last 7 games (one other at 95). Who else is Derek Carr going to throw to? Seattle is in the middle vs passing game, #14 with 225.5 passing YPG. The Seahawks held DeAndre Hopkins to 4-36-1 and no receiver has hit 100+ yards since Jerry Jeudy in Week 1. Still, Adams is beating good coverage like a good hitter hits good pitching. ADENTRO
SEAHAWKS
KENNETH WALKER came back to earth a little with a 10-17-0 rushing against the Bucs before the bye, but he did get 6-55 receiving on 8 targets. Remember when he supposedly was a liability in the passing game. Can he get back to where he was before Week 10? Las Vegas allowed 148 scrimmage yards last week to 3 Denver RBs, and Jonathan Taylor put up a 22-147-1 line in Week 10. Travis Etienne went for Etienne 28-109 Week 9. The Raiders are allowing 57.6 receiving YPG to the RB, worst in the NFL. At $6900 in DK, Walker is a very good play to save money on one of the big guys. ADENTRO.
LAC (5-5) @ AZ (4-7)
LAC -3 / 48.5
Dome
CHARGERS
Mike Williams is out, which could mean more work for JOSH PALMER. Last week, Williams went out after catching one ball, and Keenan Allen near full-time usage. Palmer ran 36 routes, most on the team, in 38 pass snaps. Allen had 28. Palmer finished with 8-106-2 on 10 targets, including a beautiful 50-yard TD. His ADOT was 11.7 on passes thrown to him. Keep in mind, Gerald Everett is expected back from missing last week, and the Cardinals are bottom of the barrel when it comes to defending the TE. Arizona has allowed 13 TD passes in last 5 games, and stud corner Byron Murphy has been declared out. I have this decision in the Scott Fish Bowl of whether to start Palmer. ADENTRO.
CARDINALS
KYLER MURRAY was a full practice participant coming off missing two games with a hamstring injury. Will he run? Last two years he's slowed down his running when he returned from injury. The Chargers are #15 allowing 227 passing YPG to QBs, and Patrick Mahomes just went for 329-3 against them. Best of others recently was Geno Smith going 210-2. I drafted Murray a lot as my starter, but will have to sit him on a couple teams. AFUERA.
LAR (3-7) @ KC (8-2)
KC -15.5 / 42
45 & Cloudy
RAMS
Things appear to be circling the drain on the reigning Super Bowl champs. There are reports that Matthew Stafford may be shut down for the remainder of the season. For this week, CAM AKERS looks to be in a tough spot. Bryce Perkins is likely starting at QB and the O-line is decimated by injuries, with C Brian Allen sitting and they may have a rookie starting at LT. Akers went 14-61-0 last week, but will the gamescript put this game out of reach and make Rams have to pass? Austin Ekeler had 100 total yards last week against the Chiefs and Etienne finished with 73 in Week 10. With the season in its current state, this will likely be a timeshare with Kyren Williams. KC is #9 vs the RB, allowing 93.8 rush yards. Sharing touches, I'm AFUERA on Akers. 
CHIEFS
I was going to make this Isiah Pacheco, but the Rams are allowing 67.5 rushing yards to the RB. They lost A'Shawn Robinson, but I just can't commit to Pacheco because he'll be very much a secondary option behind Mahomes. Re-enter JUJU SMITH-SCHUSTER, back from concussion protocol. JuJu has had fewer than 8 targets just once in Weeks 3-9, with a high of 12. The last 2 games the Rams have been leaky in the passing game: Chris Olave (102 receiving yards), DeAndre Hopkins (98) and Rondale Moore (94). Mahomes is sharing the love, but JuJu is his #2 behind Travis Kelce. ADENTRO
NO (4-7) @ SF (6-4)
SF -9.5 / 43
60
SAINTS
Did someone mention CHRIS OLAVE as an every-week starter? Yes, he is. He has beaten all-world corners Byron Murphy (Week 7: 7-106-0) and Jalen Ramsey (Week 11: 5-102-1) of late. Only Jarvis Landry is a threat for targets, but Olave is the dude. Hopkins (91 yards) and Greg Dortch (103) put up solid games against the 49ers last week. Cooper Kupp had 8-79-1 in Week 8. The 49ers are #32 with 44.7 FPG and allowing 191.5 receiving YPG to WRs. The gamescript will call for plenty of passing in beautiful football weather. ADENTRO. 
49ERS
GEORGE KITTLE had a wonderful game last week with 24.4 FP was TE2 on the week. He has 4 TDs in the last 4 games. His targets the last 5 games have been a little inconsisten: 10-9-5-2-6. New Oorleas is #2 on the season vs the TE, allowing just 34.3 YPG. Tyler Higbee went for 45 yards last week and Pat Friermuth had 36 the previous game, but those are among highs on the season. Jimmy G will look elsewhere this week to beat the Saints. Love Kittle, but I'm AFUERA this week. 
GB (4-7) @ PHI (9-1)
PHI -6.5 / 46.5 
54 & Possible Light Rain
PACKERS
CHRISTIAN WATSON has been on fire the last 2 games: 4-107-3 (WR3) and 4-48-2 (WR8). Terry McLaurin is the only WR to go over 100+ yards vs the Eagles: 
Week 3: 102 yards
Week 10: 128 yards
Otherwise, Philly is #3 in passing YPG allowed at 192.2. Michael Pittman had a decent game at 6-75, and thee Eagles literally shut down George Pickens in Week 8 at zero catches. Love what the rookie is doing, but this is going to be a tough week for him. AFUERA.
EAGLES
AJ BROWN was caliente in putting up 6-156-3 in Week 8, but since has a high of 60 receiving yards. He's #13 in the league with 80 targets. Still, there's no Dallas Goedert, and this is what team's top receivers have done against Green Bay. 
Treylon Burks 7-111-0 (Week 11)
CeeDee Lamb 11-150-2 (Week 10)
Stefon Diggs 6-108-1 (Week 8)
Hopefully the rain subsides so that Jalen Hurts can turn Brown and Devonta Smith loose. Tough season for the Packers and the Eagles fly. ADENTRO.
PIT (3-7) @ IND (4-6-1)
IND -2.5 / 39
Dome
STEELERS
DIONTAE JOHNSON was the WR18 in ADP before the season, after finishing 2021 as the WR12 with a stellar stat line of 107-1161-8. This year, with the QB play inconsistent, he has just 51-86-456-0 to be the WR42 on the season thus far. He's not a focal point of the offense like he was with Ben Roethlisberger with 10 targets the last 2 weeks, which is well behind the 19 for Pat Freiermuth. His line for the past two games would've been a regular game for him last year, 8-84-0. Indy is #3 vs the WR with 199.2 passing YPG allowed per game. At home they've been most tough: Brown/Smith had 138 receiving yards combined last week. Don't forget they held Mahomes in Week 3 to 20-35-262-1 in a 20-17 win. Hate to do it on such a talented player, but I'm AFUERA. 
COLTS
MICHAEL PITTMAN has seen 8+ targets in 5 of his last 7 games. Last week he just missed the mark with 7, but still put up a respectable 6-75-0 against that airtight Eagle D. Pittman's high of 13-134-0 in Week 6 was his last game of 100+ yards. The Steelers are #27 against the WR, giving up 274.5 passing YPG. Tee Higgins gashed them for 9-148-0 last week, and AJB had that big 6-156-3 game in Week 8. Matt Ryan will keep looking for him. ADENTRO.
GET 10% OFF YOUR FANTASYPOINTS.COM SUBSCRIPTION WHEN YOU ENTER THE PROMO CODE 22FAMILIA10.