Saludos familia, and feliz cumpleanos to me. Yes, turning another year, and if you've seen the livestream I had yesterday, you know that Orel Hershiser has a connection to the age that I am turning. I'll let you figure it out and hit me online.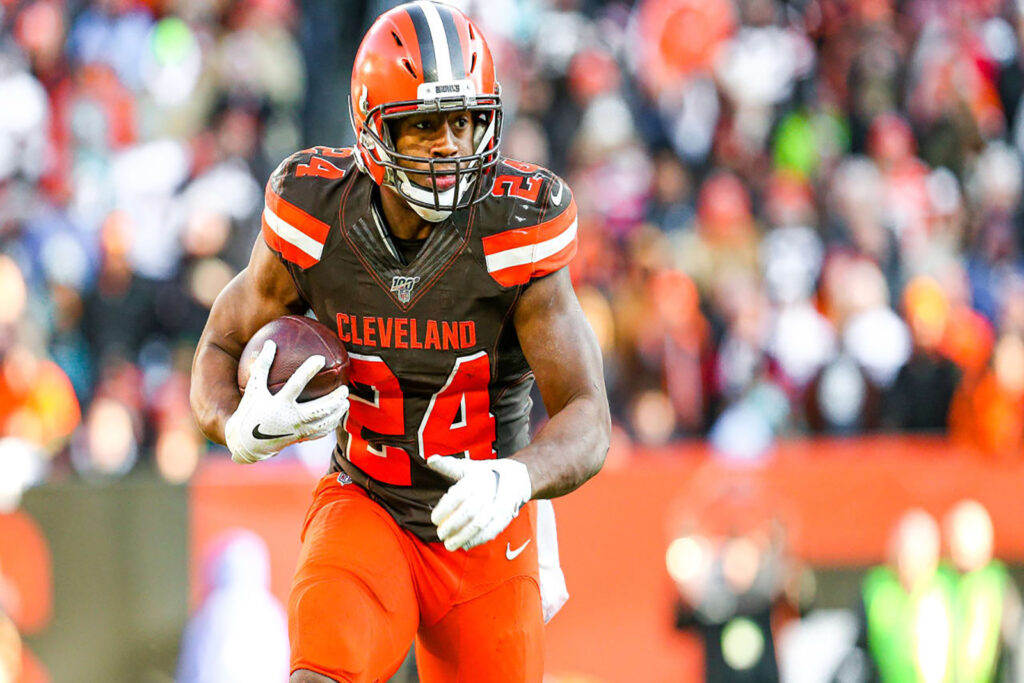 We're in the thick of weather playing a part in the action on NFL fields. There could be extreme conditions in Buffalo, with tons of snow in the forecast. Since I was a child there was a part of me that wishes it would snow on my birthday. I'll have to wait until I move to Montana or Iowa or somewhere in the Midwest for that to happen. But cold is going to impact teams. Many will want to run the ball more, so keep an eye on the RBs in those contests. Yes, looking at the Browns-Bills game for that.
So let's get to it. Any Yards Per Game (YPG) averages are since Week 6 to give you at least four, and sometimes five, games of recent action to give you a greater gauge for teams that might have improved or deteriorated since the early days of the season. Let's start off with some Thursday Night Football on the Frozen Tundra at Lambeau Field. Just doing that game and the early Sunday games. The rest will come in Part II. Salud!
Here are the games:

TEN (6-3) @ GB (4-6)
GB -3 / 41
26 degrees
TITANS
TREYLON BURKS ran 29 routes last week, which was second to the 37 for Robert Woods. It was a pedestrian day for Burks, 3-5-24-0, but encouraging in that he was on the field after missing some time. He also helped open the field for Nick Westbook-Ikine, so that was good for the Titans. This week is a tougher road matchup against Green Bay, which is #8 with 128.8 YPG allowed to the WR. CeeDee Lamb went for 11-15-150-2 last week against the Packers, but Burks is not quite in Lamb's league. Burks is running more short/intermediate routes, as 4 of his 5 targets were between numbers not of the deep variety. Tough game for the rookie. AFUERA.
PACKERS
CHRISTIAN WATSON lit up social media with his incredible 4-107-3 (almost a 4th TD) on 8 targets. It was one of those games that Randy Moss would have in his early Viking yeas. Watson ran 21 routes, 8 of which were in the slot. The game was pretty amazing, as Aaron Rodgers threw only 23 passes. The 26-degree weather, plus low over/under should mean low volume again. What's in his favor is that the Titans are a stone wall on run defense, yet just #24 vs the WR, allowing 166.5 YPG. Courtland Sutton went for 66 receiving yards, one of three WRs who totaled 194 yards last week against Tennessee. I don't expect 3 TDs again, but I can see 5-75-1. ADENTRO.
CHI (3-7) @ ATL (4-6)
ATL -3 / 50
DOME
BEARS
DAVID MONTGOMERY could see a greater workload with Khalil Herbert on IR. Monty was on the field for 40 of 61 snaps last week (20-to-16 rush snaps in comparison with Herbert. It only translated to a 9-37-0 rushing line, but his high-water mark this year is 122 yards in Week 2. Trestan Ebner may get some run, but it's hard to project it being close to what Herbert had. D'Onta Foreman had 118 and 130 rush yards weeks 8 and 10 against the Falcons, who are allowing 99.2 rush YPG to the RB. Great environment for Monty to get some run. ADENTRO.
FALCONS
DRAKE LONDON ran 33 routes last week, which considering how little pass volume the Falcons have had lately feels like the Air Coryell Chargers from the 1980s. London turned 6 targets into 5-38-1, his first TD since Week 3. In the last three games the Bears have been burned for 788 passing yards and 6 TDs going to WRs. That's coming from the likes of Amon-Ra St. Brown, Jaylen Waddle, Tyreek Hill and CeeDee Lamb. London aspires to be among those guys, and I believe the Bears will score some points to set the pace for more throws from the Falcons. London will get enough looks to be startable at least in the flex. ADENTRO.
CLE (3-6) @ BUF (6-3)
BUF -8 / 49.5
EDITOR'S NOTE: This game has been updated after move to Ford Field in Detroit.
BROWNS
NICK CHUBB may be headed for a big day, even with this game moving indoors because of the weather. Chubb is the focal point of this offense. That sets things up perfectly for a RB who has 6 of 9 G over 100+ scrimmage yards thus far. Chubb is the clear leader in the backfield, and he's going up against a Bills defense that's given up some yardage to Aaron Jones (157 yards), Jets RBs (156 combined) and Dalvin Cook (146) the last 3 weeks. The Bills are #24 against the RB position and allowing 156.3 scrimmage YPG. Chubb will churn on a day that will hark back to 1977 NFL days. ADENTRO.
BILLS
STEFON DIGGS is now a major in this game with it moving indoors. Diggs has 10+ targets in six of nine games for the Bills, with his season high of 16 coming last week – he has one other game with 9 targets. With 99 targets on the season, Diggs is third in the NFL in the category, leaving no question who is the driving force of this offense other than Josh Allen. The Browns haven't allowed a 100-yard receiver since Mike Williams stuck them for 10-134-0 in Week 5. Coincidentally, that was the last time the Browns played indoors and on turf. Cleveland is also banged up in the secondary, with CB Greg Newsome already ruled out with a concussion. On the fake grass, Diggs will glide through the Browns to a big day. ADENTRO.
PHI (8-1) @ IND (4-5-1)
PHI -6.5 / 43.5

BETTING ALERT: Indy with 4 fewer wins than the Eagles is home underdog that hit more than 67% of the time last year (1-0 this season). One of two games meeting this criteria.
EAGLES
AJ BROWN put up a clunker with 1-7-0 on MNF against Washington – after going for 5-85-1 last meeting. He has 32 TGT in the last 4 games and now there is no Dallas Goedert (on IR). Is that going to increase targets for Brown and DeVonta Smith? That's likely, though the defensive side of the ball is now slouch. The Colts are #2 with 23 FPG and 108.4 pass YPG allowed to the WR. The pair of aces in the defensive backfield can take most of the credit. Isaiah Rodger is the CB4 on the season with a PFF grade of 85.6 and Stefon Gilmore is CB11 with a 77.0. I also remember clearly the way the Colts threw a blanket over the Chiefs' offense in the 20-17 Week 3 victory in Indy. I'm still starting him in a 14-team league, but I don't do it with confidence on what will be a tough day. AFUERA.
COLTS
JONATHAN TAYLOR was on the field for 60 of 64 snaps for a 94% snap share. HE'S BACK. He finished as the RB1 on the week, going 22-147-1 on the ground. No Nyheim Hines, no problem. The Eagles are #21 with 143.7 scrimmage YPG allowed to the RB. Last week Brian Robinson and Antonio Gibson combined for 130 yards and Dameon Pierce rushed for 139 in the previous game. On his home turf, with life somewhat normalizing for the Colts, this is a great spot. He's also the #4 RB in DraftKings pricing at $7.8K. ADENTRO.
NYJ (6-3) @ NE (5-4)
NE -3 / 38.5
JETS
MICHAEL CARTER outsnapped James Robinson 31-24 last week and outran him in routes, 12-9. In scrimmage yards Carter outdid Robinson, 86-53, in Wk 9. The Patriots, though, are #3 vs RB and holding down the RB opposition to a paltry 71.8 rush YPG. Carter put up 61 scrimmage yards vs. the Pats in Week 8. Aaron Jones (110 yards) is the only RB to go over 73 rush yds against the Pats – AJ Dillon hit that mark in the same game. In New England, coming off a bye. Count me AFUERA.
PATRIOTS
Here are the touches for RHAMONDRE STEVENSON since Week 5: 27-23-19-23-18. These are his total yards over that same span: 175-91-98-143-70. He has 4 TDs over those 5 games. In Week 9 he was on the field for 46 of 63 snaps (73%). Yes, the Jets are #10 vs. the RB, giving up 117 scrimmage YPG. Stevenson, however, gashed the Jets for 143 total yards on 23 touches in a 22-17 Week 8 win. More of the same at home. ADENTRO.
LAR (3-6) @ NO (3-7)
NO -4 / 39
RAMS
Who is going to be main target of MATTHEW STAFFORD with Cooper Kupp on IR?
Will the Ram O-line be able to survive two more injuries to starters? That is almost as painful as the loss of Kupp. Stepping up should be Allen Robinson and Van Jefferson, though the former has yet to finish above WR14 in any weekly finish. Jefferson has been hurt much of the season and has just 8 targets in the two games since his return. Tyler Higbee saw a nice 8 targets last week when Kupp got hurt, but he's now facing the Saints and their #4 defense against the TE, allowing 6.8 FPG and 32.2 receiving YPG. In the noisy Superdome, it's going to be a tough game for Stafford. AFUERA.
SAINTS
ALVIN KAMARA saw 12 and 11 touches the last 2 game, though he had 29-25-18-27 the previous 4 games. He had no finish lower than RB13 over that span. The great CMC posted 157 and 149 scrimmage yards in Weeks 6 and 8 vs. the Rams, who are #29 & 139.3 scrimmage yards against RBs. Kamara is one of the few dual threat runners who is in the same paragraph as CMC. Kamara will get his. ADENTRO.
DET (3-6) @ NYG (7-2)
NYG -3 / 45
37 & 16 MPH winds
LIONS
AMON-RA ST. BROWN ran 15 of 29 routes out of the slot (46.9%) last week, finishing with a line of 10-11-119-0. He has no TDs since he had 3 in the first 2 weeks. Can you say TD regression? He has 30 targets the last 3 games, so it looks like he's past the ankle issues from earlier this season. The Giants are #17 vs. the WR, averaging 147.8 YPG allowed. Tyler Lockett 5-8-63-1 in Week 8 and Christian Kirk 7-10-96-0 Week 7 are good comps for what the Sun God could do. ADENTRO.
GIANTS
DANIEL JONES may be set up for one of his best games of the season. Dual-threat QBs have done well against the Lions, who are #32 with 24.6 FPG given up on average to the QB position. They're getting beat up for 261.8 passing and 51.6 rushing YPG. A lot of the damage on the ground came from Justin Fields with 147 yards as the high-water mark against Lions. Jones himself finished as QB4 with 107 rush yards in Week 7. Keep in mind he has surpassed 200 passing yards just twice this season, but this is the right environment to beat that mark again. I traded for him in my familia league as a bye-week sub for Tom Brady. ADENTRO.
CAR (3-7) @ BAL (6-3)
BAL -12 / 42
PANTHERS
BAKER MAYFIELD is back under center, with his latest action resulting in a line of 155-2-0 in relief of P.J. Walker in Week 9. Now he's starting in what's shaping up like a rough road game in Baltimore. Mayfield has no game over his high of 235 passing yards in Week 1. D.J. Moore has a high of 59 yards during the span of Weeks 1-5. After a rough beginning (gracias Tua), Baltimore is #5 against QB, allowing just 241.5 passing YPG. It's not like they've been shutting down slouches. Josh Allen (213 yards) and Burrow (217) in Weeks 4 and 5 show some progression. Tom Brady did touch them up for 325 yards in Week 8. Can't see Mayfield returning to AFC North country and thriving. AFUERA.
RAVENS
KENYAN DRAKE is someone I've been getting some questions about. You're starting Gus Edwards if he's healthy. Drake is also a good play in that this is going to be a positive game script for the Ravens, with plenty of carries to go around as they seemingly salt away a victory. RBs had 34 touches in a 27-13 win over the Saints last week. The Panthers are #26 vs. the RB, giving up a generous 136 scrimmage YPG. Joe Mixon put up 211 total yards and 5 TDs in that Week 9 dream game. still fresh in memory. I'm starting Drake where I have him. ADENTRO.
WAS (5-5) @ HOU (1-7-1)
WAS -3 / 40.5
BETTING ALERT: Houston is 4 wins behind the Commanders, so take the home 'dog, especially if you get 3.5.
COMMANDERS
BRIAN ROBINSON led Antonio Gibson, 43-40, in total snap count. He put up a workman-like line of 26-86-1 at Philadelphia last week. Gibson had just 14-44-1 for the Commanders as they played keep away from the Eagles. Robinson ran 0 routes, though. It's the Texans, who own the basement at #32 against the RB, getting gashed for 184.8 rushing YPG. Saquon Barkley (152 yards), Miles Sanders (93) and Derrick Henry (219) have laid waste to the Texans' run D the last 3 weeks. Robinson is a good flex play this week. ADENTRO.
HOUSTON
NICO COLLINS returned to the lineup with a 10 targets and a line of 5-49-1. He led the team in routes (33), with Brandin Cooks earning just 7 targets. Washington is allowing just 77.2 rushing YPG, so Dameon Pierce will have a tough time finding room to run. But they will run. Will the Texans have to pass? The Commanders are #10 vs. WR, giving up a paltry 204.4 pass YPG. A.J. Brown and DeVonta Smith combined for just 46 receiving yards last week. Justin Jefferson's 115 receiving yards make him the only WR over 100 yards since Week 3. Chase Young could be back, making the pass rush tougher. Shaping up like a tough game for Collins. AFUERA.
GET 10% OFF YOUR FANTASYPOINTS.COM SUBSCRIPTION WHEN YOU ENTER THE PROMO CODE 22FAMILIA10.