Let's have a DFS Fiesta! Time for some carne asada, frijoles, guacamole, tortillas and plenty of cervezas. Even in the cooler weather, we're here to heat things up with some CALIENTE advice for DFS players.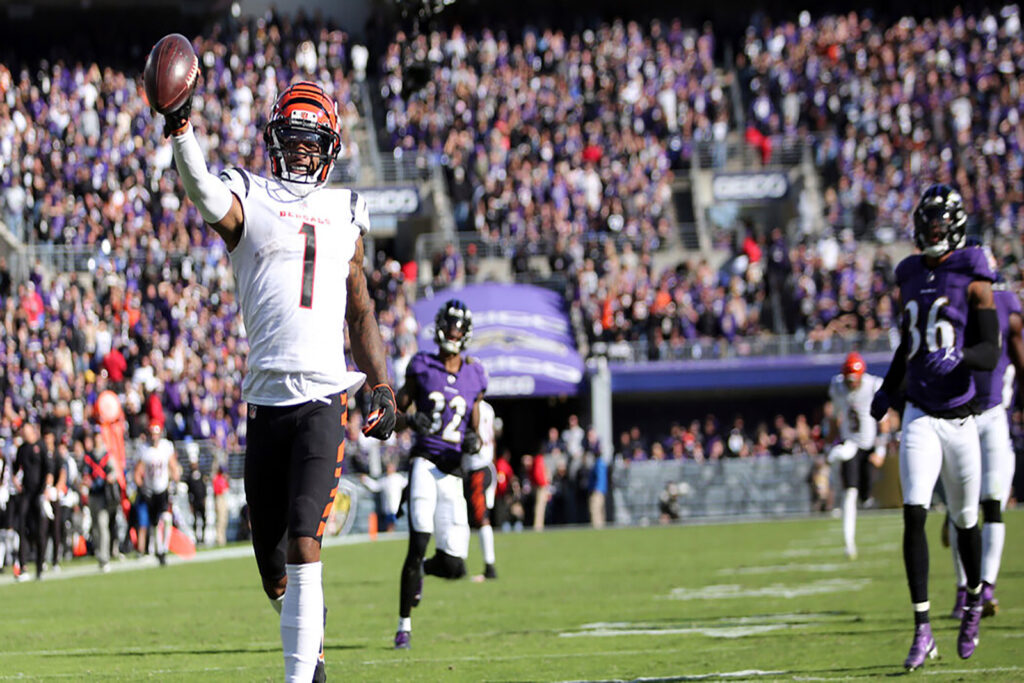 It's AYA Week 7, the Early Games edition. Vamonos, let's jump into the games that will go well with a couple breakfast chorizo burritos. Weather is included where it could be questionable. Salud!
QUARTERBACK
No Josh Allen. No Jalen Hurts. No Kirk Cousins. No problema. There are still several QBs in favorable matchups that you can put into your DFS lineup. If you want to pay up, LAMAR JACKSON ($8.0K) is numero uno, but going against a Cleveland run D that's just being trampled. A little further down the pricing ladder, JOE BURROW ($6.9K) will follow up his monster 300-plus-yard and 4-total-TD game last week. The Falcons are hurting in the secondary and are allowing 291.2 passing YPG, so Joe Shiesty is going to take some shots. If you remember DAK PRESCOTT ($6.7K) not practicing for a month and then throwing for 400+ yards against the Buccaneers in last year's opener, you can believe in him going off against the Detroit D that's allowing 269.2 passing YPG. I really like AARON RODGERS ($6.0K) as a cheaper play. The trend of him passing for 35, 35, 39, 41 times the past 4 weeks to continue against a Washington D that's #23 against the QB even though it hasn't faced an elite signal caller since Jalen Hurts (340 yards) in Week 3. For cheap plays, look to MATT RYAN ($5.4K) at an icy price going against a Tennessee D that's allowed 300-yard passing games to the last 4 QBs. DAVIS MILLS ($5.0K) is priced the same as Sam Darnold and Jacob Eason, who are probably going to be inactive. Mills is coming off a bye and takes on a Raider D that's allowing an NFL-worst 25.6 FPG and 269.6 passing YPG (#26).
RUNNING BACK
The pricey plays are AUSTIN EKELER ($8.3K) and DERRICK HENRY ($8.2K). Ekeler has 6 TDs in the past 3 weeks, and faces a Seattle D that's allowing 158.5 scrimmage YPG to the RB. Henry has a 50-216-3 combined rushing line the past couple weeks and is even seeing a little work in the passing game. Indy has no Shaq Leonard this week, which hurts its rushing D. SAQUON BARKLEY ($7.9K) is just a couple notches below in price, and goes against a Jacksonville that was torn up by Dameon Pierce and Miles Sanders. Speaking of DAMEON PIERCE ($6.4K), he and JOSH JACOBS ($6.5K) are both getting a great workload and going against each others' defenses that have been giving up yardage to good runners. Houston is allowing 176 scrimmage YPG to the RBs. KEN WALKER III ($5.8K) takes on a Charger D that got trampled by Nick Chubb and Pierce. I like TONY POLLARD ($5.7K) as the slightly cheaper Dallas RB running up against a Detroit D allowing 127.8 rushing YPG. The lowest I'd go is KENYAN DRAKE ($5.1K) taking on a Browns D that's just been a turnstile for RBs this year.
WIDE RECEIVER
There's no Diggs, Kupp, JJ or AJB this week. Yikes! Don't worry. JA'MARR CHASE ($8.2K) would make for a pricey stack with Burrow, but you'll take it if you get the 7-132-2 line from last week. Against the Falcons' injured and #30 D against the WR, I'm paying up even with another QB in the lineup. MICHAEL PITTMAN ($7.4K) would make for a mid-level stack with Ryan, and those 16 targets last week would look good against that porous Titan pass D we talked about above. CEEDEE LAMB ($6.8K) and his 10-target average make him the stacking option with Dak against a Detroit D that's just too generous via the pass. The Ravens have been tougher against WRs of late, but it's hard to argue with the volume that AMARI COOPER ($6.1K) is getting. He has 10+ targets in 4 of his last 5 games. Going bargain shopping, look at ROMEO DOUBS ($5.0K) to pair with Rodgers against the porous Commander D. ALEC PIERCE ($4.6K) gives you the double-stack option with Pittman and Ryan. It's hard to see D.J. MOORE ($4.9K) at such a low price that you have to consider playing him. With the 70 targets CMC and Robbie Anderson left behind, and the Panthers looking at negative game scripts weekly going forward, they have to throw it to someone. May as well throw it to the "foundational" player on their team.
TIGHT END
TRAVIS KELCE ($8.0K) doesn't have a good matchup against a 49er D that's #7 against TEs and allowing just 26.5 receiving TPG. But this is Kelce, and even against solid defenses like Tampa Bay, the All-Pro is going to get around 10 targets. With the injuries the 49ers are dealing with on defense, this could be another big game for Kelce. GERALD EVERETT ($4.0K) is going to be in so many lineups because what you do is start your TEs against the Seahawks (#32 vs. TE). Especially if Keenan Allen can't go. Outside of those two, you're bargain hunting. DALTON SCHULTZ ($3.6K) is back from injury to be Dak's safety blanket against that Swiss cheese Detroit D. HAYDEN HURST ($3.5K) will get his against the Falcons (#29 vs. TE). If you want a cheap dart throw, MO ALIE-COX ($3.0K) may be due, as he hasn't done much since he caught 2 TDs against the Titans in Week 4. Guess who's on deck for the Colts? You don't have to guess by the recommendations above.
GET 10% OFF YOUR FANTASYPOINTS.COM SUBSCRIPTION WHEN YOU ENTER THE PROMO CODE 22FAMILIA10.