I heard a podcast saying that if you're still listening to fantasy football podcasts at Halloween it means that you're still in the fight. So if you're reading this, salud to you for being in the playoff hunt. This is when it gets fun.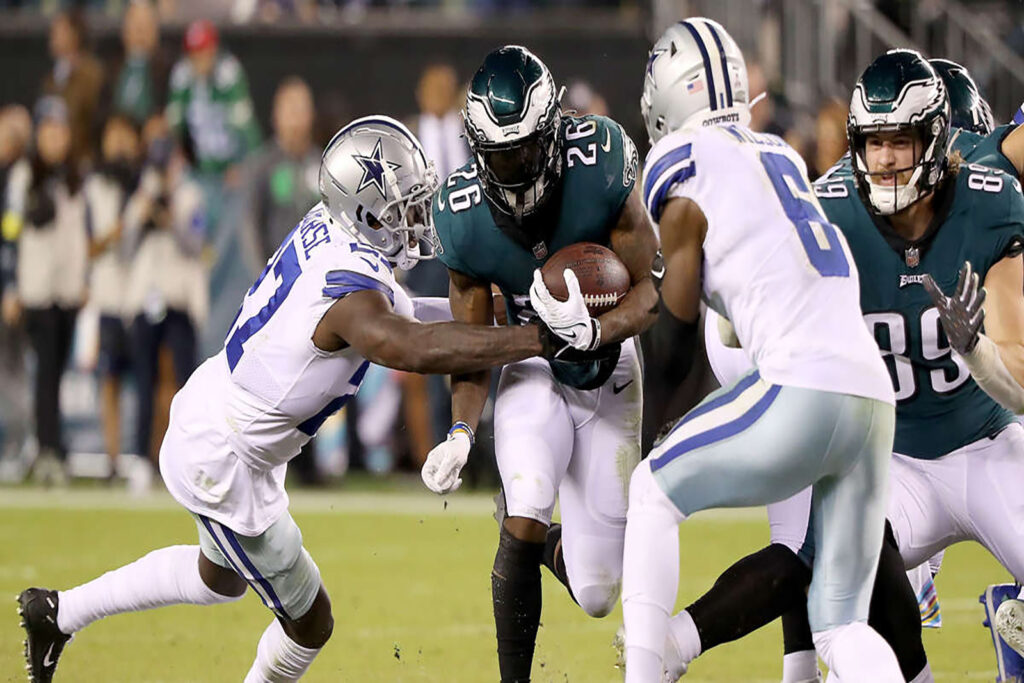 Rookies start to get their footing. Injuries change things in an instant at various spots – sadly, that's the Jets right now. We begin to keep an eye on the weather reports more carefully. This week, the only game that has the potential for weather is up in Seattle. Go figure. I got to as many games as I could for this week to give you a player to feel good starting (ADENTRO) and those I'm fading (AFUERA) Hope you set your lineups early for that London game. SALUD!
LONDON GAME
DEN (2-5) @ JAX (2-5)
JAX -2.5 / 39
BRONCOS
If there is a Denver RB to start this week, it's not LATAVIUS MURRAY. The Jaguars are allowing 56 receiving yards to RBs, and Melvin Gordon is the only receiving threat out of the backfield. Murray has 3 catches for 3 yards in the past couple weeks, while Gordon outpaced him in running routes last week (27-15). The Jags may be 27th in FPG to the RB position, but just 12th in allowing 86.4 rushing yards to RBs. Since Murray is not a threat to catch passes, I'm AFUERA.
JAGUARS
It's hard to pick any WR against Denver with Patrick Surtain lurking. Then look at how the Jaguars practically anointed TRAVIS ETIENNE as their starting RB after trading away James Robinson. Etienne has 12-15 touches and over 100 total yards in the past 3 games. He's not sharing touches, and the Broncos have given up some receiving yardage to RBs of late – Michael Carter (45) and Austin Ekeler (47). I say Etienne has a fine all-around effort over the Pond. ADENTRO. 
CAR (2-5) @ ATL (3-4)
ATL -4.5 / 42
PANTHERS
I tweeted out last Saturday that D.J. MOORE was a cheap buy on DraftKings, and then he paid off for me a day later. I know it could look like going to the well one more time, but he's earned 36 targets the past 4 weeks (9 per game) and the Falcons are hobbled in the secondary after Joe Burrow just destroyed them for 481 yards last week. Moore is the only show in town on the receiving side for the Panthers, so I'm ADENTRO. 
FALCONS
I drafted him in one of my hardest leagues, a 14-teamer that makes TEs like Travis Kelce and Mark Andrews just this side of the Hope Diamond in value. Then I watched him get 8 targets in the past two weeks. The Falcons are running more than passing – 26-21 last week. I know it's working for Arthur Smith and Atlanta, but we don't have to like it from the fantasy side. A shame for such a talented player. Hard as it is to do, KYLE PITTS, you're AFUERA. 
CHI (3-4) @ DAL (5-2)
DAL -9.5 / 42.5
BEARS
I keep looking at that game in Week 3 when Daniel Jones went for 79 yards on 9 carries. The Bears appear to be leaning in to JUSTIN FIELDS and his dual-threat talents. He has 170 rushing yards the past two weeks, and has been moving around the pocket more. This is going to be necessary to throw off Micah Parsons and the Cowboy pass rush. The rushing upside is reason enough to make Fields a QB1 this week. ADENTRO. 
COWBOYS
It's too easy to make Tony Pollard one of my caliente picks for the week. Ezekiel Elliott is expected to miss this week, and the Bears are #26 in FPG to the RB and allowing 112 rushing YPG. I'm focusing on DAK PRESCOTT. It's just his second week back from his thumb injury, and the Cowboys went conservative and passed just 25 times last week. With the Bears tougher against the pass (188.3 YPG) than the run, the Cowboys will continue to stay run heavy and try to win that way. AFUERA. 
MIA (4-3) @ DET (1-5) 
MIA -3.5 / 51.5
DOLPHINS
You just start your lead caballo RB against the Lions, who are giving 129.8 rushing YPG to the RB. RAHEEM MOSTERT has taken 48 rushing attempts the past three games, while his backfield mates have just 15 over that same span. That's lead caballo territory. ADENTRO.
LIONS
The Dolphin secondary is banged up, so this has the makings of a shootout that the Lions have seen more than once this season. Hard to even think about sitting someone in this game. AMON-RA ST. BROWN just needs to be healthy to get back to that elite tier of WR where he resided earlier this season. He'll be feeling very good after this game. ADENTRO. 
AZ (3-4) @ MIN (5-1)
MIN -3.5 / 49
CARDINALS
This is going to be a tough game for ENO BENJAMIN. The Vikings have yet to allow a 100-yard rusher this season, and Benjamin will be the top RB for the Cards with James Conner out again this week. That 23-point game may just look like an mirage in this road game. For this week, AFUERA. 
VIKINGS
KIRK COUSINS at home is a different QB than he is on the road. In the comfort of his home dome stadium, Cousins has completed 69.3% of passes for 833 yards and 5 TDs against 1 pick (3 games). On the road he's a more mortal 63.1% and 4-4 TD-INT breakdown. The Cardinals have been mostly good against the pass since Patrick Mahomes lit them up for 360 yards and 5 TDs in the opener, but chinks in the armor showed when Andy Dalton went for 361 yards and 4 TDs (3 INTs). Take Cousins at home. ADENTRO.
LV (2-4) @ NO (2-5)
LV -2 / 50
RAIDERS
Hard to find anyone to downgrade with a 50-point over/under. Davante Adams is sick with the flu and Darren Waller has missed time with a bad hammy, so even if both play they will likely be limited. You're already starting Josh Jacobs, so no need to give you the obvious. It's going to be feeling very 2021 this game, as HUNTER RENFROW is going to get plenty of targets as long as he's healthy. The Saints have given up good games to players who play a lot in the slot: Tyler Lockett (104 yards), Adam Thielen (72) and Tyler Boyd (66). These are not the Saints of yesteryear on the defensive side. ADENTRO.
SAINTS
I wanted to put CHRIS OLAVE in his corner last week, thinking a rookie would not do much against a Cardinal secondary that's been pretty stingy. All he did was go for 106 receiving yards on 7 catches. Nobody puts Olave in the corner. The Raiders are 26th in the league by giving up 275.2 passing YPG. Again, Michael Thomas is out, so it's going to be Olave, all day! ADENTRO. 
NE (3-4) @ NYJ (5-2)
NE -1.5 / 40.5
PATRIOTS
It's too easy to say Rhamondre Stevenson is in for this game. Coming off a game when he led the team in targets and receptions (catching all 8 balls coming his way), and accumulating 98 scrimmage yards and a score, Stevenson is an every-week starter for you. I'm looking at DEVANTE PARKER. Some might look at the 7 catches for 131 yards in the past two games as a good sign, but he's going to be lining up outside, where Rookie DPOY favorite Sauce Gardner is going to be opposite him most of the afternoon. Gardner is coming off a game with a 90.2 PFF grade, allowing just 4 catches on 10 targets for 16 yards on 50 defensive snaps. The rookie is going to have an island named after him before long, and that has me AFUERA on Parker. 
JETS
After trading for James Robinson, there's no way to know how big Michael Carter's role is going to be. Yet you're starting both of the RBs. GARRETT WILSON, on the other hand, is hard to start. He's averaging exactly 5 targets over the past 4 games. Wilson hasn't even surpassed 60 receiving yards since his Week 2 breakout. There's just not the volume, and going against the New England D that's #9 in FPG and hasn't allowed a 100-yard receiving since Week 4, I'm putting Wilson AFUERA.
PIT (2-5) @ PHI (6-0)
PHI 10.5 / 43
STEELERS
This is going to be a rough game for DIONTAE JOHNSON. The WR1 for the Steelers is likely to get shadow coverage from Darius Slay. The all-world corner has been spectacular sticking the best outside WRs in the game – Justin Jefferson, CeeDee Lamb and Terry McLaurin – and has allowed just 14 receptions for 168 yards through 6 games. I'm actually sitting Johnson for George Pickens on my Scott Fish Bowl team, though the rookie will have his hands full, too. AFUERA.
EAGLES
Home game, coming off bye, unbeaten and the city of Philadelphia is beyond energized with the Phillies in the World Series, this game has smash spot all over it for the Eagles. The Steelers have given up back-to-back games with 100-plus scrimmage yards to lead RBs. On the season they're #21 in FPG to the RB, and are allowing 133.5 scrimmage yards to the position. MILES SANDERS is going to be fresh, as is his sterling O-line, and he has no less than 15 touches in any game this season. All those factors have him top 10 RB for this week. ADENTRO.
1 PM GAMES
TEN (4-2) @ HOU (1-4-1)
TEN -2 / 40.5
TITANS
With rookie Malik Willis making his NFL starting debut, it's even more reason for the Titans to double down on King DERRICK HENRY this week. He's my play in DFS, even with a DraftKings price of $8,200. Since Week 3, Henry has no less than 25 touches per week and has well over 100 scrimmage yards in every game in that span. After Josh Jacobs laid waste to the Texans' #32 defense against the RB, one can only imagine what Henry is going to do. ADENTRO. 
TEXANS
It was nice to see DAVIS MILLS take advantage of a smash spot last week with 302 yards and 2 TDs against the bottom-dwelling Raider defense. Up next, a  home date with the Titans who are #30 in allowing 294.3 passing YPG. Mills has no Nico Collins for this game, but if Brandin Cooks shakes off his wrist injury to play, I'm starting Mills on a couple teams and will have them as a stack in a DFS lineup. ADENTRO. 
SF (3-4) @ LAR (3-3)
SF -1.5 / 43.5
49ERS
The 49ers always come to play when it's Ram week, as they haven't lost to them in the regular season since 2018 (there is the matter of the NFC Championship game last year). Still, this is going to be a hard-fought game and no Deebo Samuel. The 49ers will rely heavily on CHRISTIAN MCCAFFREY, who in Week 6 on this very SoFi Stadium field turned 20 touches into 158 scrimmage yards. Before that the combo of Ezekiel Elliott and Tony Pollard rambled for 164 combined yards against these same Rams. It's going to be a Run CMC afternoon in LA. ADENTRO. 
RAMS
The O-line being torn apart by injury, C Brian Allen is set to return. I want to like DARRELL HENDERSON this week, but the 49er D remains one of the best even though it's had injuries as well. No RB has surpassed 59 rushing yards against SF. So I'm AFUERA. If the Rams can give him some time, I'm expecting them to come out passing to try and get Matthew Stafford rolling for the remainder of the season.
GET 10% OFF YOUR FANTASYPOINTS.COM SUBSCRIPTION WHEN YOU ENTER THE PROMO CODE 22FAMILIA10.