Every time I see any fantasy football article titled "My Guys," I think of the '60s classic by Mary Wells, and end up having the song stuck in my head for a little bit. So if I'm humming a little while I'm typing this that's why. And if you have the song in your head now, you're welcome.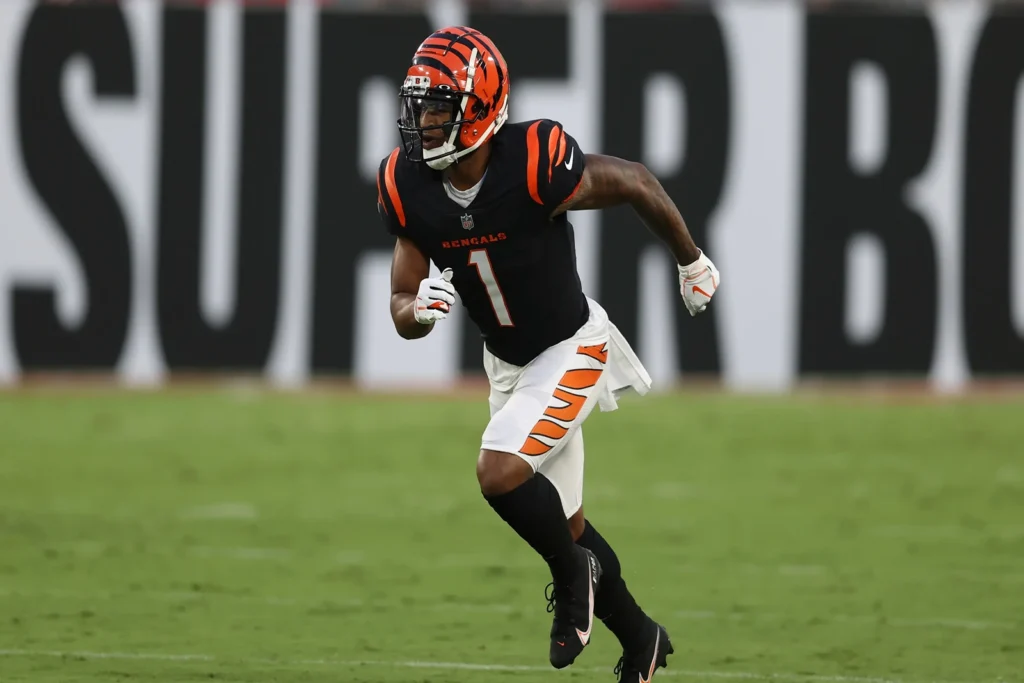 This is the time to plant some flags. MIS HOMBRES, aka My Guys, are about to be revealed. I've mulled over these players a lot when I should have been sleeping. My criteria is these are players whom I think their ADP may not be commensurate with how they should be drafted and where I think they'll finish. Some guys are relatively high, and I'm going to show why they should go higher. Vamonos!
KYLER MURRAY (QB5 #53)
OK, before you go and call Murray injury prone and send a shiver up the spine of compadre Dr. Edwin Porras, let's remember that these injuries that took out or slowed down Murray were a shoulder in 2020 and an ankle last year. He didn't need surgery, and there is little chance of reoccurrence.
I really think Murray has QB1 in his sights, and I have him at QB3 right now. There's so much to like. Last year, when he was off to a caliente start as the Cardinals jumped to a 7-0 record, Murray was on pace for 4,862 passing yards with 41 TDs, adding 306 rushing yards and 7 TDs. That's insane production.
I'm not predicting that, though I can see about 4,300 passing yards, 300-500 rushing yards and 35 pass TDs, plus another 5 on the ground. Greg Cosell recently sang the praises of Murray's deep-ball accuracy on FantasyPoints.com. The Cardinals will not have a strong defense, so shootouts will be plenty. Add to it his favorable schedule that has Arizona's Week 15 trip to Denver the only time after Week 6 that the Cardinals are outside of a dome or California. Fast tracks are favorable for Murray.
TREY LANCE (QB13 #104)
Set aside for a second that the 49ers re-signed Jimmy Garoppolo to a team-friendly contract to hold a clipboard. What this does for the 49ers is that it gives them some insurance in case Lance is just not ready, or gets hurt. And if it gives Lance a light under his butt, all the better.
It's not always going to be pretty. In fact, Josh Allen's 2019 season had plenty of pimples on it, but his line of 3089-20-9 and 109-510-9 was good enough for the QB6. Then he exploded a year later. Same trajectory for Lance? I'm not sure yet, but that is potentially a good comp.
But here's what he has in his favor. A great running game, which he'll be a part of to the tune of at least 500 rushing yards. Three great playmakers in Deebo Samuel, George Kittle and Brandon Aiyuk, all of whom can take a dumpoff pass and YAC it up for a ton of yards. Those count, too, toward passing totals. Lance has the best LT in football in Trent Williams, so his blind side is well protected. And, as compa Cam Inman of the San Jose Mercury News and East Bay Times pointed out, Lance has an expert play caller in HC Kyle Shanahan. The 2019 version of Allen is very much within sight, and Lance might be even better.
DEREK CARR (QB14 #109)
These are the Raiders' 2021 target leaders after Hunter Renfrow's surprise season saw him draw 128 looks: Darren Waller (93), Zay Jones (70) and Josh Jacobs (64). You'd think Carr had a tough time on the season. Well, did you know he threw for 4,804 yards with these suspect pass catchers?
Add to the mix Davante Adams, who for my money is the best WR in the game. Will he be WR1 in our game? I can see it, but I have him #4. Carr has a talented trio of pass catchers in Adams, Waller and Renfrow. Adams is a TD machine, which should increase the 23 Carr threw last year. With 7 more last year he'd have finished as the QB10, and has plenty of players he can be stacked with because of his ADP. And the Raiders are going to have a rebuilding secondary in a division with Patrick Mahomes, Justin Herbert and Russell Wilson. There are going to be plenty of passing fests this season involving the Raiders.
SAQUON BARKLEY (RB9 #17)
This is not Dr. Porras holding my hand behind my back and typing for me. I've liked Barkley all offseason, and got him plenty late in the 2nd round and sometimes in the 3rd round of best ball drafts. In the Scott Fish Bowl 12, I got him in the 4th. Here's what I like about Barkley for 2022:
He's in his 2nd year after ACL surgery, when RBs tend to be at their best after that ligament repair. He's just 25. He's also had a full offseason to get past that freak high ankle sprain. Barkley's also in the last year of his rookie contract, and you better believe he'll be looking to cash in somewhere.
I've liked Barkley a lot, and am even considering him at the 1.05 of a draft with my Familia. Paul Dottino of WFAN pointed out that Barkley's on a mission. I love motivated players who are as talented as Barkley. He's the only Giants' offensive weapon who's completely healthy and performing in the preseason. I like Barkley for a big season as he rides off into free agency. I can see 1200+ rushing yards and another 500 receiving yards and approaching a dozen total TDs. The O-line will be better, especially the tackles. Things are looking up for someone who has had bad injury luck these past few seasons. Time for that luck to turn.
DAMEON PIERCE (R36 #87)
OK, Familia, the days of getting Pierce after the 10th round in redraft are long gone. I even got him at the 11.12 in the Scott Fish Bowl. Be warned, mis amigos in the Forum Division. The reality now, is that if you want Pierce, you have to pay up. He went at the 4.09 just this week in a Fantasy Points staff draft. And I was going to take him on my next turn. So the sharps are onto him.
And there's a lot to like. I fell in love with his running style in the Senior Bowl, when I heard the best comp for Pierce: Marion Barber (RIP). The violent, hard-charging running style and the dreads flowing out of the helmet. Then he landed on the Texans, who just waived Marlon Mack. The only competition for touches that Pierce now has is Rex Burkhead, who really should just be a backup. Greg Cosell saw in his film study that Pierce ran actual routes in the passing game in Florida, so here's banking that he'll stay on the field all three downs and that OC Pep Hamilton will find lots of ways to get the ball in Pierce's hands all season. I can see 250 total touches and about 1200+ total yards and 8-10 TDs. That's going to be sniffing at the top 10 RBs by the end of the year.
RHAMONDRE STEVENSON (RB34 #88)
At the risk of showing my age, the first time I saw Stevenson running in an Oklahoma uniform I had flashbacks to Marcus Dupree back in the late 1980s. No glasses, of course. The size and the powerful running style brought me back, and now Stevenson's in an offense that is going to use him to the fullest.
I've seen Stevenson going ahead of teammate Damien Harris in multiple drafts, and that was after Harris finished as the RB8 with 15 TDs. The retirement of James White and comments from HC Bill Belichick have me and the rest of the fantasy community pumped about the possibility of Stevenson staying on the field for three downs. I can see Stevenson topping 1,000 total yards, and to share the work in the red zone with Harris. That's a great payoff on a guy going in the 8th round.
JA'MARR CHASE (WR3 #9)
Here's a guy I'm going to plant my flag on. Chase is going to be the WR1 in 2022. Justin Jefferson and Cooper Kupp aficionados are going to come at me. Familia, I love those guys, too. I just love Chase a little more, and I think he's going to show us why. His 63.3% catches was just #140 on the season. His 11 drops were numero uno. With 128, he was just #20 in targets. All of these areas are where he can improve and it'll show in his overall numbers.
The targets, yes, he's still sharing the load with Tee Higgins and Tyler Boyd. They'll get theirs. Chase is the alpha, though. Offseason reports focused on how the Bengals began using Chase in the slot more last season, and Paul Dehner of The Athletic pointed out how the percentage of snaps where Chase lined up in the slot jumped from under 13% in the first 12 games to 20.7% in the final 9, including postseason. Think of Chase getting those targets in the slot that Cooper Kupp did, as HC Zac Taylor is from the Sean McVay coaching tree. Picture Chase averaging close to 10 targets per game in a high-powered offense helmed by Joe Burrow. Yes, it makes the hair stand up on my arms.
Also, let's remember the work he did in the Super Bowl. Chase won more one-on-one battles than he lost with All-Pro Jalen Ramsey, and even had him dusted on the Bengals' final offensive play when Aaron Donald saved the Rams' championship hopes with a big hit on Burrow before the QB could unleash a game-winning bomb. Chase is going to continue to polish his route running, and with it the drops will diminish. That will also help with his catch percentage.
Lastly, what has me favoring Chase over Jefferson slightly is Week 17. Fantasy Football Championship Week. The Bills travel to Cincinnati for what is shaping up as one of the epic Monday Night Football games of the year. A day earlier, the Vikings go to what will be frigid Green Bay on New Year's Day. Chase was already a league winner last year in championship week with 11 catches for 266 yards and 3 TDs against the Chiefs. Does Bills-Bengals have shootout written all over it? I say yes, and plenty of fantasy championships will change hands in that game. I think Jefferson is extraordinary, but dome teams going to sub-freezing temperatures do not have a great track record. Matthew Coller of Purple Insider pointed out in our interview that Kirk Cousins has had his share of bad games in cold temps, and I'm banking that Jefferson will get people to championships, but someone else will have to win it for those teams. Chase is going to win people championships.

AMON-RA ST. BROWN (WR21 #54)
I get the argument that ARSB was running unopposed in the Detroit offense with no T.J. Hockenson on the field when the rookie exploded to close out the season. ARSB did pop off for 51-67-560-5 from Weeks 13-18 to finish as the WR2 over that timeframe in PPR scoring. That's some major production, and I'm banking on the fact that ARSB is the real deal and is going to continue to smash.
I've heard comparisons to fellow USC product Robert Woods, whom Jared Goff turned into the WR11, 14 and 13 from 2018-20. ARSB thrives in the slot, and is going to be an even better targets for Goff in their second season together. Goff does not like to throw deep, so ARSB will be his safety blanket on the intermediate routes.
So many people are liking the Lions this year, they're not really a sleeper anymore. I like the O-line, and Goff does his best work when kept clean. ARSB will soar past the 119 targets from last year, and push up to 100 receptions and over 1,000 yards. I'll take that in the middle of the 5th round.
BRANDIN COOKS (WR23 #57)
Death. Taxes. Brandin Cooks gets 1,000 yards receiving. Cooks has now done that 6 of the past 7 seasons, and the one outlier he was hurt. And he did it with 4 different QBs. In the past couple seasons Cooks has finished as the WR20 (2020) and WR17 (2020). He's that forgotten player on that team no one expects to see any production from, yet he continues to produce.
Looking at the landscape in Houston, it's a team with a rebuilding defense, and QB Davis Mills will be called upon to throw plenty. Cooks is far and away the alpha in this receiving corps, so look for him to be targeted early and often this season, on his way to finishing within the Top 20 in WR rankings. Don't forget about Cooks.
CHRIS OLAVE (WR44 #105)
You say that with no Sean Payton and Drew Brees, that the Saints are going down the tubes? I'll let you say that and I'll take my chances with a rookie who's one of the smoothest route runners in the 2022 NFL Draft who also happened to run a 40 in the 4.3s. Pete Carmichael is going to call the plays, and he took over play-calling duties in 2012 when Payton was suspended. All Brees did was throw for 5,177 yards and 43 TDs.
We're not expecting Jameis Winston to get close to those numbers, but the QB suffered from his lack of weapons last year. Re-enter Michael Thomas, who will show how much he has left in the tank after missing almost all of the past 2 years. Olave will act as the field stretcher, and Winston has shown quite the penchant to throw deep when he has the weapons. This will be a very different offense than the limited one the Saints produced in 2021, and Olave will benefit greatly from it. He may be the most productive rookie WR this year.
COLE KMET (TE11 #117)
At some point, Justin Fields – who almost made this list – is going to have to throw to someone. Darnell Mooney is easily one of the calls, and he'll zoom well past 100 targets. Will anyone else? Kmet had 93 targets last year in an offense that floundered around a pair of signal callers with very different skill sets.
Kmet famously finished without a TD. So only one way to go, right? Fields showed the ability to throw deep at Ohio State, but with the state of the Chicago O-line, he might not have the time. Enter Kmet, who will be a safety valve over the middle. In Fields' best yardage days, Kmet did well. When Fields threw for 291 in Week 9 vs. the Steelers, Kmet went 6-87-0. In Week 15, when Fields passed for 285 yards, Kmet caught 6 balls for 71 yards. String a few of those together, and Kmet will emerge into the top 10 in TEs.
QUICK FADES
Some players I'm just not liking at their current ADP. Notice there's no QBs in the bunch, because there will be plenty of people drafting Josh Allen, Justin Herbert and Patrick Mahomes early, and if they lead their teams into the championship they all have great matchups Week 17. So you do you, I'll fade these guys:
DERRICK HENRY: At the ADP of 1.04 overall on FantasyPros, I just can't take Henry over Chase, Kupp and Jefferson. The hardware that's still in his foot is a little worrisome. I'm not canceling him, though.
NAJEE HARRIS: The O-line was scaring me before he divulged the foot injury that knocked him out of a bunch of training camp. At 1.08, I'll pass on him for Joe Mixon or any of the WRs in Chase, Stefon Diggs or Davante Adams.
RB DEAD ZONE: Here are just a few of the pass catchers you're passing up in the range that starts at Ezekiel Elliott (#28) to J.K. Dobbins (#47) – A.J. Brown, Kyle Pitts, Michael Pittman, George Kittle, Terry McLaurin and Diontae Johnson. That's why I'm a Hero RB guy.
CHRIS GODWIN: I like the player, and his situation catching passes from the GOAT is tempting. Still, at #58, here are players coming off the board after that I'd rather have – Jerry Jeudy, Allen Robinson, Marquise Brown and ARSB. All are going to start the year healthy. Godwin won't.
MILES SANDERS: Full fade. With 21 red-zone carries last year, he scored as often as you or I did. He's already banged up, and the Eagles brass has shown trust and liking Kenneth Gainwell and Boston Scott. And they just added Trey Sermon. Michael Thomas, Hunter Renfrow and Cordarrelle Patterson are going later. I'll take my chances there.
GET 10% OFF YOUR FANTASYPOINTS.COM SUBSCRIPTION WHEN YOU ENTER THE PROMO CODE 22FAMILIA10.