Who's still feeling like Zach Galifianakis in The Hangover? I know I felt so great about some of my DFS takes, and only a few of the worked out. Full disclosure, I feel like these first few weeks are my DFS training camp, as we get a larger sample size of information on the players and their teams. There are things I pick up watching the games that I file away for when it's time to break down the next week, but until there's more time invested and games played that I feel most comfortable for the remainder of the season. Usually by the end of Week 4 I'm ready for the whole season.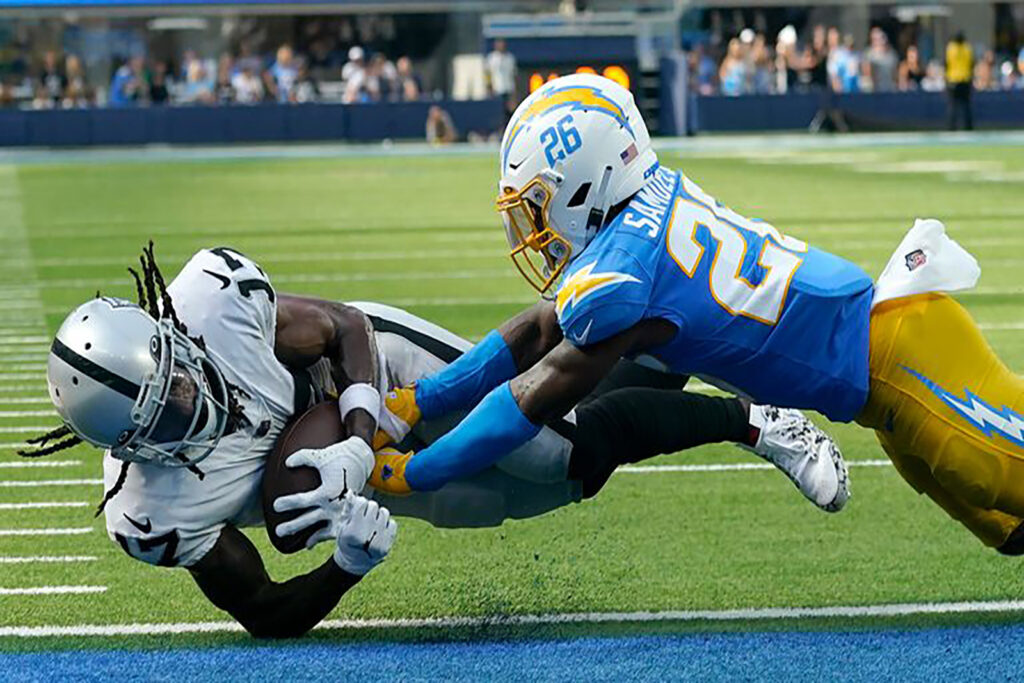 But what's the best cure for a hangover? Some menudo, of course. And that's what I'm bringing you here. Time for a positional breakdown on what to expect for Week 2, and there's just enough data to start to get a good feel for what's coming up this week. Salud! 
QUARTERBACK
This is the rare week when the top 3 QBs in ECR – Josh Allen, Justin Herbert, Patrick Mahomes – are not on the main slate, so this could be a good week to pay down at the position. A part of me says it could be a smash week for Kyler Murray ($7,500) at the highest DK price, but I keep having flashbacks to the clear lanes that defenders had to hit him last week, and then I have nightmares of Maxx Crosby and Chandler Jones having similar shots at Murray. So I'm recommending to go cheaper at the position. I'd go down to Matthew Stafford ($6,300) and Derek Carr ($6,200) as my first targets of this week. Atlanta does not have a good pass rush, and will blitz to try and get home, which is where Stafford excels. I do have some worry about C Brian Allen missing the game, after the way the line performed in the opener. But a home game with a real home-field advantage for the Rams should help Stafford do well. Carr is going to have more time than he had last week at the Chargers. The Cardinals will have to score to keep up with the Raiders in Sin City, which is exactly what DFS players want to hear.
Some cheaper plays are Trey Lance ($5,700) and Matt Ryan ($5,500). Ryan barely makes this list, because he'd have to pass for more than 300 yards and throw multiple TDs to be playable. With Michael Pittman limited in practice, that makes me want to shy away. If you're feeling frisky, Lance is a good call because we know he'll run and with George Kittle returning to practice, he could have his full allotment of pass catchers ready. Lance ran 13-54-0, and it would be nice to have him break out when he's sub-$6,000. FYI, there's more rain in the forecast for the 49ers. Calling them Rain Men for now. Carson Wentz ($5,800) is another possibility, as the Lions have not shown ability to stop the pass in a while. The Commanders will be missing a couple main cogs to their D-line, and that's supposed to be the heart of the defense. The Washington secondary is still a work in progress. So they'll give up some points to Jared Goff ($5,400) and the Lions in a game that has a 48.5 O/U.
RUNNING BACK
It's hard to pay up at this position with Jonathan Taylor ($9,900) and Christian McCaffrey ($8,900) because they're going to be so chalk if they break out. I'd rather save some dinero and go after Saquon Barkley ($7,300), going against the defense that just came off being torched by Nick Chubb to the tune of 22-141-0. Speaking of Chubb, I'm tempted at $7,100, but would rather pay a little more and get that receiving production from Barkley. With the top-end WRs so good last week and some having very good matchups, I'm going to spend up at that position. The 12 targets that Javonte Williams ($6,500) received last week are going to excite DFS players for this week's home game against the Texans, whose defense is rebuilding and just got lit up by Jonathan Taylor for 161 yards. Jeff Wilson ($5,100) is a way to save some dollars, though this might be the only week that he's the clear-cut led caballo. And this week may not even be that. Eno Benjamin ($4,200) is a YOLO play, as he's coming off getting 7 touches for 61 yards and is going into a likely shootout with the Raiders. I don't like any other cheaper RBs.
WIDE RECEIVER
I'd only recommend Cooper Kupp ($9,900) if you're planning to stack him with Stafford. Even then, a bounceback from Allen Robinson ($5,500) or even Tyler Higbee ($4,200) would be more palatable at the cheaper price point. Stacking Davante Adams ($8,600) or Hunter Renfrow ($5,500) in that Arizona-Las Vegas shootout is sexy. Adams' 17 targets are so enticing, and Renfrow is going to have several weeks where he'll finish at 10+ targets. This high-scoring affair is a good place to start. Amon-Ra St. Brown ($6,500) is going to look for similar targets against the Commanders to the 12 that Christian Kirk got last week. If he gets 8 catches this week, ARSB will tie an NFL record with 8 straight games with at least that many catches. Thanks, Rich Hribar, for that stat. FYI, ARSB would tie Michael Thomas and Antonio Brown if he hits that mark. I say he does. Speaking of Kirk, the $5,700 price is good in a home game against Indy that saw Brandin Cooks go for a solid line of 7-12-82-0. Brandon Aiyuk ($5,100) is a shot to take multiple short passes and turn them into plenty of YAC. Remembering the buddy narrative, they have spent plenty of offseason time together the past couple years working out. And even if there's some light rain, the field won't be a swamp like last week. Chase Claypool ($4,700) running 97% of his routes from the slot is very tasty, and worth the play in a game against a Patriots D on the road for a second straight week. Waiver wire dandy Curtis Samuel ($4,600) caught 8 of 11 targets for 55 yards and ran the ball 5 times for 17 yards. Not exactly Deebo numbers, but getting extra touches could make for some DFS goodness. Teammate Jahan Dotson ($4,200) is another cheap option. A sneaky play could be Parris Campbell ($3,700). I'll have lineups with him, as Alec Pierce is already out and Michael Pittman has an injury that at the very best will leave him slowed and at worst take him out. Someone will have to catch passes, and Campbell may be the best in the "next man up" sweepstakes when the Colts travel to Jacksonville.
TIGHT END
I just want to build a lineup with Taysom Hill ($4,400), but he's QB only on DK. I'll just settle for starting him on my redraft teams. The highest I want to go is Darren Waller ($5,600) as a part of that shootout mentioned above. He could even be a double stack w/ Renfrow if you want to spend up elsewhere. Waller is even a play with a Murray-Brown stack to get multiple players in this game with an over/under of 51.5. On the other side of the field, I didn't like the volume that Zach Ertz saw last week, so not recommending him here. The 11 targets that Tyler Higbee ($4,200) saw in the opener against the Bills are encouraging, but the 5-39-0 line he turned them into is less inspiring. The bargain-basement prices for Hayden Hurst ($3,600) and Tyler Conklin ($3,400) do not match up with them leading all TEs in total snaps last week – Conklin led everyone with 77 and Hurst was behind him at 75. If you're on the field, you're a threat to contribute.
GET 10% OFF YOUR FANTASYPOINTS.COM SUBSCRIPTION WHEN YOU ENTER THE PROMO CODE 22FAMILIA10.