Open Letter to My Primos and All Who Are Returning to Fantasy Football,
Welcome back from your break. It's redraft time, so I'm stoked you're back for more arguments, I mean, discussions and plenty of breaking down the CHISME! Since you've been on a break, a few cool things happened.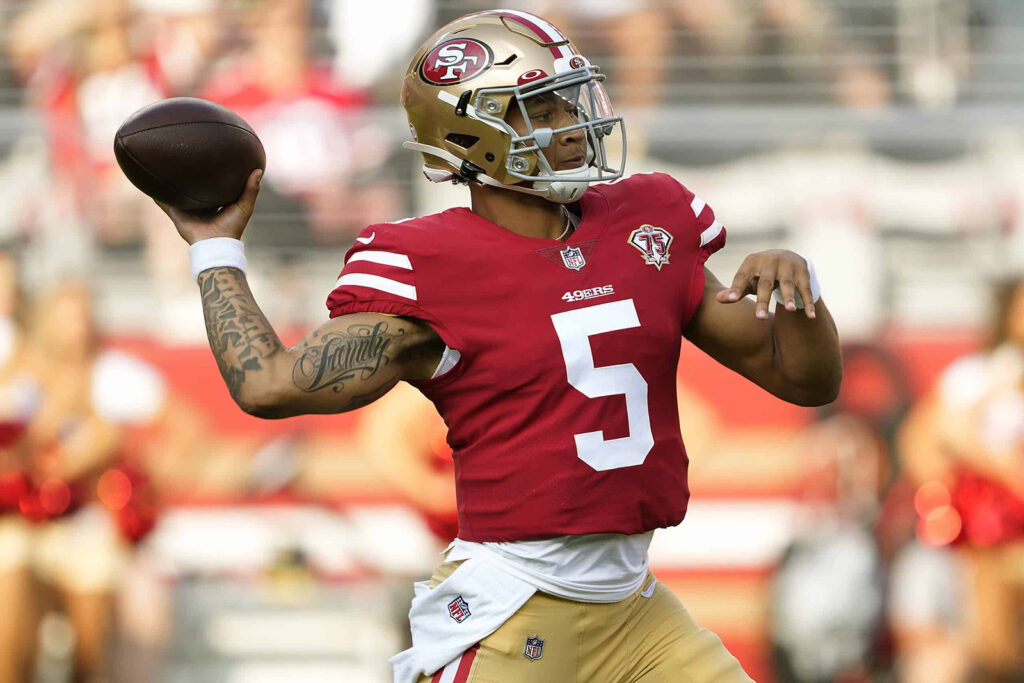 We hit 100 YouTube subscribers! WooHoo! With that, our livestreams have gotten pretty lively, and some cool people have started following us. You'll see by how fun the chats are becoming. And I've learned a few things that I thought I'd pass along that our Familia community could use. Just don't tell the rest of the Familia, so we can use these against them in our drafts.
#1 DRAFT YOUNG AT RB
Of the Top 10 rushing leaders in 2021, all but one of them were age 26 or younger. Derrick Henry was the outlier, but he missed 9 games last season with his foot injury. Gotta go young at this position. RBs in their first three years in the NFL are the likeliest to break out with RB1 seasons. Jonathan Taylor (2021), Christian McCaffrey (2019) and Saquon Barkley (2018) all fit that mold. 
The 2020 RB1, Alvin Kamara, is one exception, and it's something that goes for all the RBs who have pass catching as a major part of their games. Kamara, Austin Ekeler, Aaron Jones, even Leonard Fournette are all players who are aging more gracefully because they have a good chunk of their touches coming via the air. Matt Harmon put it simply recently when he pointed out that RBs who catch the ball are often hit by smaller players. Logic is simple sometimes.
#2 STAY WARY OF PLAYERS COMING BACK FROM SERIOUS INJURY
We have to let players heal properly. I'm being very cautious of any players in their first year coming off ACL surgery. Check out the great interview and feature I did with Dr. Edwin Porras a few months ago, and they're still very relevant. His minimum return to injury for players coming off ACL surgery is 9 months, though that is the absolute best-case scenario. Often it's 10-12 months before they come back. There are several players who are likely to start the season either limited or on IR because of where they are in their recovery. 
ADP has not adjusted fully to players coming back from these injuries that are not often fully healed until the second season after their return. Chris Godwin at #54 overall is great, but give me 17 games of Amari Cooper three picks later. Yes, even with the questions at QB in Cleveland. Or even Amon-Ra St. Brown 10 picks later. Who do you like between Michael Gallup (#139), who already said he's missing the start of the season, or six picks later Marquez Valdes-Scantling catching passes from Patrick Mahomes? Unless you're grabbing these players after you have a strong starting roster, I say adios.
#3 WR IN GB & KC COULD BE HEADACHE
I mentioned MVS before, and yes, it's great catching passes from Mahomes. But other than Travis Kelce, is anyone a lock to get 100 targets? Juju Smith-Schuster? Mecole Hardman? Rookie Skyy Moore? Josh Gordon? It's not Tyreek Hill, and when drafting any of these players, be very aware that you're probably going to see plenty of weeks with 4 targets, while others are getting double that. Moore is a wild card, though, because the camp reports have been good on him.
In Green Bay, much the same is happening with the 169 targets that Davante Adams is leaving behind (MVS left behind an additional 55). As great as the camp hype has been for Romeo Doubs, he's still a 4th-rounder who has yet to catch a pass in the NFL. Allen Lazard was compared to a big TE by Dusty Evely from the Pack a Day Podcast when we went over the Packers. Rookie Combine sensation Christian Watson just recently returned from knee surgery. Randall Cobb is on the wrong side of 30, but he's still Aaron Rodgers' close friend. Sammy Watkins, ay Dios mio, we've been to this movie. No WR numero uno in this bunch, yet. Lazard #109 or Doubs #214 have late ADPs that could become bargains if they're getting consistent targets from the psychedelic Rodgers. 
#4 LA LLORONA SAYS NO RB DEAD ZONE
Cam Akers, Antonio Gibson, Josh Jacobs… they're all as scary as the lady in white we've talked about more than we care to admit. Yes, you can and will get 1,000-yard rushers in rounds 3-5, but you're also likely to not like the guys you're taking because you passed on this year's Cooper Kupp (or Stefon Diggs in 2020) to draft a very unsexy player. Here are some WRs going in this range: Michael Pittman, Diontae Johnson, Mike Williams, Terry McLaurin, D.J. Moore, D.K. Metcalf. All are likely to outperform many of the RBs in this range.
Keep in mind that rookies or Y2 RBs like Breece Hall or Travis Etienne are going in this range. Those players who haven't taken many or any NFL snaps are likely to be bargains if they have healthy seasons with steady workloads.
#5 I NEED A HERO
This goes with the past item. I've very much gone toward the Hero RB approach, where I get a lead caballo in the 1st round (or no later than the 2nd if I get a stud WR earlier) and then I just hammer WR and TE to get as many studs on my roster. I might even dabble in the high-end QBs like Josh Allen or Justin Herbert (that was for you, Ricky). And then I'll look for someone like A.J. Dillon, Tony Pollard or Kareem Hunt later in the draft.
#6 TAKE A CHANCE ON Y2 QB
Patrick Mahomes in 2018. Lamar Jackson in 2019. Justin Herbert last year. QBs in their 2nd years often make the big leap that's hard to predict with anything other than offseason and camp reports and starting opportunities. That said, I really like Trey Lance and Justin Fields this year because they're Konami Code running QBs. Look at Jalen Hurts last year finishing as the QB9. Either of the aforementioned Y2 QBs could match that. Trevor Lawrence (aka Fabio Football) has gotten good reports from John Shipley of SI when we chatted, so let's see if he is the Golden Child.
#7 GO LISTEN/WATCH THE FAMILIA FFB NFL INSIDER SERIES
I've hinted at it. They're mostly in 20-to-30-minute installments with plugged-in beat writers and insiders covering the teams. We got into the skill positions and even schemes, so fantasy managers can get the inside scoop from the people covering the teams to give you that inside edge.  
#8 STAY PATIENT WITH YOUNG WRs
Who held Amon-Ra St. Brown all last year? Tee Higgins was good late in 2020. A.J. Brown and D.K. Metcalf wowed people in 2019. All of them did so getting picked up off the waiver wire, and many helped people win titles. If you take young pass catchers like Jahan Dotson, Garrett Wilson, Drake London or Chris Olave, try and hold onto them as long as possible. We all loved Justin Jefferson and Ja'Marr Chase exploding as superstars from the start the past couple years, but they're true outliers. More than likely rookie WRs need about half a season to get acclimated to the NFL game before they start to break out.
#9 GET AS MUCH TRAINING CAMP INFO AS POSSIBLE
Set up Twitter alerts. Read NFL.com team pages. Get a subscription to The Athletic. Read player news on FantasyPoints.com, NBCSports.com/edge and FantasyPros.com to get the latest on players who are showing out and those who are getting hurt. You need to know as much as possible about what's happening with the teams, because we're not very likely to see much of anything that's usable from preseason games. Most teams don't play any starters.
#10 BE READY TO TAKE COOPER KUPP 1.02
How special was Kupp's season? He could lose 32 catches and almost 600 yards and still match Davante Adams' numbers from his WR1 season in 2020. There are 4 WRs going in the 1st round and 10 of the first 24 players via FantasyPros ADP are non-RBs. One is Josh Allen at #24, but the others are primarily WRs with a couple TEs sprinkled in. This is the correction from all the early round RBs who kept getting hurt last year. You could capitalize and take some RBs who are very intriguing later in the 1st round like Dalvin Cook and Najee Harris, but the special seasons from Kupp, Jefferson and Chase are zooming them up in ADP. If you want one of them, you're going to have to pay up. That's why I like the Hero RB strategy, because you don't lose out on these elite WR talents in the early rounds. Especially because their ability to stay healthy is greater than RBs.
BONUS DRAFT! DRAFT! DRAFT!
Best ball. Mock drafts. Dynasty startups. Do them all. The more you see where players are going, the better you'll be on draft day. Let's get on it. Vamonos! Salud!
GET 10% OFF A SUBSCRIPTION TO FANTASYPOINTS.com WHEN YOU PUT IN THE PROMO CODE 22FAMILIA10