When I first applied to Scott Fish Bowl 11 more than a year ago, I couldn't have imagined what greeted me the afternoon of July 16 at Trophy Smack for the 12th edition of this congregation of the some of the best fantasy football minds in the world. The entire upstairs of the building was a dream for those kids who never want to grow up. Two-lane bowling alley. Pinball machines lining a couple walls. An old-school Asteroids video game took me back to being 12. Darts, pool and foosball tables… it was all there to be enjoyed, with a fully stocked bar ready for self serve or someone ready to pour.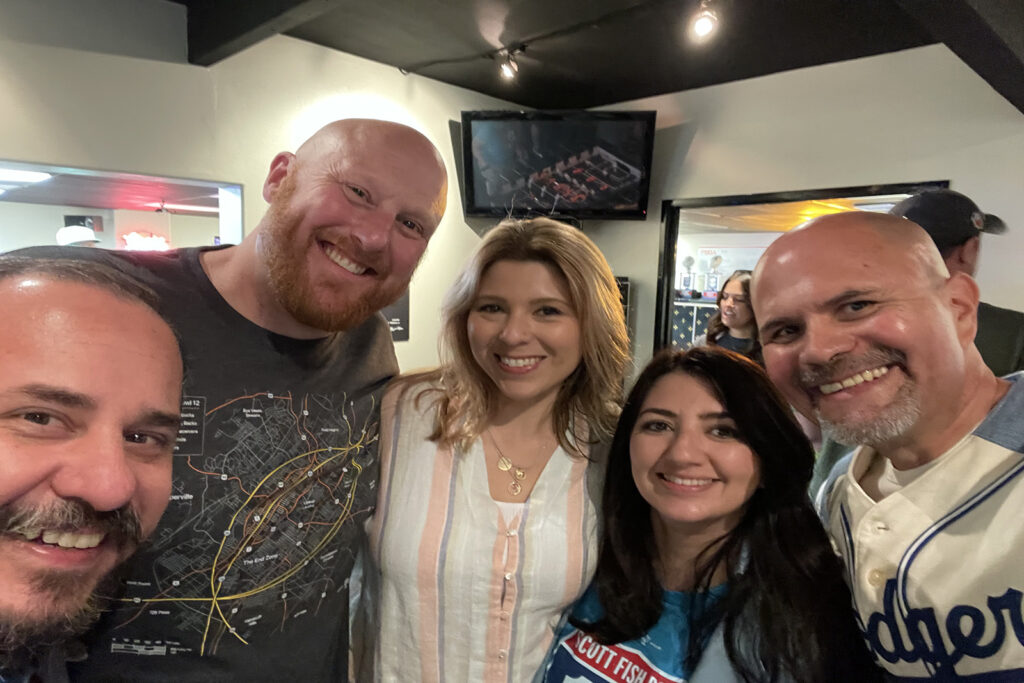 When I got there, the party had started. I made some intros, and got the lay of the land on the games that needed to be played to determine draft pick order. Fun and joy just oozed from everyone. Live drafts were back! And here we were to celebrate the first SFB live draft in Southern California, even if calling it #SFBLA was technically wrong. Trophy Smack is, after all, in Orange. Still, this was a live draft on steroids.
The long drive to get there from the #818 was gone as soon as we started to play the games. Everyone bowled, played pinball, shot pool and threw darts to get an overall score based on how everyone did in each respective game. Within moments I found my buen amigo, my Mexican Yoda when it comes to making it in the fantasy industry, Mauricio Gutierrez. I caught up with him and his darling wife Gemma, and we kept going on our tasks. Only I got a major surprise.
Up to me comes a face I'd only seen on Twitter pictures or YouTube videos: El hombre, Scott Fish. He comes up and greets me by name, like we've known each other for years, not just meeting face-to-face for the first time. I didn't expect to see him and I was pleasantly dumbfounded. He thanked me for being here… when he flew in from Minnesota to attend this event! I thanked him for making all this possible, and told him I hope that he was able to sit back and enjoy this event for what it was: the manifestation of his brainchild more than a decade earlier.
To say it was great to put faces to the names, shake hands and in some instances hug people I'd only interacted with on Twitter was beyond anything I could have expected from this day. It was special. Fantasy content creators, big and small, and incredibly knowledgeable and hyper-competitive fantasy football players were all in the same space. All told, 48 of us were there to compete in four different divisions, all for a tournament Scott told me almost didn't survive a year's hiatus about 10 years ago. Thankfully, what we saw at Trophy Smack was beyond any greatest dream any of us could have had.
I have to shout out a couple people I met for the first time, but have become regulars in the chat for our Familia FFB YouTube livestreams. Dame Overboard and Mr. Scampers, whom I met through my amigos on the Front Yard Fantasy Crew, came up to me to introduce themselves. I could not hug them fast enough. Just incredible people, and I loved just chatting with them and thanking them for becoming regulars in our chat. When I say "todos somos familia," I'm talking about those tuning in as well. Especially these two. One thing I won't divulge about this encounter is the identity of Mr. Scampers. Let's just say this cat is sneaky, and only Scott and I know his real identity. Great to be in his company again in keeping this secret.
OK, time to get into the nitty gritty: Draft Time. Upon arriving I had put my bag down at the wrong table, not having checked in which division I was going to be drafting. I was in the Forum division. It turns out I was at the next table with the Coliseum division drafters. The Pond and SoFi Stadium were the others, so clever the idea of naming them after sports venues in LA & OC. My table, I was sitting between Lindsay Rhodes and Bob Harris, who welcomed me with open arms. Michael Fabiano and Jen Piacenti were on the other side of the table, and it was cool to talk a little strategy with long-time fantasy content creators without the pressure of competing with them. And I threw my two cents' worth on their picks as well.
I wasn't the first to pick my draft spot, but the #1 overall pick was sitting there waiting for me when my turn came up. I had to do it, even if it meant going all the way to the end of the third round in Scott's maniacal third-round reversal. I swear he must have let loose an evil laugh when he came up with that idea. I was going to shoot my shot from the top spot, adding to it that I love drafting from the ends. There was no doubt who I was going to take first: Josh Allen. QB1 in consecutive years, he's staring at close to 5,500 total yards and 40-45 total TDs. No way I could pass on him, though I knew in this super flex format, I'd need to get a second QB soon.
That would not happen in round 2, and a QB run left me thinking I'd take my chances with a signal caller in the third round. Austin Ekeler had just appeared on the video screen talking about his foundation's partnership with Trophy Smack. Getting a talented runner who will get 60-70 receptions and TDs in the teens was too enticing. Having just met his co-host on Yahoo Fantasy Liz Loza a while earlier, I saw this as a good sign.
From here on out, my picks came in pairs, and I'll describe what I was thinking with each pair of picks. At the 3.12/4.01 turn, Justin Fields and Mac Jones had gone earlier that round. I'd had my eyes on Fields, but settled on the man my primo Nico calls Fabio Football: Trevor Lawrence. With Doug Pederson calling the plays, I'm confident Lawrence is going to make a significant Year 2 leap and be a viable starter most weeks. The Jaguars' defense is rebuilding, so shootouts will be plenty.
Saquon Barkley was my second piece in that pair, and it's fitting with what I've been doing: employing a Hero RB approach, unless Barkley falls to me late in the 2nd. Here, he was there at the start of the 4th, and I passed on D'Andre Swift, Nick Chubb and Deebo Samuel to take Barkley. To me, I had two of the best dual-threat RBs in the league, and I could concentrate on pass catchers for the foreseeable future. As we were going only through the 10th round, I wouldn't take another RB the rest of the day.
At the 5-6 turn, I grabbed Diontae Johnson and Michael Pittman, a pair of WRs whom I think will settle into that 90-100-reception range, with significant yardage and 6-8 TDs. I did leave Mike Williams on the table, and he was snapped up with the first pick after me to pair with Justin Herbert. Looking back, I might have liked to grab Williams there, but not sure which of the Johnson-Pittman combo I'd have passed on. That should have reminded me to set my queue.
I didn't, and it cost me by my next choice. I was having so much fun, especially talking with the people at my table, that by the time the 7-8 turn came to me, I hadn't gone much beyond a handful of players as draft options. I felt I needed a TE, and kept my eye on Pat Freiermuth. If he were there, he'd be one of the players I'd grab. Amon-Ra St. Brown was the next one, and I don't think his torrid 2021 finish was a fluke. He's good, and will see enough targets that he'll end up around 90 receptions this season. However, I didn't look further down the available players. The offseason darling of fantasy Twitter – Gabriel Davis – was sitting there, but I hadn't put him in my queue. I passed on the possibility of pairing Davis with Allen in a potential-filled stack. As I saw amigo Armando Campos put Davis' sticker up on the board next to my picks, I had visions of Davis' 4 TDs in KC during the playoffs dancing in my head. Torture. I'm still tormenting myself, but the show had to go on.
The draft wasn't slowing down for me to kick myself in the rear, so I just focused on the next picks. With 2 QB, 2 RB, 3 WR and 1 TE, I had a good foundation. It was time to go after some value and upside at 9-10. Michael Thomas had fallen, and with full WR slots, I was in good shape to take an upside flyer. The first day of training camp brought me good news that he was practicing in full. Brandon Aiyuk piggybacked on him, and I loved that value there. If healthy, Thomas could have a Top 15 WR season. Aiyuk started to see a lot of targets in the latter part of the season, once he'd left the Kyle Shanahan doghouse. Considering where I picked them, Thomas and Aiyuk were my favorite values of the day.
Then it was time for slow drafting. Up next at 11-12, I nabbed a player I've been picking all over in best ball: Dameon Pierce. With a solid 1-2 punch at RB, I could weather Pierce fighting his way into regular playing time in a backfield that's there for the taking and I predict will be his by the midway point of the season. TE Tyler Higbee was a homer grab for this Ram fan, though getting a piece of the potent Ram offense at this point, especially with it being TE premium, felt like the right call.
Lucky #13 brought me Kenneth Gainwell, who Conor Myles of Sports Illustrated sang his praises as a sleeper satellite RB. I've been grabbing him a lot in best ball, and I liked the value here. Mitchell Trubisky, who may or may not last the whole season at QB, became my #3 QB. Does he last as the starter until Week 11, when Lawrence is on a bye? That's the question. Worst case, I'll put a skill player in the super flex if it's Pickett time in Pittsburgh.
Picks 15-17, even though for the last one I had to wait 22 picks, were very similar, as I grabbed Jahan Dotson, George Pickens and Joshua Palmer, respectively. The rookies, if I can be patient, could pop in the second half of the season. Palmer is the WR3 in one of the best offenses in the league, so I'll take him.
Pick 18 was a mistake pick, as I inadvertently drafted Mo Alie-Cox when I intended to put him in the queue. I don't hate the pick, as I was looking to grab the rehabbing Logan Thomas there. As a third TE, I could have done worse than a former basketball player (have you heard?) with great jump-ball skills.
My 19-20 picks were pure speculative plays, with background based on my NFL Insider Series. Alain Poupart of Sports Illustrated pointed out that Sony Michel could see goal-line carries for Miami. Andrew Callahan of the Boston Herald called out Kendrick Bourne as a sleeper, and the WR did get 925 total yards last year. There's no clear #1 among the WRs in New England. At this point in the draft, give me any guy who can get near 1,000 total yards.
For my twin Mr. Insiginificants at 21-22, I selected Romeo Doubs and Jonnu Smith. Doubs has some upside (the great Greg Cosell liked his college film), and Dusty Evely of Cheesehead TV and Pack A Day podcast pointed out that the rookie was a star at mini-camp and OTAs. Smith was a dart throw for a final pick, on the off chance that he becomes a bigger part of the offense. Again, TE with upside.
If you want to see the final roster, here it is. With apologies to @lindellions, I did not grab a kicker. I'll get one off the waiver wire later, should injury, dog house placements or ineffectiveness come to me. I hope I don't end up cutting this year's Amon-Ra St. Brown, as I did in 2021.
One of my favorite draft experiences in the books, again I want to thank Scott Fish for making this all possible. And big ups to the people from Trophy Smack I got to talk with: Kelly Singh, Matt Walsh and Chase Vernon. It was so much fun meeting so many people, and look for some of them to make appearances on Familia FFB in the weeks and months ahead. Because now comes the other fun part: Competing weekly with these great minds from Labor Day through (hopefully) New Year's Day. Vamonos! Let's Do This!
GET 10% OFF A SUBSCRIPTION TO FANTASYPOINTS.com WHEN YOU PUT IN THE PROMO CODE FAMILIA22