The Dolphins are a team I want to like. Only part of it is that Dan Marino is my all-time favorite QB. It's also new HC Mike McDaniel's off-kilter, bro-ish sense of humor. Definitely a far cry from the death stare of Don Shula.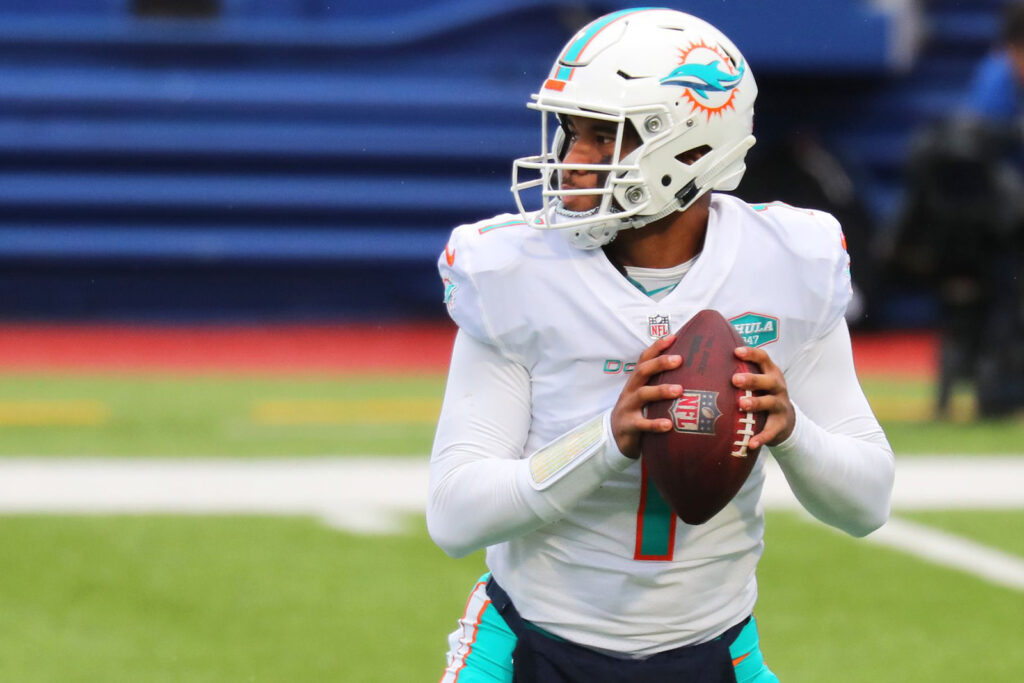 It's also the speed that's going to be outside for this team. Tyreek Hill and Jaylen Waddle are going to win a lot more foot races in NFL circles than they'll lose. There's so much that is very interesante to anyone drafting in the weeks ahead.
What I can predict for this offense is that McDaniel is from that Shanahan coaching tree that favors the run. Add to it that he was the run game coordinator for the team as the OC for the 49ers, and we can get a picture of what the Dolphins could look like from last year's numbers. The 49ers were tied for #5 in total carries last year with 499, and #7 with 2,166 rushing yards on the season. They also passed the ball 514 times, so this will be a balanced offense.
Another important stat is how the 49ers were #8 in yards after the catch (YAC) with 2,264 last year. Compare that to the Dolphins at #25 with 1,714 YAC, you'll get an idea where this team could improve. Let's take a look at how they shape up for fantasy football in 2022. I'll sprinkle in quotes from Alain Poupart of Sports Illustrated and All Dolphins. If you haven't caught the interview, it's imbedded here. 
QB/WR/TE PASSING OFFENSE
This is a make-or-break year for Tua Tagovailoa. For all the TuAnon people who will defend him to the hills and think he'll be Drew Brees, the truth is that he's going to have to measure up to being in the same draft class as Joe Burrow and Justin Herbert. Until he takes a massive step forward, he'll keep hearing those names.
He has a long way to go to catch up. Tua was QB26 and missed 4 games last year with injury. His 14.7 FPG were behind Teddy Bridgewater and Taylor Heinecke. Yes, they're both not starters this year. Poupart pointed out that while this is the most talented group of skill players that Tua has played with, it's going to pale in comparison to the Alabama teams that featured four WRs who would be drafted in the first round, along with NFL-caliber O-lines and RBs who would all play in the league.

"If the running game is productive and the addition of Hill also loosens the defense, that all plays together into helping the offense," Poupart said. "This is Tua's third year, next year is when he becomes eligible for his contract extension, as well as it's the time when the Dolphins will have to decide whether to pick up his fifth-year option. There have been a ton of excuses made for Tua his first two seasons and whatever credence you want to give to those excuses, the bottom line is, regardless of those, we still have not seen franchise quarterback from the guy in the first two seasons. And the Dolphins need to see that, or they're going to be cheating themselves if they don't start looking for a replacement next offseason."
Poupart added that Jared Goff was able to put together a couple Pro Bowl seasons with the Rams in a very similar offense to what the Dolphins will run. The YAC from players like Waddle and Hill is going to make a big difference in how Tua's final stats are going to appear. Hill had 444 YAC last year, good for 17th in the NFL. Waddle was two spaces behind with 439 YAC. This is where I see these players helping Tua make strides in 2022, but how much?
Currently, Tua is going off as the QB16, ahead of Justin Fields and Trevor Lawrence. Considering the rushing upside of those two Year 2 QBs – especially Fields – I think they'll outpace Tua when it comes to final stats. Surprisingly, Tua rushed 42 times for 128 yards and 3 TDs last year. I see that as his ceiling, as his slight frame and the bad hip injury on his final play at Alabama should keep him from getting too much work in the running game. He'll be tested early, as the Dolphins have quite the gauntlet of teams in the first four weeks of the season: Patriots, at Ravens, Bills and at Bengals. The first three teams either had losses in the secondary or were hit with significant injuries last season, so they could be ripe for the picking in the early going. Still, considering where Tua is being drafted, I'm inclined to grab one of the picks later in the draft like the sophomores mentioned above. I project his numbers over 17 games to be 525 pass attempts, 352 completions, 3,675 yards and 24 TDs. Decent numbers, but not anything that is going to make people forget Burrow and Herbert. Definitely a second QB in super flex leagues.
Hill, for everything he said about Tua throwing the "prettiest" ball, is going to have a tough time replicating what he did with the Chiefs last year. His ADOT was 10.4 last year, which is much lower than the 14.8 from his All-Pro season in 2018. Hard to picture that number going up with Tua pitching him the ball instead of Patrick Mahomes. Hill is still one of the fastest, most dynamic and explosive players in the NFL. He'll have blow-up games, but he'll still be volatile, as he had nine games where he was outside the top 20 WRs in weekly finish. He'll make Tua better, but hard to picture him getting back to even the 159 TGT he had last year. The ADP at #8 may end up being high, considering that this offense may run way more than Hill would like, and he won't run nearly as much as Deebo Samuel did. I see Hill in the 90-140-1,200-8 range on the season. I like Mike Evans, Keenan Allen and A.J. Brown going after Hill. Don't get talked into taking the bigger name over players who could perform better.
Waddle is tough to peg, because his 140 targets and 104 receptions last year project to come down in a more run-centric offense. This is one where I really like the player, but the scheme may see him taking a step back this season. He'll get plenty of passes near the line of scrimmage, and his speed and elusiveness will lead to more YAC than last year. But I could see his TGT going down into the 110-120 range. Maybe topping out at 125. Going ahead of D.J. Moore and Terry McLaurin, I'd recommend passing on him and going for one of the two following Waddle. I could see Waddle struggling to get 1,000 yards.
The only other pass catcher I'm looking at is Mike Gesicki. He's going to be target over the middle after last year being one of six TEs to get over 100 TGT – finishing with 73-112-780-2. The TD production has to come up, and with Hill and Waddle getting so much defensive attention, this should leave Gesicki open over the middle. PFF graded Tua 11th in short passes over the middle. In an offense that made George Kittle a star, Gesicki is going to be the third option. Getting more than 12 TGT in the red zone will have to help him beat his 2 TDs last year.
RUNNING GAME
This is where it's going to give fantasy managers headaches in 2022. The Shanahan way of doing things, especially in SF, is to not care about your fantasy team and to spread around the carries. Poupart and I discussed three particular ball carriers in our interview: Chase Edmonds, Sony Michel and Raheem Mostert. Mostert has history with McDaniel in SF, though at the start of camp he's rehabbing a foot injury. So I'm taking him out of the discussion and into your crosshairs for the waiver wire when/if he's healthy. Edmonds got the bigger dollars in free agency, and is going to be the rushing-receiving threat that can be valuable in fantasy. He accumulated 903 total yards on 116 rush attempts and 43 receptions (on 53 TGT) in 12 games. Those numbers are well within reach, especially in an offense that will feature plenty of YAC. 
Edmonds got just 2 TDs last year, which is probably where Michel comes into play. Poupart saw the bigger Michel as a bruising back getting goal-line carries. He finished with 845 yards on 208 carries filling a lead back role for the Rams before ceding carries to Cam Akers. Edmonds going off as the WR33 and in R8 appears to be good value, though Michel going as RB60 and 198 overall has me grabbing him a lot in the final rounds of best ball drafts. If he can get a large chunk of carries and 6-8 TDs, that's a chance I'll take at the end. Keep an eye on Myles Gaskin's usage in training camp, especially if he sees extra reps while Mostert is rehabbing.

"What's clear is that there's absolutely no clarity," Poupart quipped. "We can surmise that Chase Edmonds of those three probably will be the biggest factor in the passing game for fantasy purposes. We can probably surmise that Michel being the only back of those three with some size, who's not a 'quote' speed back, Edmonds and Mostert fitting that category you would surmise. And maybe Michel's the one who's going to be getting the goal-line carries. He becomes maybe a better option there for fantasy purposes because you might get those one, two-yard touchdown runs more so than Mostert and Edmonds."
OFFENSIVE LINE
Poupart said this group was bad last year, but maybe not as historically bad as many made it out to be. Terron Armstead was signed in free agency, and he's going to be counted on as an anchor. He's healthy, and if he can stay that way he'll be a difference maker up front. Others on the line are going to have to step up on a unit that PFF graded at #23 going into the new season.
DEFENSE
This unit was great for fantasy, as it had a run of turnovers and TDs in a run from 1-7 to 8-7. However, Poupart pointed out that this unit did its damage against rookie QBs and backups for the most part. Lamar Jackson, who was already banged up, was the lone top-level talent at QB the Dolphins faced during that span. This unit is completely intact, and did give up 1,867 rushing yards, so fire up your RBs against them. Be more cautious against a secondary that is very good, having allowed 3,871 passing yards and 23 TDs (14 INTs).
GET 10% OFF A SUBSCRIPTION TO FANTASYPOINTS.com WHEN YOU PUT IN THE PROMO CODE FAMILIA22