I remember the ending of the original Rocky. It was at the culmination of 15 grueling rounds that was inspired by the near-death experience that was Ali-Frazier III, aka the Thrilla in Manila. Sorry, I just realized I referenced that last week. But at the end of the movie's epic battle, Apollo Creed, his ribs broken, but his spirit barely intact, yelled into Rocky's ear, "Ain't gonna be no rematch." Rocky said he didn't want one. Well, for the NFL Championship round of the playoffs, just one step from the Super Bowl, we get not just one, but two rematches.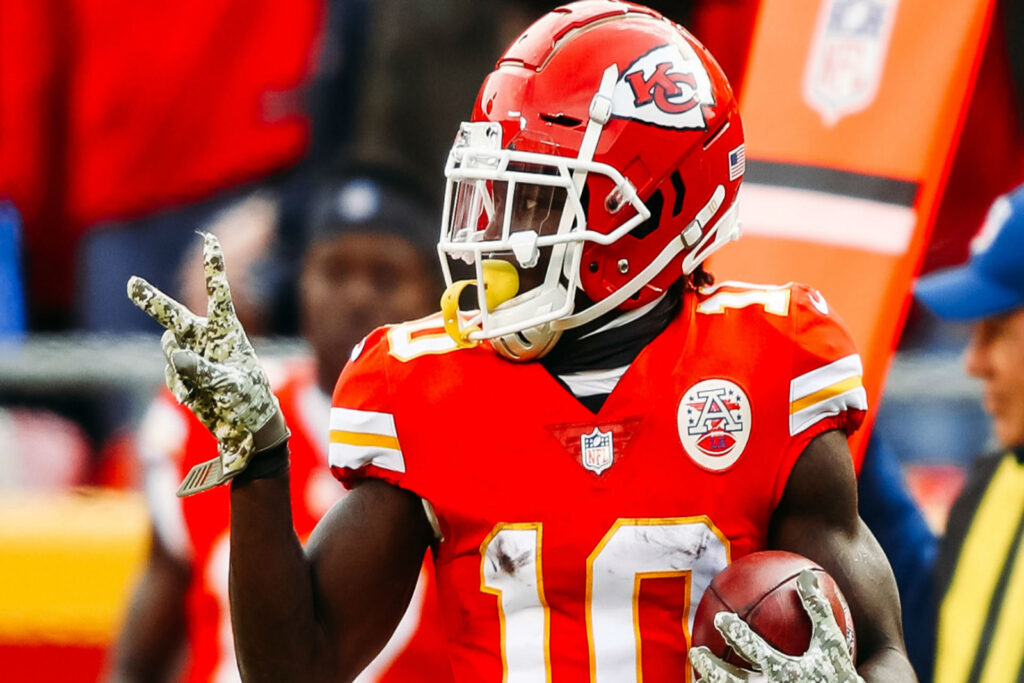 Bengals-Chiefs for the AFC title is the first game, and we all have vivid memories of Joe Burrow lighting the Kansas City secondary on fire on the way to 446 passing yards and 4 TDs, needing every one of those to outlast the Chiefs on the way to a 34-31 Week 17 thriller. That game helped a lot of people win titles if they had Burrow stacked with Ja'Marr Chase and his 266 yards and 3 TDs. One difference this time, the game is at Arrowhead Stadium.
In the NFC ledger, the Rams and 49ers lock up for a third time this season, after San Francisco swept the regular-season series to run Kyle Shanahan's record against Sean McVay to 6-0 since 2018. It's still fresh in the memory that Week 18 battle royale, when the 49ers overcame a 17-0 lead to beat the Rams 27-24 in OT. Do the Rams have the 49ers' number? The story will be told Sunday at SoFi Stadium, with plenty of red in the stands among the Ram faithful.
Since styles make fights, these games could be doozies. If Burrow can come anywhere near his last performance, this could be a replay of that 42-36 match that ruined anyone who loved those 10-7 defensive standoffs in the 1970s. Burrow is the key to this becoming another high-scoring shootout.
In the other game, that will have a hard-hitting element to hark back to those '70s shows of force. Both defensive lines are among the best in the game, and will be getting after the QBs. If the 49ers can run, this will be a low-scoring dogfight. If the Rams can get out to a lead on the suspect 49ers secondary, that will force Jimmy Garoppolo to pass. That's not always the best way for the 49ers to win.
This being a two-game slate, even superstar players are priced so that they can be grouped with other studs. So there's a possibility for lots of points. When thinking of assembling DFS lineups, there are stacks all around. There's even the possibility to do an onslaught stack for the Bengals-Chiefs, something I've really started to enjoy doing and had some success doing it. Below is a breakdown for each game, with the DraftKings dollars in parenthesis playing a part in how emphatically I'm recommending him. Weather doesn't appear to be an issue. Temperatures are in the mid-40s in K.C., and SoFi Stadium will be plenty cozy after the 49ers went to the Arctic Circle at Lambeau Field a week ago. All defensive rankings are since Week 13. Listos, familia. Just 3 more football games left.
BENGALS @ CHIEFS NOON PT 
KC -7 / 54.5
45 degrees and no wind nor precipitation
BENGALS
I looked at Joe Burrow (6600) under pressure from the Titans, and I just marveled. That was one of the most courageous performances I've ever seen a QB have, especially in the playoffs. The 9 sacks were one thing, but the repeated pressure and hits when he just got rid of the ball were incredible. And to complete 28 of 37 for 348 yards, that's just not what normal human beings can do. I see Burrow being the most popular QB this week, as he's slightly cheaper than Mahomes. And both have the potential to go nuclear, as the path to success for Cincy is expected to be through the air. The KC pass rush features studs Chris Jones, Melvin Ingram and Frank Clark, and will have to be forcefull because the secondary is very beatable by an elite QB. Will Burrow have the time to beat the Chiefs? Burrow took 4 sacks in Week 17. He went for 30-39-446-4-0 that game. He's not a threat to run like Josh Allen, who had 68 rushing yards last week. S Tyrann Mathieu is back at practice, which is bad for Burrow and the Cincinnati passing game.
Joe Mixon (6800) had 19 touches for 86 total yards vs. the Chiefs last time, and has 26 targets in his last 4 games. He has no less than 18 touches since Week 7. He's very much a receiving threat on top of a full workload for an RB, though the Chiefs haven't allowed more than 29 rushing yards in the playoffs. 
It's pretty hard to imagine that Ja'Marr Chase (6700) is the fourth-highest salaried WR on DK this week. Makes you wonder if that 266-yard blowup was more than four weeks ago. He has 10+ targets in 3 of his last 5 games – just 6 last game –  and in his last 4 full games he has at least 109 receiving yards. The big question: Will Chiefs double him and leave others open?
To see Tee Higgins (5700) go 7-9-96-0 last week was very encouraging, because he has been quiet since going for 12-13-194-2 in Week 16. Is Higgins going to be the follow-up to the Gabe Davis blowup game last week? The Chiefs paid extra attention to WR1 Stefon Diggs and left Davis open. That could be Higgins this week.
The price tag on Tyler Boyd (4200) is tempting, until you see that he has a high of 36 receiving yards in his last 3 games, catching TDs in 2 of them. He hasn't seen more than 6 targets since Week 13. Even at a good price, is he just too far down the pecking order? If you want to set a contrarian roster featuring Higgins and Boyd, with the idea that Chase will get extra attention, I'm not opposed.
One player whose price tag and performance are appealing is C.J. Uzomah (3400), who has 27 targets in last 4 starts, and has turned it into 13-135-1 during the playoffs. Nice cheap play in what could be a high-scoring game.
DEF QB (24) RB (9) WR (25) TE (32)
CHIEFS
Patrick Mahomes (7400) reminds me of a hot hitter who you tell your pitchers not to throw him a strike, else you want to lose a ball or two. Mahomes has 782 passing yards and 8 TDs in the playoffs, adding 10-98-1 on the ground. He was a pedestrian 259-2-0 last game vs. the Bengals last time, but the way to beat Cincy is through the air. Mahomes will need to get good protection, because the Bengals do have a good pass rush (42 sacks) in front of that shaky secondary.
Clyde Edwards-Helaire (5300) had only 8 touches in his first game back last week, after missing the previous three. I just don't see him getting enough volume to be a lead caballo and be worthy of starting in DFS.
Jerick McKinnon (5100) is a big reason why I'm fading CEH. McKinnon had 15 touches for 74 yards in his last game, after going 18 for 142 yards and 1 TD against the Steelers. It feels like he's always getting the ball in stride and going full speed. Bengals have been getting beaten up by the RB position, and allowed 44 receiving yards to Josh Jacobs in the WC round. 
Tyreek Hill (7000) put any thoughts of his ailing heel to rest with that 64-yard TD catch and run in the closing flurry of TDs last week. He was back up to 13 targets last week (11-150-1 overall), after only 5 the previous week when he was still getting healthy. He went for only 6-10-40-0 against Bengals last time, but this is the money time when Mahomes looks for his studs first. Hill saw 10+ targets last year in each playoff game.
Travis Kelce (6500) had 9 targets last week, finishing 8-96-1, including a clutch catch to set up FG and the walk-off 8-yard TD. Reports of his demise or at least his slowing down appear to be exaggerated. He was just 5-7-25-1 in Week 17, though the Bengals have gotten beaten up recently by TEs Mark Andrews and Darren Waller. 
For a cheap play, keep in mind that Byron Pringle (4300) has 22 targets in his last 3 games. His high of 56 receiving yards in a game seems low, but he has 3 TDs over that span. 
Mecole Hardman (4000) gave us some hope when he ran in a 25-yard TD last week. He's getting used more that way. However, Hardman has just 69 total receiving yards in the playoffs. Boom-or-bust play here, stacked with Mahomes.
DEF QB (22) RB (26) WR (29) TE (7)
Jorge's call: 38-34 Chiefs in another thriller.
49ERS @ RAMS 3:30 PM PT
LAR 3.5 / 46
DOME
49ERS
Jimmy Garoppolo (5400) just stay away, no. Even though he had 316-1-2 last time vs. the Rams, if the 49ers are going to win, they're going to have to do it on the ground and play ferocious defense. Spend your money on one of the other QBs.
Elijah Mitchell (5900) has 20+ touches in each of his past 4 games. He went for 21-85-0 in Week 18 against the Rams, who allowed 107 total yards to Leonard Fournette last week. What's compelling about the last time these two teams played and the 49ers got behind, they relied on the run game and focused on Mitchell. He combined with Deebo Samuel for betweeen 88-97% of rush attempts over the past 3 games. Very good play if you don't want to spend up on Mixon.
Deebo Samuel (7200) took a helmet to the knee, but was back at practice on Wednesday and was not on the injury report by Friday. He had a monstrous 140 total yards on 12 touches, plus 1 TD against the Rams last time. He has no more than 6 targets in any of the last 4 games, but has at least 82 total yards in each. He's such a good pivot off Cooper Kupp to save some money. 
George Kittle (5000) has a high of 7 targets since he saw 15 in Week 14. He just missed on a potential 50-yard TD last week. Kittle's total of 14 targets, 10 catches and 60 yards (1 TD) in both games against the Rams are nothing to be excited about. If you believe the 49ers' running game will dominate, stay away. If you foresee San Francisco getting behind and having to throw, he'll be a focal point. I see him getting 6-8 targets, with a chance to blow up only if the 49ers are in negative game script. 
Brandon Aiyuk (5000) went for 6-7-107-0 against the Rams previously, mostly when they were playing from behind. Last week's frigid game aside, Aiyuk has 19 targets in his last 3 games. At this price, I'd rather take a chance on one of the cheap receivers in the other game.
Jauan Jennings (3200) had a huge game against the Rams last time, putting up 6-7-94-2 and making clutch catches. Again, it was with the 49ers trailing. He's a TD-dependent cheap dart throw if you want to play some expensive pieces elsewhere on your lineup.
DEF (13) RB (7) WR (27) TE (4)
RAMS
Matthew Stafford (6300) was only OK against the 49ers at 21-38-238-3-2. He has 4 TDs and 4 INTs combined in those two games. However, in the playoffs he has 4 TDs and 0 INTs. This is similar to the Tampa Bay matchup, where the way to beat 49ers is through the air. The 49ers pass rush is neck and neck with the Rams for the best in the final four, and Stafford did get sacked 5 times and was pressured on 20 of 37 pass attempts last time. The Rams seemed to let up in the second half against both the 49ers and Bucs, so expect HC Sean McVay to keep the pedal down and 300+ yards and 2+ TDs for Stafford. I'm building a lineup with him.
Cam Akers (5000) is facing another tough run defense, and he's coming off 2 costly fumbles. On the plus side, he had 24 of 25 RB rush attempts for the Rams last week. Hard to trust him coming off the turnovers and going into the teeth of the tough 49er defense, but the volume is there.. 
Sony Michel (4600) Just 1 touch last week. Pass.
Cooper Kupp (8800) was back up to 11 targets last week, after three straight games at 7. He's combined for 18 receptions, 240 yards and 1 TD against the 49ers in the two games. Stafford will target him at least 10 times, which usually means 100+ yards and a TD.
Odell Beckham Jr. (5100) has 6 TDs since Week 12, though he was held to 2-18-0 against the 49ers. He's a possible stack with Stafford, or a pivot off Kupp if you're going heavy on CIN-KC game. 
Van Jefferson (3900) has this target share in the last 3 games: 3-1-3. He ran routes 95% of the time last week, but not much to show for it. He's #4 in the pecking order right now.
Tyler Higbee (3700) has risen up the pecking order with 28 targets in his last 4 games, catching 6-55-2 against the 49ers. So Stafford trusts him in big games and moments. Higbee ran routes on 93% of his passes. He's a good cheap play in a game where Stafford will need to throw to succeed. Dalton Schultz went for 7-8-89-0 in the WC round, so the 49ers have shown some vulnerability against the TE lately. 
DEF QB (4) RB (10) WR (12) TE (11)
Jorge's call: Rams 28-17, with the Rams using the passing game, and clock striking midnight on Jimmy G and 49ers
SOURCES: PFF / Pro-Football-Reference / Fantasy Pros / Football Guys / Lineups.com / RotoGrinders.com