The irony of starting this column with a tribute after the passing of the legendary John Madden is that the ethos of the old Oakland Raiders was "Just Win, Baby." Still is in the Las Vegas incarnation, but I very much identify those words with Al Davis and Madden. Because for all the Miller Lite commercials, hundreds of national NFL broadcasts and millions of video games bearing his name, John Madden was first and foremost a football coach.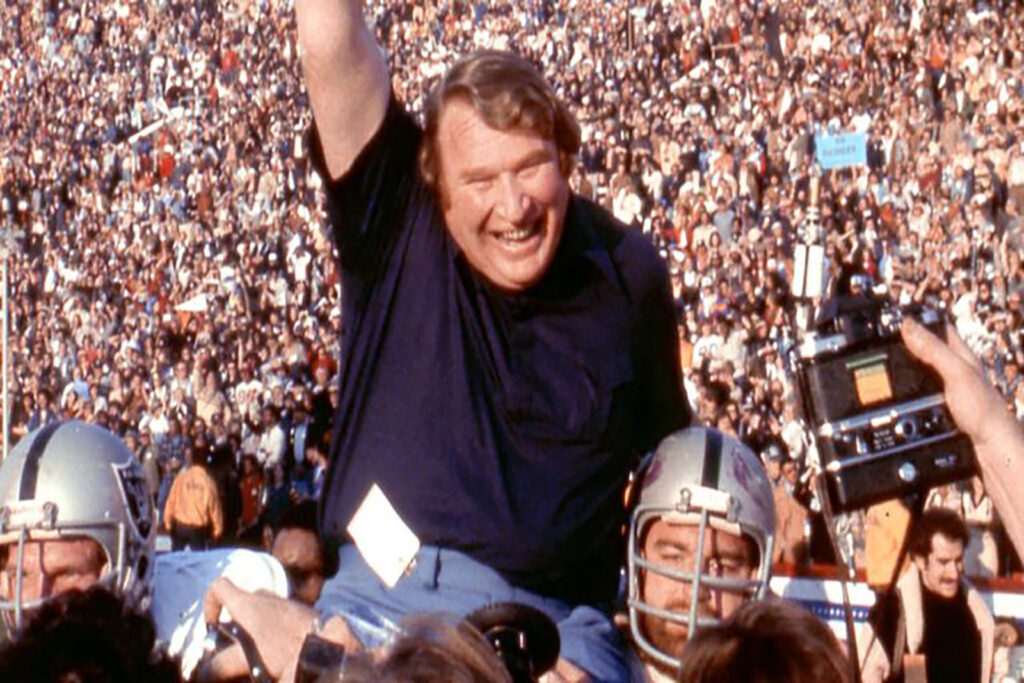 When Madden was the coach of the Raiders from 1969-78, he had a winning record every season. His record was 103-32-7, for a winning percentage of .759. And they were doing this in an era when the Pittsburgh Steelers were also dominant with their Steel Curtain. The Don Shula-led Miami Dolphins were also on a dynastic run that included a perfect season.

What was special about Madden is that he did it with a group of free spirits, led by Ken "Snake" Stabler and Ted "Mad Stork" Hendricks. Those are still among the greatest nicknames in NFL history. As great as these and other Raiders were on the field, they were just as legendary hell raisers off the field. Madden was able to get the best out of those players, telling them that there were just two rules he had: Be on time and play hard. (Thanks to LA Times columnist and buen amigo Sam Farmer for that jewel)
How Madden was able to get so much greatness out of such an eclectic group of bad asses cannot be downplayed. I came of age as a fan in 1977, but marveled at the 1976 Raiders in their world championship run. That team dominated its way to a 13-1 record and bulldozed the opposition in the postseason. The 32-14 destruction of a Minnesota Vikings team littered with Hall of Famers remains one of the most one-sided victories in Super Bowl history.
Madden was a big personality, and that came through after his coaching days were done in his commercials and broadcasts alongside such legends as Pat Summerall and Al Michaels. He taught us the game through his coach's eyes, but did so in plain speaking so he didn't sound like an auto mechanic explaining major work that needed to be done to an engine.

So John Madden, salud to a life well-lived. As you said, you never had to work because you loved what you did. We should all be so lucky. And in tribute to you, all our Familia reading this I say just these words: Just Win, Baby!
Championship Week, so it's time to finish the job. I'm in a pair of finals, one where I'm the #6 seed against the #1. I'm approaching that game like all others. Just win!

Below are matchups for championship week, answering questions for each game that have start/sit implications. Adentro y Afuera. Weather is going to be a factor in some games, so game conditions are listed under the point spreads. The Sunday night game for the Packers-Vikings will have extreme cold conditions. All defensive rankings are as of Week 12, for a more current samples size. So let's ring in El Ano Nuevo with a title. Salud!
SUNDAY 10 A.M. PT
FALCONS (7-8) @ BILLS (9-6)
BUF -14.5 / 44
21 Degrees/Overcast
FALCONS
How is Kyle Pitts the TE5, when he's looked like a disappointment all season? His overall line of 64-101-949-1 is solid, though he would do wonders for his offseason outlook by adding to his TD total during the high-profile championship week. Pitts has at least 6 targets in all but 1 game since Week 4. And in that game he saw 5 targets in Week 11. The Bills are #3 against the TD, but in Week 14 Rob Gronkowski went for 5-9-62-0. That'd be a respectable line in championship week.
DEF QB (25) RB (11) WR (30) TE (21)
BILLS
What to do with Cole Beasley and Gabe Davis back? Beasley and Davis had 8 and 7 targets in Week 15, the last game all Bills WRs were together. Even in the cold weather, the Bills will throw. They're passing at the #3 rate in the NFL this season. Aside from Stefon Diggs this week, the next WR in the pecking order for me is Davis, followed by Beasley. Also, start Devin Singletary. He has 23 and 17 touches, respectively, in the past 2 games.
DEF QB (11) RB (25) WR (10) TE (3)
GIANTS (4-11) @ BEARS (5-10)
CHI -6 / 37
14 Degrees / Overcast
GIANTS
Are you sitting Saquon Barkley? He had just 34% of snaps last week and 16 total touches. Are the Giants preserving him for 2022? I have to make the decision in one consolation bracket, and will start him because the other options are not good. The Bears gave up big games to Dalvin Cook and Rashaad Penny the past 2 games, so at least Barkley is in a spot where he can make the most of his opportunities. 
DEF QB (17) RB (26) WR (21) TE (19)
BEARS
Start Darnell Mooney in sub-freezing temps? He has no more than 63 receiving yards since going for 123 in Week 12. With uncertainty at the QB for the Bears – as of this writing a starter has not been named, with Justin Fields still nursing an injury – and the extreme cold weather, this is an environment for rushing the ball.
DEF QB (29) RB (24) WR (26) TE (24)
CHIEFS (11-4) @ BENGALS (9-6)
KC -5 / 49.5
29 Degrees / Overcast
CHIEFS
Trust Darrell Williams in your championship game? Williams had 19, 22 and 20 touches in the last 3 games with no Clyde Edwards-Helaire. He's adentro. Also, Travis Kelce has a smash spot, though keep in mind that Tyreek Hill talked about how last week he was winded coming off the COVID list. You're starting Kelce, but that is something to keep in mind if he does not deliver a big game.
DEF QB (6) RB (19) WR (8) TE (7)
BENGALS
Can Joe Burrow have anything close to an encore against the Chiefs? He went for 300 and 348 passing yards in Weeks 13-14. Ja'Marr Chase, Tee Higgins and Tyler Boyd all did well last week, though this is a step up in weight class against the Chiefs' D. Keenan Allen and Hunter Renfrow both did well against the Chiefs lately, and Burrow will throw plenty in a game that has the potential to shoot out.
DEF QB (23) RB (6) WR (26) TE (32)
DOLPHINS (8-7) @ TITANS (10-5)
TEN -3.5 / 41
29 Degrees / Overcast
DOLPHINS
Is Jaylen Waddle a league winner? Si! He has 10+ targets in his last 3 starts and had 9 in the previous game. He's done plenty in those games, as his "worst" game saw him catch 9 balls for 90 yards in Week 13. After what Deebo Samuel did to the Titans secondary last week, Waddle is in a good spot to help you win.
DEF QB (1) RB (1) WR (1) TE (5)
TITANS
Will Titans attack with the running game? The Dolphins are on short week after a dominant MNF victory, and going to cold weather. Bet on D'Onta Foreman, who had 24 touches in Week 15. Miami may double team A.J. Brown with its secondary, and the Titans won't have much backup for the all-world wideout..
DEF QB (2) RB (2) WR (13) TE (6)
RAIDERS (8-7) @ COLTS (9-6)
IND -6 / 44.5
DOME
RAIDERS
Trust in Josh Jacobs? Only 1 time since Week 12 has he gone under 18 touches. He has 9, 6, 4 and 3 targets in the last 4 games. The Colts gave up 127 total to Chase Edmonds last week. Jacobs is an RB1 this week.
DEF QB (15) RB (30) WR (6) TE (24)
COLTS
At 297-1626 with 19 total TDs, is Jonathan Taylor a bet to go over 200 yards? Very possible. The Raiders are down several defenders because of COVID, and their defense was getting trampled for 114.4 total yards from RBs. Even if Carson Wentz misses the game, Michael Pittman is a must start with Las Vegas CB Casey Heyward on COVID IR.
DEF QB (4) RB (18) WR (2) TE (27)
JAGUARS (2-13) @ PATRIOTS (9-6)
NE -15.5 / 41.5
46 degrees / Overcast
JAGUARS
Is Dare Ogunbowale a must start? The Patriots have allowed 100-yard performances to Jonathan Taylor, D'Onta Foreman and Dontrell Hilliard since Week 12. Even if the Jaguars fall behind, as expected, Ogunbowale will likely stay in on the field. He ran routes on 76% of snaps last week. 
DEF QB (26) RB (21) WR (17) TE (10)
PATRIOTS
Starting both Rhamondre Stevenson and Damien Harris in the championship game? Both will get a heavy workload against a defense allowing 118.6 yards per game, but there have been players who are slowed in their first game back from the COVID list. So be warned on Stevenson. I'm only recommending starting Mac Jones in a super flex league title game. The weather won't be extreme like in the Midwest.
DEF QB (5) RB (12) WR (4) TE (1)
BUCCANEERS (11-4) @ JETS (4-11)
TB -13 / 45.5
48 Degrees / Overcast
BUCCANEERS
Is Gronk possibly a league winner? Before last week's 2 targets, he had 8-11 targets in the previous 5 games.The Jets are allowing 5 catches and 60.6 yards per game to the TE. Other no-brainer starts are Tom Brady, Ronald Jones and Antonio Brown. Ke'shawn Vaughn is a possibility in a game that could get away against a run defense that allowed 100-yard games to Miles Sanders, Alvin Kamara and Duke Johnson Weeks 13-15.
DEF QB (28) RB (10) WR (24) TE (20)
JETS
Is Michael Carter a starter for you? His snaps were 73% to 32%  compared to Tevin Coleman last week, and Carter reached 18 total touches. It's a tough matchup on paper, but Devin Singletary put up 89 total yards in Week 14. It would be nice if Zach Wilson got Carter anywhere near the target numbers with other QBs on the Jets.
DEF QB (24) RB (27) WR (5) TE (26)
EAGLES (8-7) @ WFT (6-9)
PHI -3 / 46
56 Degrees / Overcast
EAGLES
Starting Jordan Howard (11), Boston Scott (12) and/or Kenneth Gainwell (1)? In parenthesis are the total touches last week after Sanders was ruled out. Howard needs to clear the stinger he suffered last week.
DEF QB (3) RB (5) WR (3) TE (13)
WFT
Watching for Antonio Gibson (hip) to start? Or is he afuera? He looked decent against the Cowboys on Sunday night, showing good burst in his limited opportunities before the game got out of hand. In Week 14, he had 21 total touches for 65 yards and 1 TD. I have to make the starting decision in one league, and as of now I have him in my lineup. 
DEF QB (32) RB (16) WR (28) TE (23)
RAMS (11-4) @ RAVENS (8-7)
LAR -3.5 / 46.5
45 Degrees / Overcast
RAMS
Is Matthew Stafford in a spot to be QB1 overall? Baltimore allowed 12 TDs since Week 12, including the nuclear 525 passing yards and 4 TDs from Burrow last week. Start all 3 Ram WRs against an injury-marred secondary. Another decent passing environment, with the weather cooperating.  
DEF QB (12) RB (20) WR (25) TE (8)
RAVENS
Who's the best receiver option for the Ravens? Mark Andrews has 8-13 targets starting in Week 9. He's a good bet to supplant Travis Kelce as the TE1 overall on the season. Marquise Brown has 31 targets in the last 3 games, and the Rams have given up some yardage to WRs of late.
DEF QB (31) RB (17) WR (32) TE (25)
1 PM GAMES
BRONCOS (7-8) @ CHARGERS (8-7)
LAC -6 / 45
DOME
BRONCOS
How will Javonte Williams and Melvin Gordon do? They had 17 & 18 touches, respectively, in Week 12 against the Chargers. Williams caught 3 of 4 targets for 57 yards last time, so he's the better bet this week. Both are still starters, though the Chargers' run defense should have players back from the COVID list this week. 
DEF QB (10) RB (13) WR (11) TE (11)
CHARGERS
Is Justin Herbert going to respond after a lackluster game in Houston? We should all be so gifted for a 336-yard, 1-TD performance (with 2 picks) being considered lackluster. Herbert went 303-2-2 against Denver last time, adding 36 rush yards. This game will rest on Herbert's broad shoulders, with a big assist from the returning Austin Ekeler (99 total yards & 1 TD last time against Denver) to lead the Chargers. 
DEF QB (30) RB (28) WR (20) TE (29)
TEXANS (4-11) @ 49ers (8-7)
SF -12.5 / 44
51 Degrees / Clear
TEXANS
Starting Rex Burkhead? The 49ers have held Dalvin Cook (39 yards) and Joe Mixon (58) in check on the rushing side. Opposing running games have been held in check by the 49ers, since Week 12. Burkhead is only a start in extreme emergency conditions, because he won't get near 149 yards like last week.
DEF QB (13) RB (31) WR (15) TE (17)
49ERS
Trusting in Trey Lance? This is purely for his rushing upside. Back in his Week 5 start against the Cardinals, Lance ran 16 times for 89 yards. What's working for him is that he can drop short passes like he did with Deebo Samuel in Week 4, when Samuel caught 8 balls for 156 yards and 2 TDs. 
DEF QB (21) RB (14) WR (31) TE (9)
CARDINALS (10-5) @ COWBOYS (11-4)
DAL -5.5 / 51.5
DOME
CARDINALS
Kyler Murray still a must start with no Deandre Hopkins? Yes, he's getting it done on the ground, with 59, 61, 3 and 74 rushing yards last 4 games. Christian Kirk has 21 targets in the last 2 games, so he's the most likely WR target – and probably only. Zach Ertz is a must start, with 24 targets the last 2 games.
DEF QB (14) RB (4) WR (27) TE (4)
COWBOYS
Is Dak Prescott out of the slump? It's a home-road thing. His "slump" coincided with 3 straight road games. Prescott went for 705 yards and 6 TDs in his last 2 home games. His TD-INT rate is 20-2 at home, and just 9-8 on the road (7 games each). He's home this week, so fire up Dak!
DEF QB (16) RB (8) WR (22) TE (11)
PANTHERS (5-10) @ SAINTS (7-8)
NO -7 / 38.5 
DOME
PANTHERS
Trust DJ Moore? With Sam Darnold starting through Week 9, Moore averaged 7-13 targets and was the WR11 over those games. Moore is adentro. 
DEF QB (8) RB (15) WR (9) TE (16)
SAINTS
Is Taysom Hill a top 10 QB in championship week? Yes, as the Panthers are getting hit hard on defense with COVID IR players. Hill has 11 rushing attempts in each of his last 3 games, and the Panthers gave up a 9-30-2 rushing line to Jalen Hurts in Week 5.
DEF QB (9) RB (9) WR (23) TE (15)
LIONS (2-12-1) @ SEAHAWKS (5-10)
SEA -7 / 42.5
37 Degrees / Possible Drizzle
LIONS
Firing up D'Andre Swift? He's practicing in full, but probably won't get a full workload without playing since Week 12. Shoulder injuries are tricky with RBs, and he hasn't been hit since Thanksgiving. Fire up Amon-Ra St. Brown, who has 46 targets over the last 4 games. 
DEF QB (18) RB (23) WR (18) TE (31)
SEAHAWKS
Is Rashaad Penny a league winner? These are his touches the past 3 weeks: 17-13-17. He has over 130 rushing yards twice. So, yes, you're starting him. Adentro!
DEF QB (19) RB (29) WR (14) TE (30)
SUNDAY NIGHT FOOTBALL 
GB -6.5 / 47.5
2 Degrees / Partly Cloudy
SPECIAL NOTE: Dome team playing in sub-freezing weather!
VIKINGS
Are you starting Kirk Cousins on prime time in Arctic temperatures? The Vikings have been lucky in the scheduling department in the Cousins era, as they have avoided trips to Green Bay and Chicago in December. On Nov. 18, 2018, Cousins completed 30 of 46 passes for 262 yards, 2 TDs and 2 INTs in a 25-20 loss to Chicago on Sunday Night Football. The game-time temperature was 33 degrees. Dome teams traditionally do not travel well in these extreme conditions.
DEF QB (22) RB (22) WR (29) TE (28)
PACKERS
Is this an A.J. Dillon game? Aaron Jones is already a must start. Last year in their final 3 regular-season games (2 at home and 1 at Chicago), the Packers rushed for 195, 234 and 79 yards, respectively, as a team. Rodgers went for 240 passing yards and 4 TDs in that last game in Chicago. Expect lots of running on the frozen tundra of Lambeau Field.
DEF QB (27) RB (7) WR (12) TE (18)
SOURCES: PFF / Pro-Football-Reference / Fantasy Pros / Football Guys / Lineups.com / NFLWeather.com