Happy Halloween, Familia! How I used to love Halloween when I The first few days of this week felt like the NFL world was on fire. Derrick Henry out for the season. Jameis Winston, too. Aaron Rodgers and Saquon Barkley going on the COVID list (Barkley hopefully a false positive). Henry Ruggs' heartbreaking situation – prayers up for the family of the young woman who lost her life. It just seemed like the news didn't stop.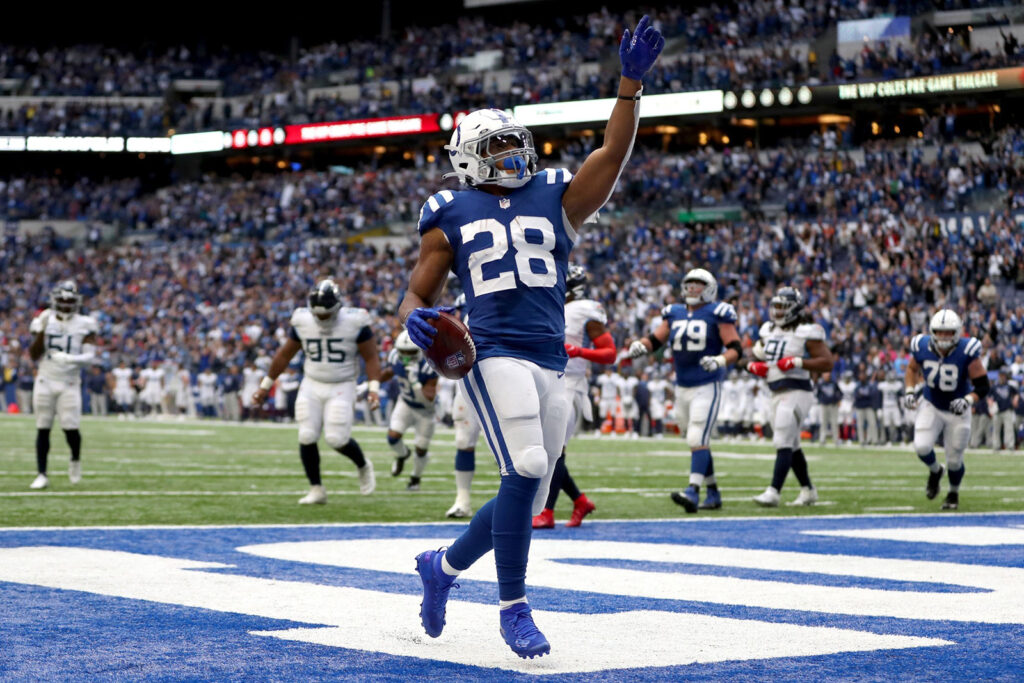 It made me wonder how people survived without cellphones and computers spitting out up-to-the-minute news and information. I still remember waiting for the nightly local news to get sports updates and highlights about 20 minutes into the 30-minute broadcast. ESPN changed things and made sports even more accessible, but the internet is both a blessing and a curse when it comes to updates. It's easy to be tied to the phone for constant updates.
We're here to break through all the noise and make your start/sit decisions easier. I'm going to still break down every game, but I'll divide this into a pair of articles. This one focuses on Thursday Night Football and the early Sunday games (10 a.m. PT). Tomorrow's article will focus on the late and prime time games. Teams on a bye this week are the Buccaneers, Lions, Seahawks and Washington. So let's get into it. Salud!
THURSDAY NIGHT FOOTBALL
NYJ (2-5) @ IND (3-5)
IND -10.5 / 46.5
JETS
Is Mike White for real? Those 405 passing yards and 3 TD with 2 INT were good enought to be the QB2 on the week. His checkdowns made Michael Carter the RB2 for Weeks 7-8. His numbers were 26-114-1 rushing and 17-23-162-0 receiving. Even against a tough defense, hard to sit Carter this week. The Colts are among the worst pass defenses, so if I'm looking at starting one of these pass catchers it's Jamison Crowder. He got 9 targets last week, and should see more work than Elijah Moore or Denzel Mims, who are all AFUERA.
DEF QB (12) RB (32) WR (5) TE (21)
COLTS
Jonathan Taylor is my RB1 this week, as overall on the season he's RB3 with 121-649-6 and 915 total yards (7 total TDs). Carson Wentz in the past 4 weeks has 9 TDs, but outside of his 402-yard MNF vs the Ravens, has not surpassed 231 pass yards. The Jets have given up 8 passing TDs in the last 4 games, and all QBs have thrown for no less than 259 yards. Michael Pittman Jr. went 10-15-86-2 last week and is WR11 overall. He saw 31% of targets last week and has no T.Y. Hilton taking away targets this week. Adentro! Mo Alie-Cox and Jack Doyle are Afuera, even in a decent matchup.
DEF QB (23) RB (3) WR (26) TE (26)
SUNDAY 10 A.M.
CLE (4-4) @ CIN (5-3)
CIN -2.5 / 46.5
BROWNS
The Battle of Ohio, and Browns dealing with the OBJ drama. They've been resilient before in AFC North battles (see Steelers playoff game with HC Kevin Stefanski on the COVID list). Baker Mayfield is just not doing enough passing to be a start this week. Nick Chubb came back to 17 touches after he missed 2 games. I'm calling for a big week in this matchup. No D'Ernest Johnson in your lineup. He had only 4 touches last week. Jarvis Landry? He's the only pass catcher I'm looking to start, as he has 18 targets the last 2 games, and should see plenty of looks in a high-scoring game.
DEF QB (26) RB (8) WR (20) TE (13)
BENGALS
Joe Burrow is #3 in the league with 20 TD passes, and has thrown 3 TDs in each of his last 3 games. He's the QB8 overall, and the Browns have been beaten up by Kyler Murray and Justin Herbert recently. Joe Mixon took back the lead caballo role, with 88% of rush attempts on the way to 91 total yards and 2 TDs. Ja'Marr Chase has 9 targets in 4 of the last 5 games. Adentro every week, no dudas! Tee Higgins is still getting at least 6 targets the last 4 games, with 47% & 44% air yards last 2 games. Tyler Boyd rounds out the WR trio, and he has 15 targets in the last 2 games. All are Adentro. No C.J. Uzomah this week, as only Travis Kelce has had a big game vs Browns.
DEF QB (16) RB (22) WR (21) TE (9)
DEN (4-4) @ DAL (6-1)
DAL -10 / 49.5
DENVER
Noah Fant was placed on the COVID IR, so he'll be sitting out a great matchup. Javonte Williams, Melvin Gordon, Courtland Sutton and Jerry Jeudy are all Adentro calls. Is Albert Okwuegbunam a start with no Fant? If you really need a dart throw, going against the #22 TE defense would be good. I'm putting Teddy Bridgewater in the Afuera section. I just don't think he's startable on the road, even against a defense that's #22 against the QB.
DEF QB (2) RB (12) WR (7) TE (4)
DALLAS
Dak Prescott, Ezekiel Elliott, Tony Pollard, Amari Cooper and CeeDee Lamb are all automatic every week. Keep an eye on Lamb's ankle to make sure he's starting. Do you start Dalton Schultz even in a tough matchup? Darren Waller and Mark Andrews had 59 & 67 yards, respectively, against Denver. So if you're starting him, don't expect a blowup week.
DEF QB (22) RB (6) WR (25) TE (22)
HOU (1-7) @ MIA (1-7)
MIA -6.5 / 46
DOLPHINS
Is the O/U too low? This is one of those games where both teams' defenses are so down, that it becomes a feeding frenzy of fantasy points. Tua Tagovailoa, Jaylen Waddle, Mike Gesicki and Devante Parker all Adentro against a Texans defense that is allowing 266.2 passing yards and 1.9 TD. Before his tough game against the Bills, Tua passed for 329 and 294 yards against the Jaguars and Falcons defenses that are more comparable to the Texans. Are you tempted to sit Myles Gaskin? He has 27 carries and 8 targets in the last 2 games, and the Texans are getting lit up for 135.4 rushing yards just by the RBs.
DEF QB (24) RB (27) WR (19) TE (27)
TEXANS
Tyrod Taylor is trending toward a return from a hamstring injury, and he could be a play in super flex leagues. Brandin Cooks? An automatic Adentro. I can't in good trust or recommend any of the Houston RBs. Even in a great matchup, the only other player I'd consider starting is Nico Collins as a flex.
DEF QB (30) RB (25) WR (31) TE (28)
ATL (3-4) @ NO (5-2)
NO -6 / 42
FALCONS
You're starting Cordarelle Patterson because of his hybrid role will see him line up plenty outside as a wideout, where the Saints have been vulnerable. Kyle Pitts is lining up more than 70% as a WR, so look for him to take advantage of all DBs not named Marshon Lattimore. Russell Gage had 0 targets last week, but with Calvin Ridley sitting out a great matchup against the Saints this is a good dart throw. Matt Ryan hurt his hand in the last game and it showed in his going 146-1-2. Now he's going against New Orleans, so I'm putting him Afuera. Same for Mike Davis, who before getting 14 touches last week, had only 4 the previous week.
DEF QB (29) RB (25) WR (8) TE (17)
SAINTS
With Michael Thomas out for the season, who is going to be el mero mero for targets on the Saints? Anyone from Marquez Callaway, Tre'Quan Smith or Deonte Harris ready to step up? With the Falcons #8 against WRs, I'm going to put all 3 Afuera, but I'm keeping an eye on usage even more. Taysom Hill going into plus matchup, and he lit up the Falcons in two games last year for 4 combined TDs. I've already got a DFS lineup with him. Alvin Kamara is Adentro every week, but I'm remembering the lack of targets he saw last year. Adam Trautman would be an automatic sit, but because he's a TE and saw 6 targets last week, he's borderline Adentro.
DEF QB (5) RB (4) WR (27) TE (3)
LV (5-2) @ NYG (2-6)
LV -2.5 / 46.5
RAIDERS
So much turmoil with the Henry Ruggs accident and release coming only a couple weeks after the Jon Gruden firing. However, the Raiders won both games. Derek Carr, Josh Jacobs and Darren Waller are all Adentro. For Jacobs against the #23 RB defense, it's an especially plus matchup. Waller is back practicing after missing a week with an ankle injury. As if you didn't need enough reason to start Carr, Dak Prescott, Matthew Stafford and Patrick Mahomes have all had great games taking on the Giants. Will either Bryan Edwards or Hunter Renfrow jump in to take the targets that were going to Ruggs? It's a good matchup, but of the two I'd trust Renfrow more because of volume.
DEF QB (13) RB (24) WR (2) TE (30)
GIANTS
The Raiders are just two weeks removed from having Teddy Bridgewater throw for 334 yards and 3 TDs (and 3 INTs). Can Daniel Jones do the same with Sterling Shepard out and Kenny Golladay (knee) still hurting. I'm calling for a good game from Kadarius Toney, who is battling a thumb injury. How many times has Evan Engram been a good play in a plus matchup? He has no more than 55 receiving yards in any game. No gracias. Same for Devontae Booker, who has gotten carries in the teens 4 weeks in a row, but has just a high of 60 rushing yards.
DEF QB (17) RB (23) WR (23) TE (15)
NE (4-4) @ CAR (4-4)
NE -4 / 41

PATRIOTS
Damien Harris is the easy Adentro on the Patriots. Is Mac Jones startable? Kirk Cousins went for 373 passing yards against the Panthers, but Matt Ryan and Daniel Jones both had subpar games against the same D. Hunter Henry getting 9% of targets and 68% routes run is the only pass catcher I'm looking to start here. The WRs just don't offer the upside, unless you want to claim you started Jakobi Meyers when he scored his first NFL TD.
DEF QB (6) RB (16) WR (16) TE (2)
PANTHERS
Christian McCaffrey is back practicing, so his is a situation to monitor closely. If no CMC, Chuba Hubbard is a player to start because of the dearth of healthy RBs available. D.J. Moore has not been the world beater he was the first 4 weeks of the season, but when you're getting double-digit targets in 5 of 8 games, he's Adentro every week. Who's Afuera? Sam Darnold and Robby Anderson, no extra analysis needed.
DEF QB (11) RB (2) WR (6) TE (14)
BUF (5-2) @ JAX (1-6)
BUF -14.5 / 48.5

BILLS
Betting tip: Take JAX +14.5! Double-digit home underdog! As for who to start on the Bills, pretty much everyone. Josh Allen and Stefon Diggs are unquestioned Adentro. Emmanuel Sanders – even coming off a donut in receptions last week – and Cole Beasley are going to get the targets that would have gone to Dawson Knox (broken hand). It is hard to recommend Gabriel Davis, who's only seeing 6% of targets on the season. He did score last week, but only in a league with a lot of flexes is he startable. The 7 targets for Zack Moss last week were encouraging, but he's startable only in deep leagues. Devin Singletary has been surpassed in both carries and targets, so Afuera.
DEF QB (1) RB (1) WR (1) TE (8)
JAGUARS
The only player I'm looking to start on the Jaguars is James Robinson, who came out of last game with a heel injury. So even going against the top RB defense, Robinson is getting enough work to justify starting him. Confronting the #1 defense against both the QB and WR, Trevor Lawrence, Marvin Jones, Jamal Agnew and Laviska Shenault Jr. are all Afuera for this week.
DEF QB (27) RB (18) WR (24) TE (25)
MIN (3-4) @ BAL (5-2)
BAL -6 / 49.5

VIKINGS
After his Halloween game left his fantasy managers feeling like they got a bag full of candy corn, Kirk Cousins has a decent matchup against a defense that is allowing 312.3 passing yards a game. Adentro. Justin Jefferson and Adam Thielen are easy Adentro this week. Tyler Conklin against the worst defense vs. the TE? Si señor. Dalvin Cook will steamroll the #26 defense.
DEF QB (7) RB (14) WR (28) TE (6)
RAVENS
Want more reason to start Lamar Jackson? The Vikings allow 104.6 rushing yards a game. Is there any RB worth starting on the Ravens? No one is taking the lead caballo roll, so the only one to consider is Latavius Murray if he's healthy. Mark Andrews is Adentro, even in a tough matchup. Marquise Brown would have been Adentro even if he weren't coming off 14 targets last week. Rashod Bateman is looking at building off his 6 targets in back-to-back games, and very much a start this week.
DEF QB (18) RB (26) WR (15) TE (32)
SOURCES: PFF / Pro-Football-Reference / Football Guys / Lineups.com