Who else is still experiencing a food hangover? Thanksgiving was awesome, with 3 of my favorite Fs: Family, Food and Football. The Raiders-Cowboys salvaged what was otherwise a tough day of football. We're going to keep an eye on the injuries for D'Andre Swift and Darren Waller. Salud to Tre'Davious White, the all-world corner for the Bills who tore his ACL in New Orleans. Wishing you a safe and steady recovery. Salud to you.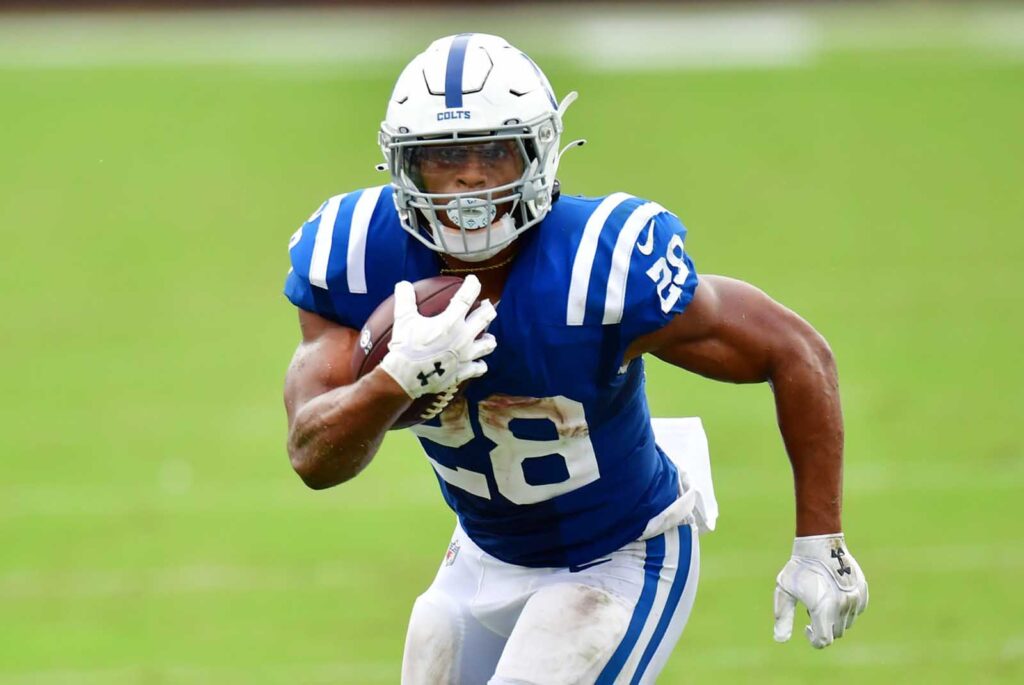 I went through the Sunday games, and here's a breakdown for every team. Records, point spreads and over/unders are included. All the defensive rankings listed for each team are for Weeks 8-11. I'm thankful that weather does not appear to be an issue, as our amigos at NFLWeather.com show no snow or rain in the forecast for the outdoor games. There's some cold and light winds, but it's November, so it's to be expected.
Bueno, it's time to break down some football. Vamonos! Salud!
PIT (5-4-1) @ CIN (6-4) 
CIN -3.5 / 45
PIT
Najee Harris is an Adentro lock and one of the top DFS plays against a defense that's allowing 185 total yards to the RB position. You're only playing Ben Roethlisberger in Superflex leagues, and even that's a maybe. Diontae Johnson is a lock for 10+ targets, and Chase Claypool looked healthy in going 5-9-93-0 against the Chargers. Pat Freiermuth has 16 targets the past 2 games and is going against a Bengals defense that just got gouged by Darren Waller for 7-8-116-0.
DEF QB (17) RB (25) WR (15) TE (22)
CIN
Austin Ekeler and D'Andre Swift had massive games against the Steelers' short-handed defense the past 2 games. Some defenders are returning, but Joe Mixon is still a great play. His 30 carries last week is an anomaly, but he'll still get touches in the teens. Don't let Burrow's slow game against the Raiders last week deter you. He's thrown 2+ TDs in 8 of 10 games this season, and has to have a big game for the Bengals to win. Ja'Marr Chase had a quiet week last week, but averaged almost 11 targets the 3 previous games. Adentro. Tee Higgins is also a solid bet to see 8-10 targets, so you're playing him. If someone gets squeezed out, it could be Tyler Boyd, who has just 1 game above 50 receiving yards in his last 6. C.J. Uzomah, with more than 5 targets once this season, is only an option if you need a streamer for Travis Kelce.
DEF QB (20) RB (31) WR (10) TE (31)
TB (7-3) @ IND (6-5)
TB -3 / 53
TB
Tom Brady is an easy play against a defense that's allowing 266.8 passing yards per game. Adentro everywhere. Leonard Fournette is a good play this week because he's been getting work in the passing game – 15 targets last 2 games. The Colts are giving up just 67.7 rushing yards to the RB (#5), but are allowing 44.8 receiving yards to the position. Mike Evans and Chris Godwin's are easy starts against that Colts pass defense. Rob Gronkowski was back up to 8 targets last game, his most since Week 3. Dawson Knox and Dan Arnold both had good games against the Colts. 
DEF QB (10) RB (15) WR (11) TE (9)
IND
Jonathan Taylor, if you have him just pat yourself for being lucky enough to pick in the middle of the first round. That 5-TD performance is just the culmination of a run where he's seen at least 15 touches since Week 4. And no Vita Vea to get in his way. Just stay healthy, por favor. Carson Wentz was on a roll with 2+ TDs in 6 straight games before being held without a scoring pass the last couple. If Wentz is forced to throw to keep up with Brady, we'll see if he can surpass the 256 yards that Taylor Heinicke threw for 2 weeks ago. Michael Pittman Jr. is the only Indy receiver I recommend, though he's more WR2 since he has 16 targets the past 3 games. T.Y. Hilton, only in an emergency. If you're starting Mo Alie-Cox, light a veladora for a TD.
DEF QB (29) RB (5) WR (28) TE (29)
CAR (5-6) @ MIA (4-7)
CAR -2 / 42
CAR
If you're looking to start Cam Newton, keep in mind that Lamar Jackson (39 yards) and Josh Allen (55 yards) both did damage with their legs against the Dolphins. Christian McCaffrey is a no-brainer, as is D.J. Moore, who has exactly 7 targets each of the last 3 weeks. Sit Robby Anderson, as he has no more than 37 receiving yards in any game since Week 5.
DEF QB (2) RB (20) WR (2) TE (4)
MIA
Tua Tagovailoa is startable only in Superflex leagues, as the Panthers have not allowed a 300-yard passer since Kirk Cousins in Week 6. Over the past 4 weeks, the Panthers are being generous to RBs both rushing and receiving (163 combined yards per game), so Myles Gaskin is a play. Jaylen Waddle has at least 8 targets all but once the past 6 weeks, so even against a solid Carolina pass D he's playable. As good as he's been this season, I'm only starting Mike Gesicki if there are no other options. TEs like Hunter Henry, Kyle Pitts and Zach Ertz have had trouble against the Panthers lately. 
DEF QB (24) RB (2) WR (29) TE (13)
TEN (8-3) @ NE (7-4)
NE -7 / 43.5
TEN
Is anyone left to play with Ryan Tannehill? A.J. Brown is out for Week 12. Tannehill is AFUERA with so many weapons hurt and those who aren't are going against the #1 pass defense. D'Onta Foreman will handle most of the rushing duties for the Titans, though Dontrel Hilliard catching passes out of the backfield is a dark horse play. The Patriots have seen McCaffrey, D'Ernest Johnson and Austin Ekeler all catch passes for at least 50 yards against them. 
DEF QB (27) RB (10) WR (23) TE (12)
NE
Mac Jones is a sneaky play this week at home, but I got into that earlier this week. The Titans have been beatable in the air lately. On the ground they're more stout, and even though Damien Harris and Rhamondre Stevenson are very good individually their timeshare will make at the very least Harris a tough start. The receiver group is almost as hard to decipher, with Jones spreading the ball around. Hunter Henry had a streak of scoring in 6 of 7 weeks, so he's a starter at TE. Among the WRs, I'm Afuera on all of them. 
DEF QB (1) RB (17) WR (1) TE (7)
PHI (5-6) @ NYG (3-7)
PHI -3.5 / 45.5
PHI
You're starting QB1 Jalen Hurts. How does that look on your screen? As the season is moving along, Hurts is running more and more. He's looking somewhat like Lamar Jackson in 2018, the year before the MVP. Hurts has surpassed 200 passing yards just once since Week 4, and his 114 rushing attempts are tops in the league. With Jordan Howard already declared out, that's one less players to take carries away from Miles Sanders. He had 16 carries for 94 yards, and faces a defense that gave up 74 total yards to Leonard Fournette last week. DeVonta Smith is the only WR to trust here, as he's drawn 6 targets in each of the past 3 games. Quez Watkins could be a dart throw, as the speedy Tyreek Hill and Mecole Hardman got behind the Giants D in Week 8. Dallas Goedert is a start, especially with the Giants allowing an average of nearly 7 catches for 75.7 yards to the position.  
DEF QB (26) RB (9) WR (5) TE (32)
NYG
Daniel Jones, Ay, Ay, Ay! That #26 ranking against the QB is tempting, as is the fresh memory of Trevor Siemien tossing 3 TDs against them last week. But can you trust Jones with a new OC in Freddie Kitchens and the QB not throwing for more than 242 yards since Week 4? Afuera. Saquon Barkley said his ankle is going to nag him for a while, but his workload is only going to increase as the weeks go because he's the biggest threat the Giants have. Sterling Shepard is already out, and Kadarius Toney may join him. This may be the last time that I recommend Evan Engram, but the matchup is so tasty. Several TEs have had good games against the Eagles, and from Weeks 6-11 there have been 5 TDs scored by the position. 
DEF QB (15) RB (27) WR (26) TE (23)
ATL (4-6) @ JAX (2-8)
ATL -2 / 46ATL
Cordarrelle Patterson is looking like he's returning from an ankle injury, which is great news for the Falcons and fantasy managers. Although the Jaguars have defended the RB position better of late, they're still allowing 106.7 total yards to the position since Week 8. C-Patt, Adentro! Matt Ryan needs some help up front, because the Jaguar have 10 sacks in the past 4 games. Kyle Pitts is the only Falcons pass catcher getting consistent targets, and Patterson's return should free the rookie up more than the past couple weeks. But that 163-yard performance in Week 7 is feeling like a long time ago.
DEF QB (16) RB (29) WR (22) TE (3)
JAX
Fabio Football (aka Trevor Lawrence) has struggled mightily the past 3 games, not surpassing 162 passing yards in any of those contests. He's possibly a cheap DFS option, but in single-QB it's hard to trust him. James Robinson got a healthy tag at the end of the week, so he's Adentro all over against the defense that was tagged for 140 total yards by Patriots RBs last week. HC Urban Meyer made a little news when he said that they might give Laviska Shenault Jr. some carries out of the backfield. If you want a dart throw as a flex option, this is the week to try Shenault. Marvin Jones Jr.'s 52 receiving yards against the 49ers was his high since Week 6. He's another player who's only a flex dart throw, though I'm calling him Afuera this week. 
DEF QB (9) RB (3) WR (25) TE (1)
NYJ (2-8) @ HOU (2-8) 
HOU -2.5 / 44.5
NYJ
The Football Gods taketh away Michael Carter, but giveth with Zach Wilson. The #2 selection is forced back into the starting lineup because two other QBs are on the COVID IR. He hasn't played since Week 7, so I'm sitting him to see how he looks before I look to add him to Superflex lineups. Add to it that the Texans have 6 INTs the past 2 weeks, with 4 of them coming from Tannehill. Ty Johnson is the next man up in the Jets backfield, and his main contributions have been in the passing game. Against a defense that's allowing 94.3 rushing yards and an additional 35.3 to the RBs, Johnson is in a good spot. We'll see if the Elijah Moore targets – 25 in the past 3 games – continue with Wilson under center. Them being rookies together, he's the best bet to pick up the connection. Corey Davis and Jamison Crowder are the only other WRs getting any significant looks, though neither has surpassed 44 receiving yards the past 3 games. Afuera on both.
DEF QB (30) RB (32) WR (30) TE (16)
HOU
Tyrod Taylor is an intriguing play in DFS at $5300 against a Jets defense that has been torched by opposing QBs for 6 games in a row. Brandin Cooks remains his main target, even though he only saw 3 looks last game. No other pass catcher is really worth starting, even in a good matchup. Look for Rex Burkhead to find some running room against teh #32 RB defense that was gouged for 200 all-purpose yards from Jonathan Taylor in Week 9. He had 18 carries last week, and Phillip Lindsay was released. Interestingly, David Johnson had 16 touches. T
DEF QB (14) RB (21) WR (31) TE (18)
1 PM GAMES
LAC (6-4) @ DEN (5-5)
LAC -2.5 / 48

LAC
What do the Chargers do for an encore after that epic victory over the Steelers last Sunday night? Justin Herbert threw for 300+ yards against the Eagles and Steelers, sandwiched around a clunker at home versus the Vikings. The rocket-armed wunderkind is not afraid of pitching it in the Mile High City, as he threw for 278 yards and 3 TDs last year in Denver. Keenan Allen has double-digit targets in 4 straight games, so look for that to continue. Mike Williams caught the game-winner last week, but that was his first game above 58 yards since Week 5. You start him, but don't expect more than a WR2 week. Austin Ekeler is the RB2 on the season with a bullet after his epic 4-TD game. Jordan Howard and Boston Scott both surpassed 80 yards against the Broncos a couple weeks ago. Adentro all the time. The Chargers still are trying to find another RB to complement him, and probably will continue to do so through the next NFL Draft.
DEF QB (18) RB (14) WR (21) TE (25)
DEN
While the Chargers aren't the run funnel that they were early in the season, you're still starting Javonte Williams and Melvin Gordon. Each is in the RB2 range. Teddy Bridgewater is only a starter in Superflex leagues. Hard to see him doing much against a Chargers secondary that is getting healthy. Jerry Jeudy is the only WR that I would start with any confidence, as he has 17 targets in the past 2 weeks. Courtland Sutton has 14 total targets in the 4 games since he had that total in Week 6 alone. Hard to trust him. Noah Fant is consistently in the back end of the TE1 discussion, and the Chargers have given up 4 TDs the past 2 weeks.
DEF QB (20) RB (19) WR (19) TE (2)
LAR (7-3) @ GB (8-3)
LAR -1 / 47
LAR
Matthew Stafford was picked off 4 times in the past 2 games. Coming off the bye he should be close to 100% after some nagging injuries slowed him of late. The Packers got tagged by Kirk Cousins for 341 yards and 3 TDs last week, but this game is in chilly Lambeau Field. You're starting Stafford, but I'm worried this could be another tough game for him. Cooper Kupp will still see plenty of footballs coming his way, as his 116 targets are 2nd in the NFL. Odell Beckham Jr. is a flex option, with all reports coming that he's more up to speed in the offense. Until I see how much OBJ is ingrained in the offense, I'm sitting Van Jefferson. Tyler Higbee is the TE16 on the season, and an interesting note about this matchup is that in the past 2 game TEs have caught all 13 of their combined targets. Higbee is Adentro, but just barely. Darrell Henderson also benefited off the bye because of his own injury issues, and is a good start after Dalvin Cook stuck it to the Packers for 115 total yards last week. 
DEF QB (19) RB (3) WR (18) TE (30)
GB
OK, so it's a fractured toe, not COVID toe. Check. Aaron Rodgers has played great through injuries before, like last week when he passed for 385 yards and 4 TDs. This game will be a challenge with Aaron Donald, Leonard Floyd, Von Miller and Jalen Ramsey on the other side. The O-line lost Elgton Jenkins to a season-ending injury, which is bad timing with this crew coming to town and rested. You're still starting Rodgers and Davante Adams, but another option to play is Marquez Valdes-Scantling. The artist known as MVS saw 10 targets last week, catching the 75-yarder for the game-tying TD. Rodgers kept looking for him deep, so that will continue this week. The reports that Aaron Jones might be back this week appear to be too ambitious for a conservative medical staff in Green Bay. Fire up A.J. Dillon, who saw 17 touches for 97 total yards last week. Elijah Mitchell and Deebo Samuel beat up the Rams on the ground in Week 10, so this could be a good game for Dillon. If you want a cheap TE for DFS, Josiah Deguara at $2,600 could be the play. The Rams have allowed TEs to score 3 TDs in the past 3 games.  
DEF QB (8) RB (12) WR (16) TE (20)
MIN (5-5) @ SF (5-5)
SF -3 / 49

MIN
The 49ers haven't given up a 300-yard passing game since Jared Goff in Week 1, so as hot as Kirk Cousins has been the past 2 weeks, this game will be a challenge. In that span Kyler Murray, Russell Wilson and Stafford had quiet games. Dalvin Cook just needs to look at the Week 9 game by James Conner – 173 total yards and 3 TDs – to see what can be had against the 49ers defense. Justin Jefferson has seen double-digit targets the past 2 weeks and is the WR1, go figure. Adam Thielen is another easy Adentro, as he has 4 TDs in his past 5 games. Tyler Conklin is surprisingly the TE13 on the season, so you're starting him even though no TE has surpassed 38 yards against the 49ers since Week 1. 
DEF QB (31) RB (11) WR (32) TE (6)
SF
Jimmy Garoppolo has quietly been the QB3 since Week 8, with 1,006 yards passing and 6 TDs. He's very much Adentro against the #31 QB defense. When you hear reports that Elijah Mitchell is looking to use just one hand to hold the football, that doesn't make me feel good about his chances to play. Get Jeff Wilson ready to start, though Deebo Samuel has been the best RB on the 49ers the past 2 weeks, with 115 rushing yards and 2 TDs. Um, he's a WR1. You're starting him wherever you have him and enjoy the show. George Kittle has TDs in 3 straight games for the first time in his career, though he doesn't need to get into the end zone to be a contender for TE1 this week. Brandon Aiyuk's emergence has resulted in 20-26-245-2 since Week 8, good for WR13. Very much Adentro.
DEF QB (12) RB (13) WR (12) TE (11)
SOURCES: PFF / Pro-Football-Reference / Fantasy Pros / Football Guys / Lineups.com