Happy Halloween, Familia! How I used to love Halloween when I was a kid, and it's been special to see my kids embrace it even more than I did with some incredible costumes over the years. They're all teenagers now, so going door to door doesn't have the allure, but they still want to dress up. So it's not just about candy in our house.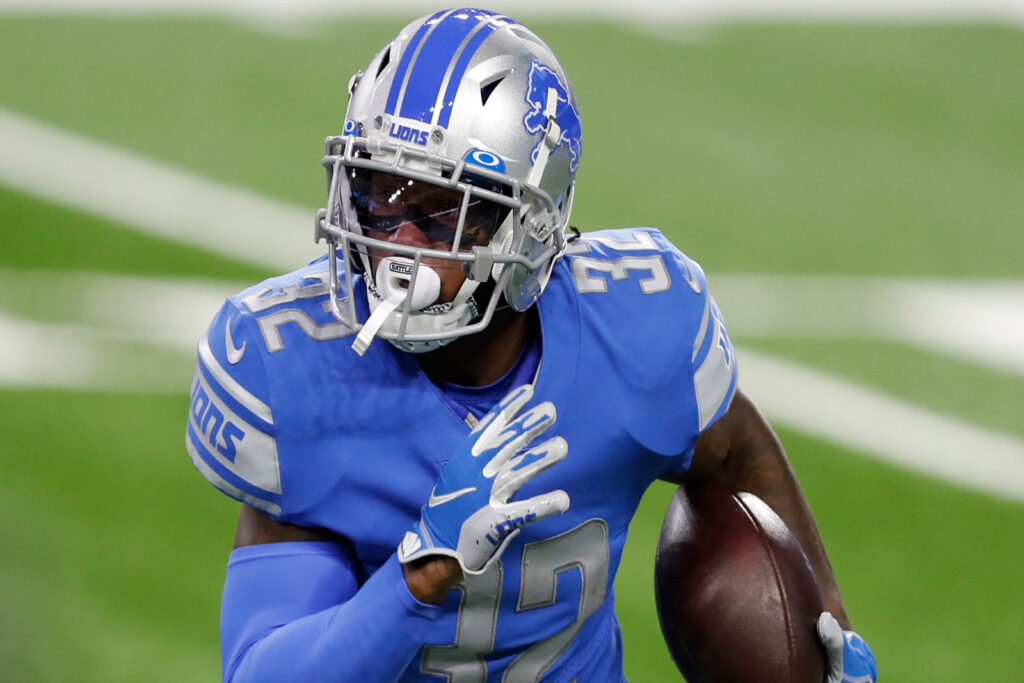 Though growing up in Pacoima, there were some kids who didn't know when trick or treating was over. I still remember one night, our entire family had gone to bed. I was maybe 8 or 9. We're just settling in when our doorbell rang. My father answered and it was kids yelling "Trick or Treat!" Pop still gave them candy, but did call them "pinche muchachos" more than a few times the next day.
So changing things up for Adentro y Afuera for this week, and hopefully going forward. I'm going to go a little more in-depth, breaking down each game to note the starts or sits in each game. In the future this will be two articles, to keep this from being so long.
I'll put stat lines, which for anyone with receiving stats it will appear something like this: 8-10-106-1. That would be 8 receptions, 10 targets, 106 yards and 1 TD. You'll catch on. At the bottom in bold you'll see the team's defensive rank against each position, according to Lineups.com. Well, let's get into some Adentro y Afuera. Salud!
SUNDAY 10 A.M. PT / 1 P.M. ET
CAR (3-4) @ ATL (3-3)
ATL -3 / 46
CAROLINA:
Christian McCaffrey (aka Run CMC) is not expected back until Week 10, according to Dr. Edwin Porras. That means, if you have him, you're starting Chuba Hubbard. He's averaging 15 carries since Week 3. I don't recall seeing someone drop off so quickly as 
Sam Darnold. In the last 4 weeks he's completing 56.5% of his passes for 797 yards, 4 TDs and 7 INTs. He's been sacked 15 times, which will tell you why he's Afuera even in a great matchup against the #30 defense against the QB. Even with that, D.J. Moore is starting every week. He's the WR9 with a solid line of 46-73-586-3. Even Robby Anderson's abuelita would have a tough time starting him after he's caught just 14 of 40 targets for 109 yards since Week 3. Terrace Marshall is out with a concussion.
CAR DEF QB (17) RB (1) WR (11) TE (14) 
ATLANTA:
Matt Ryan has 300 passing yards in 3 of his last 5 games, not counting a game where he had 283 yards and 4 TD against WFT. He's the QB20 on the season thus far, and is very much Adentro against the Panthers, who are #17 against the QB. Cordarelle Patterson out-touched Mike Davis 16-4 in the last game – 0 targets for Davis –  and Patterson rushed 14 times for 60 yds & 1 TD in his first game off bye. Patterson is an every-week Adentro play for me going forward. Calvin Ridley had a quiet 4-10-26-1 in his first game back after missing Week 5 for personal reasons. And we've now seen the transformation of Kyle Pitts, who in the past two weeks has put up these lines:  9-10-119-1 and 7-8-163-0. He's permanently Adentro and could become the TE2 if he keeps this up. The third wheel, Russell Gage caught a TD last week, but I'm probably sitting him this week unless you have several flex spots up for grabs. 
ATL DEF QB (30) RB (22) WR (20) TE (19)
MIA (1-6) @ BUF (4-2))
BUF -14 / 48.5
46 DEGREES & LIGHT DRIZZLE
MIAMI
How is Miami going to respond to the Deshaun Watson rumors? Tua Tagovailoa the past two weeks: 33-47-329-2-1 and 32-40-291-4-2. While that's good, he's Afuera for me this week because he's on the road in the cold against the #1 defense against the QB. If you would tell me that Myles Gaskin is going to get the same amount of work that he did in the 37-17 loss to ATL, when he went 6-27-1 & 4-4-44-1, I'd take it. Still not trusting him, even if this could be a similar game script. Jaylen Waddle has 21 targets in the last 2 games and caught 2 TDs against the Jaguars. Another high-volume play is Mike Gesicki, who has 15 receptions for 200 yards the last 2 weeks. That type of volume, you have to play it, especially the TE3 Gesicki. DeVante Parker has been limited in practice with a shoulder injury, so he's a play only for the deepest leagues.
MIA DEF QB (24) RB (25) WR (30) TE (28)
BUFFALO
Injury note: Dawson Knox is out with a hand injury for multiple weeks. Josh Allen is  averaging 26.6 Fantasy PPG, which is #1. His passing (1,723-15-7) and rushing numbers (44-214-2) are simply fantastic, and this matchup against the #24 defense against the QB is too sabroso. With the Dolphins #25 against the RB, Zack Moss is a start after you see his carries the last three games: 14, 11 and 8. Devin Singletary, with just 11 carries the last two games is Afuera in most leagues. Stefon Diggs may be the WR24 thus far, but he's ready to explode against the #30 defense of Miami. Emmanuel Sanders has gone for 18-25-313-4 from Weeks 3-6. Cole Beasley could be the beneficiary of there being no Knox. I can't trust Gabriel Davis, though, as he has just 5 targets in the last 4 games.
BUF DEF QB (1) RB (2) WR (1) TE (5)
SF (2-4) @ CHI (3-4)
SF -4 / 39.5
52 DEGREES & CLEAR
SAN FRANCISCO
The news coming out of the Bay Area is that George Kittle's IR stay may be over by Week 9. Even with the Bears missing Khalil Mack, Jimmy Garoppolo is only in play if you need him in super flex leagues. Elijah Mitchell rushed for 18-107-1, taking firm control of the 49er backfield, as 0 touches went to Trey Sermon. The WR5, Deebo Samuel is in play every week. HC Kyle Shanahan was asked if Brandon Aiyuk is being negatively impacted by increased muscle he built up over the offseason, and the coach said it was possible. Maybe that explains the single target last week. Not much to see here other than Samuel and Mitchell.
SF DEF QB (26) RB (15) WR (13) TE (4)
CHICAGO
The matchup looks great for Justin Fields, taking on the #26 defense against the QB. Where have we seen this before? Oh, yeah, last week against the Bucs, and Fields just didn't have it. I still like Fields long-term (i.e. Year 2 breakout), but I'm keeping him Afuera until I see him have a big game. Khalil Herbert opened some eyes with 18-100-0 & 5-33-0 against the Bucs last week, and is a play against the #15 defense. Allen Robinson, just say no unless he gets traded. Darnell Mooney has only one 100-yard game, against Detroit in Week 4. I just don't know if I can trust this pass game right now. Except for Cole Kmet, whose target share is about 20% the last 3 weeks. He has no more than 49 yards in any game, but the bar is much lower for the TE position.
CHI DEF QB (11) RB (16) WR (29) TE (9)
PIT (3-3) @ CLE (4-3)
CLE -4 / 42
54 DEGREES & CLOUDY
PITTSBURGH 
A key to opening up the passing game may be that the Browns' best cover corner, Denzel Ward, is out for this game. To me that puts Diontae Johnson and Chase Claypool very much Adentro for this week. Ben Roethlisberger is definitely a play in super flex leagues against the #29 defense versus the QB. Najee Harris, don't worry about the Browns being the #8 defense against the RB. You're playing him every week. Pat Freirmuth is an interesting play, as he saw an 18% TGT share last game, and Eric Ebron is out. Again, it's the TE position.
PIT DEF QB (15) RB (7) WR (27) TE (8)
CLEVELAND
Baker Mayfield is a go for this game, but how much passing will the Browns do with Nick Chubb back? It's a tough matchup against the #7 defense against RBs. CHUBB IS still RB18 after missing 2 weeks. Tough matchup versus the Steelers' run D. Is D'Ernest Johnson or Demetric Felton going to have a role? Odell Beckham Jr. went just 2-6-23-0 last week and some media members are casually bringing up his name in trade talks.  Jarvis Landry saw just 8 targets last week, turning it into 5 catches for 37 yards in his first game back from injury. I just think if you have other options, you play them. The TE position for the Browns is just too spread out to think about starting either Austin Hooper or David Njoku, unless you have no other option. 
CLE DEF QB (29) RB (8) WR (24) TE (11)
PHI (2-5) @ DET (0-7)
PHI -3.5 / 48
PHILADELPHIA
Miles Sanders went on IR, so the Eagles appear to be turning to Kenneth Gainwell, who had a high for carries at 9 in Week 1. He's a possible flex play, because the Eagles still don't give the ball to the RB much. Though keep in mind Detroit is #31 against the RB position. You're starting Jalen Hurts every week. Don't overthink it. He's the QB2, even if it's not always aesthetically pleasing. That 66-361-5 rushing line masks a pretty pedestrian 61.2% and 1,716-10-4 passing numbers. Devonta Smith is averaging over 7 targets a game, so you're starting him in this great matchup. Same for Dallas Goedert, because you're not finding a better TE on the waiver wire right now.
PHI DEF QB (13) RB (28) WR (5) TE (23)

DETROIT
Jared Goff is permanently Afuera until further notice. Or whenever they start counting the stats from him going against the Lions defense. T.J. Hockenson has been battling a knee injury, but is going to play. He's getting nearly 8 targets a game. Raise your hand if you had D'Andre Swift as the RB2 after 7 weeks. Mentirosos. He's a must start, but you have to monitor his health because he's on the injury report regularly. His rushing (78-262-3) and receiving (42-52-391-2) lines are stellar. I know Kalif Raymond went 6-8-115-0 last week, but I just can't find a reason to start him against the defense that is #5 against the WR. 
DET DEF QB (23) RB (31) WR (23) TE (13)
TEN (5-2) @ IND (3-4)
IND -2.5 / 51
TENNESSEE
Suddenly, Ryan Tannehill is back among the every-week starters even in single-QB leagues. In a matchup that has an over/under of 51, we could see a line like the 21-27-270-1-1 he had last week against KC. Derrick Henry is RB1 with ridiculous 191-869-10 rushing numbers, and is on pace for 2,110 rush yards. That would be an NFL record, breaking Eric Dickerson's 1984 record at 2,105. A.J. Brown is officially back after his 8-9-133-1 line last week. It was his 2nd week in a row with 9 targets. Julio Jones was ruled out with a hamstring, so be ready for Brown to see a lot of targets against the #26 defense against the WR. 
TEN DEF QB (25) RB (10) WR (32) TE (6)
INDIANAPOLIS
Carson Wentz has 2 TDs in each of the last 4 games – with 0 INTs during that span. Definitely startable in single-QB leagues (I am in my 14-teamer).  Jonathan Taylor is the RB3 at 105-579-5 and 18-21-213-1 – 10 targets the last 4 games. Michael Pittman Jr. went for 4-4-105-1 last week, and has 7-12 targets in Weeks 2-5. TY Hilton is battling aquad injury, so even if he plays I'd suggest looking elsewhere. Mo-Alie Cox has 4 TDs in the last 4 games, so he's a TE streamer. 
IND DEF QB (21) RB (6) WR (26) TE (25)
CIN (5-2) @ NYJ (1-5)
CINCINNATI
Trap game on the road vs inferior opponent? That was pretty funny to type against one of the worst defenses in the NFL. Joe Burrow is the QB8 with 1,956 passing yards and 17 TDs. He's reached Adentro status for every week. Is Joe Mixon getting less work? Coming off an ankle injury, Mixon barely got more carries than Samaje Perine (12-11). Are the Bengals being conservative with the lead caballo to preserve him? I'm still starting him, but going to monitor the touches. Ja'Marr Chase is already WR3 with 35-51-754-6. The Jets have the #2 defense against the WRs, but don't worry about Chase. Same for Tee Higgins, who caught 7 balls for 62 yards last week. Tyler Boyd has just 15 targets the last 3 games. C.J. Uzomah has 5 TDs in the last 4 games. In this high-powered offense, he's a good play off the waiver wire. 
CIN DEF QB (10) RB (13) WR (12) TE (10)
NEW YORK JETS
Zach Wilson is out 2-4 weeks with a PCL injury, so it's Mike White starting at QB. Pass, I mean literally. Don't play him. Corey Davis is also trending toward being out. That makes almost everyone on the Jets in the Afuera section. One exception is Michael Carter, who coming out of the bye last week turned 19 touches into 104 total yards. The Bengals are #13 against the RB, but he's still startable. 
NYJ DEF QB (9) RB (32) WR (2) TE (24)
LAR (6-1) @ HOU (1-6)
LAR -16 / 47.5
LOS ANGELES RAMS
Another possible trap road game? Yes, I was just kidding, again. Matthew Stafford is the QB6 with 2,172 passing yards and 19 TDs. He has 4 games with 300+ yards and all but 1 game with 2+ TDs. Hard to see a letdown happening against a team that has lost 3 of the last 4 games by no less than 26 points. Darrell Henderson is the RB14 and has 13+ carries in each start. He's gained between 78 and 89 rushing yards in Weeks 4-6. Cooper Kupp is the WR1 overall and has scored 2 TDs 4 times and has 100+ yards 4 times. That's why I keep saying he's an RB1. He's on pace to tie Calvin Johnson's receiving yards record of 1,964 (in 2012). Robert Woods' 12-14-150-2 game in Week 5 seems to be the exception thus far, though he is WR19 with an overall line of 35-50-423-3. With the news that DeSean Jackson will be inactive and is seeking a trade, Van Jefferson (7 targets last week) is playable. Tyler Higbee at TE13 with a line of 27-33-248-2 is on the cusp of TE1 status and definitely a must start against the #29 TE defense.
LAR DEF QB (8) RB (19) WR (10) TE (20)

HOUSTON
The Mark Ingram trade opens up carries and touches for Phillip Lindsay and David Johnson. Will it matter this week? Probably not in what could be a blowout. They're Afuera, as is QB Davis Mills. Brandin Cooks at WR18 with 45-64-502-1 is at worst a flex play. He may get the Jalen Ramsey shadow most of the afternoon, but purely on volume should he get targets. Cooks is a possibility to get traded.
HOU DEF QB (22) RB (26) WR (6) TE (29)
1 P.M. PT / 4 P.M. ET
NE (3-4) @ LAC (4-2)
LAC -4.5 / 49
NEW ENGLAND
Last year, the Patriots dominated the Chargers, 45-0, which probably cost Anthony Lynn his job. But in many ways these are different teams. Mac Jones is the QB22 with 1,779 passing yards and 9 TDs. But he's only startable in super flex leagues against a pass defense that's giving up just 216.7 passing yards a game and is #5 against the QB. Damien Harris is coming off a 14-carry, 106-yard effort with 2 TDs last week. It's a great matchup against the #28 RB defense. Don't expect this to be the week that Jakobi Meyers gets his first TD. He and all Patriot WRs are Afuera. Hunter Henry has that hilarious REVENGE GAME narrative. While he only has 6 targets the last 2 games, this is the #27 TE defense, so it's a good matchup.
NE DEF QB (6) RB (14) WR (16) TE (2)
LOS ANGELES CHARGERS
After that stinker in Baltimore, Justin Herbert had the bye to get over it, and now looks to erase last year's New England debacle. He's the QB10 and you're starting him with great expectations. Austin Ekeler was DNP the last two practices of the week, which is never good. Keep an eye on the inactives, and if you have room to pick up Justin Jackson or Joshua Kelley, do it as a contingency. It'd be horrible to have to sit the RB4. Mike Williams has 9+ targets in 4 of 6 games and is the WR10 on the season. Even though we've come to expect more than WR30 out of Keenan Allen, that's where he resides through 7 weeks. He's Adentro, because you just can't sit him any week. Jared Cook against the #2 defense versus the TE? No gracias.
LAC DEF QB (5) RB (28) WR (4) TE (27)
JAX (1-5) @ SEA (2-5)
SEA -3.5 / 44
51 DEGREES & CLEAR
JACKSONVILLE
Trevor Lawrence has just 1 INT in the last 3 games, after he had 7 in the previous 3 games. He's averaging 265.3 passing yards during his resurgence and is a good call against a defense that's giving up an average of 294.1 passing yards.James Robinson has a 17-carry average and scored at least once in each of the last 4 games. He has no fewer than 73 rushing yards over that span. Looking at Top 5 RB against the #29 RB defense. Marvin Jones has only 1 game with less than 6 targets. Laviska Shenault Jr. had 10 targets the game before the bye. Is this an indicator for a larger role after the season-ending injury to D.J. Chark? Against the Seahawks, I'm going to take that chance.
JAX DEF QB (27) RB (27) WR (19) TE (30)
SEAHAWKS
Geno Smith is permanently Afuera. Alex Collins has 10+ carries in the last 4 games, but only in Week 6 with 101 yards was he helping you. The Jaguars are bad against the RB, so Collins may be an RB2 or flex play. It's kind of sad that talents like D.K. Metcalf and Tyler Lockett are saddled with Smith in Russell Wilson's absence. You're starting both of them because one of them could take a pass 84 yards to the house like Metcalf did last week. Against the Jaguars shoddy defense, they're Adentro. Same for Gerald Everett, who despite having just 5 total targets over the past 2 games has to be played against the #30 TE defense.
SEA DEF QB (16) RB (29) WR (22) TE (17)
WFT (2-5) @ DEN (3-4)
DEN -3 / 44
45 DEGREES & OVERCAST
WASHINGTON FOOTBALL TEAM
The Taylor Heinicke experience may be nearing an end with Ryan Fitzpatrick coming back. On the road in Denver, he's only a play in super flex leagues because the high pass volume will likely be there. Antonio Gibson was ruled healthy, though he's still dealing with a stress fracture that needs rest to fully heal. He's a start because of the state of the RB position, but it's hard to feel good about it. J.D. McKissic has 16 targets in the last 2 games, and remains a pain for managers with Gibson. "Scary" Terry McLaurin (yes, for Halloween) is still a WR1, even going up against the #7 defense versus the WR. You're also starting Ricky Seals-Jones, who's averaging more than 7 targets a game the past 3 weeks.
WFT DEF QB (32) RB (18) WR (31) TE (18)
DENVER
Teddy Bridgewater is a start in single-QB leagues because the matchup against the Washington pass defense that's the bottom of the barrel against passers. He's getting Jerry Jeudy back, who should be a flex option, even though I don't have high expectations in the first week back. Courtland Sutton had just 5 targets last week, but a combined 25 targets the previous 2 weeks. He's Adentro. Say adios to Tim Patrick. Same for Noah Fant, who has 7+ targets the last 3 games. On the season, Melvin Gordon has the higher snap percentage over Javonte Williams, 49% to 43%. Unless Gordon gets traded on Tuesday, this is what we're likely to see for the remainder of the season. Washington has been good against the running game, which does not help anyone feel good about starting either Gordon or Williams in a depleted RB landscape.
DEN DEF QB (4) RB (11) WR (7) TE (7)

TB (6-1) @ NO (4-2)
TB -4.5 / 50
TAMPA BAY
Antonio Brown is out, which should mean more targets for Mike Evans and Chris Godwin. It could also mean more looks for Rob Gronkowski, who may return to the lineup this week. Tom Brady is still QB1, with more yards through Week 7 this year than his record-setting 2007 season: 2,275 to 2,125. He had 27 TD passes at this stage 14 years ago, and "only" has 21 this year. Here's the issue: The Saints are good against the pass, #2 against the QB. Evans has games of 3 and 2 receiving yards last year, with a high of 64 in the 3rd meeting. Godwin didn't surpass 79 receiving yards last year. Plus, the Saints are good against the run (#3). That may slow down Leonard Fournette, whose usage has been excellent with 69 carries the last 4 games and no less than 67 rushing yards in that span. 
TB DEF QB (20) RB (4) WR (8) TE (21)
NEW ORLEANS
Is Jameis Winston going to be better at home & out of the rain? For a comp against a subpar pass defense, Winston went 279 pass yards and 4 TDs (1 INT) in a victory over Washington. The Mark Ingram homecoming trade will likely signal a lightning of the load on Alvin Kamara, who last week had 31 touches for 179 total yards. If Winston does take some shots downfield, will any receiver run down the balls? Marquez Callaway had only 3 catches for 32 yards last week, and he might be the best (aka only) bet. 
NO DEF QB (2) RB (3) WR (17) TE (3)
SNF 5:20 P.M. PT / 8:20 ET
DAL (5-1) @ MIN (3-3)
MIN -3 / 51.5
DALLAS
The signs are pointing to Dak Prescott sitting because his calf injury did not fully heal over the bye week. We saw what happened when he didn't play last year, how it impacted the Dallas skill players when backups were in. That will likely mean plenty of work for RB9 Ezekiel Elliott against a defense that's allowing 109.3 rushing yards just to the RBs. Tony Pollard – who at RB26 is 2 spots ahead of Dalvin Cook – could also get enough action to be a flex play. The question with Amar Cooper is whether he's healthy after his foot/ankle issues. WR15 CeeDee Lamb gets a downgrade if Rush is in the lineup. Dalton Schultz is Adentro, yes, he's a TE and Michael Gallup isn't likely to suit up and take targets away.
DAL DEF QB (28) RB (12) WR (28) TE (22)
MINNESOTA
Kirk Cousins has a dream matchup at home against the #28 QB defense that is allowing 311.2 passing yards per game. Even though he's likely to draw the Trevon Diggs shadow much of the afternoon. Adam Thielen is another with a great matchup in a likely shootout. Keep an eye on Tyler Conklin, who has 22 targets in the past 4 games. 
MIN DEF QB (7) RB (17) WR (21) TE (12)
SOURCES: PFF / Pro-Football-Reference / Football Guys / Lineups.com