At the risk of making myself look ancient in the fantasy football space, I graduated high school in the '80s. 1985 to be exact, and I'm a proud graduate of Alemany High School here in the San Fernando Valley.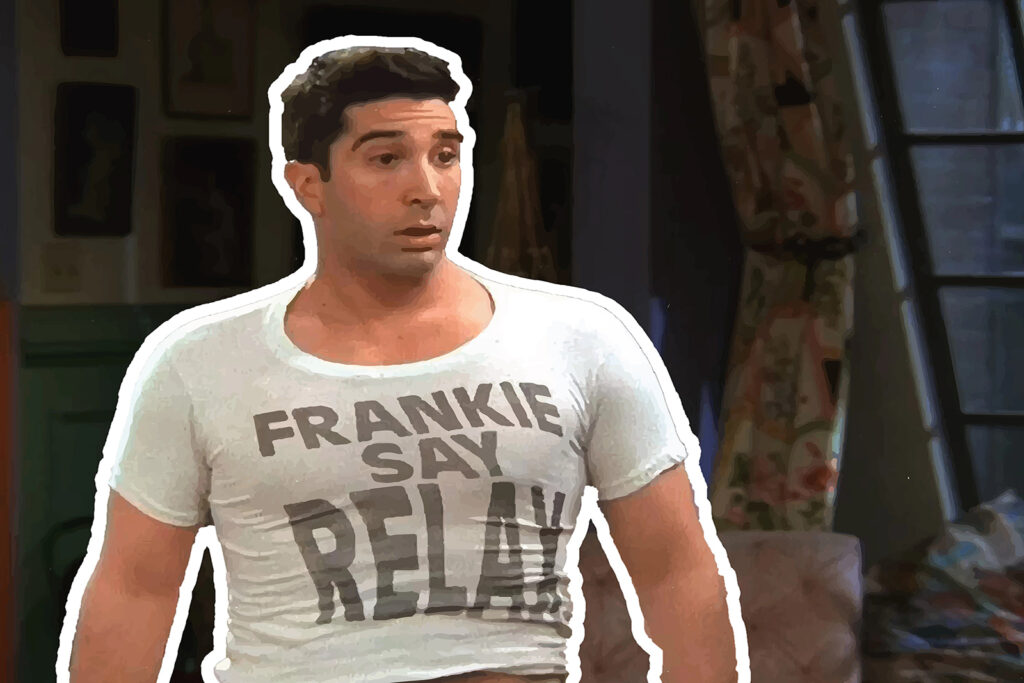 We're having a reunion this upcoming weekend in Las Vegas, and I'm really looking forward to seeing friends I haven't seen in a long time (and also sticking around to watch wall to wall football on Sunday). There will be plenty of music from our favorite decade, and I even bought a T-shirt that I'm planning to wear. The shirt says, "FRANKIE SAY RELAX."
The shirt was first made famous by Frankie Goes to Hollywood for the hit song Relax. Man, how I remember so many people wearing that shirt around 1984-85. Fans of Friends will remember the time Ross took back the shirt he'd given Rachel when they were "on a break." He put it on and the shirt and its letters were stretched pretty tight. I actually thought of going down a size, but thought better of it when I found out there would be a generous menu of food and drinks.
What does this have to do with Fantasy Football? Well, I'm saying to all the fantasy managers out there who have been banking on big seasons from Trevor Lawrence, Zach Wilson and Mac Jones – and a bust-out debut from Justin Fields – you need to RELAX! Don't do it and start that player every week.
Por favor, pump the brakes on the expectations. Justin Herbert circa 2020 is the exception, not the rule. Yes, there have been others. Dan Marino in 1983 is the one I keep coming back to. Cam Newton in 2011, and Deshaun Watson in 2017 (7 games mind you, before he got hurt). That's really it in the last 40 years of rookie QBs who have done well.
I'll point out until all the vacas come in from the rancho: Rookie QBs will struggle. John Elway struggled mightily in his first year. Peyton Manning threw more interceptions than TDs in his. These are both players who are on the Mount Rushmore of greatest QBs of all time. Rookie QBs are going to have it tough.
Now don't bench these guys, especially in super flex and Two-QB leagues. There will be blowup games. Daniel Jones – who most fantasy managers will attest is arguably not as good as any of the first-round QBs drafted this year – had five occasions in his rookie year when he threw for over 300 yards. And that was including Championship Week 16. You just have to pick your spots if you have them on your roster, or when you're thinking about streaming them. I always look for the jump in Year 2 (cue Primo Ricky throwing up a little bit).
So RELAX, have a little paciencia por favor. The kids will probably be alright down the road, just not every week. And if they're not, there will be another crop of young gunslingers ready to take their jobs. Just ask Jimmy G.
Here are the Peekups for this week. As always, players who are rostered in 50% of leagues or less are eligible for inclusion in this space. Vamonos!
QUARTERBACKS
JAMEIS WINSTON vs NYG
45%
This is the first real home game for the Saints, after they were displaced by Hurricane Ida. This is one of the loudest stadiums to begin with, so the adrenaline will be pumping extra hard in this resilient city. Winston hasn't been great – no more than 148 yards passing in any game – but the Giants have not had the surprisingly solid secondary from a year ago (#14 in Fantasy PPG allowed to the QB). On the fast turf, this could be the breakout game for Winston.
SAM DARNOLD @ DAL
22%
This will be the first real challenge that the Panthers defense has had this season, and the call here is that plenty of points will be scored in this game with an over/under of 50.5. So Darnold will have to throw plenty against a defense that is allowing 347.7 yards passing per game. This being a road game, it will be a true test of how far Darnold has come in this Carolina rebirth.
TAYLOR HEINICKE @ ATL
6%
This is trending toward being a big game for Terry McLaurin, and Heinicke will benefit. After a rough game against the Bills, Heinicke gets the soft Atlanta defense that is just #30 in Fantasy PPG allowed to the QB. He's a good option in super flex leagues this week.
RUNNING BACKS
CHUBA HUBBARD @ DAL
27%
Word of caution: Remember Elijah Mitchell. On my team where I had Raheem Mostert, I threw plenty of FAAB chips into the pot for Mitchell, only to start him for one week. Hubbard is going to play plenty against a Cowboys run defense that hardly got tested against the Eagles (3 rush attempts by RBs). With Hubbard being a checkdown option, he could get some targets in the passing game. Just remember, it's temporary. Dr. Edwin Porras said CMC could be back by Week 5 or 6, at the latest.

PEYTON BARBER @ LAC
8%
If you saw 23-111-1 coming from Barber, I'll call you mentiroso. Or a member of the Barber family. The Raiders ran the ball 35 times versus Miami, against 43 pass attempts. So they're going to be a more balanced offense than we think. Do this only if you don't believe that Josh Jacobs is going to play. Keep in mind that toe injuries do tend to linger. 
MARLON MACK @ MIA
5%
This is a speculation play after ESPN's Adam Schefter reported that Mack's representation has made a trade request, and not wanting to see him get hurt played a part in him sitting in Week 3. If someone is going to acquire Mack, it's going to be with the idea of using him, not putting him on mothballs like the Colts are doing. 
WIDE RECEIVERS
EMMANUEL SANDERS vs HOU
27%
What's tough about chasing the next new thing is that you can miss the reliable veteran who is still productive. Enter Sanders, who after three games has an amazing ADOT of 18.5. He's getting those downfield shots, and last week those cashed in twice for a big game. This is not a mirage. Josh Allen trusts Sanders, and is looking for him (20 targets). Houston's defense has played better under DC Lovie Smith, but the Texans have seen nothing close to Allen when it comes to QB play. Fire up Sanders. 
HENRY RUGGS @ LAC
50%
I have a lot of Ruggs shares on my teams, and started him on about half of the rosters where I have him. Ruggs is only running 64% of routes, compared to fellow sophomore Bryan Edwards' 76%. But the speedy Alabama product is getting 15% of targets, and has 19 total so far. This is a really good offense, and Derek Carr is slinging it all over the yard. The Chargers are good in the secondary (112.3 yards per game allowed to WRs, good for #2 in the NFL). Ruggs will be a good flex option for the rest of the season.
DARNELL MOONEY VS DET
45%
Flush last week's game down the toilet. The Bears won't be that bad again in the Fields era. This was the game when the Bears should have targeted the debut for the rookie. Home against a secondary that has been tattered by injuries to the tune of allowing 287 passing yards per game. Mooney got 15 targets the first couple games, so now all we have to ask is that the Bears O-line give him some time to throw downfield for Mooney.
MARQUEZ CALLAWAY vs NYG
45%
Last week was redemption for Callaway, and a time to bang heads against the wall for those who dropped him hastily. This is still a mediocre New York defense that is averaging 281 passing yards and 2 TDs per game. The 59% of routes run is concerning until you come to find out that it led the Saints last week. Giving Callaway one last chance in a potential home breakout.
TIM PATRICK vs BAL
23%
K.J. Hamler is out for the season, and Jerry Jeudy is still on the shelf with an ankle injury. Patrick's 22% target share was the same as WR1 Courtland Sutton. Also, Patrick's ADOT of 17.4 led to him getting 98 yards while catching all 5 targets. Everything is pointing toward Patrick being hte #2 option in a home matchup against a Baltimore defense that has been beset by injuries and is allowing 331.7 passing yards per game. 
JALEN REAGOR vs KC
25%
This is more of a stash for the future bye weeks, as you're likely to have a better option than Reagor to start this week. Reagor has 19 targets through 3 games, so Jalen Hurts is looking for him. The Chiefs have allowed 100+ yards to Mike Williams and Marquise Brown, so they have shown some vulnerability if you're feeling frisky this week.
DESEAN JACKSON vs AZ
3%
I must confess, I sat Jackson this week in the Scott Fish Bowl. I still won, but Ay Dios Mio am I kicking myself for hearing HC Sean McVay say that he wanted to use Jackson more (note: I did start Jackson Week 1). This is a similar play to how Rondale Moore is right now. Boom or bust. Jackson only ran 41% of routes in his breakout game, but he made the most of them. Look for Matthew Stafford to take some shots down the field with Jackson this week in a game that could become a track meet as the Rams keep up with the Kyler Murray Experience. 
JOSH GORDON @ PHI
5%
This is not for this week, as Gordon is on the practice squad. Before you put a bunch of FAAB or use a waiver priority on Gordon, remember that his dominant 1,646-yard season was 2013. That's a looooong time ago in NFL time. He hasn't surpassed 737 yards in any other season. However, this is K.C., and the temptation is going to be great at the thought of Gordon catching passes. Just remember, fooled me once…
TIGHT ENDS
JARED COOK vs LV
49%
The Raiders gave up 86 yards on 10 catches to Mike Gesicki, after they bottled up Mark Andrews and Pat Freiermuth pretty well the previous weeks. Cook is TD-or-bust, and is getting just 9% of targets on the team. This is "Emergency Break Glass Only" if you haven't been getting much from the TE position. 
EVAN ENGRAM @ NO
39%
It's getting close to being last man standing with the Giants. Injuries are decimating the receiver corps, which resulted in Engram receiving 6 targets, which was 12% on the team. If you're chasing volume, and there are plenty of DNPs with the Giants, this is a hero play. Beware, the Saints haven't allowed more than 55 yards to a TE this season.
DAWSON KNOX vs HOU
11%
Knox turned 5 targets into 4 receptions for 49 yards and a TD. Not sexy, but it works. He got 12% of targets last week, which was 4th on the Bills. But if you're looking for another TD-or-bust option, having Knox go against Houston's #29 defense in Fantasy PPG allowed to the TE is a nice swing to take.
DEFENSE STREAMER OF THE WEEK
NEW ORLEANS vs NYG
49%
The Saints have 6 sacks, 7 turnovers and a DTD already this season. Now they're going up against Daniel Jones and the Giants, and their porous O-line. Also, remember it's a home date on the fast turf in New Orleans. Jones will be in retreat mode all game.
SOURCES: PFF / Pro Football Reference / Football Guys / Lineups.com / Football Outsiders