I get it. We wait seven months for real NFL games to return, and when we get them, it's like Saul and Mike dragging $7 million across the desert in that Better Call Saul episode. You're so thirsty, though not as thirsty so as to go to the measures those two went to hydrate in the episode. Fans of the show are now squirming at the recollection.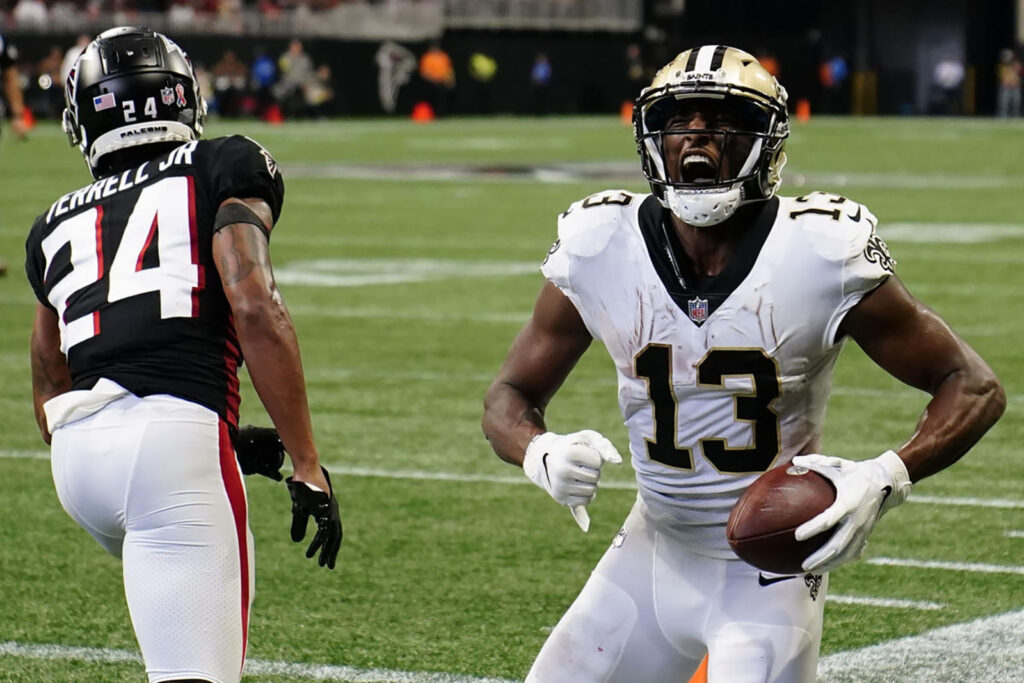 Remember, Familia, it's one game. Just 1 of 17. Yes, there are some nuggets of information to glean from this game. Snaps, routes run and targets are very telling numbers that can start to tell the story for the season. As a fantasy player, I don't like to make any sweeping proclamations one way or another before September is over. I've often kidded that if my teams are at least 2-2, I'm making the playoffs.
There are a few things that got my attention. Jahan Dotson was on the field for almost as many snaps as Terry McLaurin, 69-68. That tells me that he's already up to speed and is going to be a player in this offense. I thought it would take some time, but it's here.
Drake London was on the field most of all WR for the Falcons, at 54 snaps. He also ran routes on 82% of passes, while Kyle Pitts ran them at 72%. These are going to be the primary pair of pass catchers in Hotlanta, and I'm looking no further. 
After Travis Kelce, the targets in KC are going to be concentrated between JuJu Smith-Schuster, Marquez Valdes-Scantling and Mecole Hardman for the time being. Skyy Moore, much as I like him, was on the field for just 13 snaps. I keep hearing amigo Joshua Brisco of SI telling me during preseason how the Andy Reid offense will take some time for the rookie to figure out, and that he could be a player in the second half of the season.
Lastly, before we get into Adentro y Afuera for Week 2, if you invested in a WR in the early rounds, you were likely rewarded. The top WRs for Week 1 looked like the draft board for the first couple rounds (Week 1 fantasy points in parenthesis): Justin Jefferson (39.4), Cooper Kupp (31.8), Davante Adams (30.1), Ja'Marr Chase (28.9), Michael Pittman (27.1), Stefon Diggs (26.2) and A.J. Brown (25.5). Hero and Zero RB drafters are celebrating all around.
OK, let's get into Adentro y Afuera for Week 2. As always, start your studs, so I'm not going to get into any of them here. These are some borderline calls that I like or don't. Vamonos!
ADENTRO
TREY LANCE vs SEA
Throw out the 13-28-164-0 passing line that he had in the swamp conditions at Soldier Field. The 13-54-0 line rushing matters. Seattle bent plenty against the Broncos, but this game is at Levi's Stadium, and weather is expected to be better. Some light rain could be in the forecast, though nothing like last week. The Seahawks lost Jamal Adams for the year, so their defense will be more beatable. Look for some short passes with plenty of YAC, even if there is no George Kittle.
MATTHEW STAFFORD vs ATL
The pass rush, or make that assault, that Stafford suffered through against Buffalo will become a distant memory. The Falcons gave up more than 200 passing yards in the 4th quarter against the Saints in Week 1. Even with 4 sacks on Jameis Winston, the Falcons don't have the pass rush that the Bills do. Most of those sacks came on blitzes, which Stafford eats for lunch. It's a reset game for the Rams, and possibly for Allen Robinson, too. Falcons fans don't travel like Bills Mafia, so it'll be a true home game for the Rams. 
NICK CHUBB vs NYJ
The Jets were #29 with 2,351 rushing yards allowed last year. That doesn't get fixed in one offseason. Chubb looked dominant in going for 22-141-0 against the Panthers. This is showing how they plan to run the offense, through the running game. Home game in the Dawg Pound, so Chubb and the Browns roll.
DAMIEN HARRIS/RHAMONDRE STEVENSON @ PIT
The Steelers "held" Joe Mixon to a rushing line of 27-82-0, but then they lost T.J. Watt to a torn pectoral muscle. With Mac Jones battling a back issue, the prediction here is that the Patriots put the game on the backs of the RBs. The pair will see more than 17 combined rushing attempts that they saw last week. Both will be startable behind a New England O-line that PFF ranked #7 going into the season. The Steelers were a little better against the run last week, but they have a long way to go to become even average. 
HUNTER RENFROW vs AZ
He's the WR32 in FantasyPros ECR for Week 2. That's largely because of the 6 targets that led to a 3-21-0 receiving line. This is still a slot WR in a Josh McDaniels offense. The 17 targets that Davante Adams will normalize, and that will bring more looks for Renfrow. The Cardinals' decimated secondary was blitzkrieged by Patrick Mahomes, and it won't be much better as Raider Nation welcomes its team back to the Vegas Strip.
MICHAEL THOMAS vs TB
He's back to being Can't Guard Mike. Or some reasonable facsimile. The line of 5-8-57-2 against the Falcons only begins to tell the story. The TDs were both on great coverage from A.J. Terrell, one of the best DBs in the game. Thomas is back to making contested catches, and Winston clearly trusts him in tight windows. Even against the tough Buccaneers D, Thomas is going to get some work. He was clearly not limited, as his 37 snaps were among the leaders for the Saints.
AFUERA
KIRK COUSINS @ PHI
It's too easy to say that it's a Monday Night Football game, and we know what that means for Cousins. It's actually a Monday Night Football game on the road in raucous Philadelphia. This defense was #11 last year in passing yardage allowed, and they just got run over by D'Andre Swift. The Vikings will attempt to establish the run in this one, which will limit the opportunities for Cousins.  
DERRICK HENRY @ BUF
This ranking is based on Henry being in a negative gamescript, as the Bills are 10-point home favorites. The Bills looked like Super Bowl favorites in dismantling the Rams, and Henry looked human in going 21-82-0 when the Titans should have been putting away the Giants. PREDICTION: The Bills get up early, and that will take Henry off the field. 
DAVID MONTGOMERY @ GB
Monty got more than double the snaps that backup Khalil Herbert received last week, though Herbert outrushed the starter, 45-28. The Packers invested in their defense in the draft, and the O-line is still a problem for the Bears. Monty is not going to have much room to run. 
CEEDEE LAMB VS CIN
This is purely based on there being a backup QB pitching the balls in Big D. Cooper Rush will also be the QB behind an O-line that has suffered two major injuries to starters. Rush won't have much time to pass, much less find Lamb in what should be a great home matchup. Lo siento mucho to all the Dak Prescott owners out there. 
MIKE EVANS VS TB
Styles make fights, as the old boxing axiom goes. There's something about the matchup between Evans and Saints CB Marshawn Lattimore that brings out the best in the defender. And the worst in the stat line for Evans. Here's a look at Evans's numbers in the five games of the Tom Brady era in Tampa.
2020
Wk 1: 1-4-2-1
Wk 9: 4-6-64-0
Playoffs: 1-3-3-1
2021
Wk 8: 2-4-48-1
Wk 14: 1-1-14-0
Simply put, when Lattimore is sticking Evans, it's not looking good for those with the Tampa WR on their rosters.
GET 10% OFF YOUR FANTASYPOINTS.COM SUBSCRIPTION WHEN YOU ENTER THE PROMO CODE 22FAMILIA10.