The overall numbers looked great for the Cowboys. The #2 passing offense, with Dak Prescott as the overall QB7 in fantasy. Ezekiel Elliott with another 1,000-yard year, even though he was battling a knee injury much of the season. CeeDee Lamb took a big step forward and surpassed 1,000 yards for the first time. Add to it that the Cowboys won the NFC East. So on paper it looked good.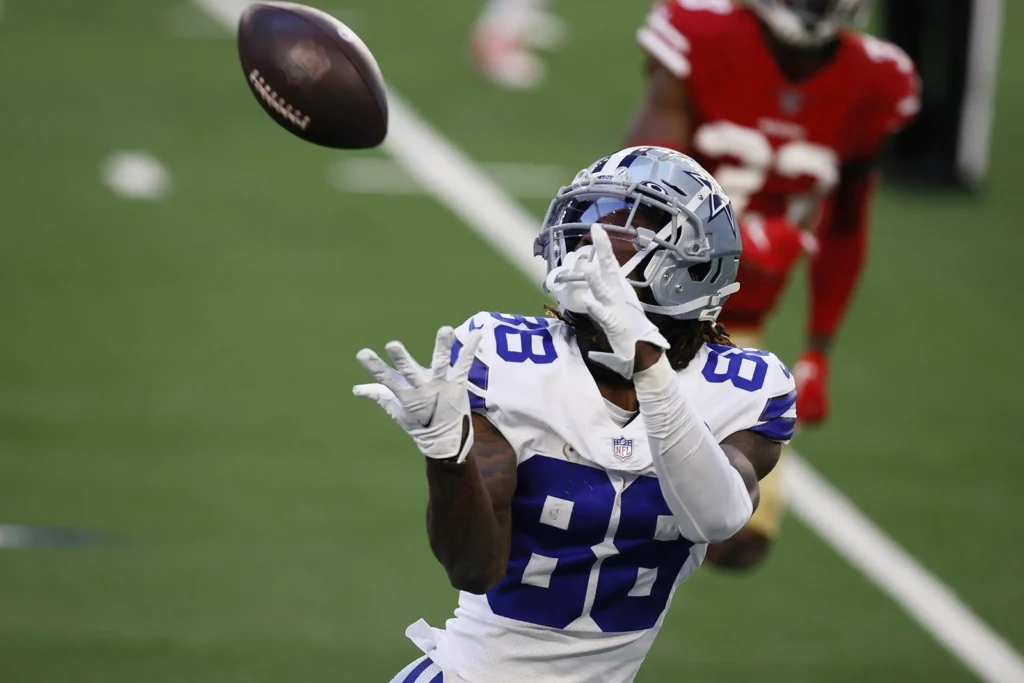 There was just something different about having Dallas players on your team in 2021. Maybe it was the high expectations. The drastic home-road splits very much played a part. You just didn't get that dominant feel when you had Cowboys. And those aren't the expectations that come with having players from America's Team on your squad when they're on your TV practically every week.
For 2022, the expectations are high again, and with good reason. Even after the departure of some skill players, there are still plenty of talented players who are going to be drafted plenty high in fantasy football. And it all starts with #4, so we'll hit that first.
DAK ATTACK
With a 4,449-37-10 passing line supported by a 48-146-1 rushing performance, Prescott has healthy overall numbers. A good chunk happened in Week 18, after nearly all fantasy playoffs were completed, so they didn't help much other than to pad his overall numbers.
What fantasy players drafting Prescott in the 6th round want to see is more consistency in the top 10 on a weekly basis. Prescott had 6 top 5 finishes, but also had 5 where he finished outside the top 20, including Week 15, which was the start of the fantasy playoffs. Prescott was also much better at home, with a 23-2 TD-INT ratio, while going 14-8 with slightly more passing yardage on the road.
Fantasy players are going to hope that with a year removed from his career-threatening ankle injury, that Prescott might run more. He did run 48 times last year, and in his first four years in the NFL he took off between 52-75 times, scoring 6 TDs in each of his first 3 seasons. I still like Prescott for around 4,500 passing yards and 30-35 TDs, though I'd feel better about him if there weren't such a roller coaster ride all season. R.J. Ochoa of Blogging the Boys needs to have it proven to him that Prescott is going to be the focal point of this offense.
"I would love to believe that the Cowboys recognize that they have an elite quarterback and are willing to put the ball in his hands, but they want to live and die with Zeke Elliott," Ochoa said. "They really believe that they have Emmitt Smith reincarnated, that they have the '90s Cowboys' offensive line reincarnated, and they're Frank Sinatra-ing this thing… they want to do it their way, and to their own fault, to their own detriment. We saw that last season, Zeke, there's a very strong argument that even when healthy is not the best running back on the team anymore. But despite that, they put him out there with a partially torn PCL for most of the season and limited Tony Pollard. So I would love to believe that the passing game takes over, but they're going to try to make the run game a thing, and they're not going to try and make the run game a thing in the most efficient way possible. They're going to try to do it with Zeke because that's who they want to be. They want to be the team that Zeke Elliott is doing the 'feed me' gesture for scoring touchdowns, and that's the way they roll."
CEEDEE RISING
Ceedee Lamb had his breakout season with 79-120-1102-6, and he just might be getting started. He's the WR8 and #19 overall for 2022, and those rankings could be low. Lamb is in line for a major jump in targets, as Amari Cooper (104 targets) has departed and Michael Gallup is starting the season late because he had ACL surgery so close to the end of the 2021 season.
I'm looking for Lamb to soar past the 120 targets from last year, into the 150-160 range. That could land him in the 95-100-catch range, and pushing 1,400 receiving yards. That's Justin Jefferson country. Just a graceful, gazelle-like player, Lamb is the clear numero uno in a high-powered offense that is going to again be among the league leaders in pace of play. Add to it that he's likely to get more work in the slot, which means a jump in short-to-intermediate throws.
"I do think the consensus is probably low on him," Ochoa said. "I don't know what your wide receiver rankings are like, but I can imagine CeeDee is in the top 10 or 12, as far as average consensus fantasy rankings. I think he will deliver because the volume will be there. Like they are going to force him everything. And unlike Michael Gallup, he will be healthy at the beginning of the season."
Also, watch for Dalton Schultz to be the #2 in targets on this team. He could add 15-20 targets to the 104 that he received last year. Officially, I'm out on Ezekiel Elliott at his ADP (RB16 & #29), as I'd much rather be WR shopping in that range. This Hero RB drafter would rather take the chance on Tony Pollard at RB30, #79. Getting a player with 1,000-combined-yard upside in the 7th round is more enticing after I've gotten a slew of great WRs. Look for a second-half surge from Jalen Tolbert, who reportedly has had a very good training camp. The rookie could get targets early with Gallup out, so if he gets momentum early that will lead to great things in 2022.
GET 10% OFF YOUR FANTASYPOINTS.COM SUBSCRIPTION WHEN YOU ENTER THE PROMO CODE 22FAMILIA10.