"Hi, everybody and a very pleasant good evening, wherever you may be."
How many spring, summer and even fall evenings did I spend from 1977 to 2016 that started that way? Vin Scully was the soundtrack of my youth, and to hear of his passing on Aug. 2, it's as bittersweet a moment as there is. Bitter in that he's gone. It's something you can never prepare for, even though you know it's coming. He was 94, after all. But it's easy to equate someone from your youth who meant a lot as being immortal. Almost like a parent or beloved uncle. To many, including me, he was just that.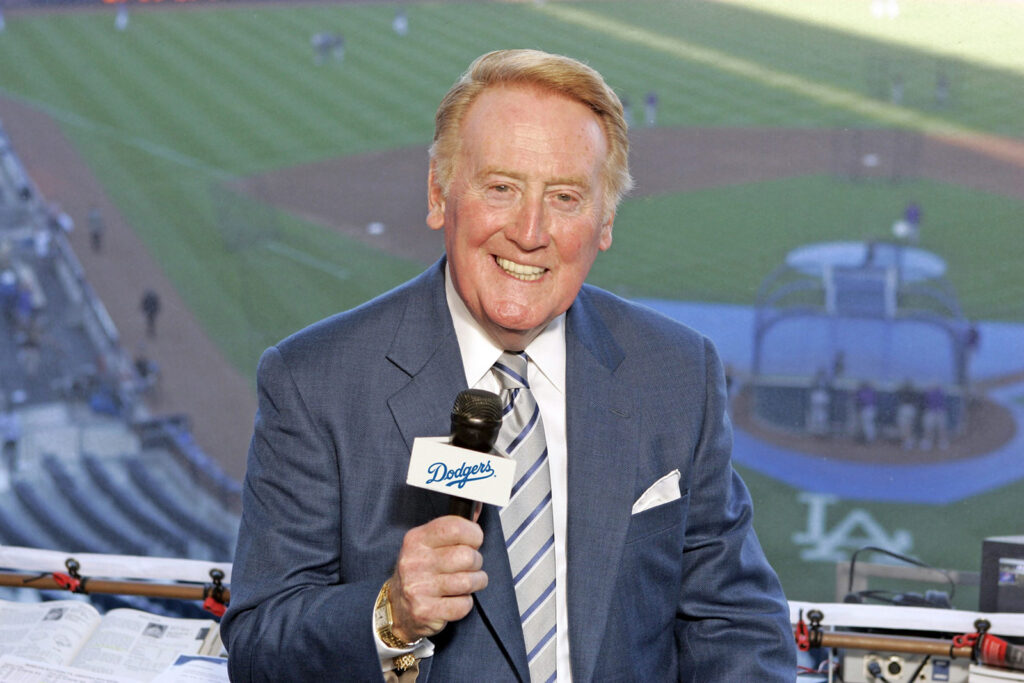 I learned the game of baseball from him. I always marveled that he thought along with Dodger manager Tommy Lasorda, and seemed to know that with a 2-1 count, a runner on third, less that two outs and Bill Russell at the plate, that a squeeze bunt was likely coming. And then it did!
Even as I aged, the reverence I had for Vin remained as it did when I was 9. He meant the world. He was the greatest. And he called the games for my team. I shared him with millions of Dodger fans, yet I felt with each game that he was talking to me. I know those millions feel the same way.
I was one of the lucky ones. Bordering on lottery lucky. I got to work for the team from 2006-13, and had never come close to meeting the icon before then. Someone that first spring training told me that you don't want to meet your heroes, because they disappoint. But he added that Vin was different. Yes, he surpassed the impossibly high expectations I had for him.
When I went up to him a day or two after my first opening day at Dodger Stadium, I had to muster up the courage to say hello to him. Here I was pushing 40, and I was like a nervous 9-year-old. I called him Mr. Scully, and asked him if I could introduce myself. He corrected me. "Please call me Vin." I was caught off guard, and felt like I was in some inner circle that I never wanted to leave. We chatted and I thanked him for being the soundtrack of my summers, telling him that my mother and I listened to the games, and that her English improved because of him.
Getting to work with and know Vin was something that I could never put a price on. He was kind and generous with his time. I remember asking him if I could bring my mother to meet him. "Of course," he told me. "You have to take care of your mother." Then he told me to bring her by at 6:40 p.m., which was just enough time for a meet and greet, and for him to have time to finish getting ready to call the game. Afterward he said to bring anyone by, whenever I wanted. I thanked him, but joked that I didn't want to take advantage because I could have someone here before every game. It really wasn't a joke.
Those pregame meetings were something else, often lasting about 3-5 minutes. They were long enough for my guests to say hello and say what the Dodgers meant, then to take a picture. The producers were always ready to take pictures, though I took many myself. How many of those are framed, I can't begin to count. What always struck me about these meetings is that Vin somehow made these people feel like the most important people in the world. I still don't know how he did that, and it's something I hope to figure out at some point.
I think of the stories he told on the air, and occasionally in the press box off-air. He often knew exactly what to say. When the Dodgers hit 4 home runs in a row the night of Sept. 18, 2006, he compared the thundering celebration that shook the stadium to VJ Day at the end of WWII. Man, how could he pull that one out and be so spot on?
Part of what makes baseball announcers even more popular than their peers from other sports is the everyday nature of the game, which becomes a part of the very fabric of your summer. Add to it that the lulls between the action are ripe for storytelling. Rick Monday often said that God never allowed an inning-ending double play to happen before Vin was finished telling a story.
I told Pat Fitzmaurice on the wonderful Fitz on Fantasy podcast last December one of my favorite stories that I haven't shared very often publicly. My mother-in-law Melodianne asked if I could arrange a meeting between Vin and the mother of someone she knew. This woman was a devoted Dodger fan and idolized Vinny. She was in failing health, but could still move around and get to Dodger Stadium.
I arranged to have them come out to a game right at the start of the season. The day before she was to come to the game, the daughter called me to tell me that her mother had taken a turn for the worst, and wasn't going to be able to come to the game. She asked if there was a way for Vin to call her. I told her I could arrange the next best thing, which turned out to be even better than imagined.
I told Vin the story of the woman, and immediately he asked me to bring her to a game. I told her she was in failing health and was too weak to come, but could we record a message for her. He thought for a few seconds, and asked me if she was aware that her time was coming. I said yes. He composed himself and said to hit record.
Vin talked about the progression of life and taking the next step, never uttering anything that could be taken the wrong way. He asked if they could share a prayer, and proceeded to pray the Hail Mary. All told, it took less than a minute. I was emotional and went straight to my office to email the message to the family of the woman.
I really knew nothing about this woman, other than she was in failing health. It turns out, she was a devout Catholic and had the message playing practically on a loop during her waking hours. She passed within a week of getting this message, but I heard from the family that it made their mom so happy in her last days to pray with Vin Scully. How could this man know this was the perfect message to give after knowing about the woman for about 90 seconds before I hit record? That's just Vin.
His Catholic faith was something special to him. I would sometimes attend Mass on Saturday afternoon in the Dugout Club, with a local priest coming to celebrate. Vin was always there, and often did the readings. Who else would you want to do the readings? In that room with about a dozen people, including players and coaches from both teams, everyone was just an attendee. And Vin didn't want to be treated differently.
Yes, he saw himself as a normal guy who got an opportunity that became gargantuan because he kept showing up and being great, but he wasn't blind to the reverence that people had for him after all the decades. I saw a stadium worker ask him for career advice to give to her son, and he kindly answered her though I was trying to rush him back to the booth. Another time he left the booth to say hello to a friend in a suite. It was probably a 150-foot walk between the suite back to the booth. It was about 10 minutes to game time, and an incredulous growing mob was surrounding him in the walkway. I'm watching this Beatlesque moment unfold and didn't see any security around. Vin just said hello and gave the OK for people to snap pictures with their phones. I became the bad guy to break up the photo party, telling the crowd that I had to get Vin to the booth because the game was about to start. Thankfully, the people understood and didn't become unruly. They knew the show had to go on.
It did from Brooklyn to Los Angeles, and he would sometimes kid about never getting a promotion. But man, the millions of lives he touched through all the games and the stories. I'm grateful for every one of them. I'm still tickled when I think back to him saying my name. And I still have the email he sent me after I left the organization, telling me that the best compliment he could give me is that I would be missed. Chokes me up to see those words again.
Gracias, Vin, for those 67 years. For the stories and for helping me fall in love with baseball and sports. You helped fuel a passion that remains with me to this day. Your passing does come with sadness, but I'm choosing happiness. Happiness for everything you meant and will continue to mean to your adopted home city and the baseball world. We all love you like a family member, pulling up a chair for dinner. Because that's what you were. En paz descanse. RIP, Vinny.