The marquees were supposed to be filled with battles that were a reminder of old heavyweight title fights. Mahomes vs. Rodgers. Henry vs. Donald. Even Steelers vs. Bears brings back memories of Mike Singletary, Jack Lambert, Dan Hampton and Mean Joe Greene. None of that is happening this Sunday.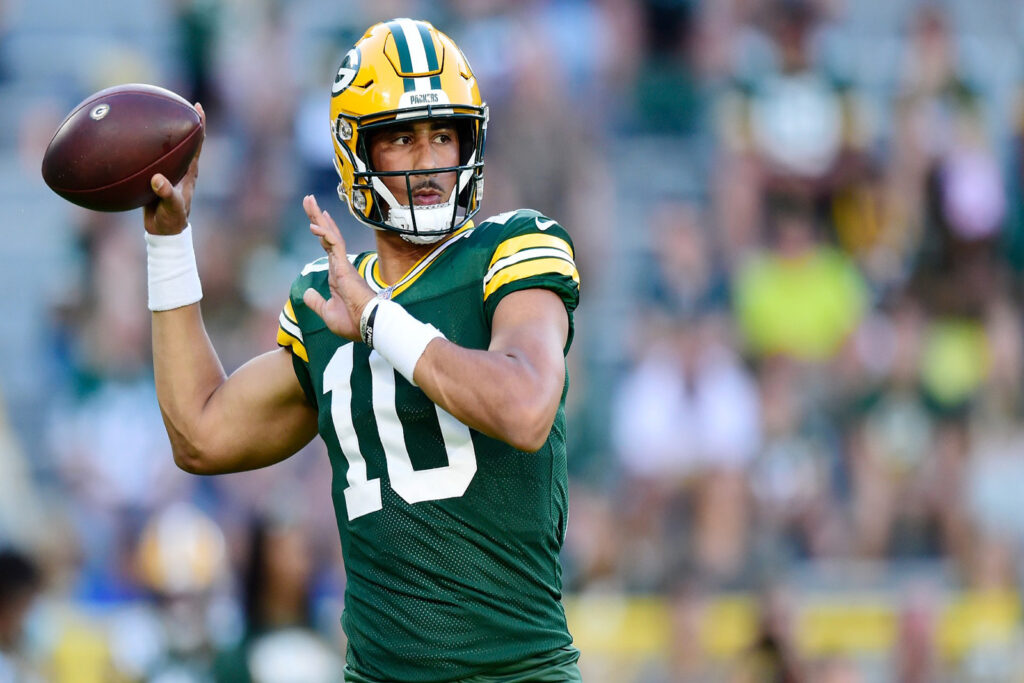 There are some storylines to follow like Jordan Love's first NFL start. Mahomes working his way back to his rarefied air. Justin Herbert returning to the QB elite. Kyler Murray playing after sitting out practice all week following the first Arizona loss of the season. And we get to see Justin Fields going into one of the toughest stadiums in the NFL. Cue up Renegade!
Yes, there are plenty of storylines in the afternoon and prime time games for Week 9. And plenty of Adentro y Afuera to talk about. Vamonos!
SUNDAY 1 PM GAMES
LAC (4-3) @ PHI (3-5)
LAC -1.5 / 50
CHARGERS
What's going on with the Chargers? It starts with Justin Herbert. The pressure has gotten to him of late, as has the way defenses are playing more deep coverage against him. He'll figure it out, and top-shelf QBs like Dak Prescott, Tom Brady, Patrick Mahomes and Derek Carr have all had good games against the Eagles. Austin Ekeler is one of my favorite plays this week against the #31 RB defense that's giving up 54.4 receiving yards to the RB. You're still starting Keenan Allen and Mike Williams, though the Eagle defense is giving up just 115.8 yards to the WR position. Jared Cook is a wild card play, as the Eagles are #23 against the TE and T.J. Hockenson just went for 10-11-89-0.
DEF QB (4) RB (31) WR (3) TE (29) 
EAGLES
Jalen Reagor (ankle) is questionable, but the way the Chargers defend against the pass, he'd be Afuera even if he were healthy. If you have Jalen Hurts, you're playing him, but don't have high hopes against the Charger D. If you have another option instead of Devonta Smith, go that way. Dallas Goedert is a great play this week, however, with Chargers allowing 89.7 receiving yards to the TE position (#31 in the league). The RBs, sigh, such a great matchup, but Kenneth Gainwell, Boston Scott and Jordan Howard were all splitting carries last week. Hard to recommend any of them, though Gainwell and Scott have done pass-catching work to make them more viable in a game that won't be a romp like last week.  
DEF QB (8) RB (29) WR (4) TE (23) 
GB (7-1) @ KC (4-4) 
KC -7 / 48

PACKERS
Anyone starting Jordan Love in a great matchup that could become a shootout if he has a good game? I'm tempted in a super flex league because of the Chiefs' porous pass defense. Davante Adams should still see lots of targets, though I can't recommend any other Packers' WRs. Marcedes Lewis is a wild card start against K.C. that's #31 defending the TE. Aaron Jones is easily Adentro, and I really like the 16 carries A.J. Dillon got last week to be an indicator for future weeks.
DEF QB (15) RB (13) WR (10) TE (16) 
CHIEFS
Patrick Mahomes at home against a defense sans All-Pro CB Jaire Alexander is enticing. Even banged up and not performing to their usual uber-elite levels, Tyreek Hill and Travis Kelce are automatic. Mecole Hardman has 29 targets in the last 4 games, with a high of 12 in the Week 5 blowout loss to Bills. Hard to keep him out of your lineup this week. Darrel Williams had 19 touches for 85 total yards, but lost goal-line carries to Derrick Gore. Both are possibilities this week. 
DEF QB (31) RB (21) WR (22) TE (31) 
AZ (7-1) @ SF (3-4)
EVEN / 45

CARDINALS
Kyler Murray is battling injuries and is a game-time decision. If you wait to start him and he gets ruled out, Love or Ben Roethlisberger could be your pivots off the waiver wire. Grab either now, if you can. Deandre Hopkins (hamstring) is also GTD. A.J. Green and Christian Kirk are startable against a defense that has been hit with injuries. If Hopkins sits, consider Rondale Moore to get increased targets. Zach Ertz's targets jumped from 54% to 70% the past 2 weeks, so the extra attention puts him Adentro this week. Last time these teams met, Murray went a pedestrian 22-31-239-1 & 7-1-0. Chase Edmonds should be Afuera against a defense that held him to 34 total yards last time. James Conner had only 29 rushing yards that game, and a TD. Afuera, unless injuries leave you no other choice.
DEF QB (3) RB (9) WR (14) TE (1) 
49ERS
Ay Dios Mio, Deebo Samuel and his calf are going to make us all sweat until the afternoon on Sunday. Have a contingency plan just in case he's ruled out. Sounds like the team could sit him down for his own good. Elijah Mitchell – 62 total yards vs. the 49ers last game – is another player battling injury who could be ruled out Sunday. If they're active, you play them. Though hopefully it's not a few snaps, then hit the blue tent. George Kittle is back from the IR, and he's going Adentro your lineups. He'll see more targets if Samuel is out. The 97% routes run and 7 targets (27%) from Brandon Aiyuk last week were encouraging, as was an article in The Athletic where Aiyuk plead mea culpa on not having good practice habits as a rookie. Do I recommend starting him if Samuel and Kittle are in the lineup? No. Afuera. Jimmy Garropolo was DNP last time these teams played. He's Afuera against a tough Arizona defense.
DEF QB (28) RB (10) WR (9) TE (10) 
SUNDAY NIGHT FOOTBALL
TEN (6-2) @ LAR (7-1)
LAR -7.5 / 53.5

TITANS
This is the first game with no Derrick Henry. Who are you starting between Jeremy McNichols or Adrian Peterson? I don't see starting AP in a game where the Titans are going to need to score plenty of points to keep up with the Rams. Since McNichols has gotten some work in the passing game, he could be enlisted if this game shoots out. Ryan Tannehill will have to pass to keep up, but versus good defenses in Buffalo and Arizona he passed for 216 or fewer yards. The Rams qualify as a good defense. A.J. Brown is Adentro every week, as he has 379 receiving yards and 29 targets the last 3 games. Julio Jones, if he's active, is a starter. No other Titans receivers are startable.
DEF QB (25) RB (11) WR (32) TE (7) 
RAMS
As a Ram fan, watching Matthew Stafford and Cooper Kupp play pitch-and-catch conjures memories of the Greatest Show on Turf from the early 2000s. They're every-week starters, as is RB11 Darrell Henderson. He has no fewer than 15 touches in any game since Week 4. Robert Woods, despite Week 5 being his only blowup week, is Adentro on a weekly basis because of this offense. What about Van Jefferson? His routes were near equal with Kupp and Woods last week, and he's been targeted 13 times the last 2 weeks. His ADOT was 15.9 & 16.0 those games. Adentro! Surprisingly, I'm putting Tyler Higbee Afuera. He had 8 targets in Week 7, but the other 3 games around that he had just 10 targets total. Tough matchup against the #7 Titan defense.
DEF QB (10) RB (17) WR (13) TE (24) 
MONDAY NIGHT FOOTBALL
CHI (3-5) @ PIT (4-3)
PIT -6.5 / 40

BEARS
What to do with Khalil Herbert? Only Joe Mixon and Alex Collins have gone 90+ yards against the Steelers. Herbert has 78 rushing attempts in the last 4 games, but David Montgomery has been activated off IR and will take some touches away from Herbert. Afuera. Really, I can't recommend starting anyone on this offense. Justin Fields is going into rowdy Pittsburgh, and last time he went to an AFC North foe's home he was skunked for 68 yards in Cleveland. It won't be that bad this week, but Fields' play won't be close to what you'd want in your lineup. Darnell Mooney and Allen Robinson? Afuera. Darren Waller's 65-yard outing is the best TE performance against the Steelers, so Cole Kmet is Afuera.
DEF QB (19) RB (15) WR (29) TE (5) 
STEELERS
Najee Harris is going to finish as a Top 3 RB this season. He's #3 with 20.3 FPPG thus far and is dominating carries for the Steelers (76%). Adentro. Diontae Johnson has seen 38% and 34% of targets, respectively, the last 2 weeks and 24% on the season. He has 10+ targets in 5 of 6 games. Do I need to go further? Adentro. Chase Claypool getting 17% of targets leaves you hoping for more, especially with his 12.4 ADOT. Against the #29 WR defense, definitely Adentro. Pat Freirmuth has an 18% target share in the last 2 games, so even against a tough Bears defense, he's playable. Ben Roethlisberger has not thrown a pick since Week 4, and has 4 TD passes since then. I only trust him in super flex leagues.
DEF QB (9) RB (7) WR (18) TE (11) 
SOURCES: PFF / Pro-Football-Reference / Football Guys / Lineups.com