Last week was muy Bizarro. Just like the Seinfeld episode. Everything was backward. The Jags beat the mighty Bills. The Broncos went to Big D and stomped on the Cowboys. The Titans blitzed the Rams. So much weirdness. As Chris Berman loves to say, "That's why you play the games."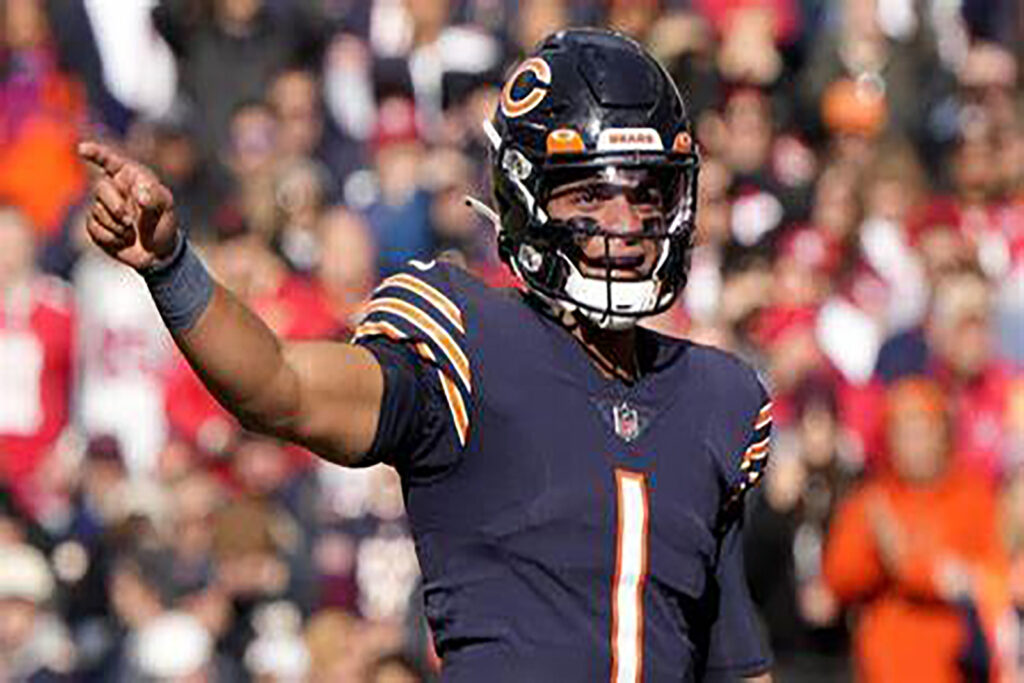 Familia, we are halfway through the NFL season. And we have just 5 more weeks of the fantasy regular season. Time to make every move count, which is why estamos aqui para servirles.
One quick betting note to keep in mind going forward. Take the home underdog +10 or more. In the last 2 weeks we've had the Jets, Texans and Jaguars all 10+ point underdogs. What do they all have in common? They all covered. These are still teams with NFL talent and at home, they have that little extra ganas. This week the Jets are +13 hosting the Bills. Hmmm, something to keep in mind. Another game I like is Dolphins +7.5 against the Ravens. Home 'dogs, familia. Make it happen.
Every week it's getting leaner on the waiver wire, but we still have a few players to bring up to you. As always, they're rostered in under 50% of Yahoo leagues. Let's get into Los Peekups:
QUARTERBACK
JUSTIN FIELDS BYE
26%
Not a great week for streamers. A possibility would be Ben Roethlisberger with the Steelers hosting the Lions. But regarding Fields, he now has 2 games in a row where he's played well and used his legs. He showed his improvement in staring down the Steeler faithful at noisy Heinz Field and almost led the Bears to a comeback victory on Monday Night Football. Note: The last time this happened was 30 years ago. Fields has good games matchups against the Ravens and Lions coming out of the bye. 
RUNNING BACK
JORDAN HOWARD @ DEN
13%
Howard is like Jason from the Friday the 13th movie series. Just when you thought he was gone, he keeps coming back. His 17-71-1 line in Week 9 and his 29 carries in the last 2 games shows his volume needs to be taken seriously. Remember, that his last 2 games have been against subpar run defenses (Lions and Chargers), so stiffer competition at Mile High awaits..
RHAMONDRE STEVENSON vs CLE
6%
He looked so good on one of the early drives, where chewed up yardage before Damien Harris vultured a TD. Stevenson finished with 12 touches for 106 total yards. This does come with a warning: Chasing RB touches in New England's backfield can be a maddening experience. Do so at your own peril.
MARK INGRAM II @ TEN
38%
The 14 touches for a total of 64 yards is a good indication that he's going to get some work behind Alvin Kamara as the true RB1 in New Orleans. The Titans have stiffened up a little against the run, but this is more long-term play. Especially if Kamara were to miss any time.
DEVONTA FREEMAN @ MIA
22%
I know, it's not 2016. But Freeman looked pretty good in amassing 13 carries for 79 yards. It's going to be hard to predict carries in this backfield, but this week against Miami's defense that's allowing 93.8 rushing yards per game.
ENO BENJAMIN vs CAR
0%
That's right, he's a Blutarski as far as being rostered (Animal House fans will get that pun). This move is purely based on Chase Edmonds missing time with an ankle sprain, and someone pairing up with James Conner is going to be necessary because he's not going to handle 28 touches ever week. This recommendation is more for PPR leagues, as Benjamin should get some work in the passing game. 
TY JOHNSON vs BUF
13%
Here is his line over the past 3 games: 13-16-176-2. Along with Michael Carter, Johnson is plenty involved in the passing game. If you could get anything close to James White in his prime at New England, you'd be happy.
WIDE RECEIVER/TIGHT END
ELIJAH MOORE vs BUF
27%
Moore has been targeted 20 times in the last 3 games since the Jets had their bye week. Last week he turned 8 targets into 7 receptions for 84 yards and added plenty of style points on his 2 TDs. The Buffalo game is going to be tough, but afterward the schedule lightens up.
RASHOD BATEMAN @ MIA
36%
I've been recommending him for a few weeks since he returned from injury, and now has 20 targets in his last 3 games. He's still without a TD, but it's only a matter of time before that happens. The Miami matchup could be muy sabroso.
DONOVAN PEOPLES-JONES @ NE
13%
Remember how I said someone had to catch some of the balls left over by OBJ? Well, DPJ went 2-3-86-1 in the first game of the post-OBJ era in Cleveland. He now has 257 receiving yards and 3 TDs his last 3 games. Jarvis Landry will be the top target, but DPJ is going to see some looks the rest of the way.
MICHAEL GALLUP vs ATL
48%
He's been out since Week 1, and returns to a tasty matchup against the Falcons. Gallup will at best be the 3rd option in the Dallas attack, and he could be fighting for targets with Dalton Schultz and the RBs. But if you want to get a piece of a high-powered offense, Gallup should be your target.
PAT FREIERMUTH vs DET
40%
As if the Monday Night Football breakout party with 2 TDs against the Bears wasn't enough, now Freiermuth takes on a Detroit defense that most recently got gouged by Dallas Goedert for 72 yards on 6 receptions. We're going to hear Steeler Nation screaming "Muuuuuuuuth!!!" for years to come.
DEFENSIVE STREAMER OF THE WEEK
TENNESSEE vs NO
11%
Did you see one of the coming-out party for Jeffery Simmons of the Titans on Sunday night at SoFi Stadium? He spent almost as much time in the Rams' backfield as their RBs. After having an abysmal pass rush in 2020, the Titans are tied for 6th with 23 sacks and have 9 INTs. The Saints have a good O-line, but as long as Trevor Siemian is the QB, the chances for turnovers are good.
SOURCES: PFF / Pro-Football-Reference / Fantasy Pros / Football Guys / Lineups.com