Are there going to be any QBs left by the time we get to Week 18? Here's a list of the walking wounded among the signal callers: Carson Wentz (ankles, plural), Derek Carr (ankle, singular), Tua Tagovailoa (ribs), Tyrod Taylor (hamstring), Ben Roethlisberger (chest), Baker Mayfield (left arm), Andy Dalton (knee).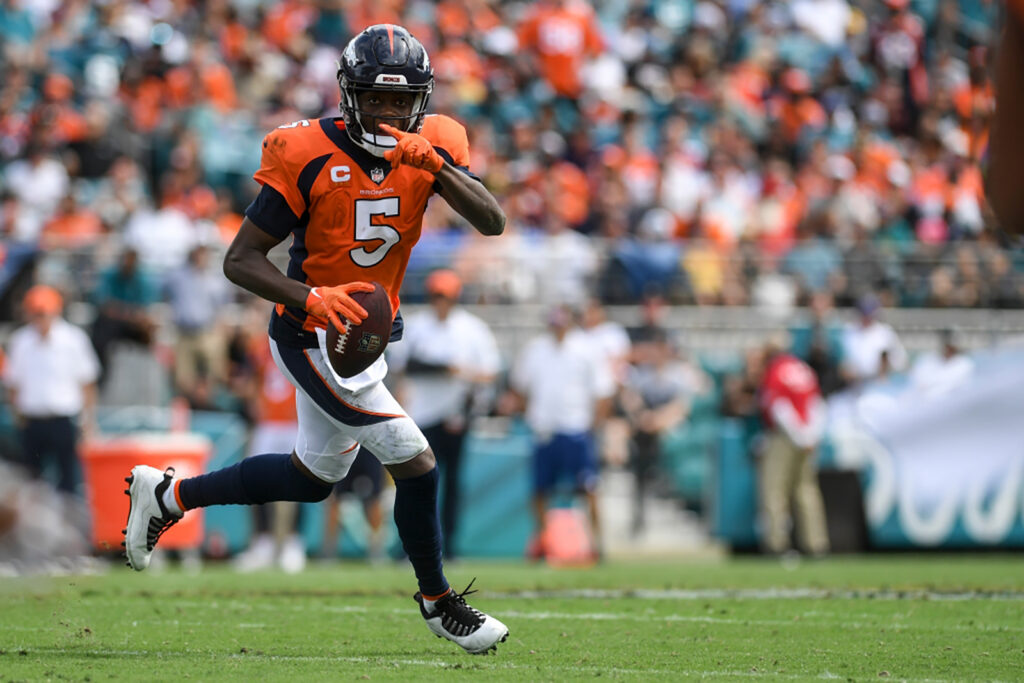 Add to it injuries to Jarvis Landry, Diontae Johnson, Jamychal Hasty, among others, and it was quite the Week 2 Desmadre. That was reminiscent of last year's Week 2, when a MASH unit of injuries included Saquon Barkley blowing out his knee and Christian McCaffrey spraining his ankle, essentially wrecking fantasy teams that drafted them with the first few picks. I joked with amigo Dr. Edwin Porras, that if he got any questions asking if there was a correlation between last year's and this year's Week 2 craziness, that he should answer, "It's bleeping football, that's the correlation!"
Jokes aside, it's been quite the eventful first couple weeks. Derek Carr is leading the NFL in passing yardage with 817. Derrick Henry and Aaron Jones answered whispers about being busts with nuclear performances. Cooper Kupp, Tyler Lockett and Deebo Samuel are leading all WRs in fantasy points, when many analysts didn't even have them leading their own teams. And Marvin Jones has more fantasy points than Davante Adams. Repeat after me, it's early! Muy temprano.
There is going to be some work to do on the QB side this week, as some are expected to miss time. So let's get to the Peekups of the Week. Salud!
QB STREAMERS
DANIEL JONES vs ATL
20%
The 516 yards and a pair of TD passes are nice, but is it time to get excited after he busted out for 95 yards rushing last week against Washington? Is Jones a Konami Code QB? This week the Falcons are coming to town, and that has meant good things for QBs so far. Atlanta is dead last in fantasy points allowed to the position, after being quite generous last year. Jones may not be an every-week starter, but will have another good matchup against the Cowboys in a couple weeks.
TEDDY BRIDGEWATER vs NYJ
18%
Completing 77% of his passes, Bridgewater has been a revelation since being named the starter for the Broncos. Last week, he was 9 of 10 for 97 passing yards and 1 TD when under pressure. Cue the Queen song! Plus, it's a homecoming and the young Jets are going Mile High into a stadium that will be packed with Bronco fans at a fever pitch. The Jets are #10 in the league with 465 passing yards allowed. Bridgewater is set for a big home debut.
SAM DARNOLD at HOU
15%
Back to back games with 200+ yards in the first half will get a lot of people talking about how Darnold just needed to get out from under the Gase thumb (gracias Peter King for that stat). Well, it helps that Darnold has OC Joe Brady calling the plays, as the USC product now has 584 passing yards and 3 TDs thus far. The Houston D has allowed 332 yards to Trevor Lawrence and Baker Mayfield completed 19 of 21 passes for 213 yards on a day that the running game did most of the damage. It will be in Houston, but expect the Panthers to keep rolling with Darnold at the helm.
RUNNING BACK
MICHAEL CARTER @ DEN
50%
This is more of a speculative pick than a recommendation for this week. Carter tied with Ty Johnson for the team lead with 33 offensive snaps, and turned it into 11 carries for 59 yards and catching 2 of 3 targets for 29 yards. The rest of the RBs in green were hardly involved. Carter could be involved similar to how D'Andre Swift was after a while with the Lions last year. The Broncos are #2 with 14.7 Fantasy PPG allowed to the RB position, hence why you may be picking him up to stash him.
ZACK MOSS vs WAS
49%
Here's the good – 2 TDs. Here's the not so good – 18 offensive snaps, which was less than half of Devin Singletary. Still, if you need RB depth and Moss is available, you could do worse. Washington has that ferocious D-line, and hasn't allowed more than 57 yards to an RB. Another stash for when bye weeks come.
JAMES WHITE vs NO
43%
Interesting that White led the Patriots' RBs with 30 offensive snaps last week, and now has 12 receptions for 94 yards over the past couple games. In PPR leagues, he's more valuable. While it can be hard to predict RB usage in New England, it's really looking like White and Damien Harris are settling into specific roles in the passing and running games, respectively. White during the bye weeks could have value because of the pass catching.
CORDARELLE PATTERSON @ NYG
16%
Yup, here he is in all of Ian Hartitz's glory. I can't believe that I had Patterson on the bench in a 20-team league last week. Yes, 20 teams! The pair of TDs were nice, and the usage in the passing game – 5 receptions for 58 yards – should be sticky throughout the season. Also, Mike Davis does not look good right now. He may have outsnapped Patterson 46-24, but it's looking like Patterson will be plenty involved. Keep in mind we've probably already seen his best game of the season, so temper expectations.
ALEXANDER MATTISON vs SEA
33%
This is not because of the 11 rushing yards he gained last week, nor the 13 offensive snaps he played – compared to 47 by lead caballo Dalvin Cook. This is all because of the tweaked ankle that Cook sustained during the game. Grab the backup now, because Mattison is lurking like La Llorona in the middle of the night.
WIDE RECEIVERS/TIGHT ENDS
DARNELL MOONEY @ CLE
45%
Mooney turned 8 targets into 6 receptions for 66 yards last week against Cincinnati, and was on the field for 6 more snaps than stud WR Allen Robinson. Mooney is a solid deep threat, and Justin Fields thrived at Ohio State while throwing the deep ball. The Browns came into the season with high expectations for the secondary, which is #17 in Fantasy PPG allowed to the WR.
RONDALE MOORE @ JAX
35%
This one is with a little pumping of the brakes. The 7 receptions in 8 targets for 114 yards and 1 TD last week were fantastic. Moore did it on only 28 snaps, which was #4 among Cardinals WRs last week. If the targets are a sign of things to come, vamonos. Still, if you don't have a piece of this explosive offense, Moore is worth exploring on the waiver wire.
HENRY RUGGS VS MIA
35%
Some people were recommending to drop Ruggs after Week 1. The usage wouldn't be there behind Waller. Yada, yada. I was on the hold side (just look at all my teams). This is still a 1st-round pick going into his second year in the NFL. I started him on several teams and was rewarded with his catching 5 of 7 targets for 113 yards and 1 long TD. You can't teach this type of speed. He was nearly even with teammate Bryan Edwards in snaps (50-48), so he's going to be on the field a lot. Miami's secondary is its strength on defense, and keep an eye on Carr's availability. Fantasy teams with multiple flex options may not find too many players worth starting over Ruggs. BTW, Edwards is only rostered on only 20% of teams, and is very much worth a peekup and stash.
TIM PATRICK vs NYJ
22%
What's that they used to say about Hall of Famer Cris Carter? All he does is catch TDs! Well, Patrick has a pair of scores on just 7 receptions in the first couple weeks of the season. His 51 snaps had him just behind Courtland Sutton on the team last week. Can you imagine double-dipping and picking up Patrick and Bridgewater to stream them both against the Jets this week? And it may not take a ton of FAAB dollars to do it.
QUINTEZ CEPHUS vs BAL
2%
Cephus looked pretty good on Monday Night Football against the Packers, and now has 13 targets in the last 2 games with TDs in both contests. T.J. Hockenson is still going to be the lead pass catcher for the Lions, and the two RBs are going to be very much involved. Still, when it comes to the WRs, Cephus is the clear leader in targets and snap share – 51 against Green Bay, 17 more than the next-highest Lions WR. The Ravens can still defend, though they have faced a pair of hot QBs the first couple games in Carr and Patrick Mahomes. So they are vulnerable in the passing game.
AUSTIN HOOPER vs CHI
48%
Only a single TE this week, because that position is already spread pretty thin. And Hooper is barely eligible for the Peekups column because he's nearing 50% rostership. This recommendation has as much to do with Jarvis Landry's being placed on the IR as anything. There are going to be targets available, and during the preseason Mary Kay Cabot of cleveland.com pointed out that this offense emphasizes the TE position. The Browns have a trio of TEs, and Hooper led the way last week with 42 snaps, so if you've been streaming TEs thus far, he's got a decent shot of catching some passes and scoring.
SOURCES: PFF / Pro Football Reference / Football Guys / Lineups.com / Football Outsiders