Yes, the Abbott and Costello reference is a little gratuitous and shows my age… todo bien. It really does sum up quickly the intrigue around the #3 pick to the 49ers in the NFL Draft starting on April 29.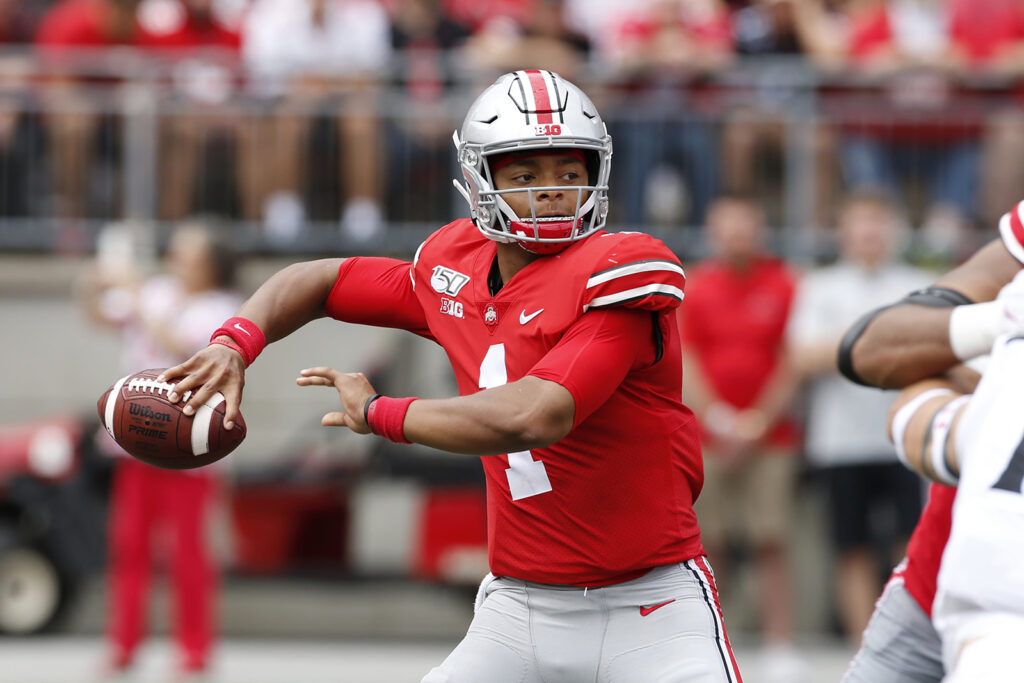 Mac Jones? Trey Lance? Justin Fields? I said it before, none of these three players has thrown a competitive pass in almost four months (longer for Lance), yet the oddsmakers have been having fun moving the lines all over the place. Fields opened as the favorite. Then Jones shot up the board because such NFL insiders as Chris Simms – a close friend and former teammate of San Francisco HC Kyle Shanahan – said that Jones was the perfect player for the 49ers' system. After his pro day, Lance jumped into practically a co-favorite spot with Jones, according to DraftKings Sportsbook on the eve of the draft.
From a fantasy standpoint, with the weapons at his disposal, great running game, stout O-line and Top 5 defense when Nick Bosa is healthy, this is a great situation for whichever of these players is picked around dinner time out here on the West Coast.
So who should the 49ers take? Here are some thoughts on each of the players.
MAC JONES
OK, enough with the talk about how he looks in a uniform. Peyton Manning didn't look the greatest in a uniform, and it took all of about 45 seconds last year to deliberate whether to induct him into Canton. Jones can play. The question: Is he the right guy to play in Shanahan's system?
His incredible final season at 'Bama – 4,500 passing yards, 77% completion rate, 41-4 TD-INT – take a back seat only to Joe Burrow's 2019 season at LSU. And where did Burrow end up getting drafted?
Mi compadre Jordan Bohinc comped Jones to another Hall of Famer Kurt Warner, which is high praise because he's a die-hard fan of the Greatest Show on Turf. Warner himself echoed that sentiment on the Rich Eisen Show. Jones doesn't have the biggest arm, but neither did Peyton.
So many experts say it's about decision making and accuracy to play for Shanahan, and Jones has these in spades. Yes, he had 1st-round picks all around him at Alabama, but he still had to make the throws. What it's going to come down to is whether Shanahan feels like he can win with a pocket passer – though he's not a statue and showed just enough elusiveness like Peyton – or if he wants a dual-threat QB to open up passing lanes for George Kittle, Brandon Aiyuk and Deebo Samuel and add to a prodigious running game.
ODDS: -305
FINAL TAKE: I've often said where there's smoke there's fire. Too much chatter from too many people plugged in to the NFL are placing Jones in San Francisco. It's not what I'd recommend (see next player), but it's really up to who Shanahan wants to coach for the next 10+ years. 
JUSTIN FIELDS
When I see all the negativity that's being heaped on Fields, I think of Justin Herbert last year. People talked about him being quiet and even too academic. How'd that work out? Deshaun Watson went 10 picks after Mitchell Trubisky in 2017 (and a couple past Patrick Mahomes) even though he'd torched Alabama defenses littered with future NFL players in back-to-back FBS Championship games. His slight figure was questioned. Lamar Jackson in 2018 had his ability to stick at QB questioned, even though he was just a little more than a year removed from winning the Heisman Trophy. The NFL MVP trophy less than two years later is a nice bookend for the Heisman.
It just seems like most years a QB gets more than his fair share of basura talked about him. Looks like Fields is the poster child this year. Dan Orlovsky questioned Fields' work ethic and later wished he'd never said anything. Fields' average of 3.11 seconds to throw a pass have been talked about ad nauseum.
Yes, he had tough games against Indiana and Northwestern. I also can't unsee the otherworldly performance he had against Clemson in the Bowl Championship Semi-Final, with 385 passing yards and 6 TDs after taking a brutal hit early in the game. Grit goes a long way with me. He throws as pretty a pass as anyone in this group of three, and I'm amazed at the PFF stat that showed he had only 18 turnover-worthy plays in his career. NFL Network's Cynthia Frelund also had the stat that Fields' TD-INT ratio on plays from a clean pocket – as good a measuring stick as there is for a QB – was an astounding 54-4. Add in that his passing grade was 96.5 on throws 20+ yards, his highest rating when breaking down by types of throws. Oh yeah, he also flew through the 40 in 4.44. What's not to like?
ODDS: +500
FINAL TAKE: This would be my pick at #3 for the 49ers. I'd even want to put him up there in the discussion alongside Zach Wilson to the Jets at #2. He could really take the 49er offense to a different level, though the wise guys laying heavy sums on these bets and the NFL insiders pointing away from Fields here tells me he's not the pick. I hope he gets into a good situation where he can take over in 2022 at the latest. 
TREY LANCE
Plain and simple, Lance is as physically gifted as any one of the QBs in this draft. Yes, that includes Fabio Football (aka Trevor Lawrence). He may have the biggest arm of all the top prospects. His running speed and shiftiness for a QB are not quite to the Lamar Jackson level, but they're better than all but a few. His physical toughness on short-yardage runs echoes Cam Newton. 
Then you look at the person. After he was interviewed on the Rich Eisen Show, I came away feeling like I'd just heard Russell Wilson get interviewed in the pre-draft process nearly 10 years ago. He had maturity, assuredness without being cocky and that IT factor just oozed through the airwaves. That matters when leading an NFL team.
He's 20, the youngest of the three options for #3. He's thrown just 318 collegiate passes, when others have thrown more than 1,000. Does Shanahan want to mentor Lance for all or part of the first season, with Jimmy Garoppolo still in the lead role?
In watching film on him, he looked a lot like Steve McNair. Dynasty owners who speculate see the possibility of 2020 Josh Allen. Still, my big concern is his penchant to run at the first sign of trouble in the pocket. And when he did run, he sometimes took big hits. That's one thing in FCS. A whole different thing in the NFL with defenders built like Avengers. Steve Young had that habit early in his career in the USFL and Tampa Bay, and became more patient after sitting behind Joe Montana in San Francisco. Once Lance learns this, the sky could be the limit. It took Allen two seasons with some tough-to-watch moments before his breakout.
ODDS: +300
FINAL TAKE: I really hope that Lance gets drafted by a team that could have him sit for at least part of a year. If not the 49ers, I hope Pittsburgh, Washington or Chicago trade up to get him. He's a dynasty-only pick in most scenarios.