Saturdays are supposed to be almost as sedentary as Tuesdays are during the NFL season. All the practices are completed the day before, except for the teams playing on Monday Night Football.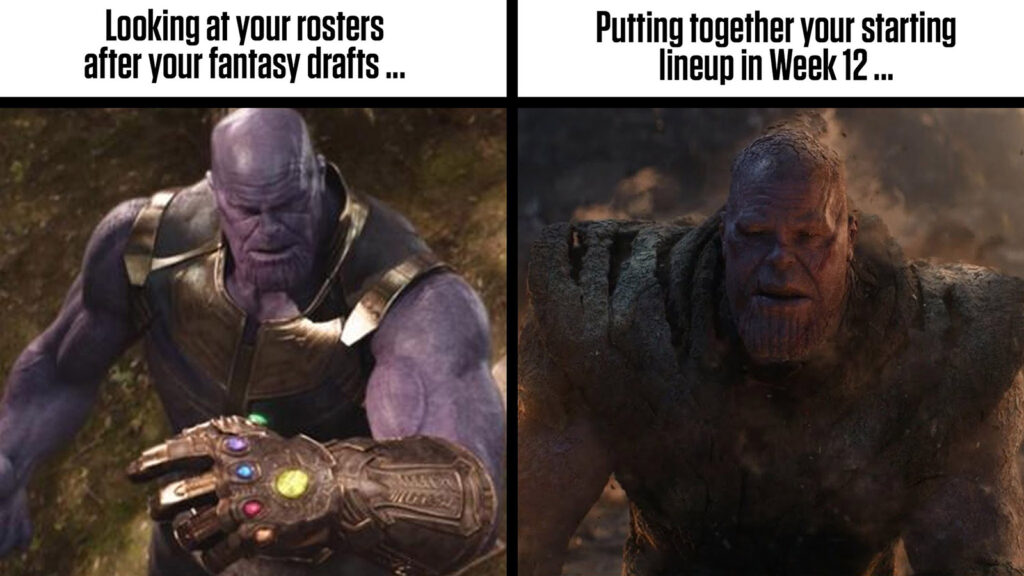 As fantasy players, most of our rosters are set, with the exception of some Adentro/Afuera (aka start/sit) questions that we'll be wrestling with until Sunday kickoff. Most of the hard work is done, and now it's just the waiting for the games.
Then last Saturday happened. Forget about the fact that it was the Saturday of Thanksgiving weekend, which should have made the day all the more quiet. The way the news was coming in, it felt like March 11 when it seemed like all the news was blowing up every 15 minutes. James Conner tests positive. All the Denver QBs were sitting out because of violation of COVID protocols. The Steelers-Ravens game was being postponed. Again. It all felt like an avalanche that drove fantasy managers from Twitter to the waiver wires to make sure they could field full rosters in Week 12.
A friend sent me a tweet showing Thanos looking like he'd just gone through a deep fryer. That's how some people felt by the time they hit the pillow in anticipation of a Sunday filled with NFL games. How did those moves work out? Unless you already had on your roster anyone of Patrick Mahomes, Tyreek Hill or Derrick Henry (and a few others), your reaction was a resounding, nada.
Now comes the aftermath. The day after. Cleaning up the bottles after a familia fiesta the night before. Still a little crudo. Time to pick up the pieces, and hopefully get players back from IR spots. Maybe you had to make some hard cuts. I had to drop Deebo Samuel for Justice Hill in one of my leagues just to assure that I had a healthy RB for my lineup. Imagine how I felt watching Samuel go off on Sunday. And to add insult to injury, I'm a Ram fan. Ay Dios Mio!
Now that it looks like the show is going on no matter how many understudies have to appear onstage, let's get ready to do it all over again. There's no way to know what the rest of this week will bring. As Booger McFarland said during the Monday Night Football pregame show, NFL players opted in to play in 2020. They knew that it was going to be like nothing they'd ever experienced before. Maybe they didn't anticipate this level of loco, but they have to deal with it.
As fantasy managers, we're doing the same. We signed up for this 2020 craziness. I'm calling it La Locura de 2020. And as crazy and soul crushing as some of the moves turned out, we'll have stories to tell about this year. Just like big wins or Corazon Rotos in fantasy or the poker table, the stories will get better as they're retold. Besides, this is miles better than not having football at all.
So let's get to taking care of the aftermath. The playoffs are beckoning. Whether you need to win to get in, or you're setting your roster after you've already qualified, this is the week to keep polishing the fantasy gem that is your team. If you can still get a handcuff like Alexander Mattison, that's a good idea. Or it might be a good idea to set up your roster with a second defense, in case your defense has to face the Chiefs like the Dolphins do in Week 14. Plenty to think about and plan for. Let's get into Los Waivers for Week 13 (all players must be owned in less than 50% of Yahoo leagues to qualify for this column):
QUARTERBACK
STREAMER OF THE WEEK
Kirk Cousins vs. JAX
40%
This feels like a weekly occurrence with Cousins, and he's been paying off for streamers, super flex leagues or those going cheap in DFS. In the past 6 games, Cousins has thrown for 3 TDs in 4 games. And in another he had a deuce. Rookie Justin Jefferson has been the best among the first-year WRs, and Adam Thielen will be back from the COVID list. The Jaguars are #31 against the pass, according to Football Outsiders. Vamonos!
Ryan Fitzpatrick vs. CIN
20%
This is presuming that Fitzpatrick remains the starter, with Tua Tagovailoa battling a thumb injury. Fitzpatrick came back like he didn't miss any time in throwing for 257 yards and 2 TD. He was consistently looking for Devante Parker, which worked so well down the stretch in 2019. The Bengals are #26 against the pass, and seem to be trending downward on defense to finish the year. Fitz Magic will be primping his beard plenty on Sunday.
Philip Rivers @ HOU
33%
This is the first of a pair of games over a 3-week span against a Texan defense that is 22nd against fantasy QBs with 19.1 FPPG. Rivers has passed for at least 288 yards in 4 of his past 6 games, and has thrown for at least 2 TDs 4 times during that span. Rivers is giving up short-yardage snaps to Jacoby Brissett, so don't expect any QB sneaks for TDs. 
RUNNING BACK
PICKUP OF THE WEEK
Cam Akers @ AZ
30%
The rookie has flashed with some long runs since he returned in Week 8 from injury. No run was flashier than the 61-yarder he had against the 49ers this past Sunday. Akers was rewarded with finishing off the run with a 1-yard plunge. Even with only 9 carries to rush for 85 yards last week, it is probable that Akers is gradually taking over the lead caballo duties in the Ram backfield. I say probable because Malcolm Brown and Darrell Henderson are lurking, though Akers has appeared to be the best back. Henderson is averaging barely more than 2 yards a carry the last 3 games, giving him a bit of a downgrade. The Cardinals are 14th in the league against fantasy RBs.
Devontae Booker @ NYJ
10%
It's likely that Josh Jacobs' ankle injury won't become clear before Friday, and since waivers aren't running until Thursday night, this is a good speculative pick. It was in Week 10 that Booker rushed for 81 yards, and that was with Jacobs playing a full game. The Jets are #16 against fantasy RBs in FPPG, and this game is in the Meadowlands. If the Raiders get out to a lead as expected, Booker would be asked to salt away the victory.
Benny Snell vs. WAS
36%
First the human aspect. James Conner has tested positive for COVID-19, and as a cancer survivor there are added risks. We wish you the best of health and recovery James, so you can resume your career. As of this writing, Snell has not played against the Baltimore Ravens to finish Week 12. But back in Week 1, when he had the Pittsburgh backfield to himself after an early Conner injury, Snell ran for 113 yards on 19 carries. He also vultured a 1-yard plunge in Week 11. If Conner misses more than 1 game, Snell will face the Washington defense is #6 against RB in FPPG. So while it could be rough sledding, Snell would get a large share of the opportunities.
Alexander Mattison vs. JAX
32%
Dalvin Cook is banged up, the latest injury being on his ankle. Cook missed a couple games at the tail end of last season, when, coincidentally, Mattison was also injured. If Mattison is not owned in your league, he's a must grab on the possibility alone that he'll become the lead caballo for a week or two. Warning: The Weeks 14-16 opponents are the Buccaneers, Bears and Saints. All solid against the run.
Frank Gore vs. LV
25%
I implored you all not to laugh when I first put Gore into this column. The touches are too hard to ignore during a time of year when teams are begging for a living, breathing body at RB who gets some touches. At 37, Gore is very much breathing, and has 33 carries the past 2 games. He even caught 3 passes last time. Add to it that the Raiders are #30 against the run.
WIDE RECEIVER
Allen Lazard vs. PHI
39%
Aaron Rodgers has been playing as well as he has in the past 5 years, so any pass catcher on the team is a threat to go off. His TD against the Bears last week shows that Rodgers is looking for the lanky WR in the red zone. 10 targets in the last 2 weeks shows his involvement. The Eagles have been more susceptible to the pass – #20 in the league – and we just saw how D.K. Metcalf went wild against them. Lazard is that tall WR who can be a problem for defenders.
Keke Coutee vs. IND
2%
Someone needs to get a healthy portion of the nearly 7 targets a game that Will Fuller was averaging before he was suspended. While the opportunities are there, the next three weeks feature the Colts (twice) and the Bears as opponents. They are 8th and 3rd, respectively, against the WR position in FPPG. So temper enthusiasm and expectations a bit before the Bengals arrive in Week 16.
Nelson Agholor @ NYJ
43%
Yes, we got burned by trusting the Raiders last week. One of the things I keep harping on is that you plan for the week ahead, not grind on the week behind. Even in a bad week against the Falcons, Agholor received 6 targets. The Jets are #30 against WR in FPPG. This is a prime get-right opportunity for the Raiders as a team.
Denzel Mims vs. LV
7%
Mims just keeps making plays and showing the potential that made the Jets take him 27th in the 2nd round. Mims has 23 targets in the last 3 games. Between now and Week 16 (fantasy championship week), the Jets play the Raiders, Seahawks, Rams and Browns. That's three of four good matchups. The Raiders are #20 against WR in FPPG. 
TIGHT ENDS
Jordan Akins vs. IND
4%
This is similar to Coutee, in that Fuller is leaving behind big shoes to fill. The Colts are #3 against the TE position in FPPG. Like with Coutee, the schedule is difficult the next 3 weeks. Still, you could do worse at the TE position if you're streaming the rest of the way.
Statistical sources: Pro Football Focus, Football Outsiders and Pro Football Reference.