Not going to sugar coat things. This is a waiver wire period that could determine your season. If you were hit by injuries to Saquon Barkley or Christian McCaffrey yesterday, it's time to pick yourself up and figure out the next step. If you didn't, it's time to pounce anyway and get some players to bolster your roster for the rest of the season. You can be nice to your leaguemates outside of the competitive arena that is Fantasy Football.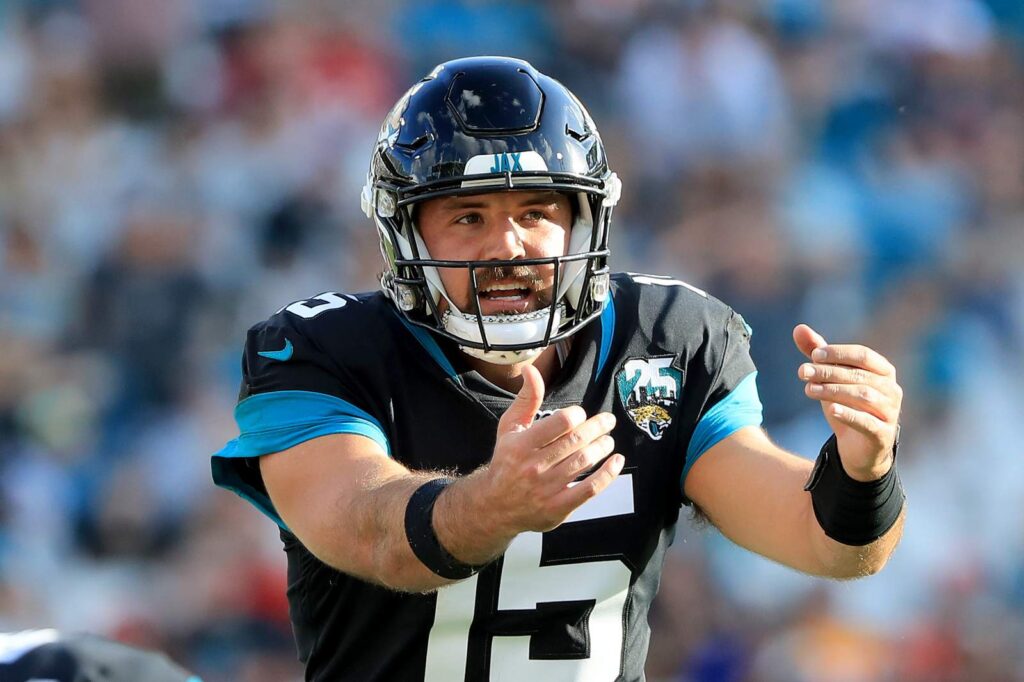 So we're going to dive right in to the Week 3 waivers. As always, it's players with less than 50% ownership in Yahoo leagues.
QUARTERBACKS
Ryan Tannehill @ MIN
46%
We told you last week when he was our QB Streamer of the Week. Could he make it 2 for 2? Giving the designation to the next guy to share the wealth. The 249 yards were pedestrian, but the 4 TDs against the Jaguars put Tannehill into the top 10 QBs. The Minnesota pass defense has been quite generous, so grab Tannehill and play him. Especially if A.J. Brown is healthy.
STREAMER OF THE WEEK
Gardner Minshew vs. MIA (Th)
32%
OK, I tweeted on Sunday that Minshew is going to screw up this whole tanking thing… and his reward is going to be a 10-year gig as the Jags' starter. The defense let the Jaguars down, but Minshew again threw 3 TDs against Tennessee's average pass defense. The Dolphins are up next, and they had Byron Jones go out of Week 2. And it's a short week. Those Thursday games can become shootouts (see Browns-Bengals). Beyond this week, it's time to start looking at Minshew as an every-week starter, at the very least in 2-QB leagues.
Philip Rivers vs. NYJ
27%
It hasn't been as smooth as many would like, but a dropped T.Y. Hilton pass that was a walk-in TD would have made Rivers' line much better. Look at the matchup. The Jets made Josh Allen and Jimmy Garoppolo look great in the first 2 weeks. It's going to continue with Rivers this week, even after losing Parris Campbell. Figure Hilton for a big week.
Justin Herbert vs. CAR
3%
This is more of a play for 2-QB and Superflex leagues. None other than Tony Romo called Herbert's debuts one of the best he's seen. That's high praise, and the rookie lived up to it, except for throwing his lone INT into double coverage when he could have walked for a first down. The passes looked so much better than Tyrod Taylor in the opener. Even if Taylor gets the starting gig back, if you can stash Herbert on your bench it's a good idea for later in the season.
RUNNING BACKS
Mike Davis @ LAC
6%
Don't worry about the single rushing attempt this week. Davis caught all 8 targets for 74 yards. Someone has to catch those dump offs that CMC is leaving behind.
Wayne Gallman vs. SF
1%
He's yet to have a carry this season, but he'll be among the most added players this week in the wake of Saquon Barkley's season-ending injury. Last year, again subbing for Saquon, Gallman had a game with 24 touches, 118 yards and 2 TD. He's no Saquon, but the volume should be there in the majority of a timeshare in the Giant backfield.
Dion Lewis vs. SF
6%
So he got 20 yards on 10 carries as the only other RB for the Giants. He also got 5 targets – 4 catches – for 36 yards, which could portend passing-game work if the Giants don't add from the free agency front. Lewis could be a hero play during bye weeks.
Darrell Henderson @ BUF
32%
When we had him on the podcast last month, Vinny Bonsignore of the Las Vegas Review-Journal talked about Henderson's ability to break off the "home run." It's a tough matchup this week, but if Cam Akers and Malcolm Brown are still dinged up, Henderson will get the volume touches.
Joshua Kelley vs. CAR
39%
Kelley got 23 carries against the Chiefs in Week 2, almost double what he got in the opener. There is a clear role for the rookie. He's at least a flex play this week against the Panther D that is showing growing pains.
Jerick McKinnon @ NYG
24%
If Raheem Mostert is out for any length of time, McKinnon will at the very least share touches with Tevin Coleman, and be a threat to catch balls out of the backfield. Coleman finished with 12 yards on 14 carries against the Jets, with McKinnon totaling 77 yards on 3 carries.
Myles Gaskin @ JAX
15%
This Thursday night game between the Dolphins and Jaguars will have plenty of points scored. Gaskin got 13 touches, including 6 receptions against the Bills. Matt Breida, touted as the dual-purpose RB for Miami going into the season, got just 1. Gaskin is a good flex play to help you get off to an early lead.
Devonta Freeman (FA)
13%
Reportedly he's visiting the Giants on Tuesday. Freeman has held out for either a higher salary or more featured role in a team's backfield. If the Giants sign him, the FAAB targeted for Gallman should be directed here.
WIDE RECEIVERS
DeSean Jackson (48%) & Jalen Reagor (35%) vs. CIN
Both of these players could go loco against the Bengals. This looks like a get-right game for Carson Wentz and the Eagles, and this pair of WRs saw 6 and 4 receptions, respectively, against the Rams.
Allen Lazard (47%) & Marquez Valdes-Scantling (36%) @NO
If it looks like Davante Adams is going to miss the next game, this pair will see their combined targets rise from 12 last game. Aaron Rodgers has a history of playing well in domes, and the Saints will be playing on a short week.
N'Keal Harry vs. LV
27%
Catching 8 of 12 targets for 72 yards, the chemistry that Harry built with Cam Newton over the summer is paying off. Newton will be slinging it against a Raider D that hasn't stopped the pass of late. Harry is the Patriots' WR2 behind the ageless Julian Edelman.
Preston Williams @JAX
35%
So he caught 1 ball for a 26-yard TD (in 5 targets). Williams saw 7 targets in the opener. Ryan Fitzpatrick will be throwing the ball all over Jacksonville, so expect at least a half dozen to be aimed at Williams.
Russell Gage vs. CHI
22%
The matchup against the Bears is not so enticing, but after getting 21 targets in the first 2 weeks, it's time to stash Gage on your bench for those upcoming bye weeks. He even had a sure TD pass dropped by Julio Jones.
TIGHT ENDS
Eric Ebron vs. HOU
33%
Ebron's 5 targets were good for 3 catches and 43 yards. There are plenty of mouths to feed in the Steeler passing attack, but Ebron appears to have risen to be the top TE. That's a soft matchup against the Texans.
Chris Herndon @IND
46%
Do you dwell on the 4 targets for 1 catch and 5 yards? Or do you focus on his catching 6 of 7 targets for 37 yards in Week 1? The receiving options are dwindling for the Jets, and Indy is far from the most stellar pass defense in the league.
Logan Thomas @ CLE
32%
Getting 17 targets in the first couple games will do wonders for the excitement level over a converted QB. Thomas has an inviting matchup against the Browns, and not much competition for targets in the Washington attack.
Jordan Reed @ NYG
7%
Shades of younger days when Reed caught 7 of 8 targets for 50 yards and 2 scores while subbing in for George Kittle. In this snakebit 2020 for the 49ers, it's bizarro that Reed would stay healthy for San Francisco.
Dalton Schultz @SEA
2%
Who saw this coming? Put those hands down, because none of you did. Schultz caught 9 of 10 targets for 88 yards and 1 TD. The chatter was that Michael Gallup and CeeDee Lamb would eat up the targets left behind by Blake Jarwin's injury. As it turns out, Schultz got the TE looks that Jarwin got before. It's a tough matchup with Jamal Adams in Seattle, but Schultz is a good stash.
DEFENSE
LA Chargers vs. CAR
30%
Don't forget how hard the Charger pass rush made life for Super Bowl MVP Patrick Mahomes. The Chiefs have a far better O-line than the Panthers. It's a good thing that Teddy Bridgewater is mobile, because he'll need that mobility to evade pressure. Many dropped the Chargers because they were facing the Chiefs last week. The Chargers are a great play this week.
KICKER

Mason Crosby @ NO
46%
Crosby is as reliable as Old Faithful. He has 4 FG already this year, and will be kicking in the Superdome against a team that made its hay defending the run last year. That could mean stalled drives in Saint territory, and some opportunity for Crosby.
KICKER