OK, come off el fantasy football ledge. I'm talking to those of you who picked Michael Thomas in the top 5. This is for you, James Conner owners. Also, you who were playing Zero RB and patted yourselves on the back for getting Marlon Mack in the 9th round and heard he'd be the starter over the rookie. And there are those who waited on TE and snagged Blake Jarwin.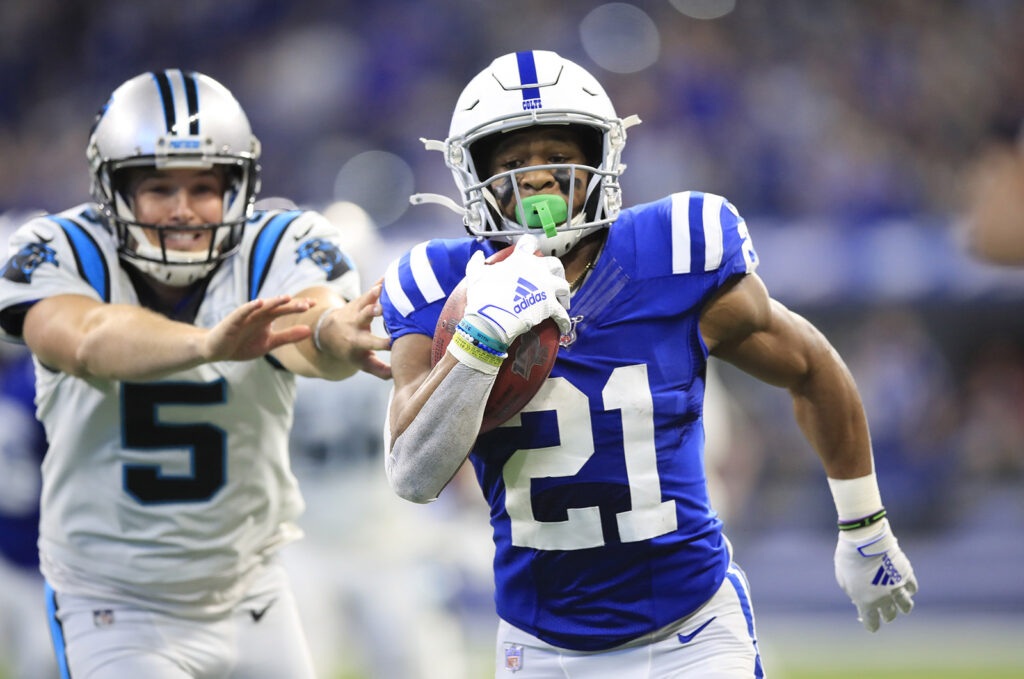 Vin Scully often said, "If you want to make God smile, tell him your plans." So what now? There are 15 more weeks you're planning to play for (thinking optimistically). This is not a time to panic. This is the time for action. 
Post-Week 1 waivers are among the most active and important for the coming season. This is when you can snag a player who was for whatever reason undrafted or dropped for a kicker. It's time to pounce on several options to make your team better.
The most important thing to do is to stay cool. Don't be impulsive. Take the emotion out of it. Act like you would at a Las Vegas blackjack table, but you're standing at the table, not sitting. You're giving advice to your friends playing, but it's not your money. So it's easier to be level-headed.
That's what you have to be now, so that you don't overreact and drop a player you'll end up regretting later. OK, lecture over. Let's talk los waivers. As always, we're only selecting players owned in less than 50% of Yahoo leagues.
QUARTERBACKS
Streamer of the Week
Ryan Tannehill v JAX
45%
He was pretty good in his first week, completing 21 of 32 passes for 249 yards and 2 TD. He gets the Jacksonville defense, which he torched last year, going 14 of 18 for 259 yards and 2 TD, adding 7 rushes for 40 yards and 2 more TD. The Jaguar D is actually in worse shape than it was in last year. If you have a tough matchup or want a DFS bargain, Tannehill is a good bet.
Kirk Cousins @IND
34%
There was no worry about his connection with Adam Thielen, who caught 6 of 8 targets and went for 110 yards and 2 TD. Cousins was 19 for 25, 259 yards and 2 TDs against 1 INT. He gets an Indy D that allowed Gardner Minshew to go 19 of 20 for 173 yards and 3 TD. Indy's run D is solid, so Cousins might have to throw to beat them.
Philip Rivers v MIN
27%
Who expected Rivers to throw 46 times? All the offseason talk was how the Colts would run people into the ground with their stud RBs and that meaty O-line. Rivers completed 36 passes for 363 yards, 1 TD and 2 INT. Aaron Rodgers had a big game picking on Viking DBs, and Rivers will follow the same formula. 
Gardner Minshew @TEN
26%
Minshewmania will continue to rise against a Titan D that was so-so vs the pass in 2019, and allowed Drew Lock to go 22 for 32 for 216 yards without his #1 WR. Minshew did go 20 of 30, 204 yards and 2 TD against Tennessee last year. And the Titans are on a short week.
Mitchell Trubisky v NYG
4%
The biggest comeback tour since the Eagles in 1994 (the rock band), Trubisky gets a Giant defense that has already lived up to the expectation of being one of the most friendly to opposing QBs. Again, if he's to remain a viable QB in the future, he has to make the most of every opportunity early against the lesser defenses. Going for 242 passing yards and 3 TD in the opener against Detroit was a nice start.
RUNNING BACKS
Spend Your FAAB On Him!
Benny Snell vs DEN
18%
After Conner got hurt, Snell went for 113 yards on 19 carries. Denver did a pretty good job keeping Derrick Henry to just 116 yards on 31 carries, and with Pittsburgh's O-line having injury problems, this could be a not-so-favorable matchup for Snell. But if there's an opportunity to pick up a lead caballo, if only for a week or two (or more), you do it. 
Adrian Peterson @ GB
46%
Who other than AP himself saw this coming? After being signed by Detroit on Labor Day Weekend, all Peterson did was lead the Lions with 14 carries for 93 yards a week later. This backfield could be a mess for a while, but in the meantime, you could do worse than starting Peterson against a Packer run defense that is far from elite (see highlights from 2020 NFC Championship Game).
Malcolm Brown @PHI
28%
Aside from leading the Rams with 18 carries for 79 yards and catching 3 of 4 targets for 31 receiving yards and 2 TD, he just looked like the lead caballo on the SoFi Stadium turf. The Philly D lost lineman Vincent Curry, which could hurt their tough run D and work in Brown's favor.. 
Joshua Kelley vs KC
14%
Kelley did not look like a wide-eyed rookie while rushing 12 times for 60 yards and 1 TD. He looks to be the lead candidate to take over Melvin Gordon's carries from last year. This could become a good position for him if Austin Ekeler doesn't get 18 carries a game. Ekeler will need to become more of a dual threat so that Kelley can be more of that ground-and-pound bruiser that he's so capable of becoming. He outsnapped Justin Jackson 18-11 and beat him on touches, 12-2. 
Jerick McKinnon @NYJ
11%
McKinnon is a must grab because of the uncertainty around George Kittle's knee. If Kittle sits, McKinnon becomes a more likely target for the 49ers. He ran 3 times for 24 yards and caught 3 of 5 passes for 20 yards and 1 score. More work in the passing game against the porous Jet secondary could make for a good day for McKinnon.
Peyton Barber @ARI
4%
Ay Dios Mio, is this backfield going to be a headache for a while. It looked like the touches were going to be funneled to Antonio Gibson after Bryce Love was designated inactive. Then Gibson got 11 touches and looked very much like a rookie in his first game. And Barber rushed 17 times for 29 yards & 2 TD. Barber is someone to grab and could even be a flex play this week against the Cardinals. 
Nyheim Hines vs MIN
22%
A lot of things came together that led to Hines finishing with 7 carries for 28 yards, catching all 8 targets for 45 yards and 2 total TDs. Hines also received 4 red-zone rushing attempts, which was double what new starter Jonathan Taylor got. With Marlon Mack's injury, and Philip Rivers' love of throwing to RBs, Hines is quite possibly an every-week flex play for at least the near future.
WIDE RECEIVERS
Marques Valdes-Scantling (9%) & Allen Lazard (43%) vs DET
Back on draft day all the talk was about how the Packers passed on the WR position. Did the brass know that these two players could combine into Aaron Rodgers' #2 target. MVS caught 4 of 6 targets for 96 yards and a score. Lazard caught all 4 targets for 63 yards and another score. Both will take a backseat to Davante Adams, but will be viable against bad secondaries. The Lions qualify as having a bad secondary.
Preston Williams vs BUF
38%
OK, a stat line of 2-7-41-0 is not screaming to find its way into your lineup. The 7 targets are good. The news that teammate DeVante Parker is rehabbing a hamstring injury is very significant. Tough matchup against the Bills this week, but Williams is someone to have on the bench just in case.
Parris Campbell vs MIN
23%
The 6 receptions in 9 targets for 71 yards is very encouraging coming off that rough rookie season. The handoff for 9 yards is as well. Then there's the soft matchup against a Viking secondary that will be targeted by fantasy managers all year, followed by several more inviting opponents. Campbell could become an every-week start beginning this week.
Laviska Shenault @TEN
12%
This is more of a stash play, because Shenault's 3-4-37-1 stat line is not that impressive for a WR. He did get 2 rushes. But remember that Gardner Minshew is going to throw a lot, and there could be room for a second WR alongside D.J. Chark. The Titans are not great against the pass, which helps for this week.
Robby Anderson @TB
32%
Has Anderson just been used incorrectly by the Jets all this time? His finish at 6-8-115-1 is made to look better by a 75-yard TD in the 4th quarter Sunday. Teddy Bridgewater will be slinging it weekly, and Anderson will get plenty of targets. With more efforts like Week 1, Anderson will become an every-week flex play.
Russell Gage @DAL
2%
Gage getting 12 targets like Julio Jones and Calvin Ridley is impressive, as were the 9 catches for 114 yards. The Falcons will be a threat to lead the league in pass attempts, so Gage could  become a favored target of Matt Ryan. He has to jump up from 2% owned in fantasy leagues. 
Tre'Quan Smith @ LV
2%
Another player to keep an eye on, even though his 1 catch for 4 yards doesn't make you scream to spend FAAB on him. But if Michael Thomas misses time (likely), those 10-15 targets a game need to go to someone. Smith drew praise from HC Sean Payton during training camp, and he's in his 3rd year. So the breakout opportunity is there while Thomas is off the field.
Corey Davis vs JAX
5%
We've seen the 100-yard blowup weeks for Davis before. He led the Titans by going 7-8-101-0 in Week 1, which will make the hype increase going into an inviting matchup with Jacksonville. Just remember we've seen Davis also disappear after big games. He has the size-speed combination, and there is room for a #2 WR behind A.J. Brown. If you grab him, start him and see him flop, don't say we didn't warn you.
TIGHT ENDS
Jack Doyle vs MIN
26%
If you lost Jarwin, Doyle faces that tantalizing Viking secondary. His pedestrian 3-4-49-0 against Jacksonville is uninspiring, but remember that Rivers likes throwing to the TE. Good target for streamers looking to test out several TE before settling on one.
O.J. Howard vs. CAR
18%
This recommendation is more for factors that have little to do with Sunday's 4-6-36-1 stat line. First, Howard got double the targets of Rob Gronkowski on 17 fewer snaps. Second, I keep remembering how the great Peter King interviewed Howard, who talked about how Tom Brady had taken a great interest in getting Howard to reach his potential. Very intriguing.
Eric Ebron vs DEN
41%
This is more of a speculation play for those who lost Jarwin. The single catch for 18 yards by Ebron is forgettable, especially when it was against the Giants. But Ebron could be part of a TE platoon or a streamer against good matchups. 
DST
Cleveland vs CIN (TH)
9%
Myles Garrett, meet Joe Burrow. Until that O-line for the Bengals grows together and patches the leaks, defenses will be good plays against the Bengals. The Browns were embarrassed last week, and with a short week are looking to forget Week 1. 
KICKER
Jason Myers vs. NE 
41%
Myers had mostly extra-point duty against the Falcons, but the tougher Patriot D could lead to more stalled drives and field goal attempts. And he's at home, which always helps. He was 23 of 28 attempts last year.