Everything seems to be set up for the Cowboys to continue to be one of the treasure troves of fantasy football happiness. Even with a new HC in Mike McCarthy, everything is in place to keep this one of the most high-powered, fantasy-friendly offenses in the NFL. Beyond having last year's QB2 (Dak Prescott), RB3 (Ezekiel Elliott) and a pair of WRs in the top 24 (Amari Cooper and Michael Gallup), the Cowboys return OC Kellen Moore, who called the plays on this revamped high-flying circus. Add to it that the Dallas O-line is ranked #3 by Pro Football Focus going into the season. Everything appears in place for a repeat performance.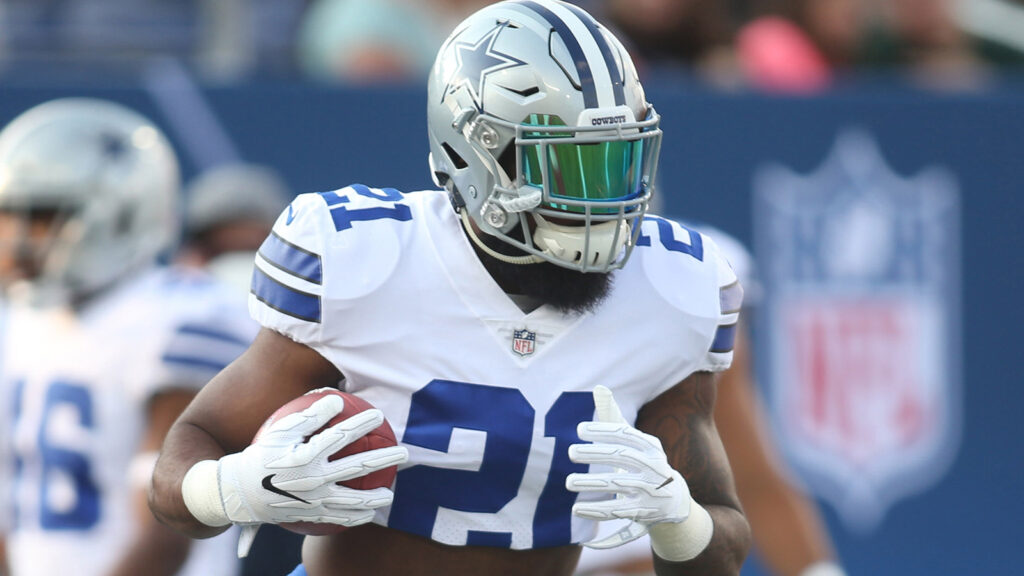 Prescott is back for his 5th year, even though there has been a ton of intrigue and speculation about his contract status. The franchise tag for a year will have to do, and then we'll do it over again next year. Based on performance, he should be going nowhere. His 4,902 yards were 2nd in the NFL, and were more than 1,000 yards above his previous career high. With 30 TD, he was 4th. His rushing was slightly down – 52 attempts for 277 yards – and he scored 3 TD, after scoring exactly 6 times each of the previous seasons.
The QB has the keys to a Ferrari, and he knows how to drive it. His ADOT of 9.8 was tied for 4th in the league, so it's clear that he's going to be looking downfield plenty to Cooper, Gallup and rookie CeeDee Lamb. Prescott was also tied for 4th (with Patrick Mahomes) with 12.6 YPC. His throwing at least 3 TD in 6 games last year showed that his consistency was very good as well. Fantasy players got a bargain on Prescott in the late rounds last year. Not so in 2020, as he's going as the QB4 overall. Still, he's primed for a repeat.
When he's handing the ball off, Prescott is putting it in the belly of one of the best in the game. Elliott shook off his Cabo vacation training camp to rush for 1,357 yards on 301 attempts. That's the 3rd time in his 4-year career that Elliott has surpassed 300 attempts, so this is a caballo who is in his prime and does not wear down.
There is an argument to be made for Zeke at #2 instead of Saquon Barkley. Part of it has to do with that brutal early schedule for the Giants, but also keep in mind the Cowboys' line is almost as hard to break through as Fort Knox. Add in the better QB and outside weapons, well, Zeke will have plenty of room to roam this season.
And Zeke led the NFL with 59 rushes in the red zone, culminating in 12 TD. The receptions last year regressed to 54 from 77 the previous season, but fantasy players will hardly complain when he tops 350 total touches this year. Zeke will be a threat to surpass 1,400 rushing yards with 50-60 receptions and 15 total TD. Not bad for the #3 pick in ADP, and he could make a case for #2.
The two-headed WR monster of Cooper and Gallup got a stud prospect added to it in Lamb. Is it going to be hard to work the kid into regular targets? It's easier than it appears, but we'll get into that a little later.
Cooper is the top dog in this group, and going as the WR9 in the 3rd round. He has some blowup games that are simply caliente. Week 5 vs the Packers when he caught 11 passes for 226 yards and a TD. Then the next week he had 1 catch for 3 yards. The final numbers ended up stellar. You just have to put up with the games where he'll disappear. Half his games, he had 4 or fewer receptions. In 7 of those games he had less than 50 yards receiving. Fantasy teams with him as the WR1 start to feel a little dicey. Still, it's a great offense led by a stud QB, and with a so-so defense that should mean plenty of balls flying toward Cooper. Just be ready for him to have those weeks that leave you wondering why you drafted him.
Gallup is quietly going in round 7, though it's hard to imagine why. After missing 2 games early in the season, Gallup didn't miss a step in 2019. He had very similar numbers to Cooper (6 fewer targets and 82 fewer yards), though you don't have to draft him for 4 rounds. He's a yardage machine, as he was #7 in the league yards per reception at 16.8. His 79.1 yards per game were #6, and his yards per target (9.8) tied Mike Evans. Yes, that Mike Evans! Gallup will continue to be an underrated target monster for the Cowboys, and should not see his targets taken away by Lamb. His 2019 TD numbers are somewhat deceiving, as half his TDs came in Week 17. He's settling into that underrated Robert Woods territory, where he's not the WR1, but many weeks puts up those types of numbers.
Grabbing Lamb in the 1st round screamed of keeping him from the Eagles a few picks later, but it's hard to argue with the talent of a player many scouts and experts said was the best WR prospect in the 2020 draft. With Prescott's talent to throw down the field and Lamb's breathtaking talent to make big plays, it's easy to see a good chunk of the 190 targets that the Cowboys had open up going to Lamb. Randall Cobb left after being targeted 83 times, so it would appear that a fair number of those will fly the rookie's way. Where he lines up is going to be the big question, though McCarthy's Packers were regularly among the league leaders in running 3-WR sets.
Blake Jarwin is a candidate to be this year's Darren Waller. With Jason Witten, ironically, going to the Raiders, that leaves open 83 targets. Jarwin is in his 4th year, about to take over the starter's role in a high-powered offense. There's a path to him getting 90-100 targets, in which case he'll be looking in the middle of TE1. Maybe even scratching at the tier with Waller. Jarwin's 75.6% catch rate is very good if he can keep it going with more volume. He only saw 3 red-zone targets last year, but Witten got 13. Jarwin going as TE 20 in round 14 could be one of the steals of this season.
RB Tony Pollard is one of the popular late-round picks in mock drafts, and many experts recommend taking him even if fantasy players don't have Zeke already. The 2nd-year back is talented, but is he a bet to get more than 100 touches as long as Zeke is healthy? He finished with 86 rushing attempts (455 yards) and 15 receptions (107 yards). Depending on the construction of your team. This is a nice stash.
EARLY SCHEDULE
The first 5 weeks have some good matchups, as the Rams' rebuilding defense is first on the docket, followed by Atlanta, Seattle, Cleveland and the Giants. All the teams were in the bottom half of points scored against, and Elliott will have several good matchups. Prescott and his WRs should feast against the Falcons and Giants.
During the fantasy playoffs, start all your Cowboys against the Bengals in Week 14. The tests get tougher against the 49ers, who were solid against the pass and middle of the road against the run. The Eagles in Week 16 bring a tough run defense, and revamped secondary. Though the game is in Dallas, so the home environment should help the Cowboys.