They're out there. And have been out there for generations. Leyendas Mexicanas. La Llorona. El Cucuy. Chupacabra. El Chamuco. They've scared kids for what seems like forever. And even as adults, we remember vividly how those childhood memories scarred us for life. I couldn't watch the cinematic edition of La Llorona last year — even though a friend of mine worked on the movie — because I just couldn't relieve those moments we would share at parties or even school about how we know someone who know someone who swears they saw her lurking in the middle of the night crying, "Mis hijos."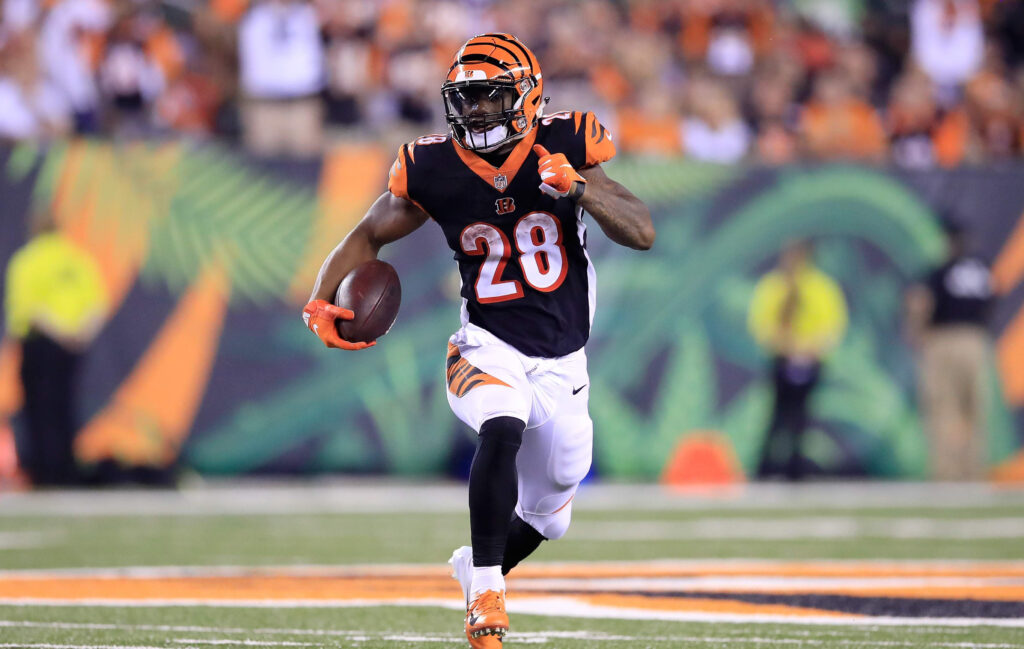 Which brings us to the next group of RBs in our rankings. Some could be sleepers who explode into the top 10. Maybe even top 5. And there are others who send a shiver up our collective spines at the thought of picking them come draft time. Some I would rather face La Llorona instead of having to grab any of these players and have to look at them on my team weekly. Maybe. I have more history with La Llorona than some of these players.
We're starting at 12 — we had a tie at 10 — with a player who seemed left for dead when the Cardinals picked him up at the trade deadline.
12. Kenyan Drake
OK, raise your hand if you started Drake on Halloween against the 49ers' fierce defensive frontline after he'd been traded to the Cardinals only a couple days earlier? Mentirosos! The 15 carries for 110 yards, 4 receptions for 52 yards and a TD were a sign of things to come. In Weeks 15 (137 yards and 4 TDs) and 16 (166 yards and 2 TDs) Drake helped a lot of teams win championships. He re-signed on a 1-year deal and has little competition except for Chase Edmonds. Plenty owners will grab as much of the Arizona O that they can.
13. Joe Mixon
Is he really just turning 24 this year? Si. Last year was weird for Mixon. With the Bengals Bottoming for Burrow (OK, a stretch), Mixon had nowhere to run much of the first half. In Weeks 6 and 7 he had 18 carries total. The second half was better, with 4 100+ yard games after Week 8. He finished with a respectable 1,137 yards and 8 TDs. The Bengals' O-line can't be worse, so Mixon could be a good safety valve for the rookie QB and a good value.
14. Chris Carson
Are you scared of the hip fracture? From getting hurt Dec. 22, 2019, and not needing surgery, it looks like he won't be as scary as some others. He's been the Caballo for the Seahawks for two seasons in a row of at least 1,100 rushing yards (1,230 14 games in 2019). With 9 total TDs last year and his receptions almost doubling to 37, if he's healthy, he'll keep it going. The Seahawks signed Carlos Hyde to be his backup. That's something to keep an eye on for potential TD vultures.
15. Miles Sanders
Los Aguilas like to share the backfield carries. That was the case in 2019 until Jordan Howard got hurt in Week 9. Sanders took over the Caballo role afterward, and even had a big Week 15 game vs. the Redskins (122 yards rushing, 6 catches for 50 yards and 2 TDs). In those weeks he ramped up from 13 touches to 25, and his production rose dramatically. Imagine how his 50 receptions (509 yards) will go up if he remains the lead dog. His 818 yards will blow past the 1,000 yard mark. Definite Year 2 jump could happen here.
16. Clyde Edwards-Helaire
The KC rookie is the only one to break into our top 20. This pick is based on the assumption he takes the top job from Damien Williams and literally runs with it. All the talk from Andy Reid to OC Eric Bieniemy is that CEH is perfect for the offense, and that his skills are special. The pass-catching is a weapon for PPR. Still, it's always scary taking a rookie RB very high, and the hype train could be motoring for CEH. Many will look at Kareem Hunt's rookie year in 2017 (1,327 rushing yards, 53 receptions for 455 yards and 11 total TDs) as the benchmark for CEH. That's a high goal.
17. Todd Gurley
Go ahead, we dare you to take Gurley high. Do you trust the most talked-about knee in the NFL? He did miss a game last year due to the knee, yet he finished the season strong and scored 6 of his 14 TDs in the final 5 games. The rushing and receiving yards are way down (857 rushing yards and 207 receiving yards), and even Atlanta HC Dan Quinn has said he doesn't know what to expect from Gurley. He'll be only 26 this year. Do you feel lucky?
18. (tie) Raheem Mostert
Did you pick him up off the waiver wire late in the season and enjoy watching him score 7 TDs in the last 6 regular-season games? How about those 220 yards and 4 TDs against the Packers in the NFC Championship? You ready to take him high and watch this turn back into a committee? He's 28, just said he's gained weight to prepare for more than 200 carries (137 yards for 772 rushing yards in 2019), but he's never been the featured guy until the back half of 2019. The 49ers like to run. Can he keep the momentum like Derrick Henry did last year?
18. (tie) Mark Ingram II
Fitting that he tied with Mostert, because he's another lead player in a committee that likes to run the ball. His running style is high-power/energy and looks fun on the field. Sharing the ball last year, he got 202 carries for 1,018 rushing yards & 15 total TDs. The latter is tough to repeat, and J.K. Dobbins will vulture carries at some point. Ingram is in the final year of his deal, so he'll be begging for carries.
20. (tie) Melvin Gordon
Por favor, enough with the committees! How do the Broncos reward Phillip Lindsay after back-to-back 1,000-yard seasons sharing the ball with Royce Freeman? OK, give him another guy to share the load. Gordon has been a stud as a featured back with the Chargers. He runs hard, catches the ball and is great at the goal-line. The 2-year deal says to follow the money and he'll get the ball most of all of them. Will this be another headache backfield?
20. (tie) Le'Veon Bell
Is this why he held out in 2018? OK, the line was abysmal, but he didn't look like he had the same burst from before (789 rushing yards). Nice to see he was quite involved in the passing game (66 catches for 461 yards). He should be the guy shouldering most of the backfield load for the Jets, and they did invest in their O-line. Maybe owners will like him better drafting him as their RB#2 than investing a first-round pick in him and fantasizing about the Pittsburgh days. Interesting fact: Bell is only 2 months older than Mostert.