Familia, we've got football back! I've always said that there are three year New Year's Days: Jan. 1 and the opening days for MLB and NFL. And now we have the feeling of newness that will be destroyed right after teams storm onto the fields with flames and smoke shooting all over.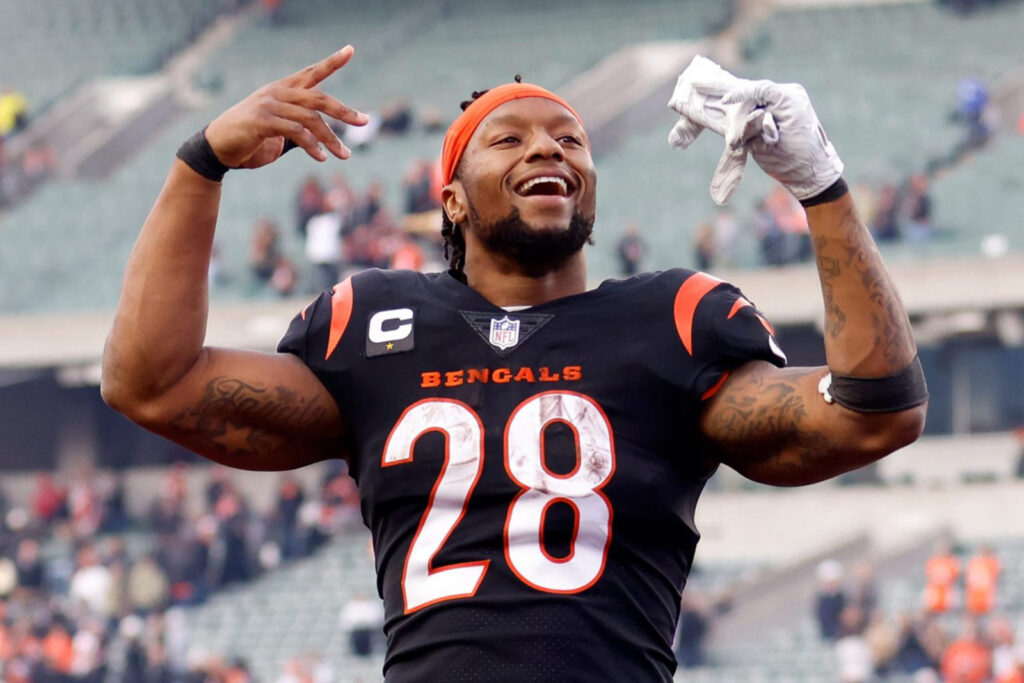 Now we get answers to questions like: Will Dameon Pierce live up to the late hype and become a stud RB who finishes in the top 10? Is the Gabe Davis coronation for real? Will Year 2 QBs like Trevor Lawrence, Trey Lance and Justin Fields take steps forward and become weekly starters for fantasy? Who will lead the Chiefs and Packers in receiving this year? Will Ja'Marr Chase, Cooper Kupp, Justin Jefferson or any other WR threaten to break the 2,000-yard mark?
That's the beauty of this time. After all the research, writing, podcasting production and consumption, we get to sit back and watch the games and break down where we were right and where we ask, "Why didn't I see that coming?" You know it'll happen a lot.
Time to get after the first Adentro y Afuera of 2022. As usual, this is not making any obvious recommendations of top players to start in fantasy. Though this will predict who will smash and who will crash below their projections. Vamonos!
ADENTRO
DAK PRESCOTT vs TB
Last time we saw Prescott open up against the Bucs was the very first game of 2021, when all the intrigue was surrounding the injured lat muscle that kept him from throwing all training camp. All he did was pass for 403 yards and 3 TDs in a 31-29 loss that was one of the better games of the season. This is a home game, and Prescott threw 23 TDs against just a pair of interceptions last year in Big D. Tampa has bent more via the air than on the ground for several seasons.
JOE MIXON vs PIT
Almost as memorable as the 205-yard Thursday night debacle at the hands of Dalvin Cook last year was the 28-165-2 line that Mixon laid on the Steelers in Week 12. He put up 90 on 18 carries in Week 3 at Heinz Field. This was one of the worst run defenses in the NFL, and until the Steelers can prove they can stop the run, I'm going to keep picking my RBs to play against them.
CHASE EDMONDS vs NE
Less than two weeks after Sony Michel was released with no one to replace him, Edmonds is going to prove why he was the big-money RB acquisition for new HC Mike McDaniel. The Patriots lost starters off the defense, and Belichick defenses usually get off to slow starts. Andrew Callahan of the Boston Herald told me in our interview that this defense will take some time to find its footing because of some major losses in free agency, so it can be exploited in the Miami heat.
MARQUISE BROWN vs KC
Zach Ertz and Rondale Moore are both hurting, so even if they play they could be slowed down during the game. Say hello to Hollywood! The OK connection with Kyler Murray is going to be rekindled against a KC defense that if it doesn't get to Murray, will have a tough time stopping the dervish of a QB. Murray is one of the best deep-ball passers in the game, according to Greg Cosell, so look for him to take some deep shots with Brown.
MIKE WILLIAMS vs LV
I remember well when I sat down with Gilbert Manzano of the Daily News how effusive he was about Williams' connection with Justin Herbert. In the do-or-die game against the Raiders in Week 18 in January, whenever it seemed like they needed to make a first down, Williams was on the receiving end of a converting pass from Herbert. That night saw Williams put up a 9-17-119-1 line. The Raiders may be worse in the secondary than they were last year, so I'm expecting a big game from Williams..
AFUERA
JUSTIN FIELDS vs SF
Yes, you're going to ask me how I could pick against Fields, a player I've been lauding all offseason as a Year 2 breakout. Well, he's going to have a steady diet of Nick Bosa in his face on Sunday afternoon. That Chicago O-line, I really hope it doesn't get Fields seriously hurt because whenever they get him even a passable line, I predict the young QB is going to become a very good dual threat. Just not this Sunday.
MAC JONES @ MIA
I've seen it too many times to keep count. The visiting bench at Hard Rock Stadium bathed in South Florida sunshine, and a look at the thermometer showing that the temperature on the field is over 115 degrees. Those temps have been stifling us in California for about a week. Add in the Miami humidity, it's going to become insufferable. The Patriots offense was really struggling to find itself without Josh McDaniels, so this team will be a work in progress. Stay away from Jones.
RASHAAD PENNY vs DEN
Yes, Ken Walker is going to miss at least this game, so you'd think that Penny having the backfield to himself in Pete Carroll's ground-and-pound offense would have the RB on the Adentro side. Well, remember this is the return of Russell Wilson to Seattle playing for Denver. When the Broncos go ahead by two TDs (or more), the Seahawks will have to abandon the running game and take the ball out of Penny's hands. He may barely get 10 touches.
EZEKIEL ELLIOTT vs TB
OK, Zeke aficionados, it's your turn to take a shot and say he's going back to his dominant self. With that makeshift Cowboy O-line and against a Tampa Bay D that was #3 in rushing yards allowed in 2021, Zeke is not going to have much room to run. Maybe Jason Peters will come in and solidify the LT position and push rookie Tyler Smith inside to LG. That won't be this week, though. Zeke, afuera!
ELIJAH MOORE vs BAL
Pains me to put this up, because I do think Moore will become a consistent starter for fantasy teams in 2022. But now you have Baltimore getting its secondary back and healthy, and Joe Flacco pitching passes in place of the injured Zach Wilson. Even if some would say that Flacco is better for the Jets pass catchers, it's not going to be this week with the rejuvenated Ravens ready to take their place again as one of the better defenses in the NFL.
GET 10% OFF YOUR FANTASYPOINTS.COM SUBSCRIPTION WHEN YOU ENTER THE PROMO CODE 22FAMILIA10.