Playoffs?! Can someone cue up Jim Mora's YouTube rant? I love this time of year. I remember when I worked in baseball, no matter how tired you were after the six-month crucible that was the season, everyone in the front office always found that extra gear in the postseason to match the players. It's the same thing now.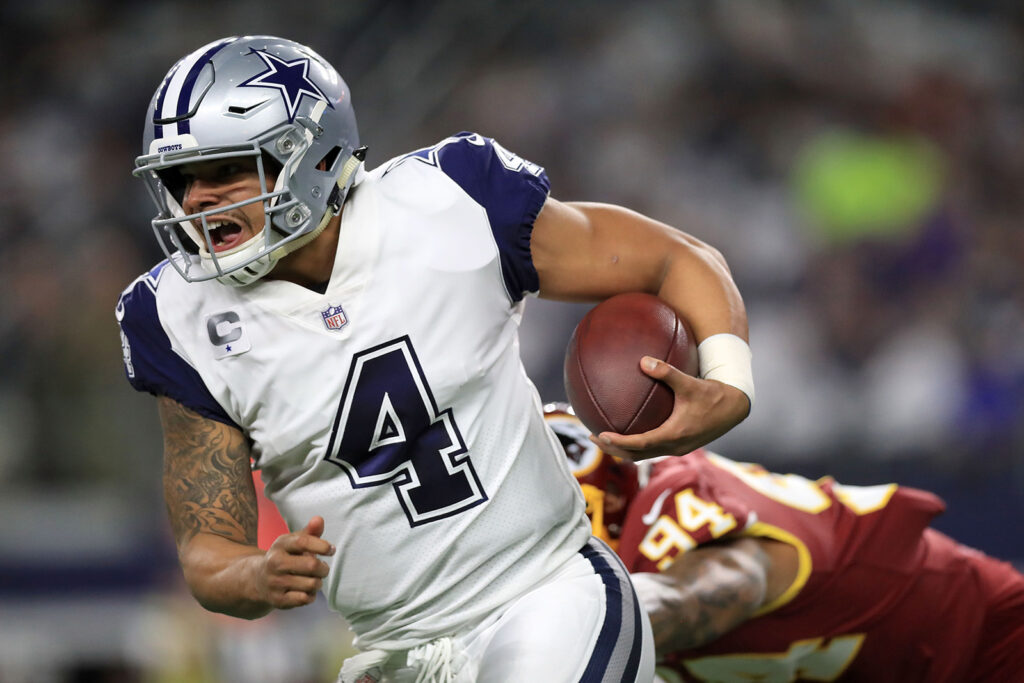 The games mean everything. The intensity is even higher. The scrutiny is microscopic. With the reduction in the number of games, the focus on every detail is incredible. Here, I'm hoping to drill down to the players who are main targets to play in each game,
This time of year, I'm looking at the matchups on each side of the ball. I'm looking at the weather – and there is some to be aware of in more than half the games. I'm looking at game script. I'm looking at total expected opportunities. I'm looking at how teams did in the final quarter of the season. I'm looking for stars to be targeted even more than they might in the regular season, because coaches aren't screwing around when it comes to who gets the ball at this time of year. There are even five rematches this weekend, with a couple games being the final chapter of a trilogy.
When it comes to DFS, I'm looking at all those factors when setting a lineup. For this feature, all the values are DraftKings dollars and will be for the entire six-game slate. Full disclosure, I'm more into the Sunday and Monday games over the Saturday games. Too much cold weather going on that could slow down offenses (definitely in Buffalo). But there are players to start all over the place. As I did during the season, point spreads and weather are included. Same with the defensive rankings for Weeks 13-17 of the regular season (some teams did not go for it in Week 18, which is why that week isn't included). So here goes the Super Wild Card Weekend edition of this DFS breakdown series. Salud!
SATURDAY
RAIDERS (10-7) @ BENGALS (10-7)
CIN -5.5 / 49
24 & 9% prec
LV
The Raiders have the shortest recovery time of all playoff teams, playing an entire OT period in what looked like a heavyweight brawl, and now have to hop a flight to the Eastern time zone. Oh yeah, let's add in the bad history of dome teams going to freezing temperatures, and the 32-13 pasting the Bengals laid on the Raiders in Las Vegas. Derek Carr (5500) went for 215-1-1 in that Week 11 game. Josh Jacobs (6500) could be a play after getting 61 yards on 14 touches last time. I think Darren Waller (5700) is a bargain, considering he's going against a defense that's been beaten up by George Kittle and Mark Andrews, though Travis Kelce was bottled up a couple weeks ago. Before he went on a run of three straight games with 100+ yards, Hunter Renfrow (6000) caught 4 balls for 30 yards against the Bengals.
CIN
In their previous meeting, Joe Burrow (6800) did not get many pass attempts – he threw for 148 yards and a score – because Joe Mixon (6800) carried the ball 30 times for 123 yards and 2 scores. The Bengals will pass more, especially after seeing the blueprint Justin Herbert created last Sunday night on how to beat the Raiders. The weather conditions are similar to the blowup in Week 17 against the Chiefs, so the passing game will remain hot in freezing temperatures. However, the O-line needs to protect Burrow against a pass rush that puts great pressure with its front four, led by PFF's #2 edge rusher Maxx Crosby. Mixon is a definite play against this run defense that's been trampled by Jonathan Taylor and Nick Chubb. Even with Mike Williams' big day last week (9-17-119-1) the Raiders have been tough on WRs. That said, Ja'Marr Chase (7400) and Tee Higgins (6300) can't both be covered, so at least one will be free. Tyler Boyd (5000) hasn't topped 7 targets since Week 11 (against the Raiders), so I can't recommend him. C.J. Uzomah (3200) is a cheap flyer, but he likely tops out at 6 targets.
RAIDERS  DEF QB (6) RB (30) WR (2) TE (18)

BENGALS DEF QB (24) RB (9) WR (25) TE (32)
PATRIOTS (10-7) @ BILLS (11-6)
BUF -4 / 44
1 & 5% prec
NE
Mac Jones (5100) is cheaper than Jimmy Garoppolo. There's a reason for that. This is the same player who threw the ball just 3 times in a snow-and-windstorm earlier this year. The conditions will be somewhat better – winds are expected to be a minimal 6 MPH –  but he won't throw the ball 30 times. Not a starter for me. Damien Harris (6400) has been battling injury and is pricey, though he does have 6 TDs in his last 3 games. Three of those came against the Bills when Rhamondre Stevenson (4700) missed due to illness. Stevenson did rumble 24 times for 78 yards in Week 13. If the Patriots are going to win this game, Harris and Stevenson will have to lead the way. Only one pass catcher on the Patriots has been targeted in double digits since Week 4, and that was Jakobi Meyers in Week 4. Passing on all New England pass catchers. 
BUF
When I see 1 degree – UNO! – I just get shivers up my California boy spine. That just doesn't bode well to pay up for Josh Allen (7800). If I'm playing Saturday only, I'm going with Burrow. Devin Singletary (5700) gets a slight bump because of the 17-23 touches he's been getting the past 4 games. With fading Allen, I'm doing the same to Stefon Diggs (7200) and Gabriel Davis (4600). This is when I wish all those cold-weather cities follow Minneapolis and Detroit by playing in domes. Last week, Dawson Knox (4800) caught just 2 balls for 11 yard, though he did score a TD. 
PATRIOTS DEF QB (2) RB (18) WR (5) TE (1)

BILLS DEF QB (8) RB (27) WR (3) TE (2)
SUNDAY
EAGLES (9-8) @ BUCCANEERS (13-4)
TB -8.5 / 49
70 & 32% chance of rain & 15-20 MPH winds
PHI
This game has the potential to be weird if the wind becomes an issue. Gusts could be as high as 30 MPH. This would seem to favor the running game, and Jalen Hurts (6100) could take advantage like he did last time these two teams met. He rushed for 44 yards and 2 TDs. He'd need to surpass that rushing yardage for the Eagles to have a shot. With the Eagles triumvirate of RBs all dealing with some sort of injury, Miles Sanders (5100), Jordan Howard (4300) and Boston Scott (4500) are all in play and could cannibalize one another. Are you trusting any of them? This has timeshare written all over it, and even at discounted prices I'm not buying. Devonta Smith (5500) has not surpassed 7 targets since Week 7. Fading him. Dallas Goedert (4500) is TD-dependent, though he is getting some target volume, with 20 in his last 3 games played (he missed last week with COVID).
TB
The Bucs go as Tom Brady (7300) goes. Brady has 300+ yards in each of his past 2 games, though if the winds get around 25 MPH it's time to think about alternative options. Dak Prescott lit up the Eagles for 295 yards and 5 TDs last week. If the wind is heavy, I'm focusing on the two dome games. The only thing holding back leaning on the Tampa Bay running game is that Leonard Fournette (5900) is a game-time decision and Ronald Jones is already ruled out. Do you trust Ke'Shawn Vaughn (4500)? I'm looking the other way. If the wind is not an issue, I do like Mike Evans (6900) and Rob Gronkowski (6400) to be Brady's main targets. Gronk's 20 targets in the past 2 games are quite enticing. 
EAGLES DEF QB (5) RB (20) WR (4) TE (16)

BUCCANEERS DEF QB (18) RB (8) WR (20) TE (9)
49ERS (10-7) @ COWBOYS (12-5)
DAL -3 / 51
DOME
SF
Those who were fans in the 1990s remember well the epic battles that the Cowboys and 49ers had, usually in the NFC Championship game. As well as he played with the season on the line against the Rams, Jimmy Garoppolo (5300, which is less than Gardner Minshew) appears to be a trap player. He's still nursing a thumb injury, and the Cowboys have bottled up QBs not named Kyler Murray over the past 5 games. Elijah Mitchell (5500) has 20+ carries in his past 4 starts, and the Cowboys have given up 80+ total yards to the RBs the past couple games. Deebo Samuel (8100) will carry quite a bit of the load, as he has 10+ touches in his past 4 games. He's so unique, and can pile up so many points in a hurry, he's a great play no matter how well Garoppolo is playing. Brandon Aiyuk (5400) is a decent play and not too expensive, which I cannot say about George Kittle (6000). He's pricey and has not been getting consistent targets. Though the playoffs are a time that QBs trust their studs. 
DAL
Dak Prescott (6400) is a play I like very much this week. The 49ers are still not at full strength in the secondary, and Prescott has been very good in front of the home crowd – 23-2 TD-INT rate at home in 2021. Add to it that the 49ers are very good against the run, the Cowboys will have to attack through the air. That said, I'm fading Ezekiel Elliott (6100) and Tony Pollard (5300), though the latter is practicing in full. The 49ers have allowed a 100-yard receiver in two of the past three games, so I look for Prescott to lean on Amari Cooper (5900) and CeeDee Lamb (6200) very heavily in this game. Same with Dalton Schultz (5000), who totaled 27 targets in Weeks 15–17. 
49ERS DEF QB (13) RB (7) WR (27) TE (4)

COWBOYS DEF QB (10) RB (2) WR (16) TE (14)

STEELERS (9-7-1) @ CHIEFS (12-5)
KC -12.5 / 46.5
29 & clear (no wind)
PIT
This should be the swan song Ben Roethlisberger (5200), and I can't trust him to have a good game, even though the game script says that the Steelers will be trailing and Big Ben will have to throw a ton. I'll go with the WRs, especially Diontae Johnson (6700) when he's averaging over 11 targets per game the past three weeks. The yardage totals won't be high, but in volume he could make up for it. Chase Claypool (4800) has 16 targets the past two games, and is the physical, big-play receiver who has done some damage to the Chiefs and their #29 defense against the WR since Week 13. Najee Harris (6600) had 110 total yards in the Week 16 loss to the Chiefs. He'll get 20+ touches in this game. The Chiefs have been tough on the TE, but Pat Freiermuth (4200) is cheap enough and should get plenty of volume with the Steelers playing from behind. 
KC
Patrick Mahomes (7400) is an interesting pivot off Allen because while the weather will be cold, it'll be clear and wind doesn't appear to become an issue. Whether he has Tyreek Hill (7100) at 100% is another story. That heel injury came up during warmups last week, and that limited his usage. I can see the Chiefs getting out to a lead and just putting Hill on ice after the game is out of reach. I'm staying away. Byron Pringle (3900) on the cheap is very tempting. Clyde Edwards-Helaire is out, and Darrel Williams (5500) should get a full workload. He's a cheaper option and will get work in the passing game. The Chiefs ran the ball 33 times last time, and should do at least that much this week. Travis Kelce (6700) missed Week 16 on the COVID list, and the Ravens' Mark Andrews just went for 8 catches for 85 yards last week against the Pittsburgh. 
STEELERS DEF QB (14) RB (31) WR (9) TE (12)

CHIEFS DEF QB (22) RB (26) WR (29) TE (7)
MONDAY
CARDINALS (11-6) @ RAMS (12-5)
LAR -4 / 49.5
DOME
AZ
The first Monday Night Football playoff game will make the cold-weather games a distant memory. Kyler Murray (7200) started the season hot, even torching the Rams in Week 4, but has not been as electric without Deandre Hopkins of late. He did pass for 383 yards and rush for an additional 61 yards against the Rams in Week 14. If the Cardinals are to win, the game will be in his hands (and legs), and he could turn a nice profit for DFS players. Arizona was clearly watching as the 49ers used the run to get back into their game against the Rams last week, and that could mean a healthy dose of James Conner (6300), who had 125 all-purpose yards and 2 TDs against the Rams in Week 14. Chase Edmonds (5000) is questionable after missing the last game, which raises Conner's usage if Edmonds sits. Christian Kirk (5300) disappointed last week, though he did catch 3 balls for 86 yards against the Rams earlier. Zach Ertz (4700)  has been a target machine, with 43 in his past four games. He's at a good price, in a game that could go past the over. 
LAR
Matthew Stafford (6300) is like Murray, in that he started the season hot and has faltered of late. I'm not buying the Jared Goff comparisons. Stafford is all-around better, but he's been hit with the turnover bug lately. He needs to play a clean game, and the Cardinal secondary has been getting beaten up of late. The unit has surrendered 14 TDs in the past 5 games. Three of those were to Stafford in Week 14. Yes, Cooper Kupp (9000) is pricey, but he has just one game this entire season under 95 yards receiving – that was Week 4 against the Cardinals when he went for 64 yards. If he replicates the 13 catches for 123 yards and a score from Week 14, that's a nice return on the investment. In the past 4 weeks, the Cardinals have allowed three 100-yard rushers. The Rams will look to establish the running game with Sony Michel (5400), but I can see Cam Akers (4200) being involved enough to keep Michel from delivering on his price tag. Since Odell Beckham Jr. (5100) caught 6 balls for 77 yards and a TD in Week 14 against Arizona, he has not surpassed 39 receiving yards. Hard to trust him. Same with Van Jefferson (4700), who is nursing an injury and is not getting enough volume to even be a value play. Tyler Higbee (4100) has 23 targets in his past three games, and even scored a couple TDs last week. I'd rather spend up for Ertz, but Higbee should be under consideration. 
CARDINALS DEF QB (26) RB (3) WR (31) TE (8)

RAMS DEF QB (4) RB (10) WR (12) TE (11)
SOURCES: PFF / Pro-Football-Reference / Fantasy Pros / Football Guys / Lineups.com / RotoGrinders.com