Ay Dios Mio, how cool was it to have a slate full of NFL games on a Sunday? The action did its best to match that incredible Thursday night opener between the Buccaneers and Cowboys. There were close games (Bengals beating the Vikings in OT, 27-24) and unexpected blowouts (Saints destroying the Packers, 38-3). That means that it's easy to get crazy over the first week of real football in seven months. Pump the brakes, said all who have Aaron Rodgers and Ezekiel Elliott on their rosters. Here are 11 storylines that really stood out, with brake-pumping when necessary. Salud!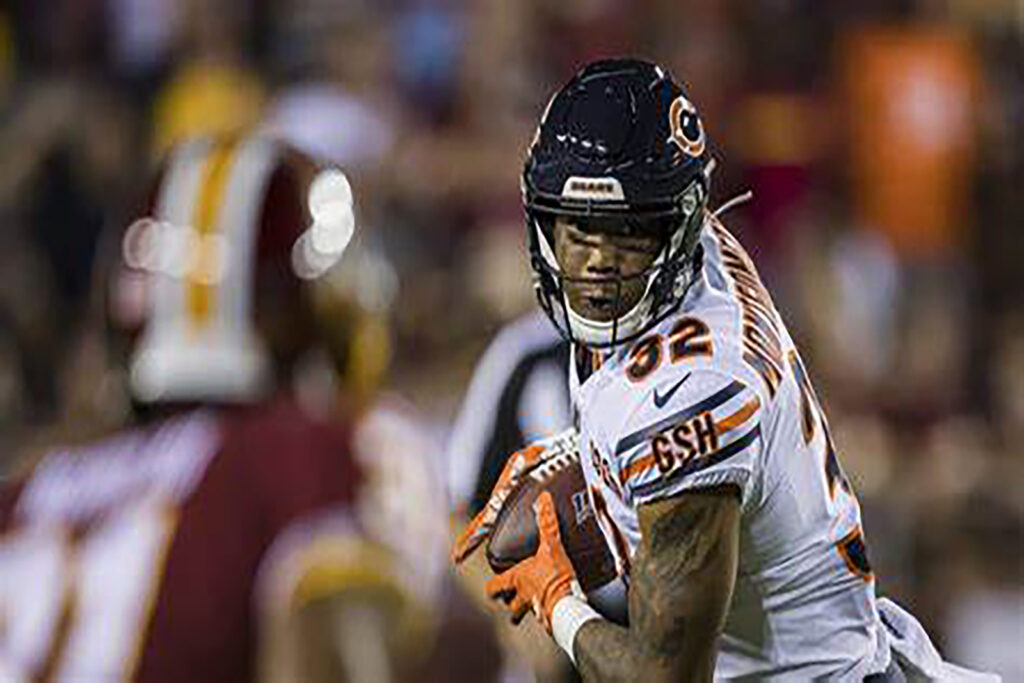 KYLER MURRAY, THE QB1
When Murray is great like he was on Sunday in the 38-13 thrashing of the Titans in Nashville – 21 of 32 for 289 yards and 4 TDs, adding another rushing score – it's almost shocking in a way that only Patrick Mahomes matches the diminutive Cardinals QB in firepower. Murray added in some touch and finesse with that 26-yard TD high-arcing pass to Kirk. When a player learns to do that on top of the electricity that Murray brings with his arm and legs, watch out. We could be seeing the QB1 overall this season.
JAMEIS WINSTON MAY BE FOR REAL
Is Sean Payton really going to trust Winston? We heard some version of this refrain all offseason. Yes, he threw a ton of INTs two years ago, but this is still a 27-year-old who's supremely talented (#1 overall pick in 2015 and threw for 5,109 yards in 2019), and possibly still developing and improving at the toughest position in sports. Plus, add a year of learning at Drew Brees' side while having plays called by Payton. Yes, the young man could still learn. Winston rewarded so many people who believed in him with that 5-TD performance. If he builds upon that game, Saints fans can dream on how good the offense will be when Michael Thomas returns in a couple months.
Y2 QB SZN
You've heard it said many times that the greatest jump for a QB is in the second year. From the looks of Sunday, there was a quartet of passers who are very much on the rise. Justin Herbert throwing for 337 yards and a score seemed to be the progression from his spectacular rookie year, though doing it in the face of the best pass rush he'll see all season, following a cross-country flight and playing at 10 a.m. West Coast time, that shows this young man may be ready to take the next step. Jalen Hurts may have made the greatest strides, as he excelled in the passing game (264 yards and 3 TDs) and with his legs (62 rushing yards). He looked very much the part of a starting NFL QB, and Eagle Nation is flying high. Careful when you get too close to the sun.
Great to see Joe Burrow make it through OT and throwing for 261 yards and 2 TDs. That Ja'Marr Chase TD pass looked so bonito. Finally, Tua Tagovailoa looked nimble scrambling in for a TD, while the 202 yards passing and a score against a Belichick defense that usually eats young QBs for lunch should not be discounted. Like the Who sang, the kids are alright.
JONATHAN TAYLOR, RECEIVING BACK?
The 17 carries for 56 yards were about par for what was expected. However, the 7 targets, of which Taylor caught 6 for 60 yards, far exceeded anyone's expectations, especially after Nyheim Hines also caught 6 balls, on 8 targets. Taylor was very much the lead caballo for the Colts, and if he remains a threat in the passing attack he could deliver a top 3 RB season.
JOE MIXON, LEAD CABALLO
It's not a misprint. Mixon rushed 29 times for 127 yards and 1 TD, adding 4 receptions for 23 yards. That's 33 total touches. 33! That's 3 more than Christian McCaffrey got in his monster game for the Panthers against the Jets. If you believed, and invested an early pick on Mixon, you got rewarded. Just stay healthy. Por favor.
DAVID MONTGOMERY, IS HE GOOD NOW?
All offseason it seemed like fantasy analysts denigrated Montgomery for doing well against what turned out to be a cakewalk lineup of defenses down the stretch last season. It's like the baseball player hitting a room-service fastball out of the park. He still had to hit it, right? Montgomery worked on his speed in the offseason, and he did look quicker against a Ram defense that was #3 in total rushing yards allowed last season. Now that he rushed 16 times for 108 yards and a TD against what's considered a top-notch defense, can we say that Montgomery is actually pretty good?
D'ANDRE SWIFT & JAMAAL WILLIAMS, TOP 4 RBs?
Here's how the targets were broken up among the top 3 Lions' pass catchers yesterday: Swift (11), T.J. Hockenson (10), Williams (9). After losing CB Jeff Okudah for the season, this Detroit defense is going to be pretty bad all season, so there will be plenty of garbage-time passes by Jared Goff. I still think at least one WR will emerge – Amon-ra St. Brown, maybe – but Swift and Williams will see plenty of passes. Oh yeah, they took a combined 20 of 24 Detroit rush attempts (Swift had 11, and Williams 9). This 1A/1B thing may have some legs to it.
AUSTIN EKELER, SENOR ZERO TARGETS
I know us fantasy pundits were high on Ekeler because of his rushing/receiving upside. This is someone who caught 92 balls two years ago. So time to get alarmed after Ekeler got 0 targets this week? Zero. Spanish or English, it's the same. Nada. Don't worry yet. He still got 15 carries (57 yards), and that was 3 more than the rest of the carries combined by the Chargers. I won't get concerned until he's not a big part of the passing game after another couple weeks. He did run 26 routes yesterday, and don't forget that he didn't practice a couple days last week because of a tight hamstring. Like Frankie said, RELAX!
CHRISTIAN KIRK, WR2 CON EXTRA SALSA
Before training camp, I did an interview with Jess Root from Sports Illustrated, and he said that the Cardinals would play Kirk in the slot. Arizona did just that in Week 1, and Kirk caught all 5 of his targets for 70 yards and 2 scores. Kirk won't overtake the WR1 spot with the Cardinals – hola Deandre Hopkins – but he'll be a viable starter most weeks if he's the clear WR2 on this team and Murray continues to Murray.
HOUSTON, WE HAVE NO PROBLEM SCORING
At least against the Jaguars. While I was doing my rankings on Fantasy Pros last week, I came across Tyrod Taylor's name and threw out the tweet saying how we'd feel about Taylor going for 300 yards and 3 TDs. Well, he got close with 291 passing yards and 2 TDs. He added 40 yards rushing. Brandin Cooks caught 5 balls for 132 yards. Add in Mark Ingram's 26 rushes for 85 yards. This is just a reminder that these are still highly talented men who are playing in the highest league, and that even the worst teams have fantasy-relevant players. When Houston is matched up against a sub-par defense, this team can still put up some points. That's at least 3 more games like that – one against Jacksonville and two against the Titans.

EDWARDS, SIZZLE HANDS
OK, bad '90s pun, but late in the Monday Night Football game it was looking like Bryan Edwards was not part of the offense. It looked like in the passing game that it was all Darren Waller, with a little bit of Hunter Renfrow. Henry Ruggs also didn't get his first catch until well into the second half. But Edwards caught all 4 of his receptions from the start of the 4th quarter and through OT. With the Raiders trying to catch up, Edwards was targeted and he delivered. In fact, it was first ruled that Edwards had won the game in OT, but his knee was down. Still, getting crucial targets and delivering shows that Edwards is going to be an integral part of a sneaky-good offense.
SOURCES: PFF / Pro Football Reference / Football Guys /