Are there any players healthy enough to start after all the injuries? Hopefully those fantasy managers who drafted Christian McCaffrey have come back from their "I have the worst luck" tirades to see what they can do to salvage the week and the season going forward.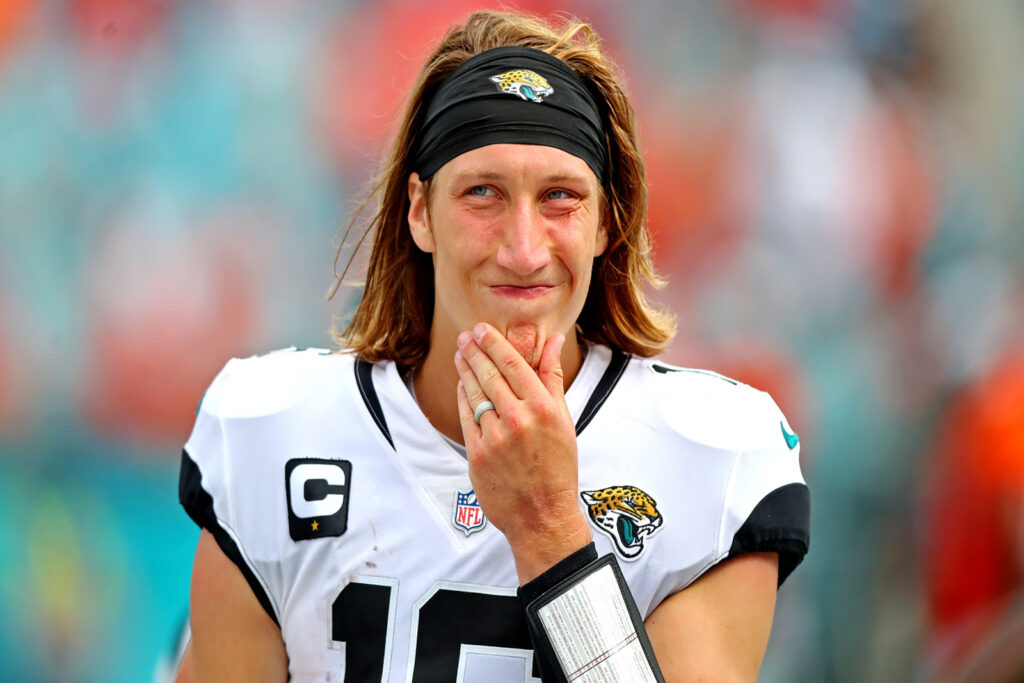 It's early. You can still come back if you're down 0-2. You need to do like Mr. Miyagi told Daniel San in Karate Kid, "Focus power. Make good fight." That's all you can do, is make a good fight every week. Let's do this and get into some Adentro y Afuera. Salud!
ADENTRO
QUARTERBACKS
CHINGON PLAY OF THE WEEK/START OF THE WEEK
RYAN TANNEHILL vs IND
The stink of Week 1 was erased during the Seahawks game when Tannehill and Derrick Henry led the Titans back from a second-half deficit, with the QB finishing with 347 yards passing. Now he takes aim at a Colts team that has Xavier Rhodes already hurt. A.J. Brown and Julio Jones have the #2 and #3 ranked WR/CB matchups this week according to PFF, so guess who is going to benefit? Tannehill often has big games when the matchup favors him, as it will the following two weeks against the Jets and Jaguars. 
MATTHEW STAFFORD VS TB
The blueprint came in the form of the Dallas scheme in Week 1, when Dak Prescott threw 58 times, but not too many deep shots. The Rams will likely abandon the run with Darrell Henderson nursing a rib injury, and the fact that the Bucs have allowed only 99 total yards rushing in the first two games isn't helping the case to run the ball. Stafford needs better pass protection than he had against the Colts. With the Bucs a middling #20 in Fantasy PPG allowed to the QB position, and Stafford completing nearly 70% pass completions and 599 yards passing with 5 TDs thus far, the new Ram QB is a great play.
TREVOR LAWRENCE vs AZ
It's easy to look at the 118 yards passing and figure it's going to be another long day for Fabio Football. Well, Arizona got beat up by the Vikings in the passing game last week, with Justin Jefferson, Adam Thielen and K.J. Osborn combining for 17 receptions, 195 yards and 3 TDs last week. Kyler Murray and the Cardinals are going to score a ton of points, which makes Lawrence a play in super flex and DFS because he'll be playing catch-up all afternoon. 
JOE BURROW @ PIT
The Steelers are banged up in the secondary and T.J Watt may not play or at best will be nursing a groin injury, so the usually formidable Pittsburgh defense won't be in the way of Burrow having a big day. Burrow showed a lot in answering those 3 interceptions last week with 2 late TD passes in the 4th quarter.
RUNNING BACKS
CHINGON RB OF THE WEEK
AUSTIN EKELER vs KC
Nice to see him catch 9 balls last week, and K.C. is #29 in Fantasy PPG allowed to RBs through 2 weeks. The Chiefs have not been able to defend the run for several seasons. There is no clear cut #2 RB for the Chargers, as Ekeler is getting nearly half the rushing attempts and 67% of attempts inside the 5. Now that he's getting passing volume on top of the rushing attempts, and add to it plenty of points projected to be scored in a game with the over/under at 54.5, Ekeler is going to eat this week. 
DALVIN COOK vs SEA
This is with a word of caution: If he plays. Cook was nursing an ankle injury, and there was my earlier recommendation to "peekup" Alexander Mattison. If Cook plays, keep in mind the Seahawks are averaging 137 rushing yards allowed and 10.5 receptions along with 94.5 receiving yards, all to the RB position. Cook is clearly the lead caballo, with 42 of 49 carries for the Vikings and has rushed for 192 yards.
WIDE RECEIVERS/TIGHT ENDS
MIKE WILLIAMS @ KC
Williams leads Keenan Allen in targets, 22-21, and receptions, 15-13. His salary drive in the last year of his contract is going to be a running theme every week he's recommended. The Chiefs are #14 in Fantasy PPG allowed to the WR position, and as I mentioned above, this game is going to see some points scored. Both Williams and Allen will see plenty of balls in the air coming their way.
CEEDEE LAMB vs PHI
Michael Gallup is out and Amari Cooper is dinged up, so by process of elimination Lamb should see plenty of targets against the Eagles, who have seen pedestrian passing offenses in Atlanta and San Francisco thus far. Philly is good against the running game, so Dak Prescott will be looking for Lamb early and often on Monday Night Football in what will double as the Cowboys' home opener. 
DEVONTA SMITH @ DAL
Smith is the target leader in Philly with 15, and it's clear he and Jalen Hurts have picked up from their Alabama days. The Cowboys are #29 against WRs in Fantasy PPG, so this game could be a sneaky shootout. 
MARQUISE BROWN @ DET
Brown is getting 31% of the targets for the Ravens, easily the leader and has scored in both games. The Lions are allowing 183 yards a game just to WRs and have lost their top two DBs to season-ending injuries, so we'll be picking on them a lot the rest of this year. Until the injured receivers for the Ravens come back to play, Brown is likely going to get plenty of targets. 
STERLING SHEPARD vs ATL
Earlier this week Daniel Jones was one of the top QB streamers, and Shepard has been the main beneficiary. Last week, Shepard caught 9 of 10 balls for 94 yards against Washington. Now the Falcons come in at #22 in Fantasy PPG allowed to WRs. With other WRs in New York hobbled with injuries, Shepard is going to get targeted plenty.
AFUERA
QUARTERBACKS
JUSTIN FIELDS @ CLE
First start is in the Dawg Pound, and that Browns secondary that had so much money invested into it is waiting for him. Rookie QB making his starting debut on the road is not a recipe for success. Fields is talented, and could deliver plenty of points just because of his rushing ability. But the call here is that he won't have the type of day in the passing game to warrant a must-start in single-QB formats. He's a wild card in DFS, because in DraftKings he's just $5,200.
JAMEIS WINSTON @ NE
After that tough Week 2, Winston has to go up against the Patriots and HC Bill Belichick at Foxborough. Having so many Saints coaches out last week because of COVID protocols played a part in that tough game, and Winston should be better this week. But this is still Belichick, whose defense is just allowing 206 yards passing yards per game and has already picked off 5 passes. I'm not giving up on Winston for the season, but this week he's a hard start even in super flex formats.
MATT RYAN @ NYG
The Giants have a good secondary, with James Bradberry and Adoree' Jackson manning the corners with aplomb and both DBs had high PFF ratings against Washington last week. It's a road game for the Falcons, and Ryan has been facing a lot of pressure already this season. Without much of a running game, Ryan is going to be forced to pass. Until the Falcons start protecting him better, the struggles will continue.
ZACH WILSON @ DEN
Wilson went to school last week at the hands of Belichick and the Patriots, being held to just 210 yards passing with 4 INTs and 4 sacks. Now he's on the road for Denver's home opener and Wilson is facing a Bronco defense that's allowing just 192.5 yards passing thus far. The Denver D is #7 in Fantasy PPG allowed. 
RUNNING BACKS
NAJEE HARRIS vs CIN
The volume is there for Harris – he's played 97% of RB snaps. This is about the matchup. Last week the Bengals run defense held David Montgomery to just 66 yards on 21 carries. The Steeler O-line is still a work in progress, and Ben Roethlisberger is going to be limited by a pec injury he suffered last week. Think plenty of stacked boxes for Harris. I keep pushing out the Harris breakout a week. It's coming.

ANTONIO GIBSON @ BUF
Gibson suffered a shoulder injury, but he's been pronounced as fine by HC Ron Rivera. Still, I worry with one bad hit that could knock him out of the game. Also, the Bills are #3 in Fantasy PPG allowed to RBs this year. Before they were far tougher against to pass on than to run, so let's keep an eye if this defense is for real. Stopping a healthy Gibson would make fantasy managers take notice.  
WIDE RECEIVERS
ALLEN ROBINSON @ CLE
Denzel Ward is the likely shadow for Robinson in this game, which could mean Fields looking away from the big wideout. The target percentage dropped from 26-18% from Week 1 to the next. The second week saw Fields come on in relief of the injured Andy Dalton. Correlation? Yo no se. Yet. Robinson has just 15 targets through the first 2 games. Robinson will get on the same page with Fields eventually – Robinson has to click with a good QB sometime – though this week will be tough.
MARQUEZ CALLAWAY @ NE
Remember how excited we were when Callaway caught those 2 acrobatic TDs in the preseason? I know, it feels like 6 months ago, not about 4 weeks. Callaway has 3 catches in 6 targets for 22 yards in 2 games. That's not a misprint! While no other Saints WR has established himself, the team is now facing a tough New England secondary that just put the clamps on the Jets' passing attack. The search for a target hog to temporarily take the place of Michael Thomas continues. 
SOURCES: PFF / Pro Football Reference / Football Guys / NFL Savant / Football Outsiders