As the 2021 NFL Draft unfolded, there were plenty of surprises. Many draft experts saw this draft as heavy with offensive players – especially QBs – in the first 10 picks. Thursday did not disappoint, with three QBs going in a row to start, and a total of five in the first round. The WRs found good landing spots and Kyle Pitts going down to Hotlanta is simply caliente. Here's a quick breakdown on all the picks, with fantasy takeaways for those on the offensive side of the ball. Yes, linemen help fantasy football, so I'm giving them some love today.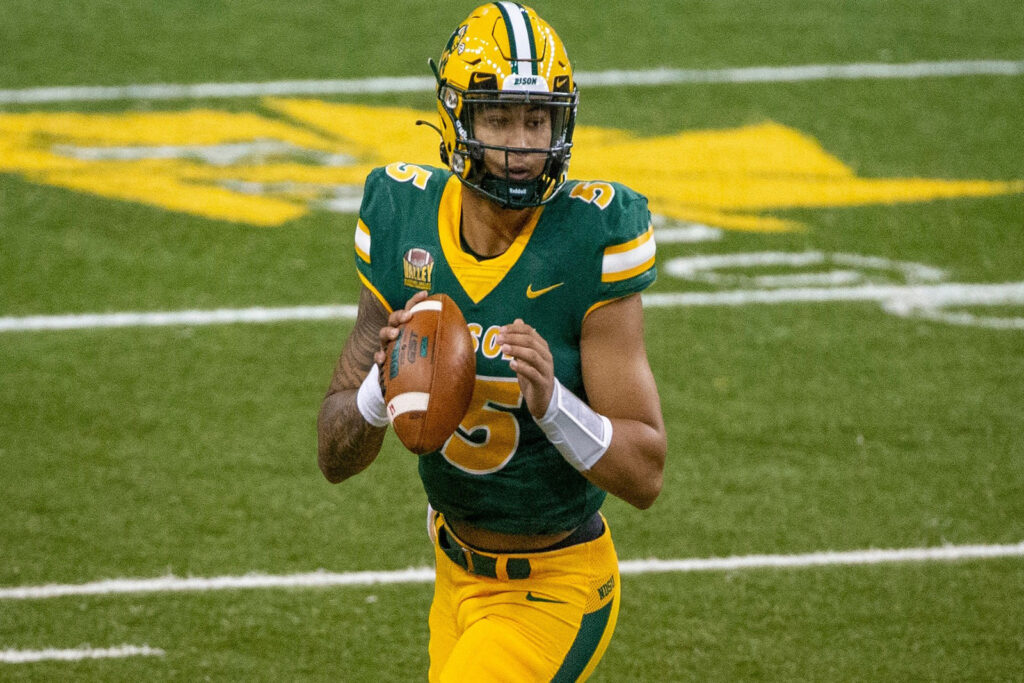 Trevor Lawrence QB, Jaguars
This was about as worst-kept a secret as there has been in forever. Fabio Football has it all: Arm, Legs, Height, Hair… Todo. He's #1 in super flex dynasty drafts. Top 15 QB. He's been the #1 pick since he won the national title as a freshman. Maybe even since he was a freshman in high school. He's a Day 1 starter. 
Zach Wilson QB, Jets
Dude has the best hair, even better than Lawrence. Wilson has been comped to Patrick Mahomes and Aaron Rodgers for his playmaking ability. With 3,692 passing yards, a 33-3 TD-INT rate and 73.5% completion rate, Wilson was otherworldly in his last year at BYU. There are questions about the competition he played with. And when your top WRs are Corey Davis, Denzel Mims and Jamison Crowder, the offensive weapons aren't too exciting.
Trey Lance QB, 49ers
The intrigue and wait is over. Ay Dios Mio! This is a ballsy pick. HC Kyle Shanahan led us all to believe it was going to be Mac Jones. Don't play poker with that guy. How long will he sit behind Jimmy G? Will he take over Day 1? Lance played just one game in 2020, and had a total of 42 TDs in 2019 (28 passing and 14 rushing). In interviews, he sounds like Russell Wilson 2.0. How's he so polished at age 20? Lance ran first too often for me. He'll have to balance that out with the passes as he gets experience. Incredible arm and great speed. Has been comped to Steve McNair. For dynasty, I like his potential, probably after Lawrence and Fields, and ahead of Wilson. Those weapons around him are scintillatingly hot. Redraft, until he's starting I'm not picking him as anything more than a backup.
Shanahan on Garoppolo: "We made this move, it's obvious, what I hope and believe in with this guy coming in. But it would be a very tough situation if Jimmy's not on our team. I want Jimmy to be here and I want this kid we brought in to see how he does. I expect Jimmy to be here."
Kyle Pitts TE, Falcons
Super Freak athlete! Love this pick. I called it. If Falcons don't trade Julio Jones, this is an incredible offense. Pitts will go crazy underneath and outside when needed. The Falcons attempted 628 passes as a team last year. Do you think Matt Ryan will target him at least 100 times? He will, and that will make Pitts a top 5 TE in fantasy in 2021.
Ja'Marr Chase WR, Bengals
Bengals went for the stud WR over the stud protector. Chase is a great WR, who was the top dog over Justin Jefferson in 2019. In fact, he was the top WR over everyone with the Fred Biletnikoff Award that year. Burrow did say that Chase is one of his best friends and that he'd be the player he'd choose. The QB got his wish. Chase will vie for targets with Tee Higgins and Tyler Boyd. This will be a dynamic offense like Dallas, with three WRs getting targeted 100 times each. First they have to make sure Burrow is healthy from his ACL tear before anointing this offense as the next Cowboys.
Jaylen Waddle WR, Dolphins
Incredible speed. Probably fastest among all WRs. Not sure if he's going to be Tyreek Hill, but with Will Fuller, Devante Parker and Mike Gesicki he's going to be quite the weapon. This could be a sick offense if Tua Tagovailoa takes the next step. This is reunion #2 of college teammates. Waddle played in the national championship game without being 100% from his broken ankle. With his speed and change of direction, he'll break plenty of ankles on defenders. Said @chrissimmsQB: "The @MiamiDolphins had to get a big time WR slash weapon for the team and especially for the development and success of Tua. Waddle has big time big play ability."
Penei Sewell T, Lions
Love this pick for the Lions. Rebuild with the O-line from the foundation to the outside. Sewell will be a stud for years, and will keep Jared Goff upright. This is a move that could set the team up to get good if other picks on WRs end up hitting. 
Jaycee Horn CB, Panthers
How did they pass on O-line or trade down to one of the teams that needs a QB?
Patrick Surtain CB, Broncos
Is he the answer for slowing down Patrick Mahomes and Justin Herbert? They punked the Cowboys. I thought they'd go Fields or trade down. 
Devonta Smith QB, Eagles (trade from Cowboys)
What in the world? Cowboys and Eagles make a trade? What's next? Dogs and cats, living together. Mass hysteria! Jalen Hurts going to throw passes to Smith again after they were teammates at Alabama. I've had enough of the BMI argument with Smith. The guy can play, and he's a dog on contested catches. He'll take over as WR1 for the Eagles, though not sure what that means after the rough rookie year for Jalen Reagor. 
Justin Fields QB, Bears (trade from Giants)
Love this pick for the Bears. He played in the Midwest at Ohio State. He's a baller who played through a rib injury vs Clemson in the national championship semis. Throws as pretty a ball as anyone in this draft. He's going to take over the job by middle of the season, if not Day 1. NFL Network's Cynthia Frelund uncovered that Fields was 54-4 TD-INT when throwing from a clean pocket. If he's a Day 1 starter, he's a sneaky play to jump into the top 10 with his rushing ability. I'd take him over anyone but Lawrence in dynasty. Really looking forward to seeing him play with Allen Robinson. 
Micah Parsons LB, Cowboys (trade from Eagles)
Lost out on the top corners. Many said Parsons was the best defender in this class. Cowboys need huge help on that side of the ball. 
Rashawn Slater T, Chargers
The missing link on the Charger O-line. Looked great in that powder blue tie! Many had him as the best LT in the draft. His shutout of Chase Young in 2019 established his legend. He's already said it would be an honor to protect Herbert's blind side. 
Alijah Vera-Tucker OL, Jets, (trade from Vikings)
The Jets took the pick ahead of the Pats. With only 5 sacks allowed in 927 pass attempts in his career, this could be a great pairing with Mekhi Becton. 
Mac Jones QB, Patriots
First off, the Pats fan punking the Browns fans with "6-time champs" intro turned the screws on a fan base that also had Bill Belichick as the HC. The Patriots got lucky on this one. They didn't have to trade up to get their guy. He can sit for a year behind Cam. Or part of the season,. Great vision and accuracy. Went 41-4 TD-INT in his scintillating 2020 season. Don't underestimate the Belichick-Saban connection. 
Zaven Collins LB,Cardinals
Arizona needs playmakers on defense. Could use WR2 later in the draft. Maybe even a Day 3 RB. Will they figure out how to best deploy Collins and Isaiah Simmons?
Alex Leatherwood T, Raiders
Raiders pretty much starting over on the O-line. Started 41 of 48 career games at Alabama. Other O-linemen were rated higher. 
Jaelan Phillips Edge, Dolphins
Miami gets the first pass rusher off the board. The kid from the U stays home. Never hurts to get another guy to get after the QB. One of the notes was that Phillips returned kicks in high school – as a D-lineman!
Jamin Davis LB, Washington
Kentucky kid shores up one of the top defenses in the NFL. Ron Rivera played LB with the Bears.
Kadarious Toney WR, Giants (trade from Bears)
Great WR with good feet and change of direction. Ran the 40 in 4.37. Chad Johnson comp. Some question his raw ability because he was converted to WR from QB. The Giants added another weapon to Daniel Jones' arsenal. No more excuses for Jones not to step forward into upper echelon of QBs. Still, hard to see Toney being more than WR3 playing behind Kenny Golladay. 
Kwity Paye Edge, Colts
Great complement to DeForest Buckner. Still no LT for the Colts. 
Caleb Farley, Titans
Many thought he was the best CB  in the draft, but he's coming off back surgery. Will he be 100% and back in time to play this season?
Christian Darrisaw LT, Vikings (Trade from Jets)
Some saw him right behind Slater. He's going to open up holes for Dalvin Cook and give Kirk Cousins some time to find Jefferson and Adam Thielen.
Najee Harris RB, Steelers
This guy is a 6-2, 232-lbs. stud. Physical runner and pass catcher. Scored 30 total TDs in 2020. Comped to Matt Forte, though Charles Davis liked Franco Harris. The video showed similarities – their their measurements are nearly identical. His 3,843 career rushing yards led 'Bama RBs in career, over Heisman Trophy winners Derrick Henry and Mark Ingram. Was the 6th 'Bama player itaken n Round 1.This beats the o/u of 0.5 for RBs taken in the first round. More Harris jerseys for Steeler fans to buy up!
Travis Etienne RB, Jaguars
James Robinson, who? My biggest surprise of the 1st round. This really cuts into Robinson's touches. HC Urban Meyer talked about Etienne being a 3rd-down back. You don't pick a RB in the 1st round and have him sit or even split carries. Meyer loves speed, and Etienne may have quickest feet among RBs. Clemson Twitter called out Peaches & Herb, "Reunited and it feels so good."
Gregory Newsome II CB, Browns
Browns needed a DB because they were horrible against the pass.
Rashod Bateman WR, Ravens
Fast and incredible athleticism and catches balls high and low. Highlights were incredible. Ravens had only 406 pass attempts in 2020, last in the league by 34. Is he going to get enough targets to be draftable in redraft? I think WR3 is the ceiling for him because he's just not going to get much volume. 
Payton Turner DE, Saints
Saints have a good roster, and can always take an upgrade on the D-line. Head-scratching pick.
Eric Stokes CB, Packers
Did not take a WR in the 1st round, AGAIN! They did get burned by the deep ball in the playoffs, so this was a big need. 
Gregory Rousseau DE, Bills
Another Miami U pass rusher. Opted out from COVID. Daniel Jeremiah had him as his top DE. 
Jayson Oweh LB, Ravens
Another LB from Penn State. Had 0 sacks this year. Ran in the 4.3s at his pro days. 
Joe Tryon LB, Buccaneers
Best player available. Adding to the defense.