It's one of the great debates that's happening in the roll-up to the NFL Draft starting on April 29. What will Atlanta do at #4?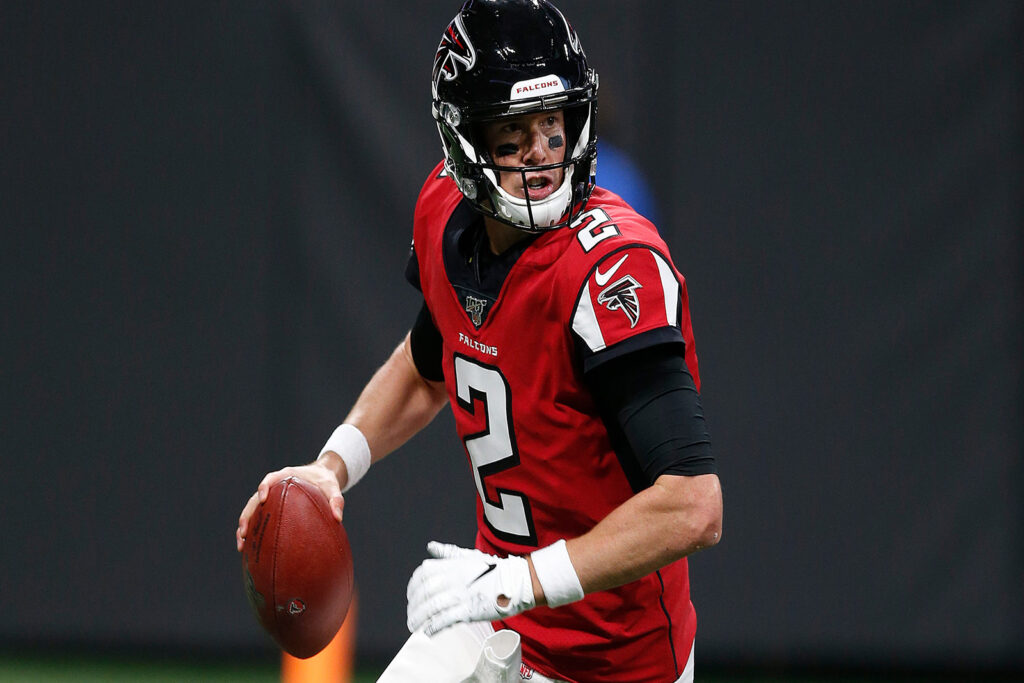 The first two picks are near locks. Trevor Lawrence to Jacksonville is as preordained as it gets. And that was before HC Urban Meyer stood a swinging bunt away from Fabio Football during his pro day. Zach Wilson to continue the long line of players trying to step out of Broadway Joe's long shadow has been pretty hot since Robert Saleh brought in members of the Kyle Shananhan coaching tree onto his staff.
Then there are the 49ers at #3. I still find it entertaining that none of the players expected to be available there have thrown a competitive pass in more than three months, yet there has been a fluctuation between Trey Lance, Mac Jones and Justin Fields being the chosen one at different times according to betting lines. What do the Wise Guys know that we don't?
So that leaves us with the Falcons at #4. Former GM Thomas Dimitroff on the Rich Eisen Show said that if he were still in the chair he vacated only a few months ago, he would go for a QB at #4 to continue the progression at that position. I find this really fascinating, because he'd been in the GM position for more than a decade and probably knew the position that ownership wanted to take the team.
Without knowing what ownership is saying, here's what we know from the outside. Matt Ryan (aka Mateo Hielo) is signed through 2023, and can't be traded over the next couple years without a big cap hit. Julio Jones is 32, and his hamstrings were a problem last year. Still, he's signed until 2023 also and when he's healthy he's still a force. The team is in need of defense, but at that point in the draft, there's no Aaron Donald or Chase Young.
With a pair of stud QB prospects still likely available there, the temptation is real to trade down and get more picks. Or they stick and pick. I'm saying they stick and pick, so the choice is whether they go QB or take the first non-QB of the draft. If they go QB, they'll likely have their choice of Lance or Fields, or Jones if the 49ers buck the reports that have been up there saying he's the choice.
I don't like this strategy. Any of these QBs would benefit from a year sitting behind a veteran, as Patrick Mahomes did behind Alex Smith. But Ryan is on the books for another two years past this one. Is it realistic to keep a QB on a rookie deal for three seasons before giving him the keys? I just don't see it, even if that strategy did work for the Packers with Aaron Rodgers.
Add to it Julio's age and contract status. He could be great this year, but his cap hit is decreasing as his contract is coming to an end. Calvin Ridley is going into Year 4 and has established himself as a force. I say take the super freak athlete in Kyle Pitts to learn for a couple years from one of the super freakiest athletes of the past decade. If Pitts does indeed become a generational talent as all the draft pundits agree – Bucky Brooks calls him a "gold jacket" talent – then he could set up the Falcons with a dynamic duo like the Chiefs have with Tyreek Hill and Travis Kelce.
From a fantasy football standpoint, it's compelling. The Falcons will still need to throw the ball, because the defense won't improve beyond subpar. Last year they averaged nearly 43 passes per game. Ridley should see close to 10 targets per game. Jones, too. That leaves about 23 passes to be distributed among the rest of the pass catchers. I'd love to see 8-10 going Pitts' way so we could see if his "generational talent" will show up from the start as Justin Jefferson's did last year in Minnesota.
What do you do at QB in the coming years? You wait. You squeeze the orange with Ryan and drain every bit of juice from his talent. Yes, he's 35, but that's a couple presidential terms younger than Tom Brady. You build the team around Ryan. Don't give in to the group think that this QB class is too good to pass up. There will be good QBs coming out in the draft for years to come. Think about how far Joe Burrow and Zach Wilson came in their final collegiate seasons.
Add to it that HC Arthur Smith and GM Terry Fontenot are in their own respective rookie years. Do you think they want to oversee rebuilding projects from Year 1? I didn't think so either. You fortify the offense with a game-changing playmaker, try and hit on picks at RB (hola Travis Etienne!), on the defense and interior offensive line down the draft. Then you let Smith coach them up and hope you hit on this year's Kevin Stefanski.
That's it for now. Let's see what other teams I can screw with their draft strategy.