When I think back to late July, when NFL camps were opening up with an equal mix of limited fanfare and trepidation, I had an internal tug of war going on in my brain about the upcoming NFL season.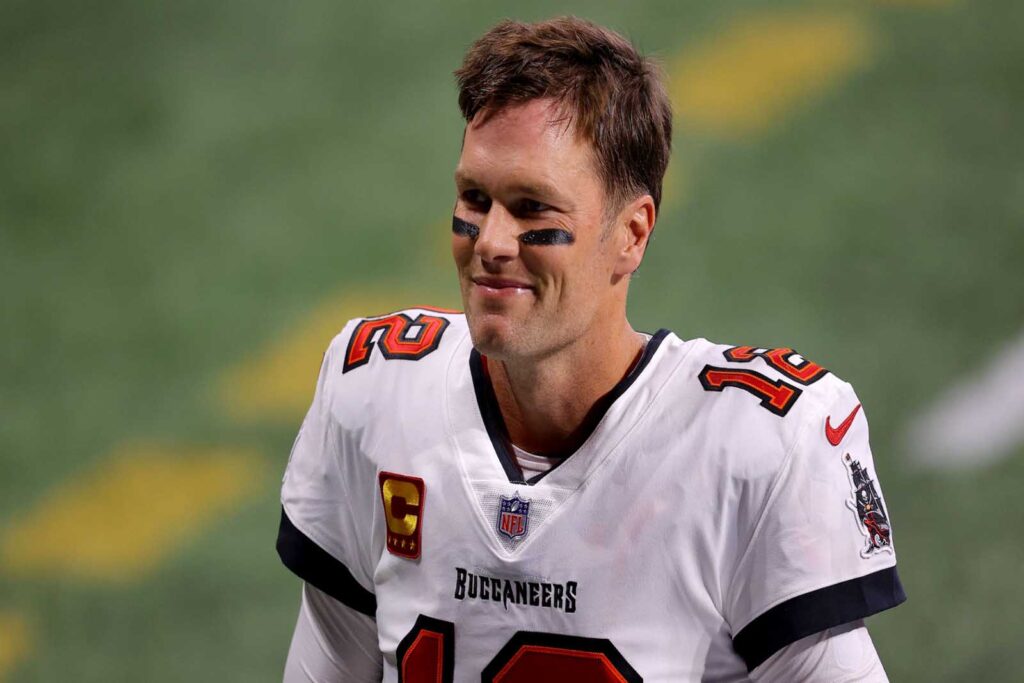 There was the side of the rope where I could see what was going on with the pandemic, and we had to take it seriously. Then there was the side of the rope where I knew that the NFL would use its vast resources, as well as plenty of ganas and stubbornness to make sure this season happened.
Here we are. On the cusp of Game 269. Yes, we had games moved, and even a game with a practice squad WR as a starting QB, but the games went on. Springsteen was announced, and Springsteen played. And what a show it was.
And what a show this will be in Super Bowl LV. I do love the meme with Yoda and Baby Yoda to symbolize Tom Brady and Patrick Mahomes meeting in this game. The GOAT against the one who shall be anointed. Sam Farmer of the LA Times in our episode #121 interview said that this was as if Michael Jordan at the tail end of his greatness was playing a young LeBron James after the breakout. I really think we'll be talking about this game for a long time.
Primo Ricky compared this game to the Eagles-Patriots in Super Bowl LII three years ago. The 41-33 score in the Eagles' electrifying victory made all the over bettors so ecstatic. Brady set the Super Bowl record with 505 passing yards, in a losing effort. Nick Foles was the improbable MVP with 373 passing yards, 3 TDs and a Philly Special TD reception that was immortalized with a statue outside Lincoln Financial Field. The Patriots had three receivers go for more than 100 yards. Epic game, and probably my favorite because of the back-and-forth action.
This could be that type of game, and it starts with Brady and Mahomes. Mahomes was second in the NFL with 4740 passing yards and fourth with 38 passing TDs. He was the QB4 in fantasy points scored, but his 25.4 Fantasy PPG was .1 ahead of the QB1 Josh Allen. Brady was the QB8 on the season with 4633 passing yards and 40 TDs, which is only second to the GOAT's incredible 2007 season hitting the big 5-0 in scoring tosses.
The only worry for the passing game is the weather. Florida does have plenty of rain. The forecast on weather.com in Tampa is a 53% chance of rain, with thunderstorms early. However, let's hope that the 10% chance of showers that evening holds up and that the moisture stays away during the game. Surely, after the frigid weather the teams saw during the playoffs, gametime temperatures in the 60s and 70s is very much welcomed even if there is a little wet stuff coming from the sky.
Well, guess it's time to break down the game more thoroughly. The thinking here is purely DFS in the showdown mode. All pricing is according to DraftKings. As Michael Buffer says so eloquently, "Let's get ready to rumble!!!!"
WHEN KC HAS THE BALL
I watched the replay of the Week 12 matchup between the Chiefs and Buccaneers. Same stadium. Nice weather. It was a 4:25 p.m. start, so about two hours before start time on Sunday. The Chiefs won 27-24 in a game that was not nearly that close because the Bucs scored a couple fourth-quarter TDs that were really in garbage time. Will the Super Bowl mimic that game?
There were a few things that I think will be factors this week. In looking more closely at the throws Mahomes made on the historic first quarter when Tyreek Hill went for 203 receiving yards and 2 TDs, it was mostly quick throws from the QB that didn't allow the pass rush to become much of a factor. Hill's speed is breathtaking, and I'm sure Carlton Davis still has the treadmarks from being burned so many times, though Mahomes made several throws that were perfectly placed, just out of the DB's reach that hit the speedy receiver in stride so he could put on the jets and fly away.
What could be a factor this time is that Davis may not be sticking with Hill, as Jamel Dean (#15 ranked CB according to PFF) was out for the Week 12 tilt, so he could be on the Cheetah. Also, after he went ballistic early, Hill saw more deep coverage, which limited his work in the vertical game. He did break free for a 20-yard, third-quarter TD to finish off a 13-reception, 269-yard and 3-TD day, so it's really hard seeing the Bucs containing him without a lot of jamming him at the line to throw off his timing.
I know the Chiefs' offensive line being down both starting tackles could be a major factor, as we saw what Jason Pierre-Paul and Shaq Barrett did to Aaron Rodgers with All-Pro LT David Bakhtiari out in the Conference Championship game. Mahomes will see pressure in this game, as he did on 14 of the 41 dropbacks he had against the Bucs last time. Even though he was sacked twice and hit 6 times, Mahomes never seemed to be rattled. One of the most underrated talents that Mahomes has is to move the pocket away from the pressure, and to hang on to throw until the last instant. That said, I still expect there to be many quick throws from Mahomes to Hill and Travis Kelce to make the pass rush a non-factor and to get the ball into these playmakers' hands.
I can hardly believe that it's taken this long to talk about Kelce. That's not to slight his greatness, and the incredible run he's been on. He has 21 receptions and 3 TDs combined in the two playoff games, and gone over 100 yards both times. He caught all 8 of his targets for 82 yards against the Bucs last time. The Bucs have been vulnerable against the TE, as they are just #27 defending that position in Fantasy PPG from Week 13 on. Suffice it to say, Mahomes, Hill and Kelce are all very much ADENTRO for this game.
However, it will be difficult is how to fit them into your showdown lineup with one of them in the captain mode. With Mahomes at $12000, Kelce at $11000 and Hill at $10400, if you're trying to shoehorn the three of them together it only allows for about $11000 for the remaining three spots. It can be done, but you're betting on them having a game like they did against the Bills.
The Bucs' defense has improved since that Week 12 game, but is still beatable with the pass. While the secondary did a good job in holding Davante Adams to a pedestrian 67 receiving yards on 9 receptions in the Conference Championship, and the defenders clogged things up for Aaron Rodgers on the final drive, the Packer QB still threw for 346 yards and 3 TDs. For the Bucs to have a chance, they're going to have to get to Mahomes as often as they did against Rodgers (5 sacks). Rodgers is great, but he's not on Mahomes' level outside the pocket. No one is.
Among the other pass catchers, Mecole Hardman is the most interesting. I know that Sammy Watkins is likely to be healthy and active, but Hardman has played well in the playoffs. His 50-yard gain on a jet sweep shows that the coaching staff is finding ways to get the ball into his hands in any way to take advantage of his blinding speed. I'd put him ADENTRO over Watkins because of health and recent opportunity.
Where the Chiefs will have problems is in the running game. The Bucs allowed the fewest rushing yards (960) in the league this year, and allowed 59 rushing yards on 16 combined carries by Clyde Edwards-Helaire and Le'Veon Bell last time these teams met. Darrel Williams has been leading the Chiefs in carries since CEH went down with hip and ankle injuries in Week 15. For the big game, stay away from the Kansas City running game. I'm putting CEH and Williams AFUERA.
WHEN TAMPA BAY HAS THE BALL
Brady is the GOAT. No question on this unless Mahomes goes on a LeBron run of going to the big dance 9 times in 10 years. But that's a 2030 discussion point. For now, it's pretty incredible what Brady has done to get the Bucs this far.
The Chief D has really stepped it up against the passing game. The secondary made Josh Allen look mortal after his breakout year. About a third of the 287 passing yards that he threw for two weeks ago were in garbage time. Bashaud Breeland and L'Jarius Sneed have taken large steps forward during the playoffs, especially in holding Stefon Diggs to 77 receiving yards in the Conference Championship.
Still, even with the improved work in the secondary, Brady is going to get his. I don't see this game plan focusing on the run to play keepaway from Mahomes. HC Bruce Arians made his reputation with the pass and his "No risk it, no biscuit" credo is built on throwing early and often. In this game, he's going to have to throw to try and keep up with Mahomes. That could mean a turnover or two, but the yardage will be piling up. He may not find any of his receivers deep like he did Scotty Miller just before halftime against the Packers, but there will be plenty of shots taken in this game. Even at $10000, Brady is very much an ADENTRO pick for this game. Though expect Frank Clark and Chris Jones to get in his face a few times.
Chris Godwin will be a main target when he's in the slot. Cole Beasley caught 7 of 9 targets for 88 yards against the Chiefs. Godwin is a better player when he's healthy, and we're two weeks further away from the broken finger he suffered during the regular season. He's received at least 7 targets in each of the past 5 games. At $8800, he's an ADENTRO pick this week.
Mike Evans caught a pair of fourth-quarter TDs to make the final score look respectable. That was an otherwise forgettable game with just 1 other reception overall. At 6-5, he's a mismatch nightmare for any DB in football. With 13 regular-season TDs, plus a couple more in the playoffs, he could snag a jump ball or two in the end zone. I'm on the fence with this one, because of his low reception count in the first game against the Chiefs and the 4 combined receptions in the past couple games. But this is the Super Bowl, and teams go to their best players. I'm not putting him in captain mode, but Evans is an ADENTRO pick here.
The TE position for the Bucs is interesting. Cameron Brate has outproduced Rob Gronkowski throughout the playoffs. In fact, Gronk has just 2 receptions during the playoffs. But a tricky back that emerged on Thursday leading up to the game is having me want to fade Brate. Same thing with Antonio Brown, whose knee injury has made him miss more practices than he's participated in. Both Brate and AB may play, but health concerns have me putting them AFUERA.
That leaves us with Gronk. The recent lack of production is worrisome, yet two things keep gnawing at me. First there are the 6 receptions for 106 yards against the Chiefs last time. Then I go back to the Super Bowl two years ago, when Brady found Gronk for the longest play of the day – 29 yards – to set up the game's lone TD. Brady hit Gronk on an 18-yarder earlier on that drive. This shows the faith that Brady has in Gronk, and at $3000, this is a good dart throw to fill out a lineup. Also, keep in mind the KC D is KC is #30 against the TE position in Fantasy PPG from Weeks 13-16. Gronk is ADENTRO.
The Bucs' RBs are a tough call. It's hard to like either of them in a game that should have tons of passing fireworks. The game script will not call for much running, so I'm calling both Ronald Jones and Leonard Fournette AFUERA. However, at $2200, Jones is a wild card in a contrarian lineup or as a fill-in to get some of the big-money players into your lineup.
GAME PREDICTION
The difference is going to be the trio of Mahomes, Hill and Kelce. I'm trying hard to remember a threesome of skill players who are at or near the top of the game and in their primes. The triplets Troy Aikman-Emmitt Smith-Michael Irvin for the 1990s Cowboys were fantastic. Then go back to 1988 with Joe Montana-Roger Craig-Jerry Rice during the 49ers' dynastic run. In the last 40 years, those are the only trios I put on the same level as the Chiefs' Big Three.
I can see a lot of people going heavy for these Chiefs in the showdown lineups, and getting rewarded handsomely. Mahomes will surpass the 325.5-yard over/under mark. He went past that mark just 7 times during 15 regular-season starts. One of those times was against the Bucs, and he'll do it again here with Kelce and Hill both going over 100 yards apiece.
FINAL: CHIEFS 38, BUCCANEERS 28
SUPER BOWL FOOD BONUS
What says America during the Super Bowl than a big bowl of guacamole? Well, for our Familia community, I went to the very top. Mama Martin – aka Abuelita to my daughters and Tia Abigail to my primos – is a phenomental cook who has a pretty simple recipe for guacamole. Here goes:
3 avocados (make sure they're plenty ripe)
Sprinkle of garlic salt
1/2 a chopped Roma tomato
Spoonful of chopped onion
Squirt of lemon juice
Chopped chile serrano / use jalapeno if you want more heat
Play with amounts to your taste, because like any good Mexican mama, there is no such thing as exact measurements.